Jemma el Fna is the main square of Marrakech and perhaps one of the most iconic parts of the city. While you may want to book your accommodation in this general area there are a few things to keep in mind. While there are a lot of places in Marrakech choosing where to stay in Marrakech is no easy feat!
You will find many inexpensive hotels and riads right on the square. Do due diligence as some of these places are not of the best quality or reputation. There are many places within a 5 minute (or less) walk from the square that are good quality.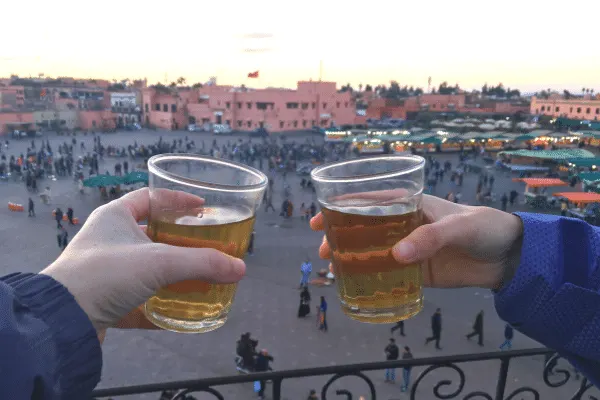 What is there to do near Jemma el Fna?
As the central hub of activity in Marrakech this is a good base to orient yourself. You also can find easy access to transportation like taxis and tuk tuks. From here you can use Koutoubia Mosque as your orienting point and be sure to visit the gardens and fountains nearby – they're especially lovely in spring.
Rehba Kdema, or the spice square is a short walk down the main street of the souk and you can easily access the rug sellers souk and craftsman workshops from here.
Derb Dabachi is a busy street that stretches off Jemma el Fna and at night is a great place to go for street food. Still hungry? Some other places to eat nearby include the restaurant Fine Mama? and Mechoui Alley where you can have traditional tangia and mechoui.
Why stay near Jemma el Fna?
Here are the three reasons to choose a riad or hotel near the squre.
If you want to have easy access to transportation being close to the square can help with this.
If you'll only be in Marrakech a short time and don't want the hassle of getting lost in the souks this is a good choice.
If you like a lively, late night atmosphere there is activity on the square until late in the evening.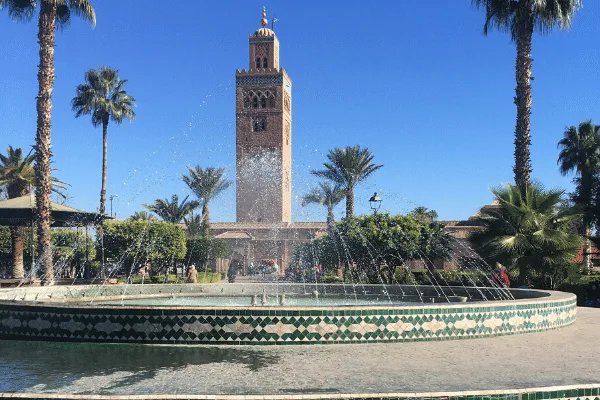 Riads and Hotels near Jemma el Fna
Riad Abracadabra
Riad Abracadabra from Riad Abracadabra on Vimeo.
Just a five minute walk from the square with 8 individually decorated rooms this is a lovely spot to call home while you're in Marrakech. Relax in the salon or rooftop sipping mint tea with views of the medina or dipping in the swimming pool.
Riad Itrane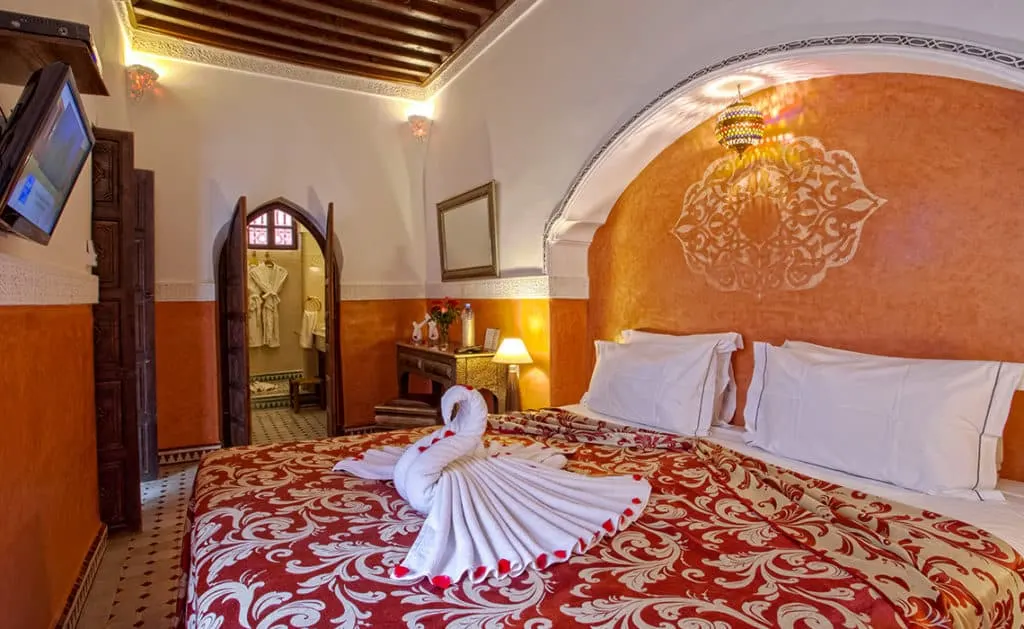 Nine rooms; a mixture of rooms, junior suites and luxury suites form Riad Itrane. Rooms are spacious and feature a mixture of modern and traditional Moroccan touches. There are TV's in the rooms as well.
The riad works with a partner riad just a few minutes walk from the riad. To reach the riad is just a short walk from the square but far enough away to be away from the bustle.
Riad La Croix Berbere Deluxe
Seven appointed rooms are laid out to give guests plenty of space to relax. Rooftop dining is available with chairs and chaise lounges to lay out and enjoy the Moroccan sun or take your meals.
The riad is on a quiet street behind Jemma el Fna but with easy access to the main streets and shopping areas.
Les Jardins de Koutoubia
This is a hotel not a riad and is directly adjacent to Jemma el Fna. There are a variety of room layouts both standard rooms and suites available for guests. A lounge area with a large fireplaces as well as a full size outdoor pool and an indoor pool are also on-site for guest use.
The hotel features several dining options as well as a bar for eating and drinking. The amenities of a hotel are available here while still being in the medina area.
El Fenn
A glamorous oasis in the medina, El Fenn is owned by Victoria Branson, and is part of the Branson properties in Morocco. There are 28 individually styled rooms making this more boutique hotel than riad.
A full-service restaurant and bar serves good food and drinks all day long. One of the highlights of the riad is the fantastic decor and artwork that you'll find everywhere. That and the resident tortoise family that calls the garden area home!
Riad Palais Sebban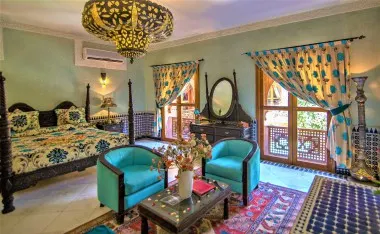 There are five different types of rooms available at Palais Sebban each with it's own color scheme and theme. They also have a mini bar for your use and TV's. A central swimming pool is surrounded by lounge chairs and tables for dining.
They have their own hammam and spa available for guest use. With plenty of room to spread out both in your room and throughout the property this is a great place to get away.
Waka Waka Hostel Marrakech
For budget conscious travelers Waka Waka Hostel is a spot to look into. They are a low-cost alternative for travelers who are solo or just looking for a good deal. Do keep in mind it is a hostel and the rooms are split and either 6 bed, 10 bed or 12 bed mixed dorms . The prices are very low – starting around €5 a bed per night.
Dar Justo
This riad was originally built in the 14th century and has been beautifully restored to it's current status. The boutique hotel has 23 different rooms with a spa and rooftop restaurant and bar.
They do have a single room available as well as doubles and suites. Try the suites if you're looking for more space to spread out.
Decided this area isn't for you? Check out our post that breaks down many of the neighborhoods to decide the best place to stay in Marrakech.