The area south of Jemma el Fna is a popular spot to consider due to the large number of choices of riads near Jemma el Fna as well as the ease of access to the central square. You won't find as many workshops here as in other areas of the medina but there are plenty of shops; a mix of traditional goods as well as boutiques.
The central location puts you between the big square and the mellah area giving you access to transportation (taxis) and a good number of the historical sites of the city. If you're looking for where to stay in Marrakech, this is an area to consider.
Which areas are considered south of Jemma el Fna?
The primary areas that the riads we've chosen are, are near the streets known as Riad Zitoun Jdid and Riad Zitoun Kdim. These streets run from Jemma el Fna south to the Mellah district of the medina.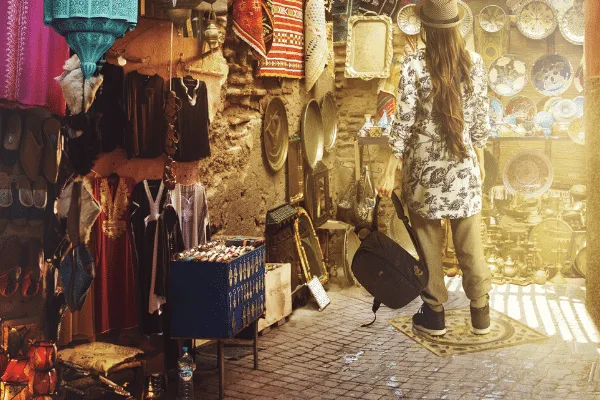 What else is in this neighborhood?
This area of the medina has a variety of shops and restaurants as well as a mix of riads and residential homes. The Dar Si Said Museum and Bahia Palace are in this general area. The newly open Moroccan Culinary Arts Museum is also in this area.
If you're hungry the restaurants Naranj, Mandala Brunch Society, and Un Denjuner a Marrakech are here offering Middle Eastern and Moroccan dishes. If you're feeling like a change Pepe Nero is nearby and has an Italian menu.
Why choose this area of the medina?
This is a popular area of the medina for a few reasons – here are some to consider.
You will still be in the medina however this area is a little easier to navigate due to the two large roads (Riad Zitoun Kdim/Riad Zitoun Jdid) that run the length of this general area.
Plenty of restaurants – there's no shortage of places to eat here, whether you want something small or a full multi-course meal.
You're in between Jemma el Fna and the Mellah/Kasbah area giving you easy access to the historical sites that make up this area.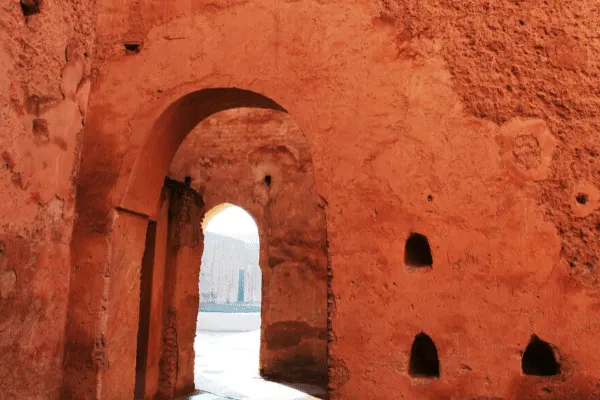 Riads South of Jemma el Fna to Consider
Riad Nesma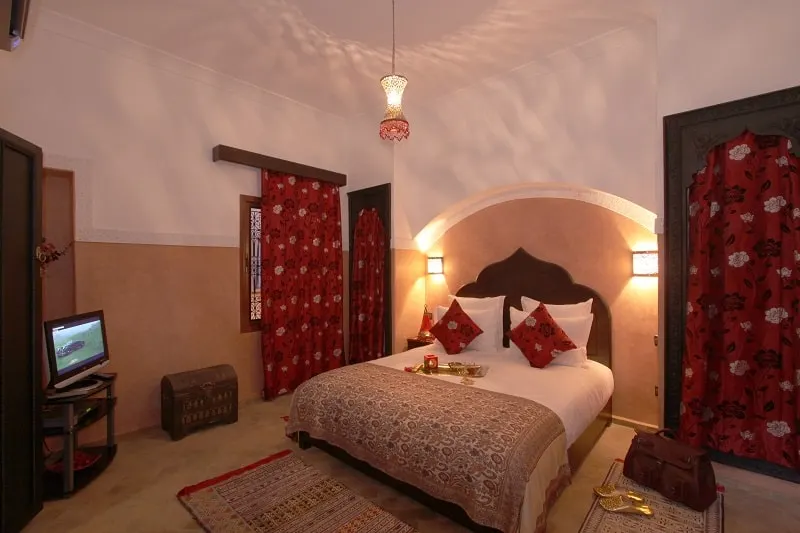 One of the larger riads this is a good choice for groups traveling together. Rooms on offer range from single rooms to quadruple and suites. The rooftop has both a swimming pool and hot tub and downstairs you can sit in the courtyard or in the living room area. The riad offers an affordable three-course Moroccan dinner as well.
Riad Africa
Not many riads pride themselves on being family-friendly but Riad Africa does! They have a variety of rooms (triples/quads/connecting rooms and suites) that will suit any and all family configurations. They also have a large pool so that kids can enjoy swimming without having to pack up and organize a day pass. They also have baby cots, high chairs, and car seats available to use.
Riad Anabel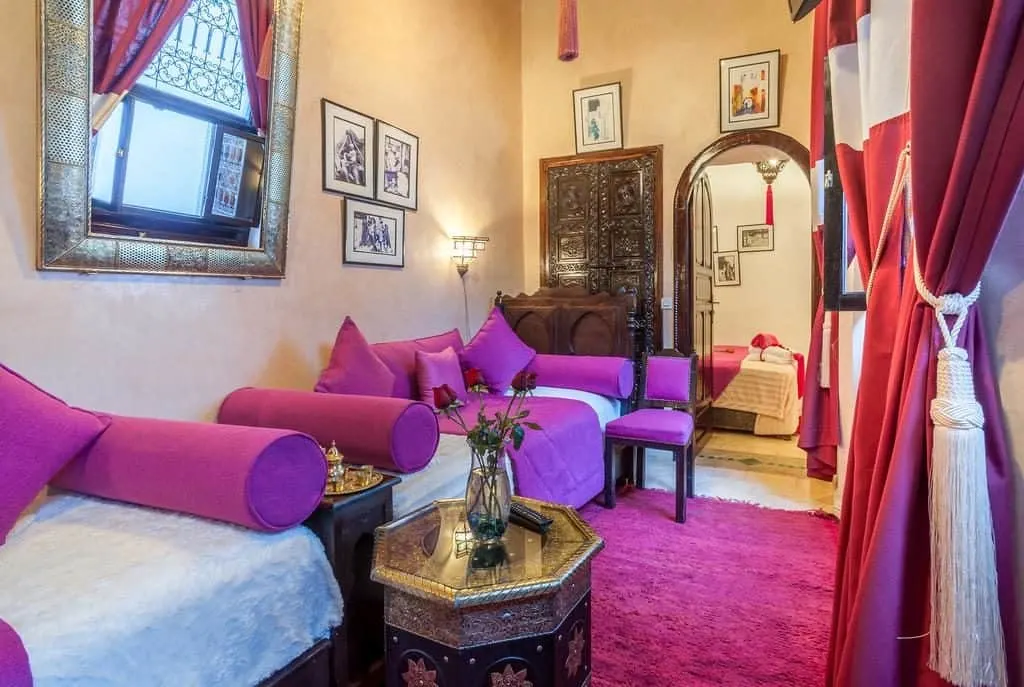 With 4 suites and 1 room, there are a few different choices for guests considering this riad. The pool is a welcome feature, especially in warmer months. The warm red exteriors of Marrakech are brought inside with red touches woven throughout the riad.
Riad Swaka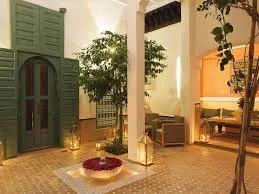 Just a 3-minute walk from the Bahia Palace and with 2, 3, and 4 person bedrooms available they can accommodate several different group types. It has both an upstairs on the terrace as well as a pool in the interior courtyard. The roof terrace also has a sitting area that has doors that close making it cozy in warmer and colder months.
Riad le Clos de Arts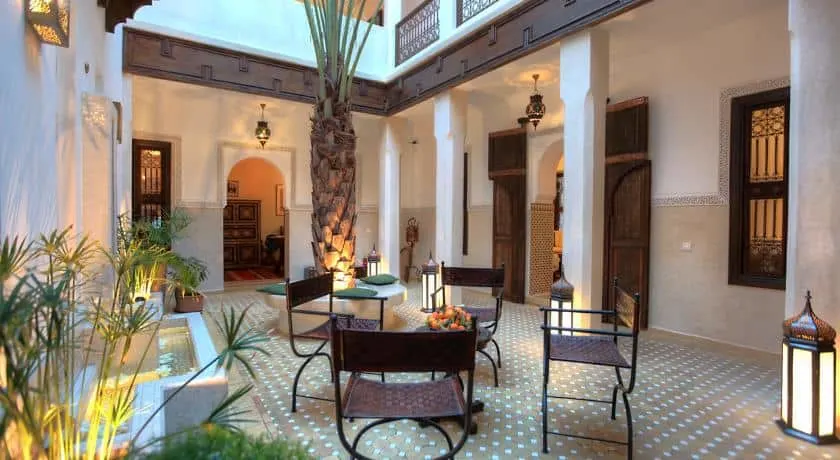 This beautiful riad has served for decades as a meeting point for those people who love the arts – including the original owner. It has been lovingly restored in traditional Moroccan style with tasteful Italian touches. With 9 rooms, a mix of rooms and suites there's something for anyone looking for a relaxing sojourn in Marrakech.
Riad 11 Zitoune
This house was once owned by the family of a spice trader and during the renovation, the owners decided to pay homage to that past through the colors and naming of the rooms. They offer a hammam and massage area as well as organizing yoga practice.
Riad Monceau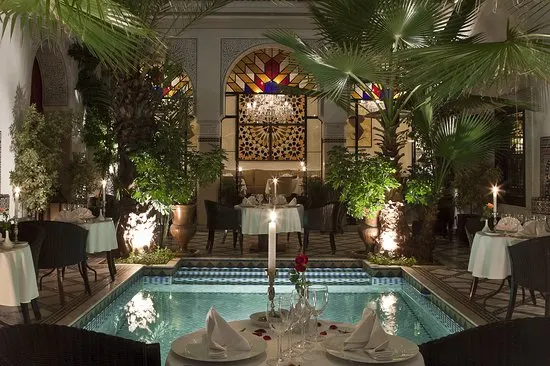 A small boutique hotel the Riad Monceau features 10 rooms with modern amenities. Some of the suites also include jacuzzi's. The hotel also features a restaurant and cooking school for those guests that want to experience Morocco's culinary flavors.
Angsana Riads Collection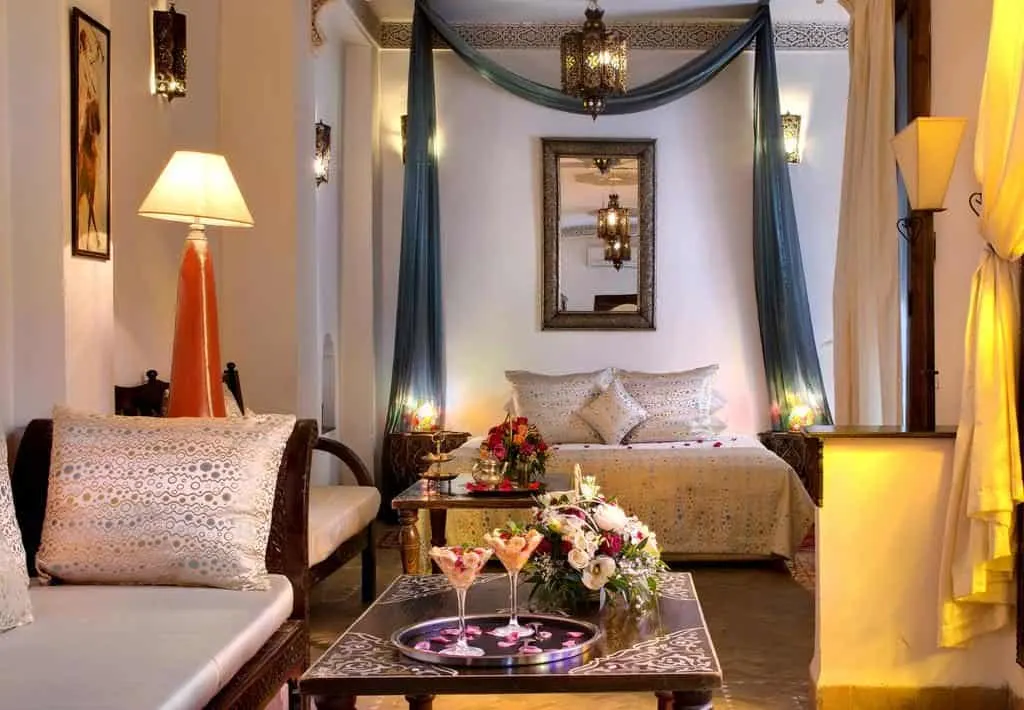 This isn't a single riad but a collection of 6 traditional homes that create a resort in the middle of the medina. Some of the riads have a plunge pool but all feature ensuite bathrooms and the amenities of a modern hotel. The Riad Feradus features a spa in the building that can be used by guests staying in any of the other riads. Do note Riad Lyndine is located in the kasbah district if you choose this option.