The Palmeraie is a palm grove outside central Marrakech. There are many hotels in the Palmeraie, both traditional hotels and boutique offers. There are thousands of palm trees here that were planted during the Almoravid thanks to a system of khettara (underground water systems). The area was once home to farms but today is mostly villas and private residences. When choosing where to stay in Marrakech, this is a good option if you want something more remote and secluded.
Where is the Palmeraie?
Located north of Marrakech this area stretches 54 sq miles or 140 meters square in territory. It is near the Tensift River and close to the road that leads to the highway going towards Casablanca. It is approximately a 20 minute drive (depending on traffic) from central Marrakech.
What else is in this area?
As mentioned above the area is primarily villas and private residences. Many people visit to take a camel ride or go quad biking in the area. You might also want to visit the Museum for Water Civilization – an important topic in a country with limited resources. The Museum de la Palmeraie is another site to consider to walk the gardens, admire art and take a tea in the garden.
Why choose to stay in this area of Marrakech?
Here are a few reasons you may want to stay in this area of Marrakech;
You really are looking for a vacation to escape and get away.
You like the convenience of flying into an accessible airport but you would rather a more "country" vacation.
You want a more secluded holiday but with the option and access to a large city.
Sol Oasis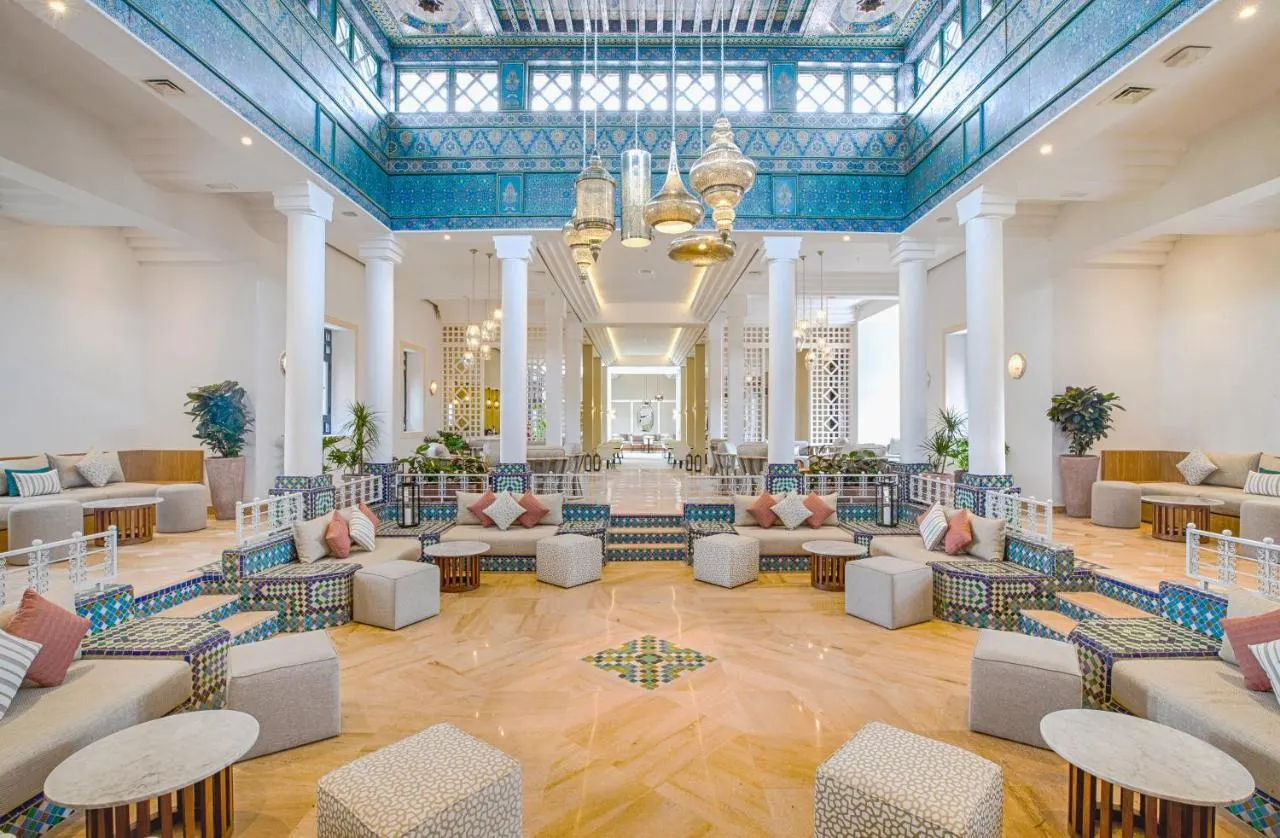 If you're looking for a larger property that can serve as your Palmeraie base during your time in Marrakech consider this option. The hotel is all-inclusive and has a great pool and lots of activities for children of all ages. The rooms are modern and comfortable and there are activities each evening.
Dar Ayniwen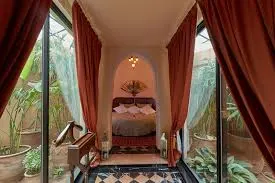 A luxury hotel with five-star service and only 10 suites this Palmaerie hotel is a great escape for those seeking quiet and calm. The gardens are not only beautiful to walk in but are home to a collection of exotic birds. An outdoor heated pool is also available for guests to enjoy as part of their sojourn.
Palais Rhoul
The hotel is inspired by Greco-Roman style with touches of Morocco. 23 rooms, suites and tents make up the property. The luxury rooms will make you feel truly like you're living in a palace as soon as you arrive. Enjoy the pools or spa and dine onsite if you'd rather not leave.
Ksar Char-bagh
15 suites set among a 3.5 hectare garden and a 34m pool make up this Palmeraie escape. Relax in their spa with a hammam and massage or walk through the gardens and relax by the palm lined pool. The choice is yours.
Les Deux Tours
A luxury boutique hotel with rooms, suites and super suites available for guests to choose from. Several rooms feature a private swimming pool. There are several dining options available at the hotel including a private dining experience – only one table is available each evening April to October.
Jnane Tamsna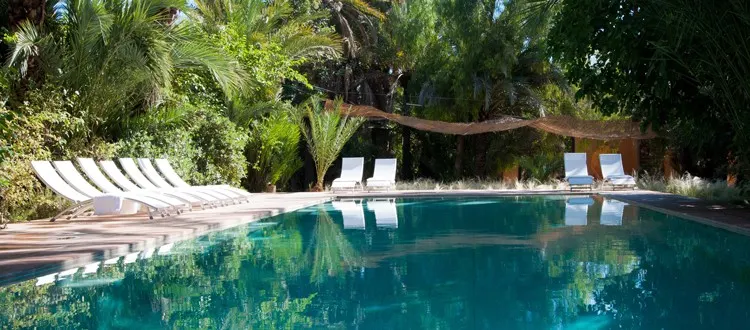 One of the most beautiful properties in the Palmeraie, this garden oasis is certainly one of complete relaxation and rejuvenation. Enjoy delicious meals that are made primarily with organic vegetables grown in the on-site garden. Multiple pools are available for guests to use and the villa is well-known for the amazing events they put on.
Dar Sabra
If a lovely retreat and contemporary art is your thing than you'll want to check out Dar Sabra. There are 22 different accommodations with private pools, gardens and terraces. Moroccan, French and Asian cuisine is offered by the chef and room service is available.
Decided this area isn't for you? Check out our post that breaks down many of the neighborhoods to decide the best place to stay in Marrakech.