When we moved to Marrakech I realized I have a small obsession with Moroccan rugs. By small what I really mean is that I have a big problem. I just can't resist them! If your travels have you stopping in Marrakech you'll find the souks are popping at the seams with rugs.
The good news is I've been through the wringer and have more than a decade of rug experience behind me, so I am sharing from first-hand experience. Buying a rug in Marrakech can be a really fun experience, but it also can be overwhelming. My hope is that these tips make it a little easier for you.
The first rug I bought was nearly 20 years ago from a rug shop in Fez. I later learned I had paid WAY too much for this rug but what did I know?
I was 19 and all I wanted was that rug. For a long time, it was the only "adult" thing I owned. While I made do with second-hand furniture and thrift store finds my rug always had a prominent place in my home and was my daily inspiration to get on the road again.
A Brief Background of Moroccan Rugs
The majority you'll find it shops are made by one of the forty-five distinct Moroccan Berber tribes in the country. Each one has a unique style and every Moroccan Berber rug is handmade on a loom. It's most often done by women in their free time. Rugs can take anywhere from 10 days to 6 months to make depending on size, complexity, and how much time she has. Rugs first and foremost are used in homes or for celebrations. They then are sold as goods or traded.
When you come to Morocco and want to buy a rug (or a zerbiya – the Arabic word) to bring home with you keep these things in mind.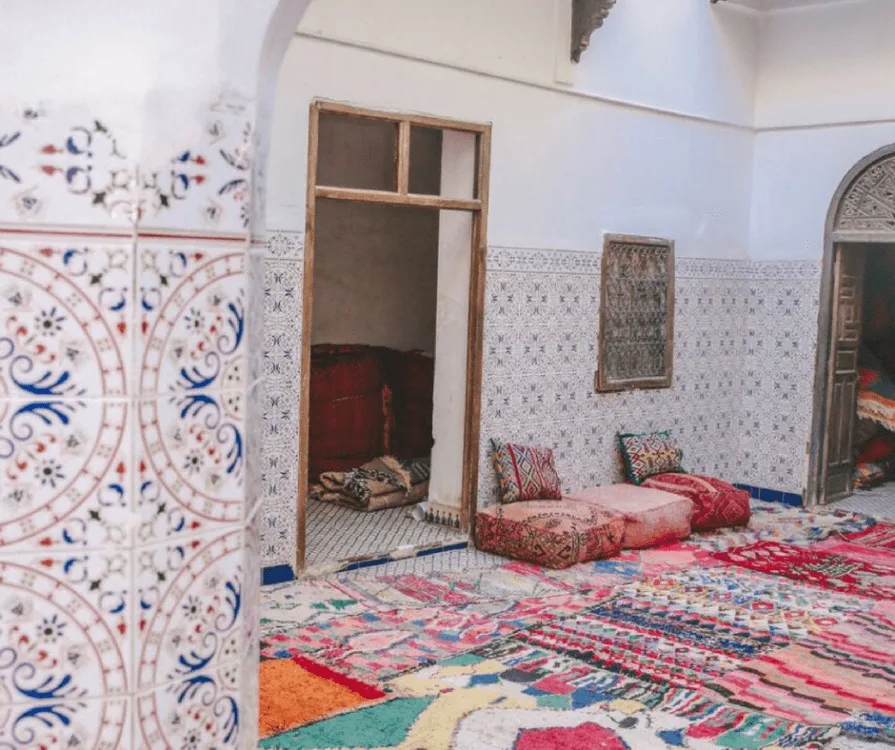 1. Bargain, Bargain, Bargain
In case you missed this point, you need to bargain for your rug.
Do not, I repeat DO NOT accept the price offered to you in the shop. There are some, but very few, shops that have fixed prices. Always attempt to bargain first.
Bargaining here is part of the game. The salesmen knows you aren't (well you shouldn't) accept his first offer. Many people are afraid of going too low. Fear not. Drop that price by as much as 2/3 to start with and work from there.
You should eventually expect to meet somewhere around 50% of the original price. If you know you are already out of your league at 50% off the original price – move on. There are some shops where bargaining is not on the table. They will be upfront and tell you this to begin with. You can choose to accept that or not.
If you've agreed on a price you really shouldn't back out. When you finally do commit it's in really bad form to then change your mind and walk away. Wait to agree completely until you are 100% sure. There's no contract yet but it's a spoken agreement.
For those people who find bargaining very uncomfortable, remember you're not going to offend the salesperson, even if they act offended. You don't have to be rude but also don't be afraid to make a deal that works for BOTH of you.
2. Don't Appear Too Interested
Love a rug? Just have to have it?
Don't let the shopkeeper catch on to it or you've lost one of your biggest bargaining chips. Instead, act nonchalant. Even look at more rugs so that you can eventually come back to the one you really want. Also, don't be afraid to walk away. Moroccan rugs are one of a kind it's true but many times when you walk away the salesman will come back and reduce the price or agree to the last price you gave.
But, if you appear very interested and just HAVE to have a specific rug the salesperson is not going to be as flexible with pricing. They'll see that you are likely willing to pay more because you really want it.
3. Selecting Your Rug
Sometimes it can get a little (ok a lot) overwhelming when you start looking at rugs. There are SO many to choose from that after a while they can all start to blend together. You also might be shown rug styles that you have no interest in however these keep adding up on the floor and in your mind making for more confusion. Here are a few tips to help you find the right rug without losing your mind!
Have an idea of colors that you do or do not like. If for example you've seen a few orange rugs and hate them, let the vendor know you don't want to see any more rugs with orange. Likewise, if you know you need a rug with blue in it, let them know you want this right away.
Start by narrowing down the rugs you do like. The vendor will pull out rug after rug and lay them on the floor. When you've reached a point where you're not sure anymore stop them. Ask to remove the rugs you do not like and set the ones that are "maybe's" to the side. Once the rugs you don't like are removed, just have them lay out the rugs you do like, this makes it a lot easier to decide what might be a fit.
Keep in mind that the rooms you are viewing the rug in is likely to be a lot bigger than the room the rug will go in at home. So while it might "look small" on the big floor, it might be just right for your home.
Once you've gone through the maybe pile and weeded out the rugs you still want to consider or those that aren't the right fit it's time to decide if you want to see more or make a decision.
If you decide to see more let the vendor know if there's a style of the rugs you've seen that you really like or if you'd like to see something completely different.
Having open conversation and dialogue will not only help you find the rug that you want but will also help the vendor uncover which rug is the right fit. Some places have thousands of rugs and having a good starting place is really helpful for everyone.
It's also helpful for you to keep in mind what your budget is for purchasing a rug, or at least a roundabout figure.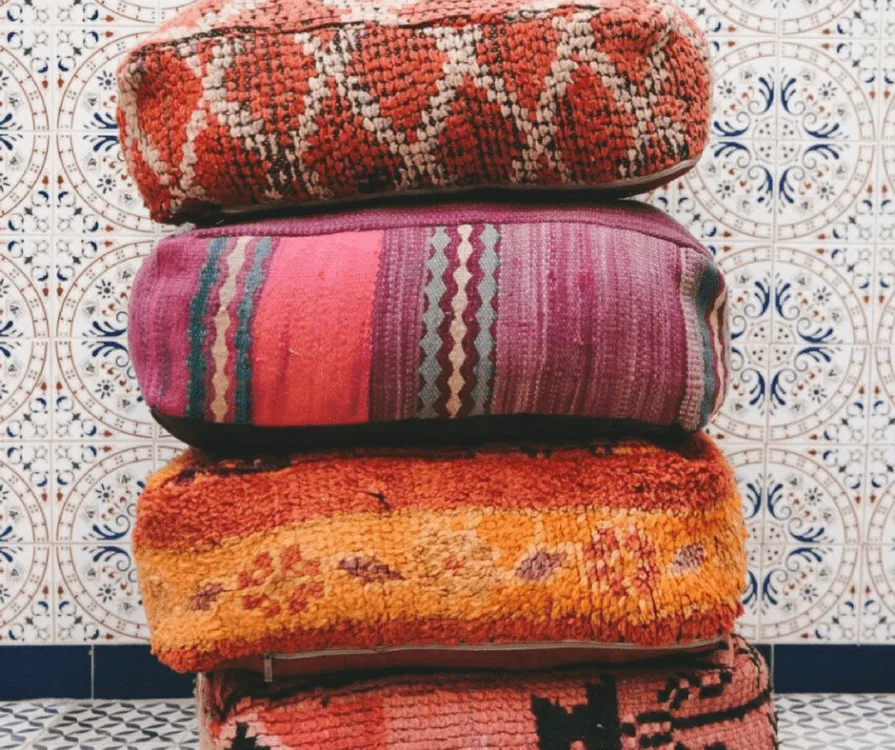 4. Antique and Aged
If you walk into a shop and are told a carpet is an antique Moroccan rug don't automatically trust it, especially if you don't know the difference. There is a whole industry of "aging" carpets that will be sold as antiques. If you really want to buy an antique you need to be sure to do your research, so you know what you're getting. Chances are also pretty good you won't find rugs here that date beyond the 1920's or 1930's.
Even in the best condition, they'll have natural fade and the fabric will be frayed. Remember rugs are used for practical, not decorative purposes. So an "antique" rug that's faded but otherwise in perfect condition – not likely.
If you don't know what you're buying and don't have a lot of experience with antique rugs I would encourage you to be very careful. Like with anything if you don't know what you're buying you can't really judge the value of that item. For your purchase, you might consider something that you simply love vs. buying an investment piece.
5. The Fire Test
Authentic Moroccan rugs are made from wool. One way to tell if you're getting a real wool rug or a synthetic is to hold up a lighter to one of the loose edges. If it doesn't light or put itself out its made of wool. If it ignites it's synthetic. Chances are if you pull out a lighter and it's fake after the dealer has told you it's authentic he'll get quite nervous.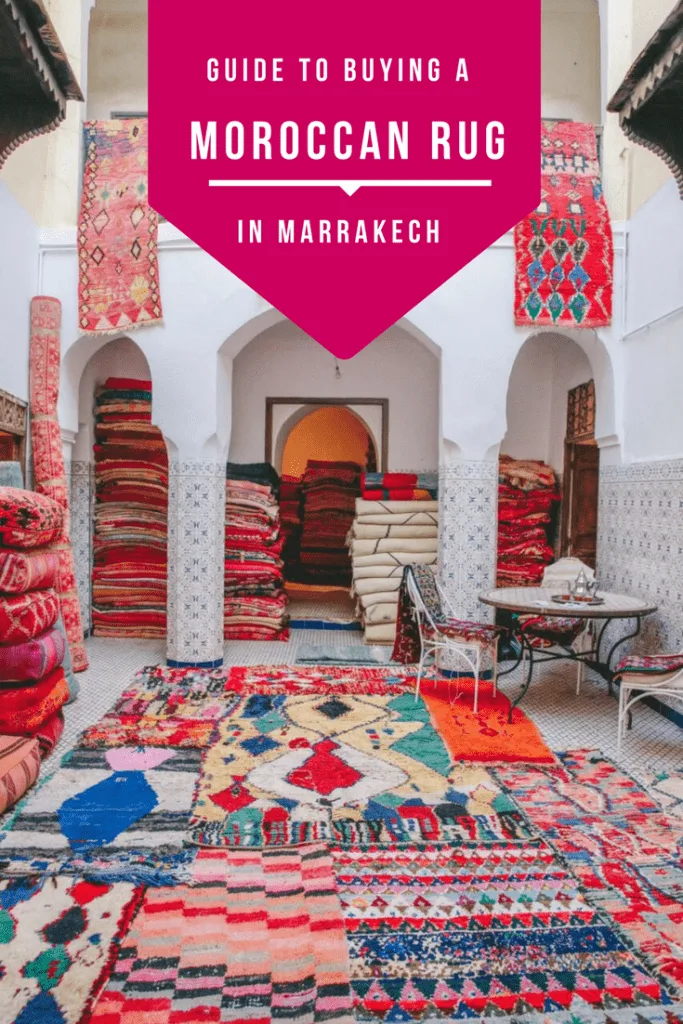 6. Look Around
I could get lost in rug shops for hours and if you're not sure what you want you should too. Spend time looking around and seeing what you like.
But, don't ask for prices until you find something that you do like.
If you're in a shop and are having a hard time deciding set aside a variety of items that you do like and start asking prices. If you're really unsure what rugs will cost go to a fixed-price shop first. There are typically artisan centers in larger cities.
For example, the Ensemble Artisanal in Marrakech will have all varieties of artisan goods for a fixed price. Walk around, look at prices, and then go into the souks (or pay the fixed price if you prefer!) This will give you an idea of what things cost without the pressure and sales hacks.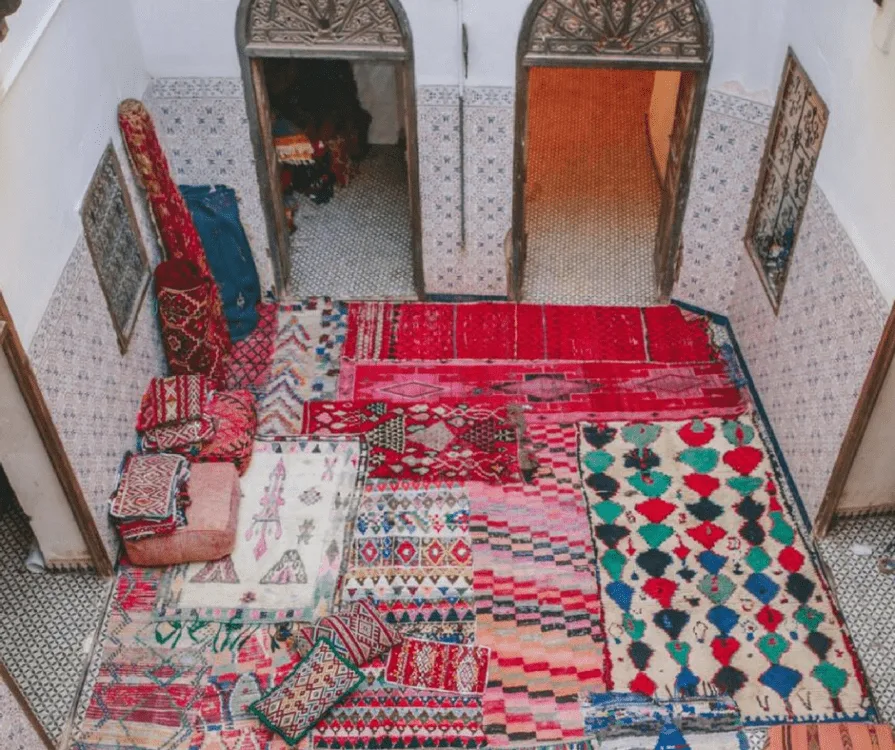 7. Avoid the Women's Co-op Ploy
If I had a quarter for every good-hearted tourist that has bought into this I would have my own rug shop. I get it, you want to help. You want to support the people making these rugs, who most of the time are women. But here's another dirty little secret, most of the "women's co-ops" are that in name only.
The women are getting a pittance of the sale. You might say "oh it's ok I'll pay more because it will make a difference," no I'm sorry but it likely will not. The women get a fixed price (trust me it's not much) for their rugs and whether it sells for that price (not likely) or 100x more, they make the same amount.
What Should a Rug Cost?
People ask me this all the time and it's impossible for me to answer this question. There are dozens of variables that affect the price of a rug.
Age, style, design, condition etc. etc. are all variables. Where you buy the rug in relation to where the rug was made, how much the shop paid for it, how popular that style is at the present time also come into consideration.
A small rug may only cost you 750-1000 dirham. However an average price ranges in the 3500-6000 dirham range. An older vintage Berber rug or larger sized rugs can range from 10,000-25,000 dirham and more. Buying a rug is not "cheap" but it is MUCH cheaper than buying it outside Morocco.
What Should I Have With Me When Shopping?
If you're planning to shop for a rug don't go empty-handed. You will want to have an idea of the size of the rug you want or need. This is very important. Keep in mind sizes are done in metric and most rugs are not made in the same dimensions as western rugs. They are typically much more rectangular to fit in Moroccan homes.
You also should have some ideas of colors and designs that you like. A Pinterest search will pull up hundreds of different Moroccan rugs. Familiarize yourself with some of the names of styles you like. Every tribe in Morocco has a different style so when you say "Moroccan" rug it encompasses a LOT of different styles and designs.
Also, have an idea of your budget and what you want to spend. It's easier to pay for things with cash than a card as there's often a surcharge for using a credit card. If this is the case make sure to work in the charge to your final price. If you will need shipping, this should be included too.
Shipping a rug from Morocco is possible and while you can handle this yourself by visiting the post office it can be a frustrating process that takes quite a bit of time. If you can work shipping into the deal with your rug it will be much easier for you.
How Do I Take Care of My Rug?
Good question! I've written a post that is all about how to clean your rug once you get it home! You should always take care and if you're unsure or afraid to do this – don't. Take it to someone who can professionally clean them.
How to Clean Moroccan Rugs at Home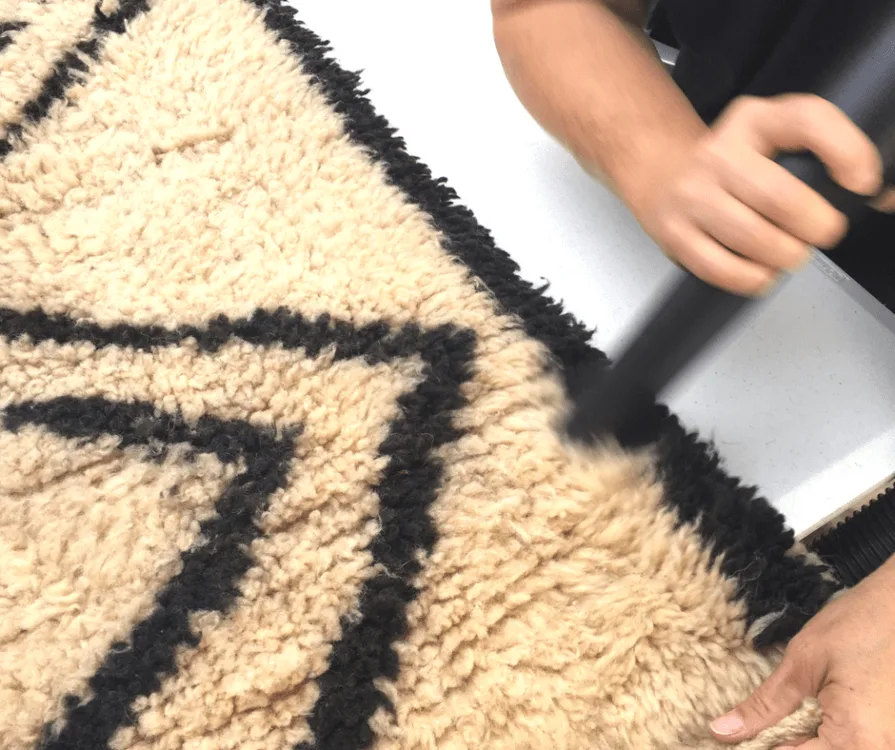 What's the Best Rug Shop in Marrakech?
I haven't been to EVERY rug shop in Marrakech but I have found a fantastic shop that I think will take so much of the pressure and guesswork out of buying a rug. Not only that you won't feel pressured to buy and I promise you'll be getting a really good deal. I met one of the owners of Vintage Moroccan Carpet on one of my shopping adventures and I'm so glad I did. The images in this post are all from their shop.
Why should you check out this shop?
First, if you want to deal with someone that is honest and straightforward forward you'll find that. They have ALL kinds of rugs at ALL price points. You can find lovely small rugs starting around $400 or you can find gorgeous vintage rugs that are the real thing and not just made to look vintage (though expect to pay more for older and larger rugs).
If you won't be in Marrakech, they do online orders with guaranteed delivery (they'll also ship your rug home if you'd rather). If you want to see more of what they have find them on Instagram @vintagemoroccancarpets.
If you want a wider selection or are looking for something a bit more specific visit Les Nomades de Marrakech next door. It's one of the largest shops you'll find in Marrakech and honestly, they really do believe in doing right by their customers. The shops are connected and have access to the rugs held at each.
It's worth noting that not all rugs are "inexpensive" and that's just a general rule. Many rugs take months to make and a lot of materials, this really has to be considered when you're shopping.
WORD OF ADVICE:
Do not listen to anyone on the street that tells you they are closed (this goes for just about any shop or attraction in Marrakech) or not open, or anything of the like. It's likely the person will tell you this, and then they will then "offer" to take you to a different shop that they work with and request (or force) you to tip them for the convenience of taking you.
Feel free to visit either or both of these shops on your own or with a guide. They have staff that speak English and will be happy to assist you.
How to find them;
The shop address of Vintage Carpets is 29 Zaouiat Lahdar Kaat, Benahid 40030 Marrakech – it's very close to the Ben Youssef Mosque. The door to the shop is fire engine red so you can't miss it! Hours are 10-18 daily. You can just turn up or you can schedule a time to visit (call at +05 24 38 18 45 in Morocco). It may appear that it is closed (the door is closed) just knock or ring the bell.
There is currently renovation going on in this area and the shop may be closed from time to time to accommodate this. If so, you can visit Les Nomades, their sister shop who also hold stock.
Les Nomades is right around the corner and has very large signage that you can't miss.
In conclusion, buying a rug in Marrakech can be a thrilling and rewarding experience. However, it's important to keep in mind that the process can be overwhelming and it's easy to fall prey to scams or unscrupulous vendors. By following the tips outlined in this article, you'll be able to navigate the rug market with confidence and find the perfect rug to bring home as a souvenir of your trip. Remember to take your time, do your research, and don't be afraid to negotiate. Happy rug shopping!
More Information on Rugs in Morocco
What are the Different Types of Moroccan Rugs?
4 Things You Need to Know to Keep Your Rugs Lasting
How to: Cleaning Moroccan Rugs