Moroccan rugs come in a wide variety of colors and sizes but one of the most popular color schemes are black and white. If you are worried about rugs who have color bleeds or you like to regularly change your decor you really can't go wrong here.
Black and white Moroccan rugs fit into a wide range of styles and time periods – they're timeless! Lately the Scandanavian and minimalistic style designers have been incorporating these black and white rugs for something a little different but a style that still fits their aesthetic.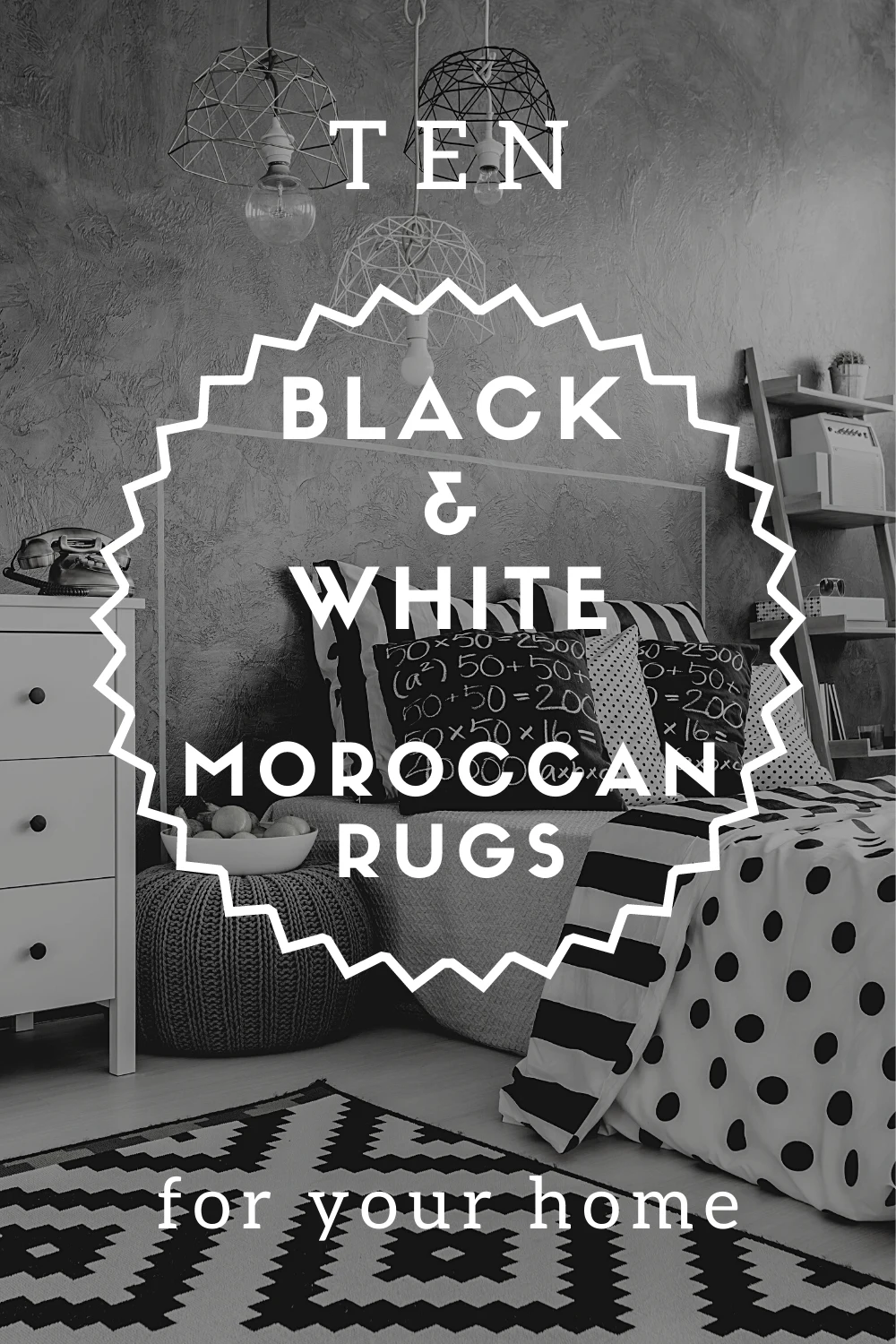 I've put together ten different black and white rugs; some are new, made to order styles while others are one of a kind pieces. Whatever you choose, you'll be sure to have a rug that lasts long and will be a great conversation piece.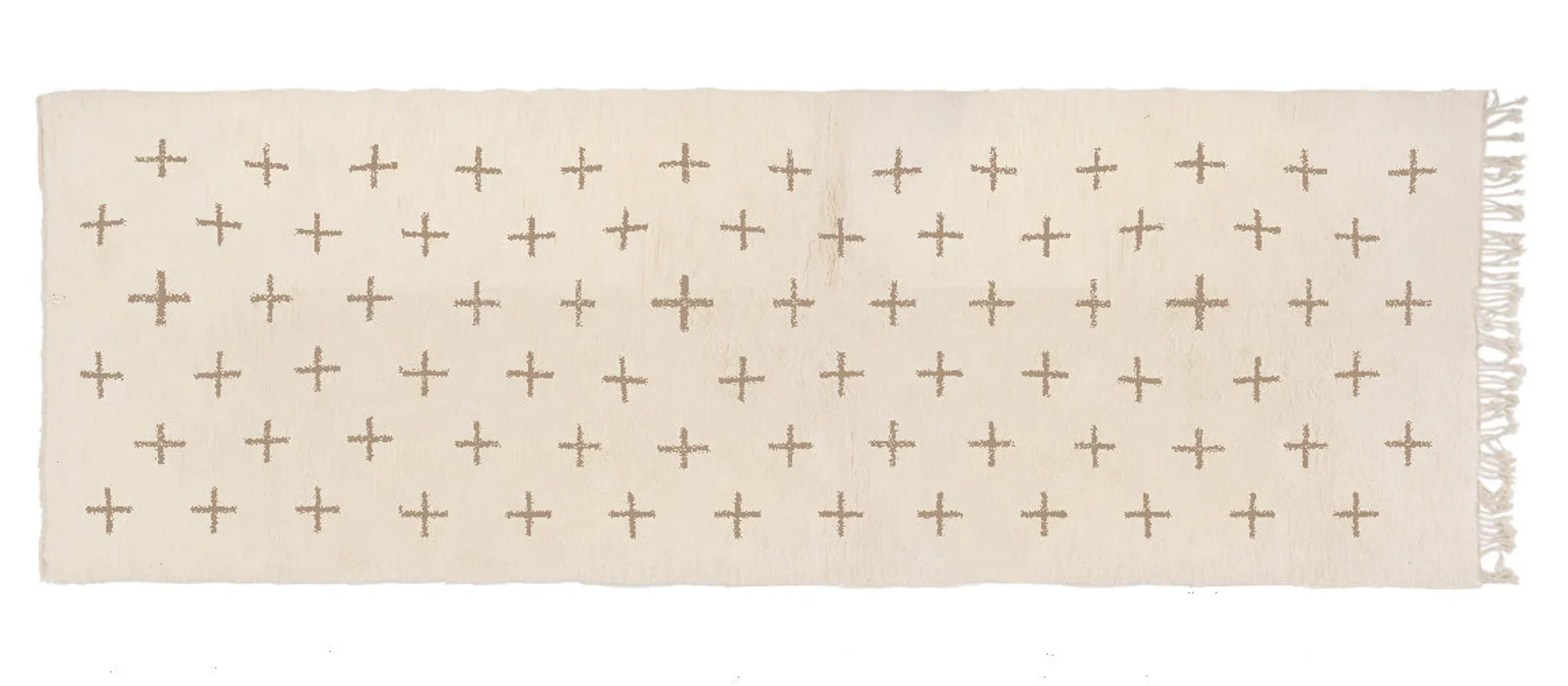 A beautiful rug made with an arrangement of black crosses. It's a cute addition to any room. You can also choose a different color for the geometric design if you'd like. There are several different color options. The rug is also available in different sizes depending on your needs. This is a runner-style Moroccan rug.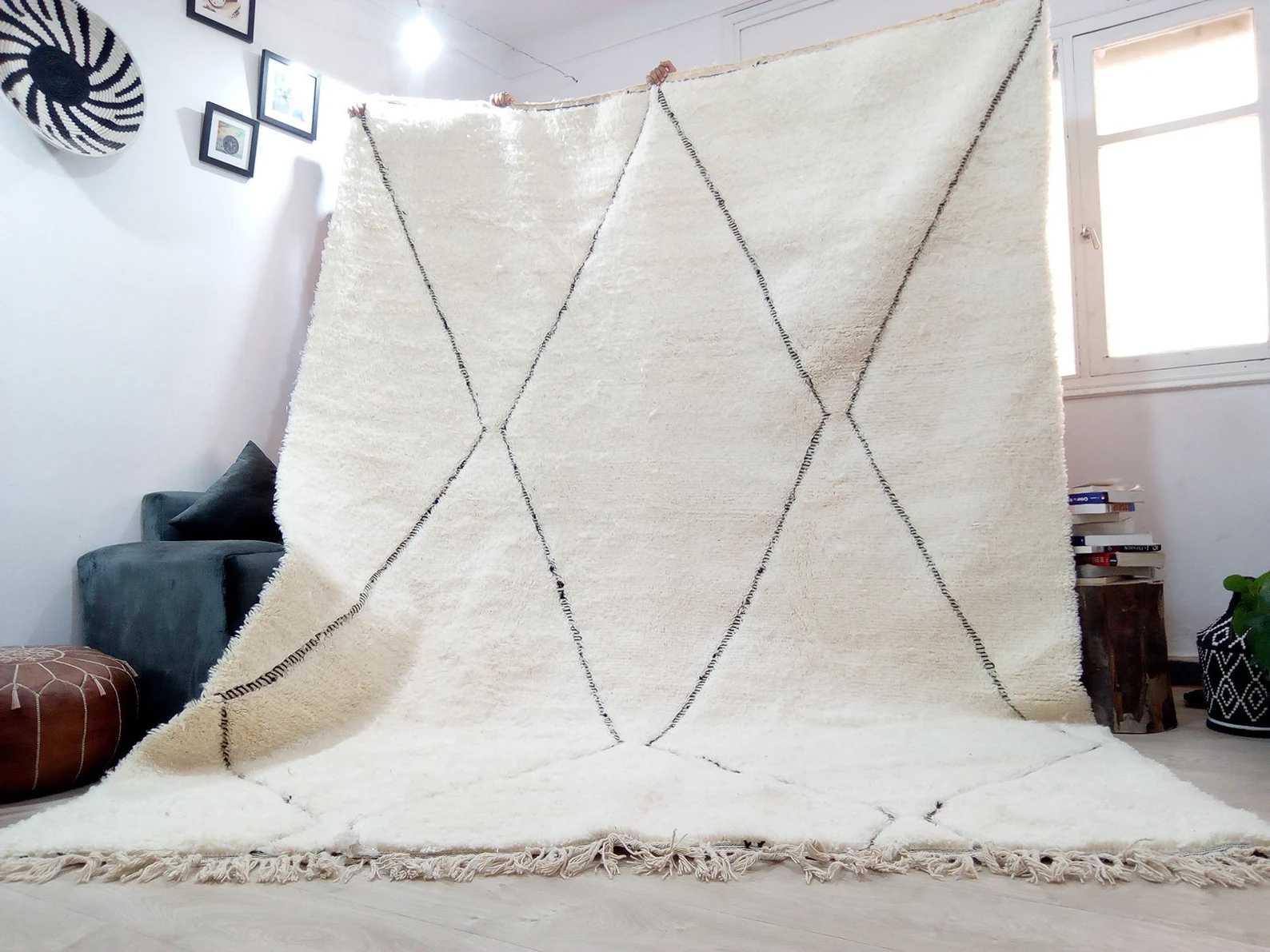 A really beautiful example of Moroccan craftsmanship. This rug is custom made to fit whatever dimensions you need. It has a boho feel to it and would work great in a living area, bedroom, or even in a kitchen area. The fibers are all-natural so no worries about bleeding with this rug.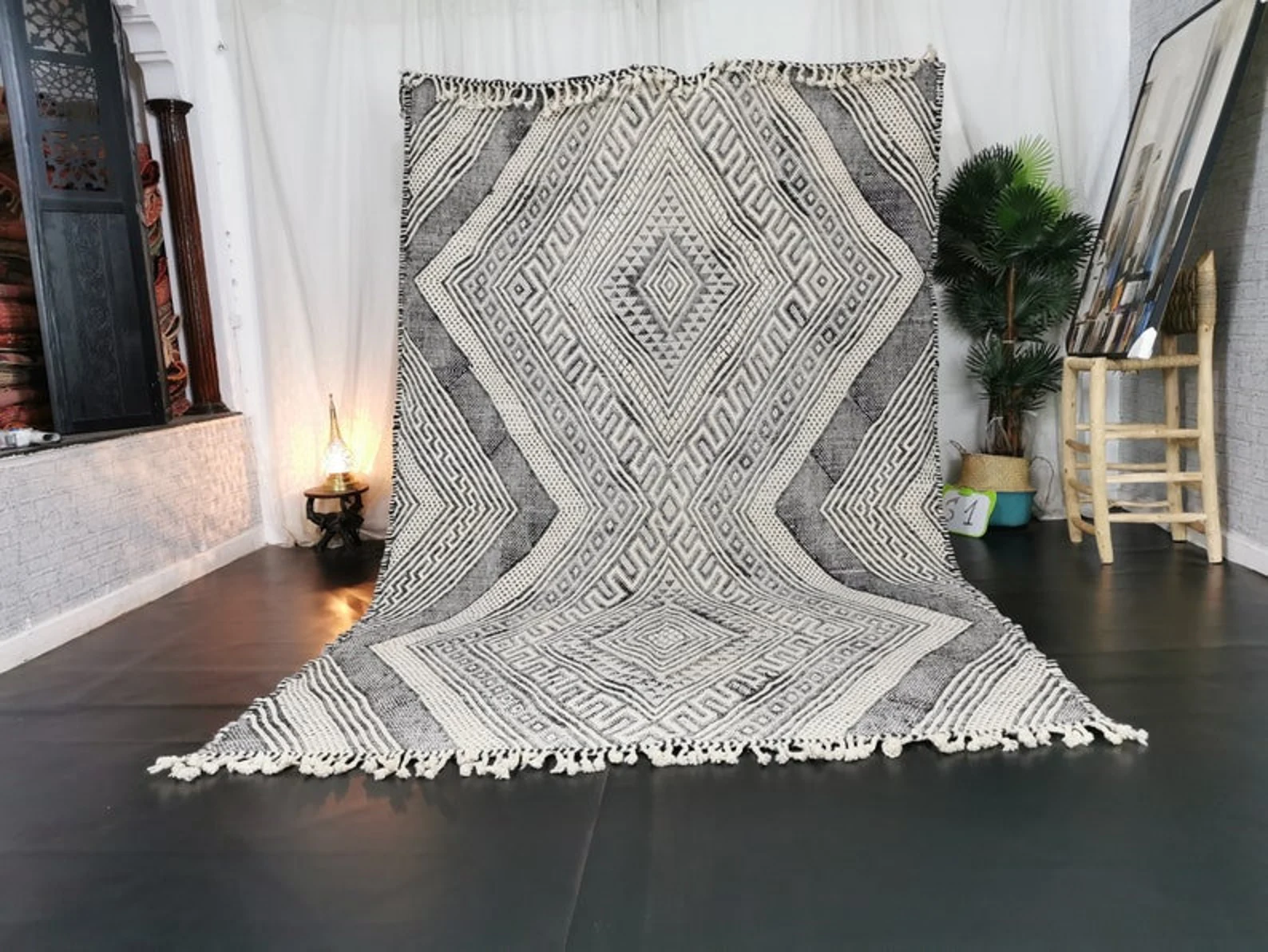 Large diamond geometric designs envelop this kilim, flat weave Moroccan rug. This Zanafi-style rug measures 10.6 x 6.7' ft making it ideal for a large living or dining space. The flat weave style is great for those who need a rug wtih little necessary upkeep.
While many Beni Ourain style rugs have a white base with black highlights, this rug is the reverse. These rugs are custom made so they will not ship immediately. However if you have a very specific size in mind, this is a good option for you as rugs are made based on your specified dimensions.
I am OBSESSED with this rug and wish I could find a place in my house to make it work. These Azilal rugs are also made to order based on your sizing requirements. Because of this it can take up to 8 weeks to be made – especially for larger sizes that require more time. Your rug might look slightly different than the picture as there's no patterns that are used in creation. But they remind me of a gorgeous painting.
This unique Moroccan rug is a Beni Ourain and features lines and dots. It is custom made to size so you can choose what you need. They have a lot of different size options available. These are new rugs so you won't have to worry about condition or wear issues with your rug.
A different take on the Beni Ourain style this rug has a single, large rectangle as the focal point. Have this rug made in whatever size you need and shipped door to door quickly via FedEx.
Finding runner style rugs can be difficult but this is one great example of a black and white style. It can be ordered as long as 16 feet long for those extra long hallways. I also can't help but think how cute it would look as a runner along a kitchen cabinet.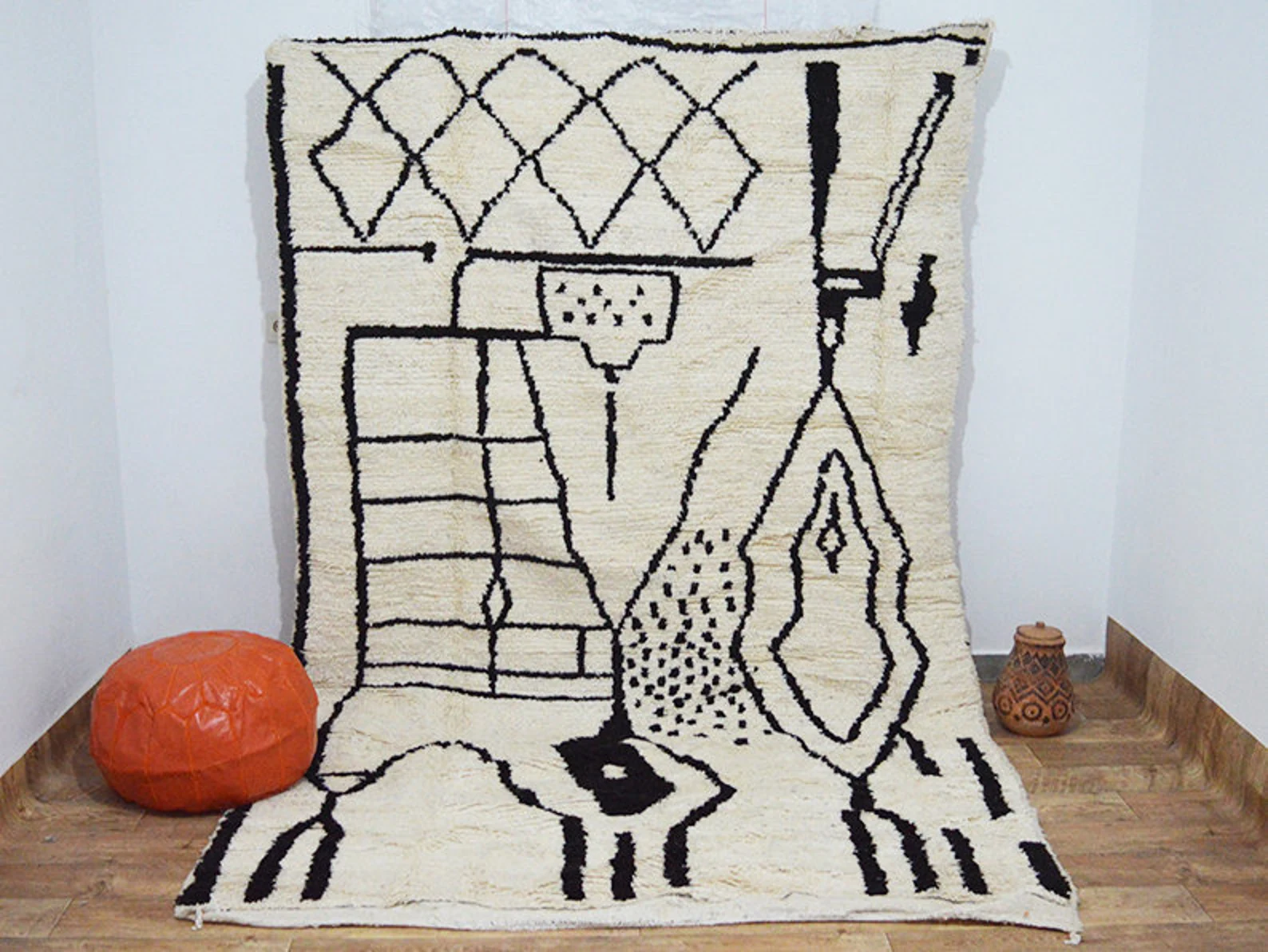 If you're looking for a piece with personality, this is it! Often times this style of rug is seen with bright colors and can be a lot for people who are into more subdued tones. This rug has a geometric quality while still feeling unique and special. Only the weaver knows the true story behind why the pattern is how she's chosen.
A crisp white rug with tufted white squares and vibrant black cross-hatching this is a large rug to fill a big space. The simplicity and the details in this along with the crisp lines remind me of embroidery.