If you are looking for small Moroccan rugs for small spaces there are plenty that will brighten up any room without taking over. Most of the time sales are for very large rugs that don't always fit everyone's homes or budgets. But you can still have a beautiful Moroccan rug for an affordable price!
Here are some great small Moroccan rugs with and details about each rug including the dimensions, production information, and design attributes.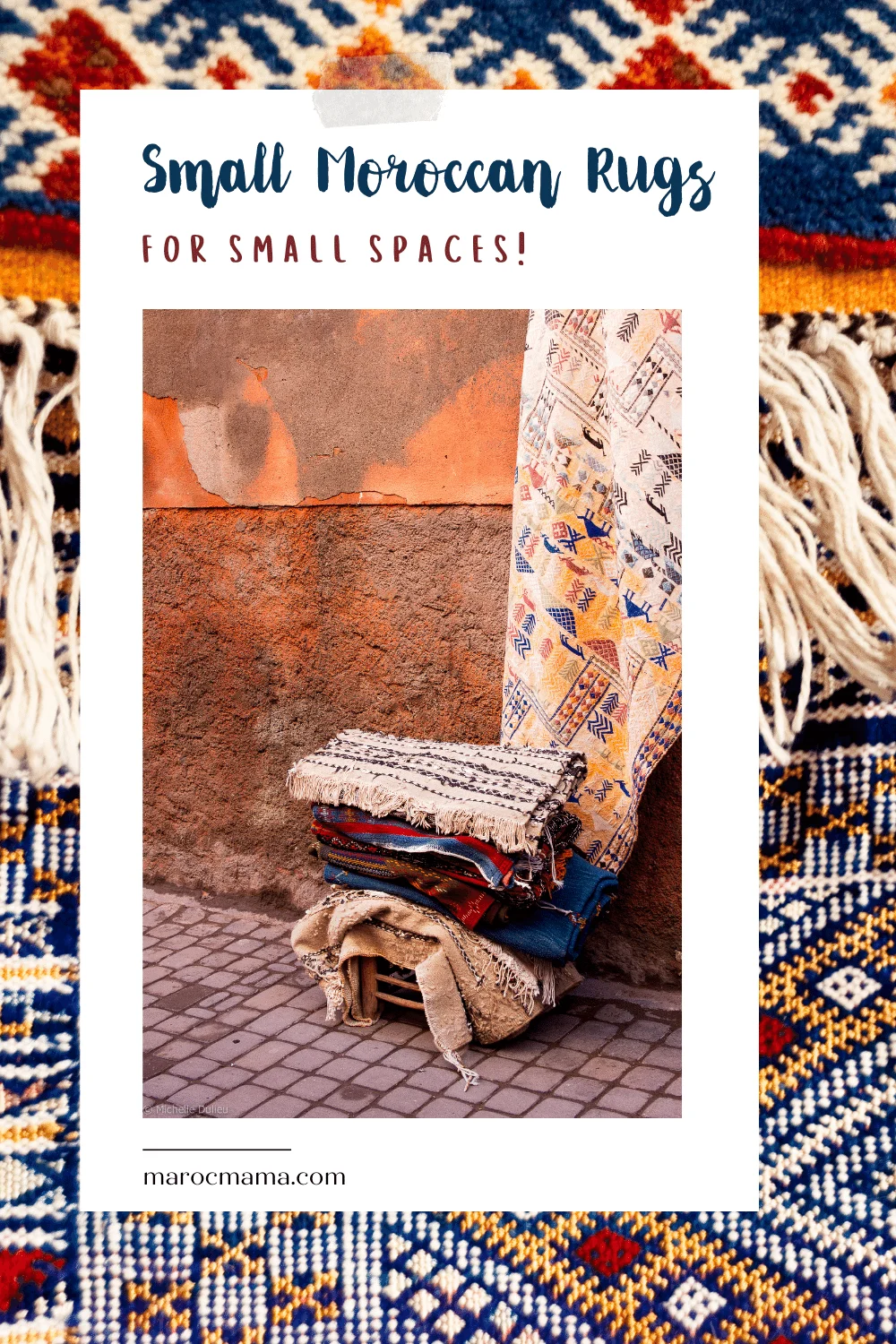 This soft vintage rug comes in monochromatic blue colors with geometric armament from the Middle Atlas Mountains. It is handmade by Berber women and intricately woven together with cotton and wool. It measures 4.7 x 2.5 feet. This rug would add a wonderful accent to any room – especially kids rooms!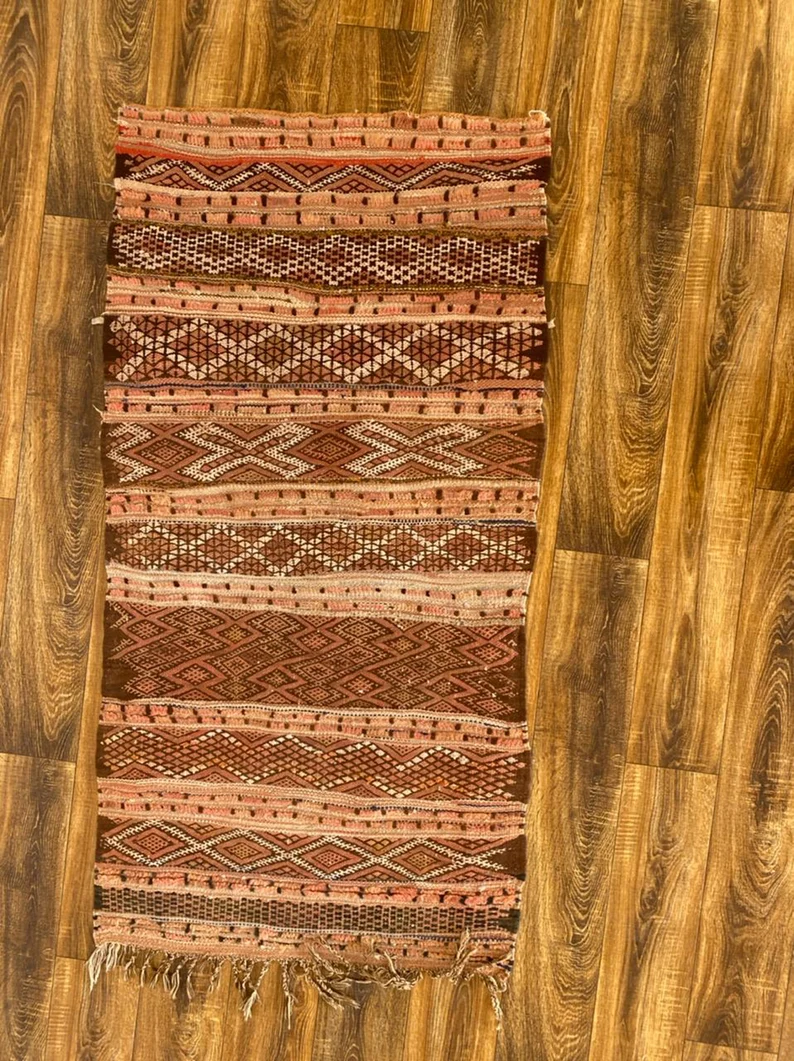 This gorgeous vintage rug has been hand-knotted by women, a tradition that has been passed on for generations. It measures 5.44 x 2.46 feet and is of high quality and very thick, so a great addition to make a room that much cozier. It comes in earthy tones and has diamonds featuring as the main pattern.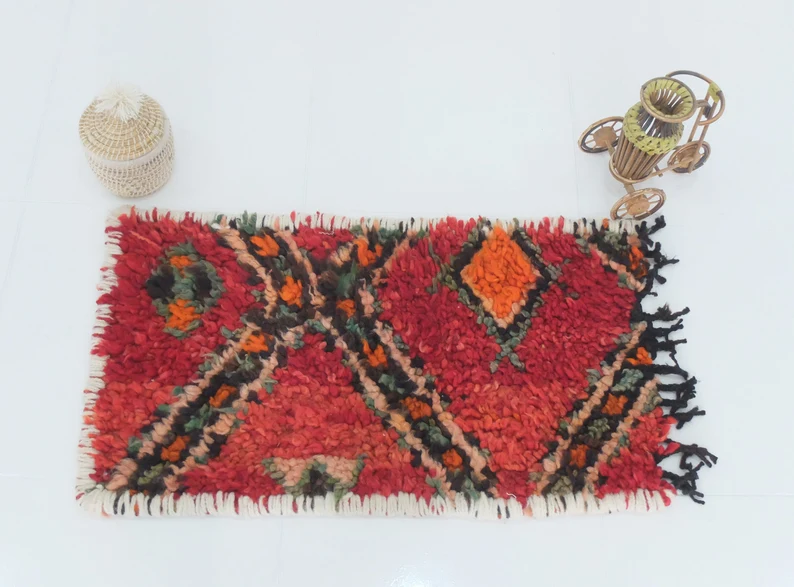 Measuring 29.5 x 17.5 inches this handwoven rug is made from cotton and organic wool and is one of a kind. It has been handwoven by talented Amazigh women. Featuring a tribal geometric design in reds and yellows it also has tassels on one side. It's approximately 30-40 years old.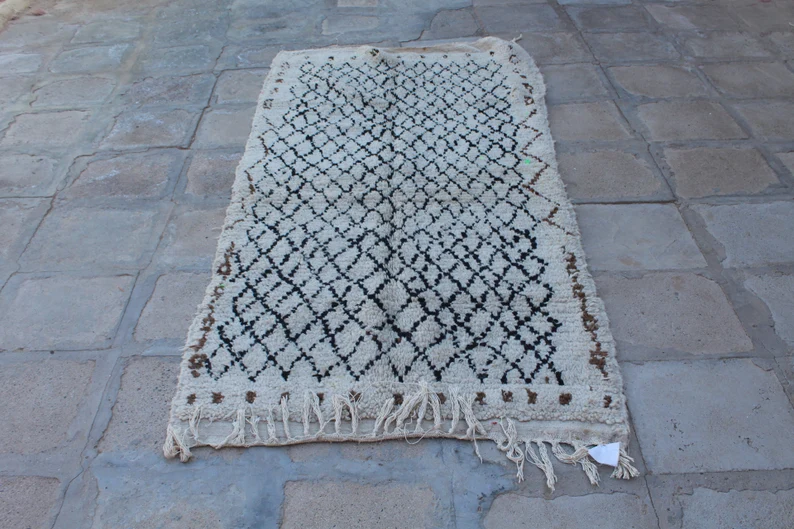 This shag style rug was hand-knotted by Berber artisans using pure wool, making it extra plush and soft. It measures 3.5 feet by 7.5 feet and is predominantly a cream white color with dark brown diamonds all the way across and down.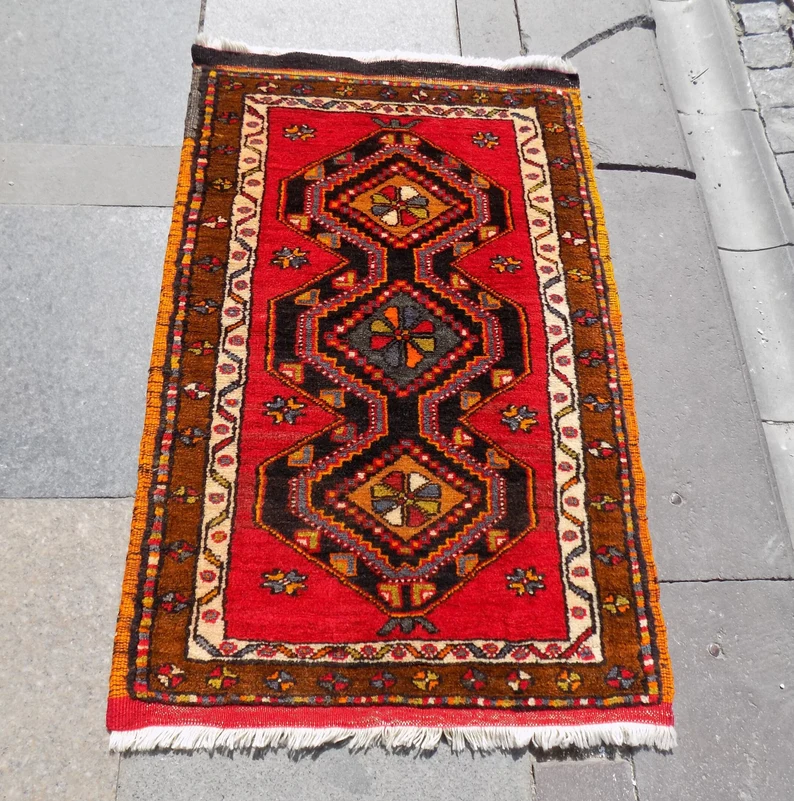 This beautiful red rug is a completely flat rug that has been handwoven. It measures 36 inches x 21 inches and is made of wool and cotton. This rug is being resold and does have a few spots that could be removed. It is very colorful and full of different geometric designs that make it unique.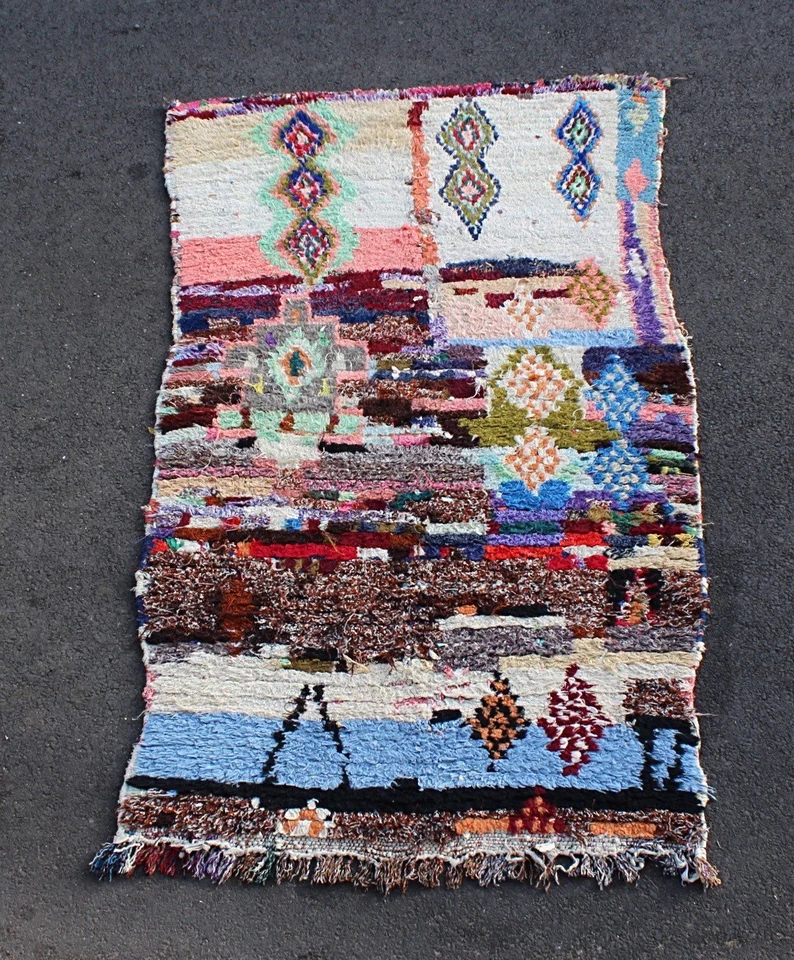 This vintage rug is in good condition according to its age and measures 6.2 x 3.6 feet. It was knotted entirely by hand by Berber women. Made from wool, it has a soft feeling under the feet. It has been intricately crafted using many colors including white, black, blue, red, green, pink, and red to make traditional geometric patterns.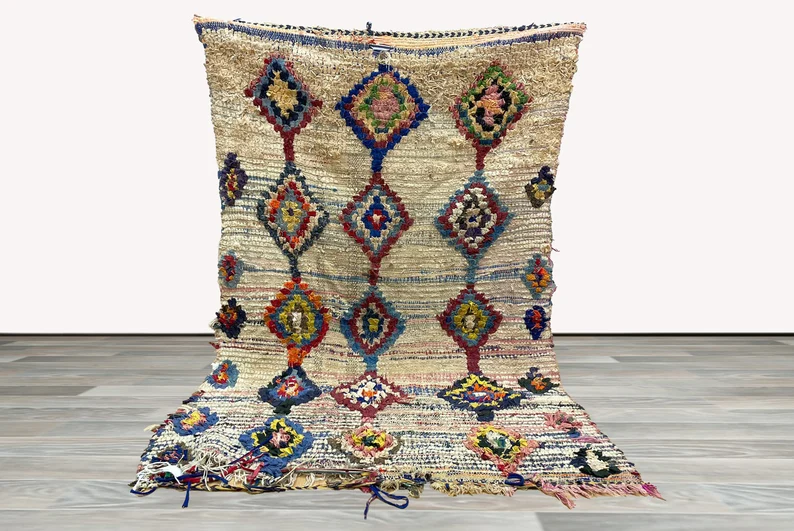 This authentic vintage Berber rug is made from wool, cotton, and recycled fabric. It measures 5 x 4 feet. The main color is light brown but it has a lot of other earthy tones in it such as blues, reds, and greens. It has diamond shapes running vertically down the rug. Due to its vintage age, it has some minor imperfections that only add to its charm.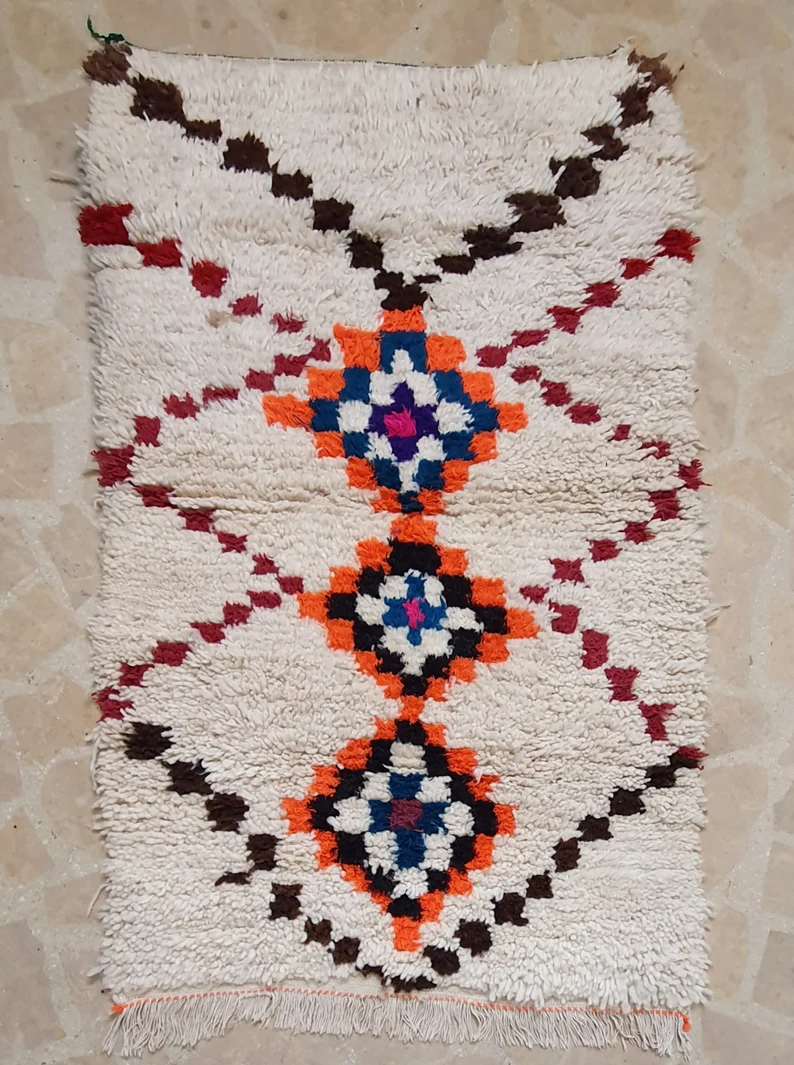 This rug was handwoven from 100% wool and is 4.9 x 3 feet. This unique piece is a collector's item and a beautiful example of an Azilal rug. It has been expertly crafted and has lines zig-zagging all the way up and diamonds scattered throughout. It is a white rug with neutral colors for the lines and diamonds which are pale blue, brown, orange, peach, and yellow.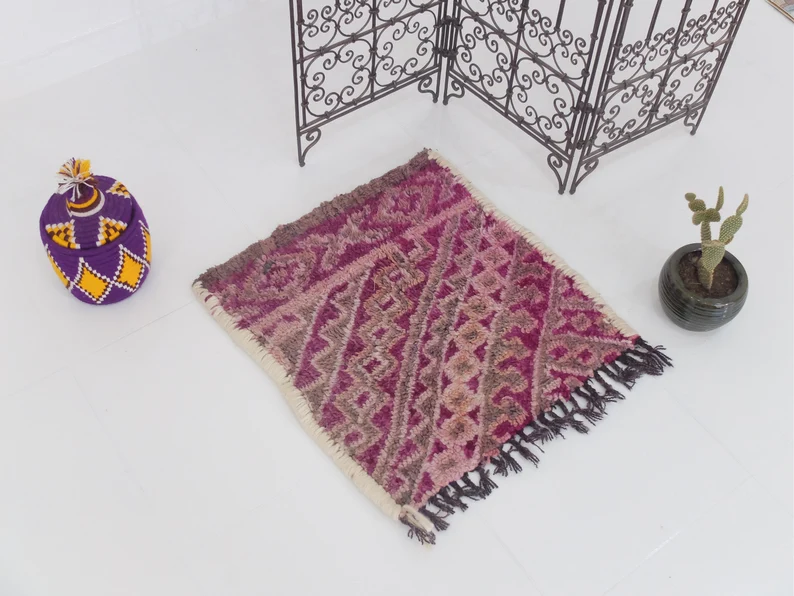 This rug was handwoven from organic wool and cotton by talented Amazigh women in the Middle Atlas Mountains. It is 40-50 years old and in good condition. It measures 23.5 x 23.5 inches. It is predominantly deep red and also has brown and cream to form different patterns, as well as black tassels down one side.
All of these small Moroccan rugs for small spaces can be easily ordered online for delivery to your door.