White Moroccan rugs are the ideal option whether you're searching for a rug to match your current decor or you want something that will stand out and leave an impression.
Moroccan style is all about luxury, elegance, and art, so white Moroccan rugs are an excellent way to achieve that look in your home.
These rugs are made of natural materials and have a thick pile that will make you feel as if you're walking on clouds. The white color will also help to brighten up any room in your home while remaining true to Moroccan style!
White Moroccan rugs have a long and rich history in North Africa, but they also look great in your home.
They're classic, with a timeless look that never goes out of style; their solid color makes them easy to pair with almost any color scheme or style; and they're soft and comfortable on your feet, allowing you to wear them in any room of your home—even the living room!

So, if you are looking for the perfect white Moroccan rug, look no further! We've got all the white Moroccan rugs you could want right here!
9 White Moroccan Rugs for Your Home
Ivory White Wool Natural Hand-Made Moroccan Boho Rug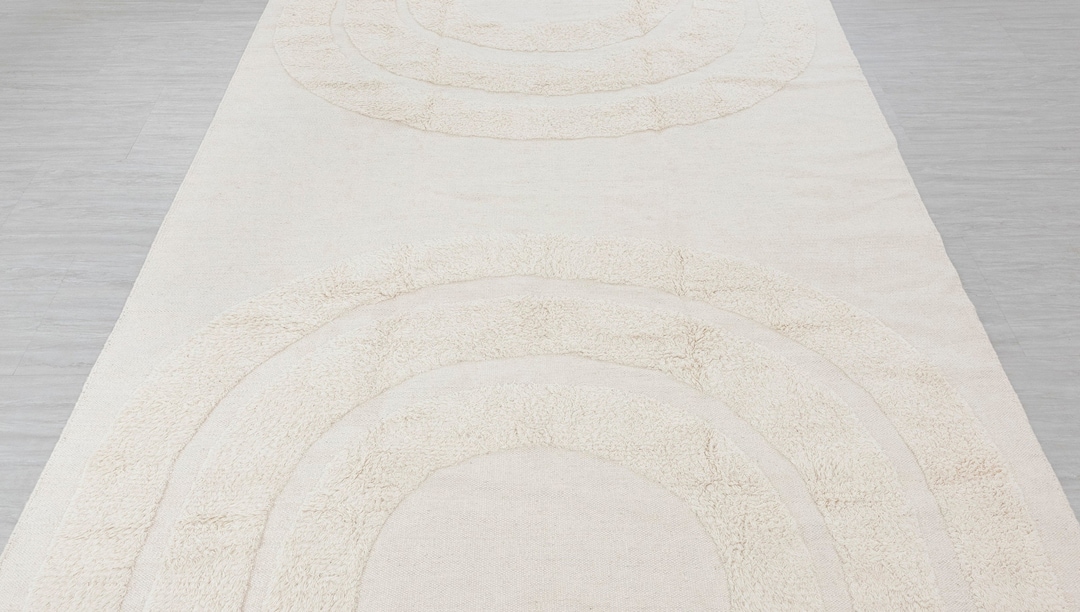 With this one-of-a-kind rug made of the softest wool, you can transform your home into an enchanted sanctuary for yourself and your loved ones!
The rug is ideal for your living room or bedroom, but it can also be used as an accent in a hallway or bathroom. This rug's versatile style and modern color palette make it suitable for any decor.
White Beni Ourain Rug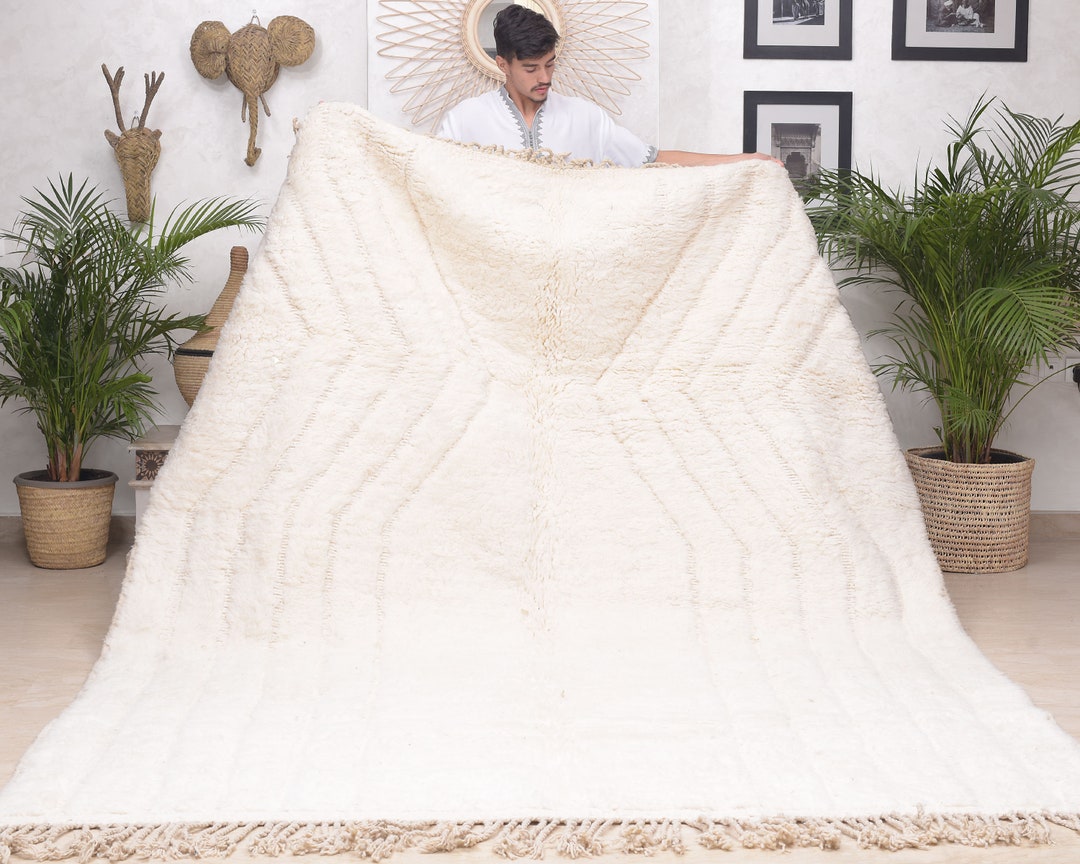 This minimalist white Moroccan rug design is ideal for any room in your house, including the living room, dining room, and entryway.
These rugs' fabrics are made of very soft 100% indigenous wool, giving them a slightly casual feel. The white Moroccan rugs are ethically handwoven by Moroccan artisans using age-old techniques and traditional weaving patterns to ethically handwoven the rugs, ensuring the highest quality.
Simple White Moroccan Rug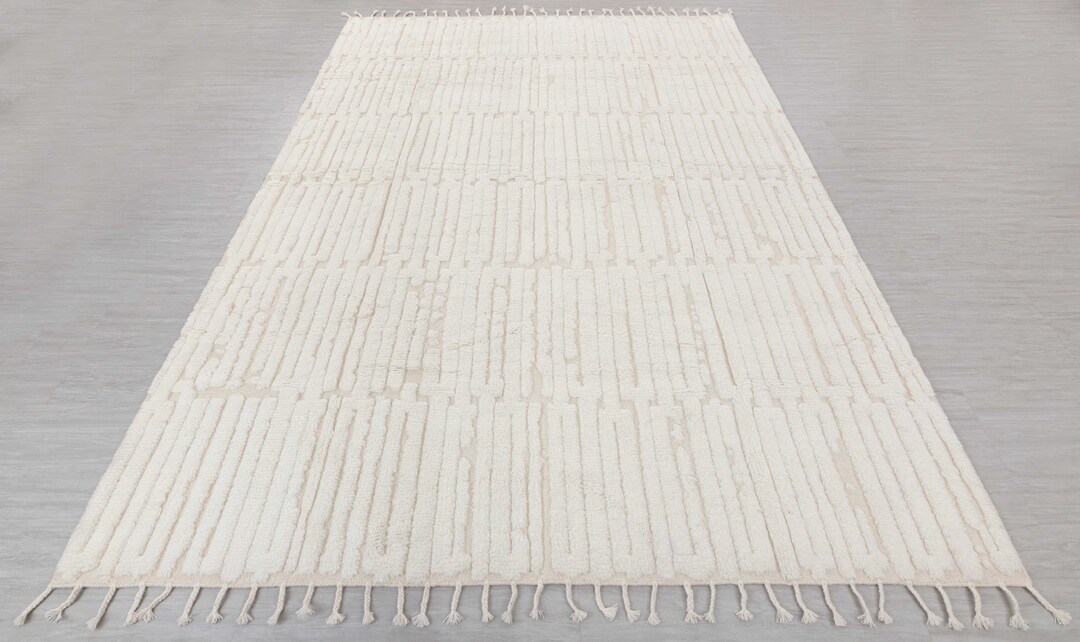 This white Moroccan rug is a piece you'll want to show off.
The Beni Ourain wool rug is soft and luxurious yet strong enough for daily use. It is made of 100% wool that has been hand dyed, making each piece unique and special.
The pattern will liven up any room in your house, whether it's the bedroom or the living room. Its 6×9 foot size makes it ideal for smaller areas such as an entryway or bedroom. The Moroccan design will add flair to your interior design scheme.
This rug would make an excellent gift for anyone who appreciates the fine craftsmanship of handmade rugs or who seeks something unique for their home décor!
White Diamond Moroccan Wool Rug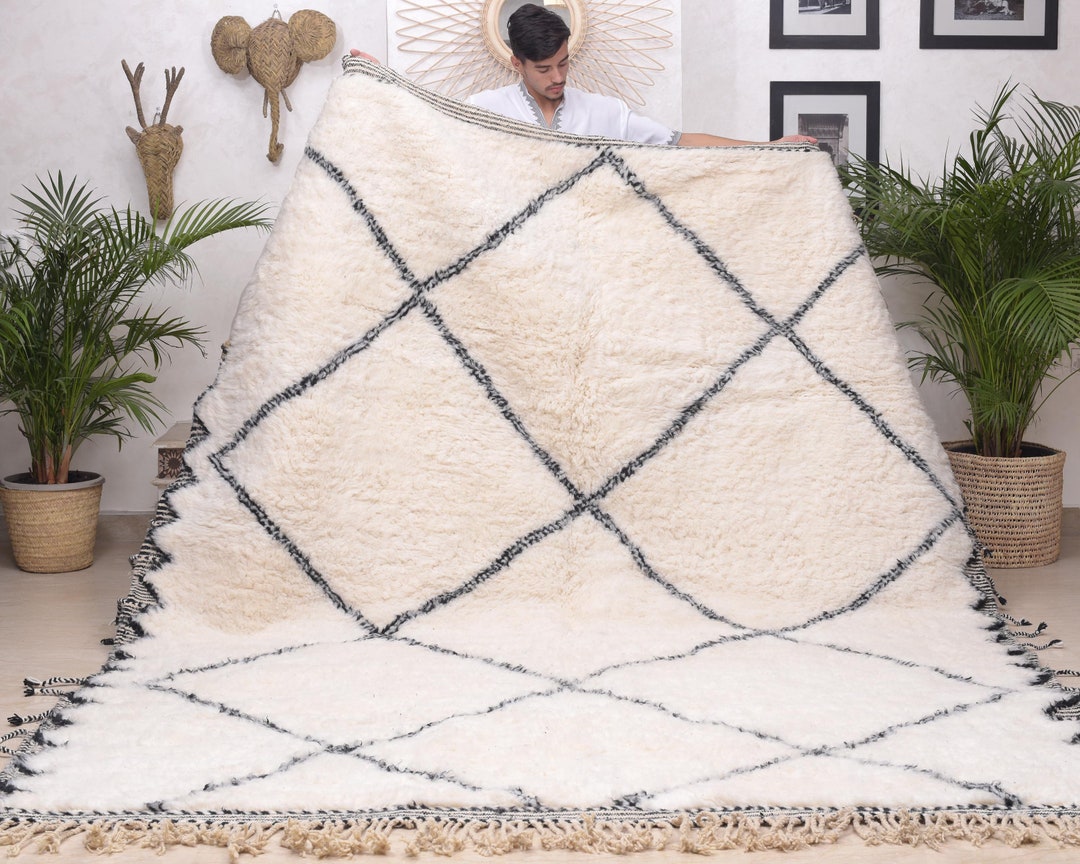 Introducing the Beni Ouarain Rug by Berberology!
The Beni Ouarain rug is a hand-knotted wool rug from Morocco. This stunning rug is inspired by ancient Berber motifs and makes a bold statement in any room. This rug is available in both white and black, allowing you to select the color that best complements your decor.
This rug is one of everyone's favorites because it is made of 100% natural wool and was ethically sourced from Moroccan artisans. It also has a diamond pattern, making it an elegant and modern appearance.
This rug would look great in the rooms of your house, from the bedroom to the living room and even the office!
White Moroccan Kilim Rug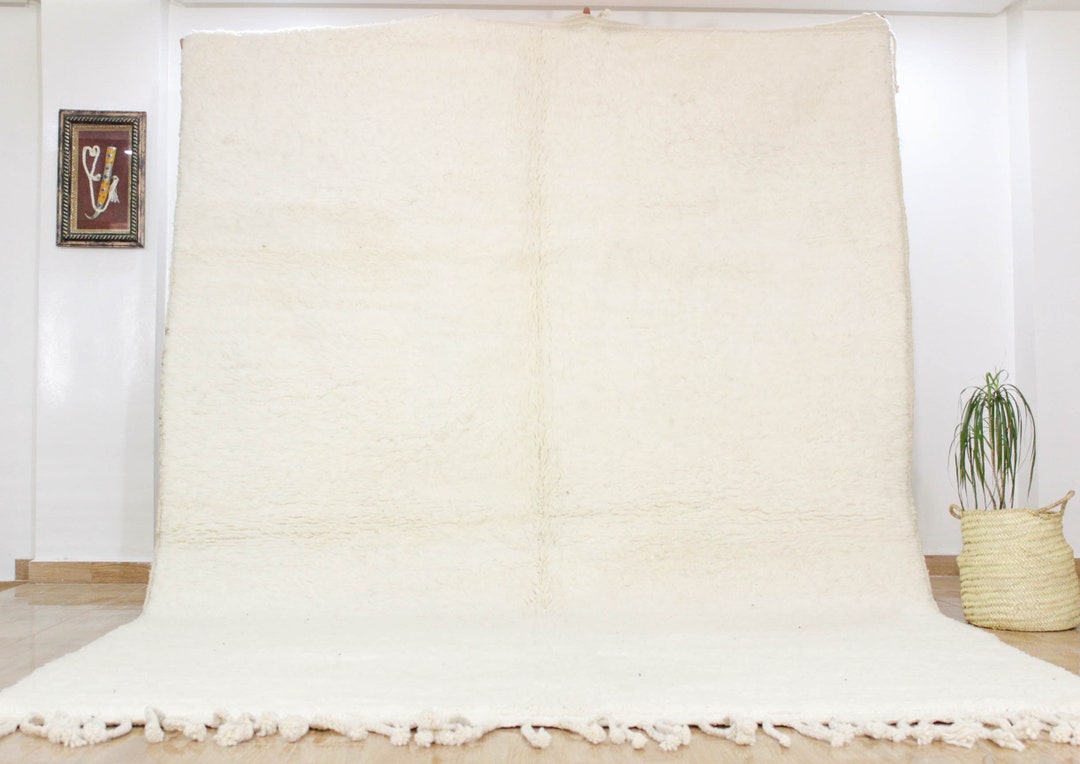 This Moroccan flatweave kilim rug is the ideal addition to your home. It is available in natural white to match any color scheme and can be used as a rug or an entryway mat.
This lovely rug is hand-knotted from 100% silk fibers by Moroccan artisans. The rug is made of pure wool and has boho motifs.
This handmade kilim rug was created by Moroccan artisans who have been making these types of rugs for centuries. They are well-known for their high-quality, long-lasting materials and intricate design details.
Because the dyes used on this rug are all-natural, they will not fade or wash out over time, as synthetic dyes would, making this a great investment piece!
Ivory White Cheque Soft Wool Rug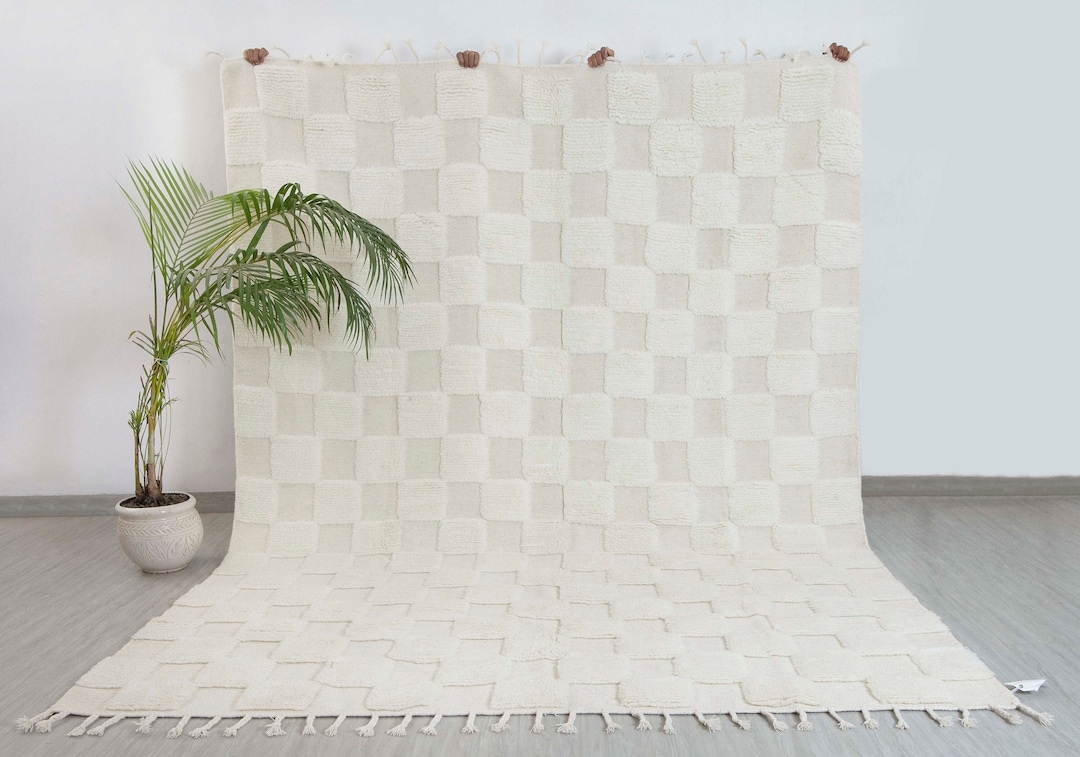 If you're looking for the ideal rug to complement your décor, you should add this one to your list of white Moroccan rugs.
OrientalLooms' Ivory White Cheque Rug is a hand-knotted wool rug made to order. It's made of 100% wool, so it's soft and cozy—the ideal addition to any room in your home.
These white Moroccan rugs have ivory and white checkered designs. The ivory color is accented on each square, giving the piece an elegant look that will stand out in any space.
OrientalLooms custom-made the rug, making it suitable for any size space, large or small!
White Moroccan with Black Border Rug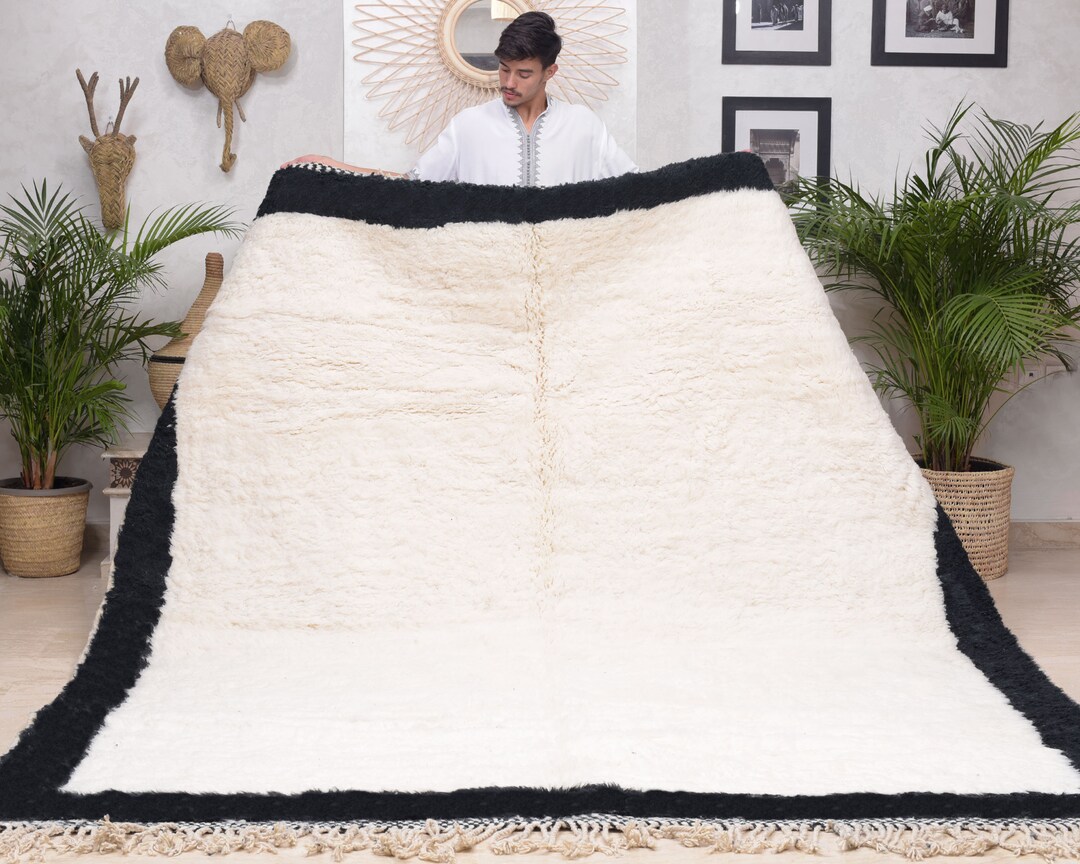 This white Moroccan with black border rug will add a touch of luxury and elegance to your home. It has authentic and beautiful black and white colors that will add a sophisticated touch to any room.
Because it is made of 100% wool and has a durable construction, this modern area rug is ideal for high-traffic areas such as your entryway or living room.
This high-quality classic piece is handcrafted by Berbers in Morocco's Atlas Mountains using traditional techniques, so you can be sure it will last for years. The natural colors are ideal for adding warmth to any modern decorating style, while the black border adds an edgier touch that will help your space stand out.
This White Moroccan Rug is sure to impress everyone who sees it, whether you're looking for a gift for someone special or just want something new for yourself!
Beni Ourain Abstract Rug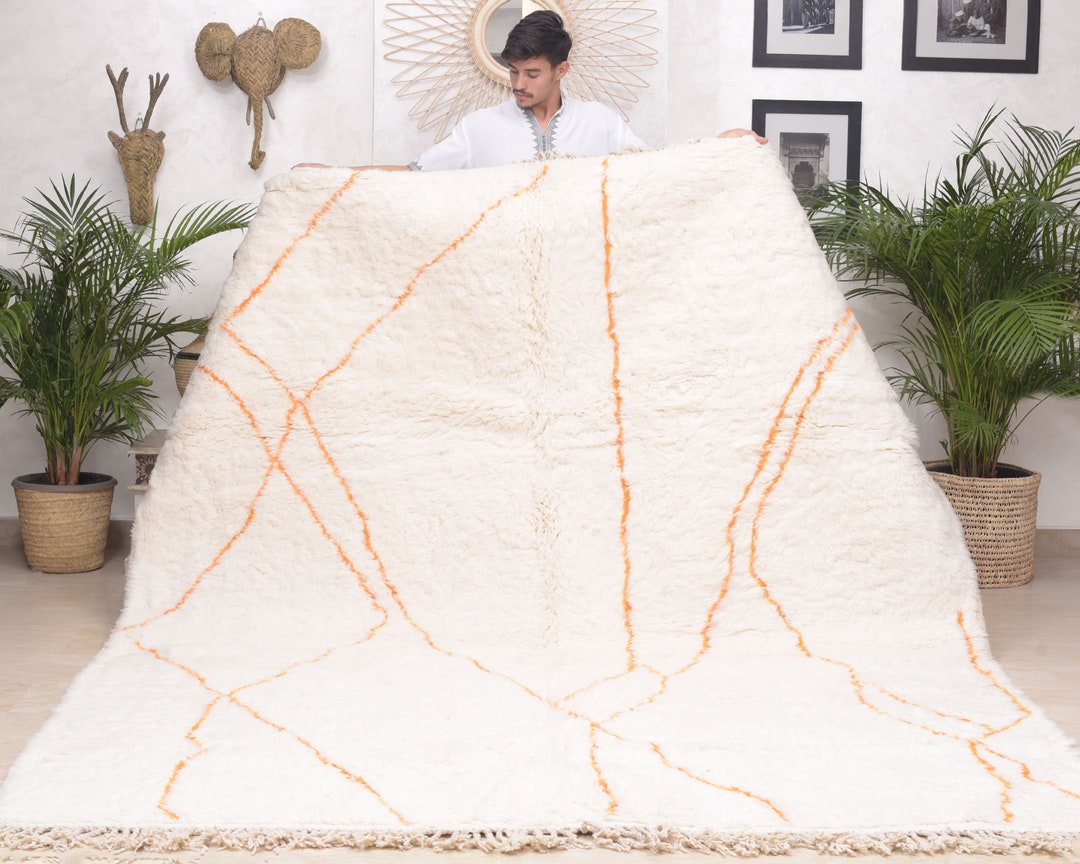 Hand-knotted rugs are a classic addition to any space. This Rug is ideal for anyone looking for a Moroccan White Rug, Saffron Rug, or a more abstract design.
These Moroccan hand-knotted rugs are made from the finest natural fibers and hand-knotted by skilled artisans. As a result, an elegant rug that is both modern and classic in design has been created.
The Beni Ourain Rug will add a touch of sophistication and style to any room in your home or office. If you want an interesting focal point in your space, it's ideal for use as an area rug or even as wall decor.
Off White Moroccan Rug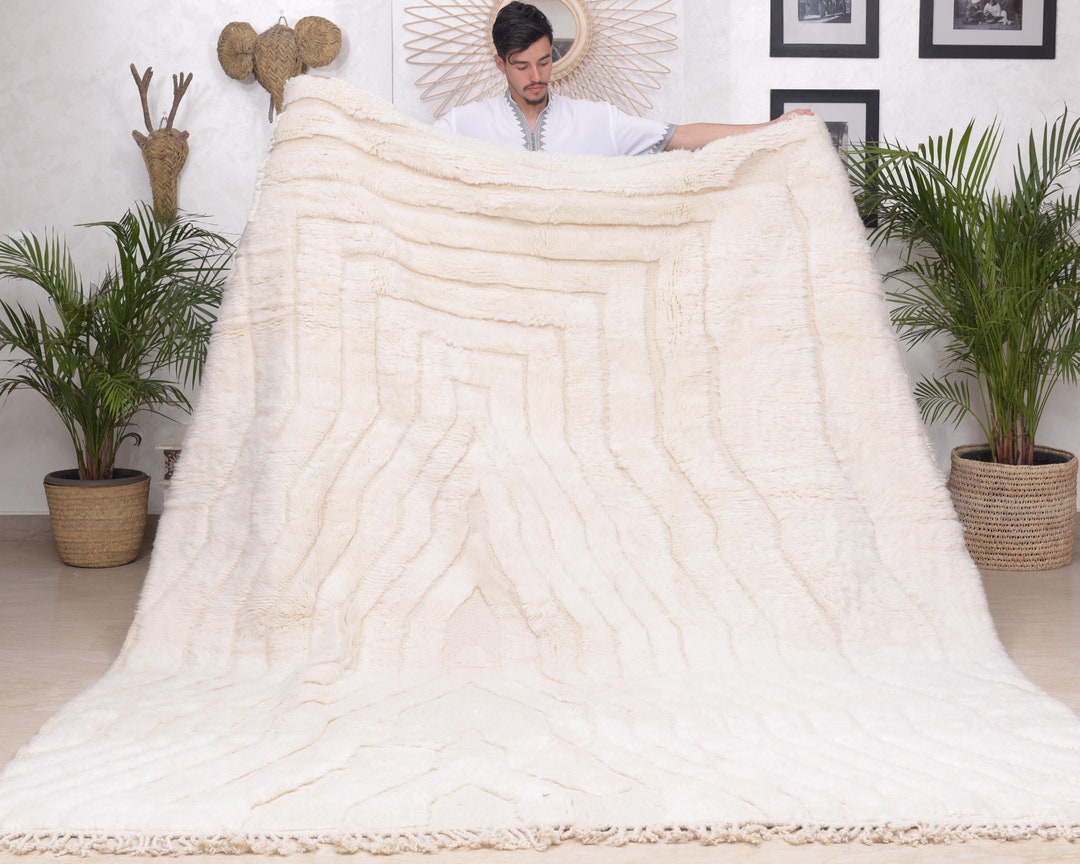 This rug would look great in any room of your house. It's hand-woven and beautifully crafted with natural fibers for a one-of-a-kind look you won't find anywhere else. This rug will instantly add style and sophistication to any space with its vibrant colors and elegant design.
The Moroccan rug is made entirely of sheep wool. The off-white color gives it a neutral feel, allowing it to match any other decor or furniture in your home. The rug is 8×10 feet in size, which is large enough to cover most of your living room or bedroom.
The intricate pattern on the Moroccan rug adds charm while also creating interest during everyday use.
Morocco is known for its beautiful rugs, and no matter what style of home you have, you can find a Moroccan rug to fit.
Moroccan White Rugs
If you want quick access to all of the beautiful Moroccan white rugs that have been shown here you can easily find them by clicking the links below.
What can we say? White Moroccan rugs are a unique and beautiful piece of art. It's a great way to get all the benefits of a traditional rug, with the added benefit of being more modern and stylish.
Shop More Styles of Moroccan Rugs
Moroccan Inspired Rugs that Won't Break the Bank