Been bitten by the rug bug? Maybe you were in Morocco eyeing a rug and decided not to get one but are having some non-buyers remorse? Thankfully you're not out of luck! It's not always practical or possible to buy Moroccan rugs while in Morocco and there are lots of you that would love to come and wander the rug souks to find your rug soulmate but a trip just isn't in the cards.
It's ok!
To make it easier than ever I have put together some of the places you can go to and find rugs that come from Morocco. All of these options have the ability to shop online and have rugs shipped to your door.
What to look for when looking for Moroccan rugs online
There are probably a thousand places to buy Moroccan rugs online. But are all sites or all shopping outlets the same? No, of course not.
When you can see a rug in person you can get a better sense of its authenticity. Today many rugs are made on machinery but made to look as though they are handmade. A handmade rug will always have slight blemishes. It might be a few knots that weren't tied tight, or some other visual clue that it was made by a person and not a machine. Rugs that are perfectly geometric, perfectly linear or are an exact size are either machine made, or they're made to order.
There's nothing wrong with rugs that are an exact, made to order size but if for example a rug is being passed off as 6ft x 9ft in size and is a vintage rug there's something to look into.
Traditional Moroccan rugs are made to fit Moroccan rooms, not western style homes. You will almost always find rugs that are rectangular vs square. It's much harder to find rugs that are in rug sizes that most American rugs are sold in. They're made for much longer, rectangular spaces.
None of these items alone are a deal breaker but are things you should keep in mind as you shop onilne for your Moroccan rug.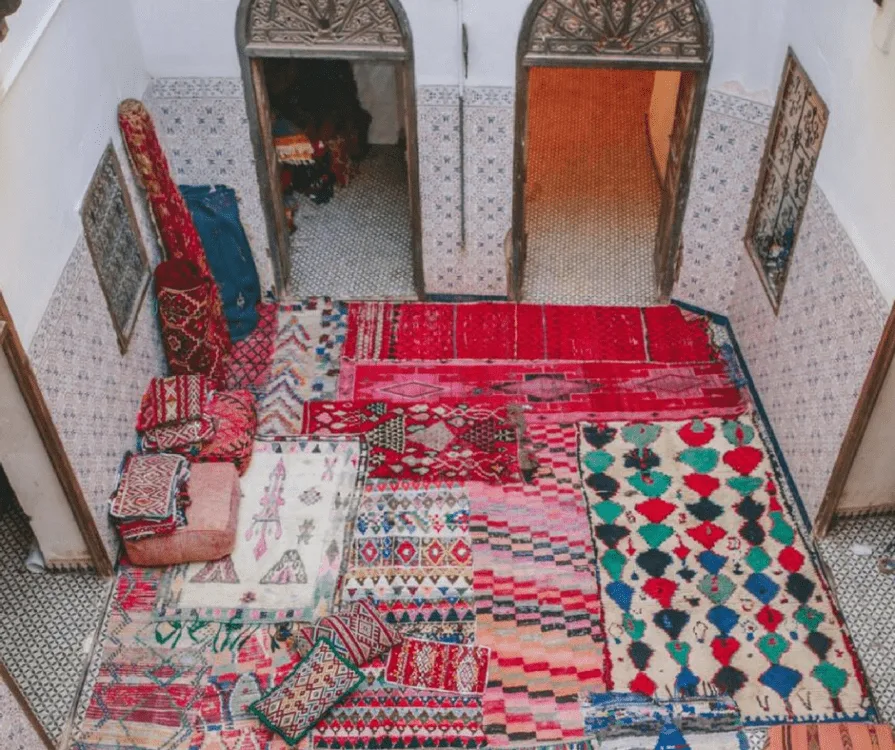 Why is there such a wide range in prices of rugs?
Just like if you were shopping in the markets of Marrakech or Fez you'll quickly realize the prices of Moroccan rugs are all over the place. There are quite a few different variables that go into pricing. Some of those include; size of the rug, age of the rug, materials used (natural fiber vs synthetic v dyed fibers), intricacy of the design, pile of the rug, and more.
When shopping online all of these apply as does the additional costs involved. Rugs need to be sourced and stored. They may need to be cleaned and shipped. Some may have had damage that was repaired (especially vintage rugs) adding on an additional cost. The actual value and cost of the rug itself is only a small piece of the puzzle.
The final variable you'll need to think of is shipping. Shipping a rug from Morocco to the United States is quite expensive in the normal post. It's 2-3x more expensive to ship via DHL or UPS. Look for rugs that have shipping included and know that, that cost is quite high. A rug that weighs 10 pounds (approximately 4.5kg) may cost around $75 to ship with insurance via regular post and closer to $200 with more specialty shipping options.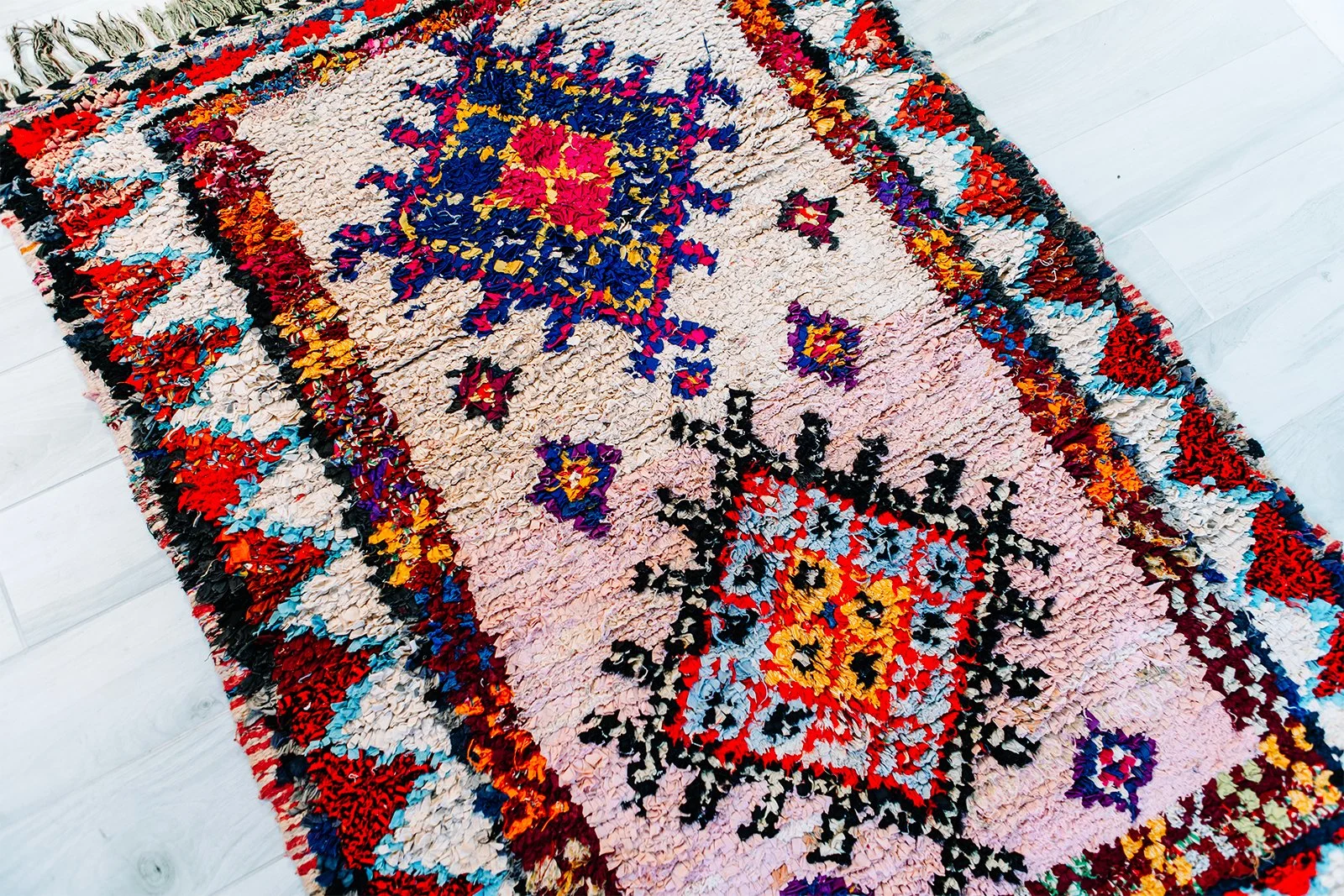 You'll be able to find both vintage Moroccan rugs as well as pillows on this website. I love browsing to see what new styles they have available as the stock is regularly changing. Whether your'e a color lover or tend to gravitate towards more black and white styles you're likely to find some great rugs here!
For a good online shopping option Rugs.com provides a wide variety of rugs of different sizes and colors. They have the largest collection of hand knotted rugs in the world and source directly from distributors in the region.
You'll notice when you browse the site that the rugs are not in standard US measurements as described above. Most of their rugs also come with free shipping. If you're looking for a heavier weight Moroccan rug this might be a great option for you to reduce costs.
World Market has a variety of Moroccan and Moroccan-inspired rugs so you'll need to pay attention when you're shopping to make sure you're choosing which you want. Many of their styles of Moroccan rugs are available online only. World Market regularly runs promotions like discounted shipping and I have seen several of the rugs in their clearance section. Worth checking out!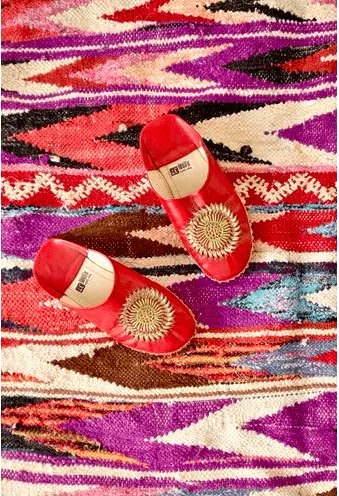 I am a big fan of this company because I know the love and attention that goes into everything they design and sell. I also know that they have the women who create these goods at the core of their mission. Their shop not only has rugs but poufs too.
Many of their rugs are flat weave which are lighter in weight and have an embroidered look. The stock changes regularly so check back or contact them if you're looking for something and don't see it.
Is a small company in Khemisset, Morocco which aims to highlight Amazigh culture through handmade rugs. They have a small team that creates rugs as well as taking orders for custom rugs.
In their own words they state, "WeBerber values the creativity and work of Berber women and is committed to fair, equitable and sustainable systems of production and distribution. We work with a noble material, wool, using native dyes, weaving on traditional looms without using energy, washing carpets by hand. We take care of the handcrafted processes. And we take care of the people who make them, specially (sic) our women weavers. We are involved with our community and our environment."
Not ready or wanting to invest in an authentic Moroccan rug? Check out these Moroccan inspired rugs that will save you some cash and heartbreak if they were to be damaged.