One major concern people have when shopping for Moroccan rugs is, can I wash this rug? This is especially an issue if you have kids or pets. No one wants to buy a gorgeous Moroccan rug only to have a drink spill or muddy shoes get tracked through on the rugs.
It happens.
While I LOVE all my rugs, I also have access to having them cleaned pretty easily. Not everyone has this option. So I set off to find washable Moroccan rugs that can be added to homes.
Enter Ruggable.
If you haven't heard of this company, prepare to be impressed. If you're looking for easy to clean rugs, I don't know if you can find anything better. These rugs are not like any other rug you have seen.
First, they come in two pieces. You purchase the rug cover and the nonslip mat. If you decide you want a different cover, you can purchase just the cover. And those rug covers – they're washable – in your washing machine!
Second, they're also stain-resistant, water-resistant. So if you're one of those people that loves the look of Moroccan rugs but also knows how likely a stain or spill is, you want to consider this option.
Third, the two pieces are held together with strong velcro so all you have to do to put them together is line them up, unroll and press down.
Lastly, the rugs come in 8 different styles and you can have the design you want applied to the size you want!
The down side?
While this is a great option for people who are worried about spills the one downside of these rugs is that they do lack the soft, cozy feel of some area rugs. Because it is a low-pile rug and has the stain resistant coating the feel isn't exactly the same as you may find elsewhere.
Washing Ruggable Rugs
When it's time to clean your rug it's quick and easy. If it's a small spill you can spot clean with a bit of soap and water. When it needs a full cleaning just remove the top of the rug from the mat and toss it in the washing machine with cold water using mild and non-bleach detergent. It can then be air dried or in a dryer on low heat.
Ruggable Test Case
Don't just take my word for it on this one. I was really intrigued by this company so I ordered one for my mom. (Sadly they don't ship to Morocco).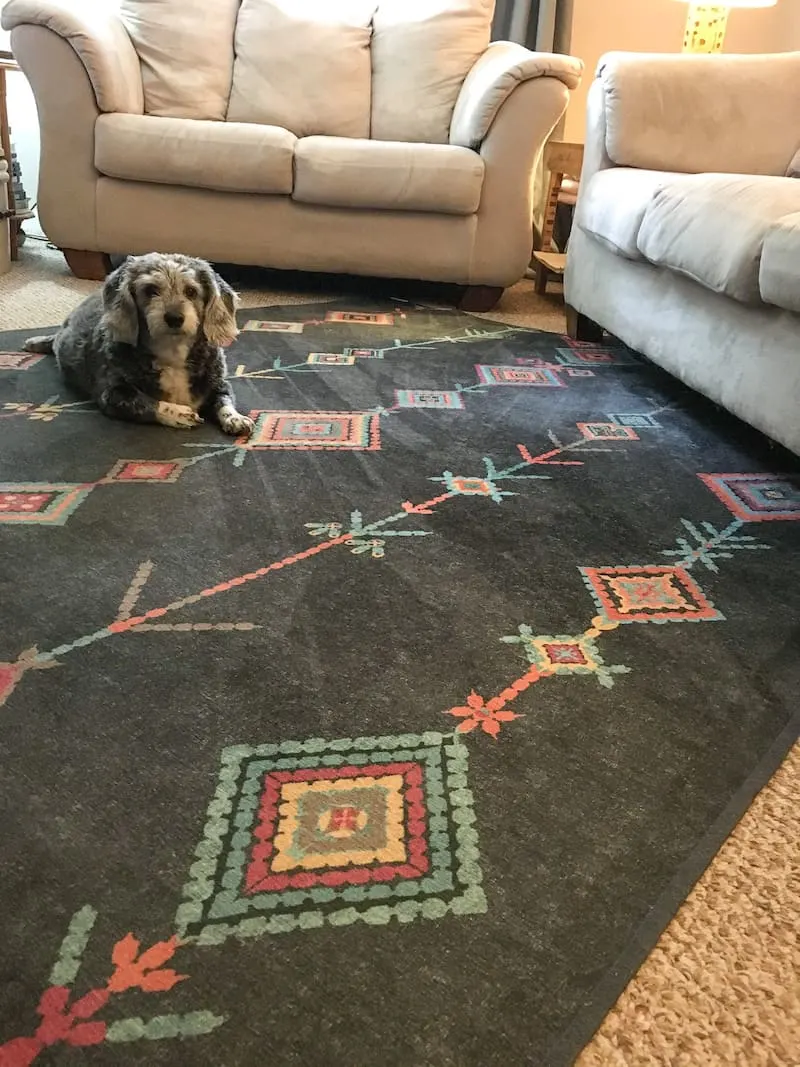 She doesn't have any kids at home but she does have a dog. It was really easy to order the rug. We just went on the website, picked out the style and size she wanted and ordered. If she already had the mat, we could have just ordered the top part of the rug instead.
The rugs are each made individually when they are ordered so it can take a little while to get them. For example we ordered the rug on May 3rd and it was shipped May 19th. Granted this was in the middle of the pandemic so in normal times it certainly could ship much faster.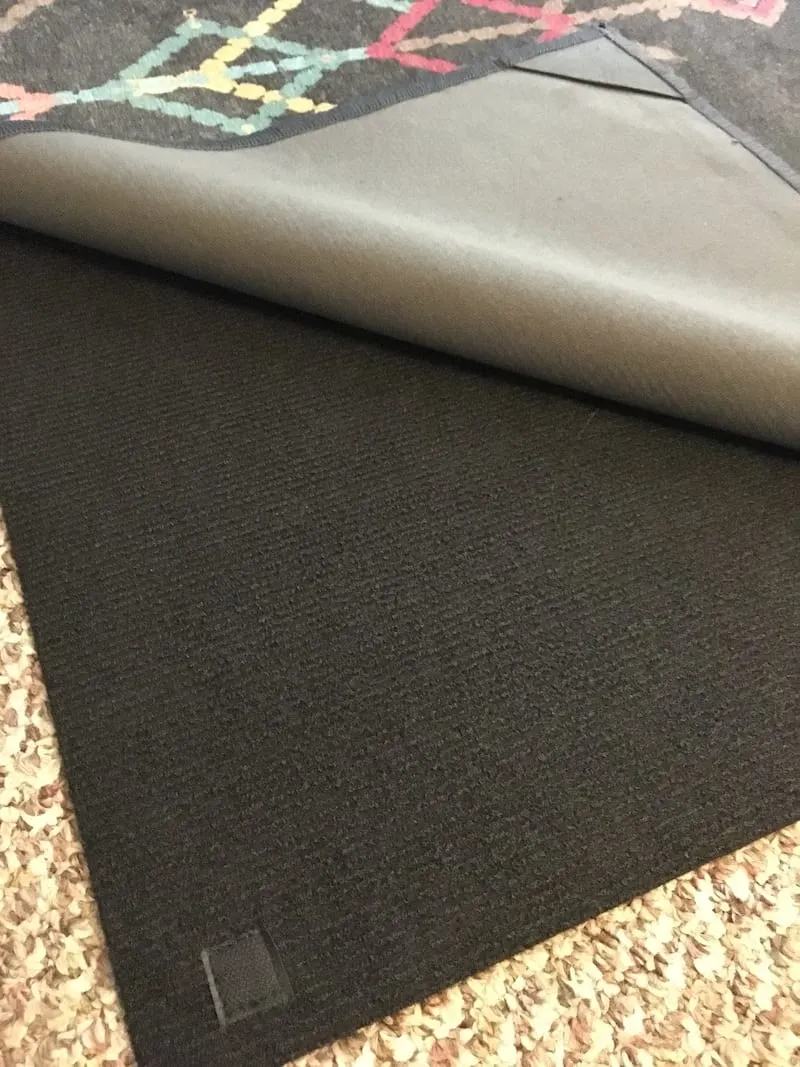 The rugs are delivered rolled up in a large box, I'm sure this also changes depending on the size you order. It really was just an unroll and put it down situation. The rug is held together with these small velcro pieces. I worried it wouldn't be strong enough but – no issues!
My niece and nephew who are 4 and 8 also spent time at my mom's house and they didn't manage to make the rug slip or pull apart the pieces. WIN!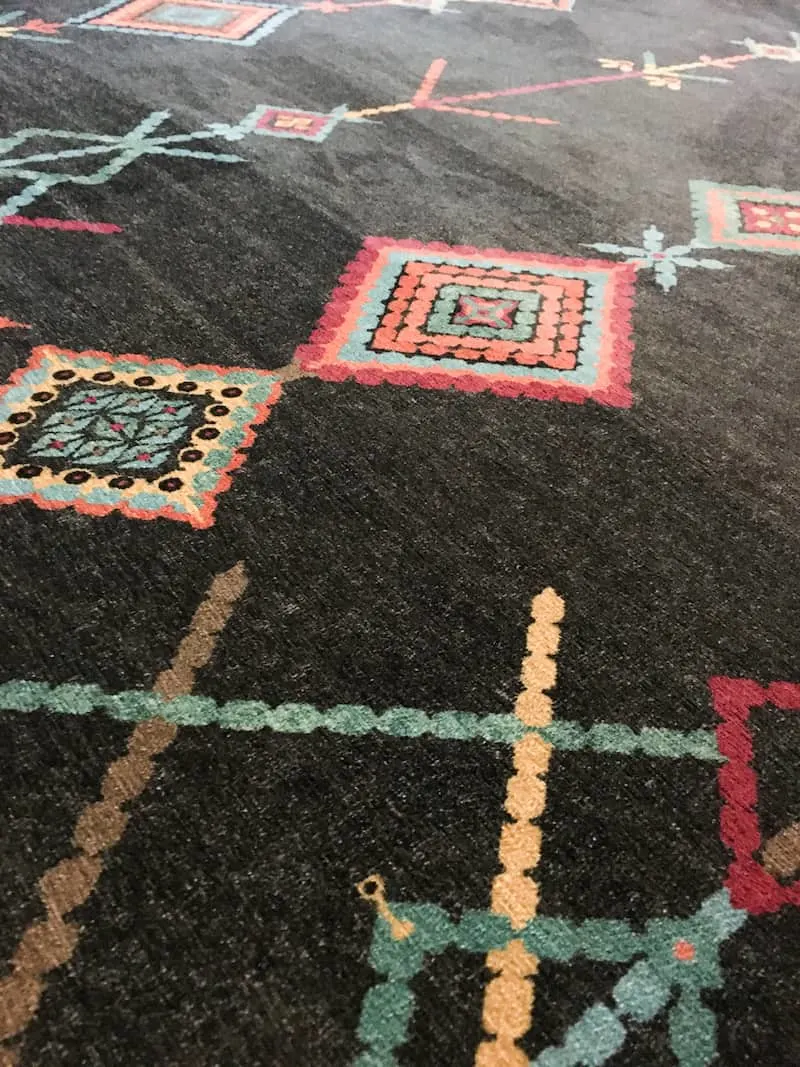 This is just a close up picture of the rug to show the pattern. It is in a high trafficked area of the house and isn't showing wear. It's regularly vacuumed and spot cleaned so far.
Overall verdict – she loves it and is already searching for her next cover.
**It's worth noting Ruggable doesn't ONLY have Moroccan style rugs. They have a huge range of different styles!
Find a great Moroccan style rug from Ruggable!
Ready to see what they have available? Here are some of the designs that I really liked.
Traditional Moroccan style rugs
These rugs feature styles and designs that you are more likely to find on traditional Moroccan rugs.
I LOVE the idea of incorporating Moroccan rugs in the bathroom but I am VERY reluctant to put a wool rug in any bathroom. With these you don't have to worry about it getting wet as they'll dry right out and can be tossed in the washing machine when needed.
This rug isn't a flat woven rug, it does have a plush feel. Reminiscent of Beni Ourain style pieces this rug is beautiful for any room in your house and is certainly a statement rug.
https://cdn.shopify.com/s/files/1/1033/0751/products/moroccan-diamond-plush-A-RC-WB001-57_602079e8-8dfe-418d-9432-cd111513f922.jpg?v=1608150123
As with the previous rug, this is a plush style so you have a bit more cozy, comfort with your rug. It also is similar to Beni Ourain styles though the diamond pattern is thinner than may be typically seen in the authentic style.
I LOVE this rug as a runner but it would look great in any style. The colors are beautiful and the geometric arrow motifs add to the look of this Moroccan style rug.
The classic black on white flipped to be white on black in this stylish rug. The smaller sizes are great for in front of a sink while the larger size features more open space and wider branching of the lines.
Modern Moroccan style rugs
A modern style rug with geometric features and a light pink base color. Ideal for a kids room or office space.
A modern take on some geometric motifs that have a Moroccan feel. This rug is displayed as a round rug in the image however it is available in multiple sizes.
Colorful geometric design on a white background, this style also comes in a blue color combination that is also very cute!
This is certainly a modern interpretation of a Moroccan rug. The geometric pattern appears to be melting at the end of one rug. It comes in the warm colors shown as well as a blue color set.
The only thing you have to decide now is which rug is right for you?