One of the biggest misconceptions people have about Moroccan rugs is that there are only a few types of Moroccan rugs. In reality, there are dozens, if not hundreds! Each of the Amazigh (Berber) tribes of Morocco make their own styles of rugs and there over 40 different tribes. Within the tribes, there can be more than one style that is also made. You can see how this adds up quickly!
A common selling mechanism is to make a rug seem special because it's a "Berber" rug. The truth is all authentic Moroccan rugs are Berber rugs. They are made by the Berber people of Morocco. Historically they were made for practical purposes – and are still used this way today. The styles might vary depending on where the tribe lives. For example, tribes in the High Atlas where the weather is cold will have different needs than nomadic tribes in the Sahara regions.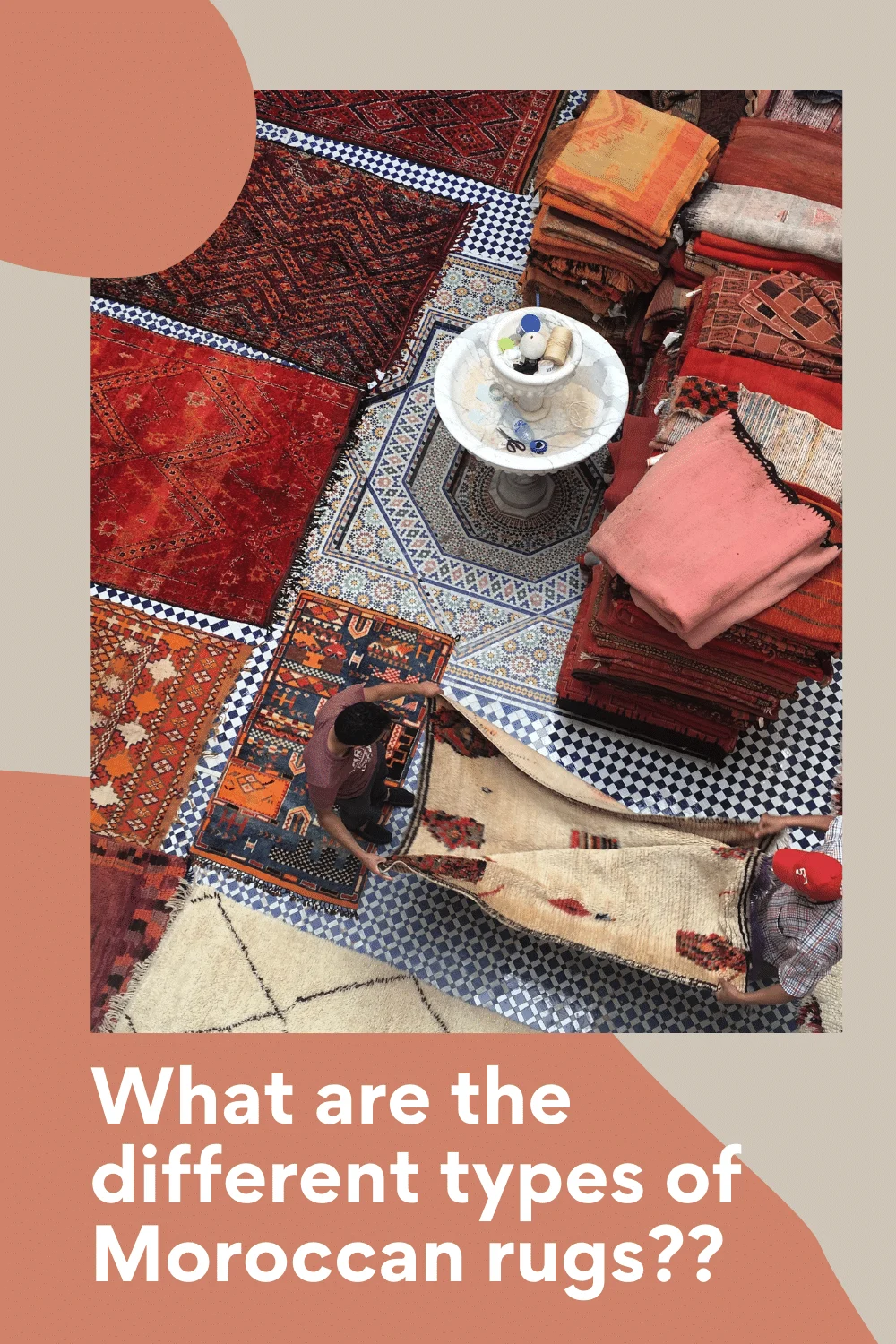 It would be difficult to chronicle all of the different styles of Moroccan rugs that exist (but if you're really interested check out this book by Susan Schaefer Davis that goes into the rugs but also the lives of the women makers) but I will highlight a few of the major rug types that you're most likely to come across.
Let's find the best Moroccan rugs for you!
Styles of Moroccan Rugs
Azilal Rugs
Azilal rugs are the modern art version of Moroccan rugs. They are bright-colored and playful. Ideal for someone that loves color and isn't afraid to embrace it. They typically have a lot of colors which make them a great way to add a punch of personality to a room that might otherwise be monochrome. Diamonds and lines play heavily into the design of Azilal rugs. Traditionally much of the symbolism was meant to record family histories. Today some rugs still do this.
Some people say that these rugs are a mix of the Boucherouite style (colors) and Beni Ourain (patterns and symbolism). They really are like an abstract painting and one of my favorite types of rugs.
Boujad Rugs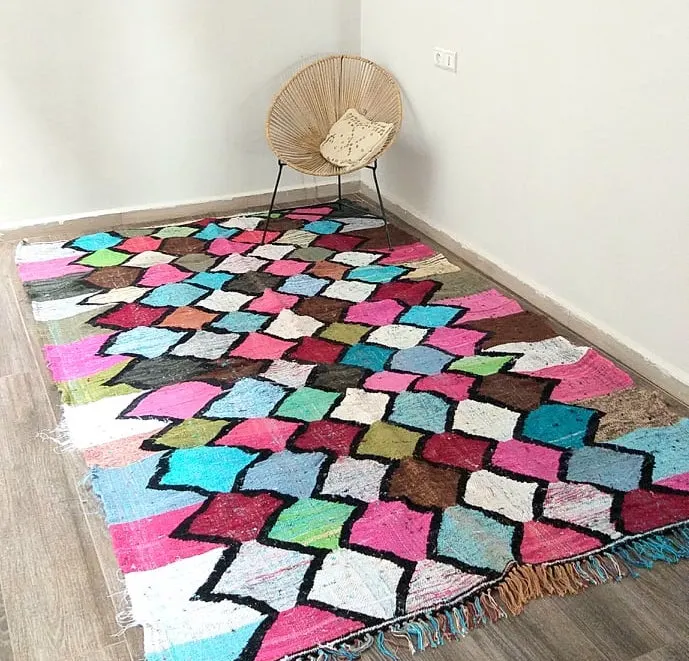 Boujad rugs are most commonly found in hues of red, pinks and oranges however purples and blues can also be found at times. The can be high or low piled – or something inbetween. Traditionally they are colored using natural dyes and more vintage styles will appear more pastel in color.
These hand knotted rugs are full of activity and color with a mixture of diamonds, squares, stars, and other symbols. Boujad rugs come from the central plains region of Morocco and can have a lot of variations given the territory covers a vast expanse of land and people.
Boucherouite Rugs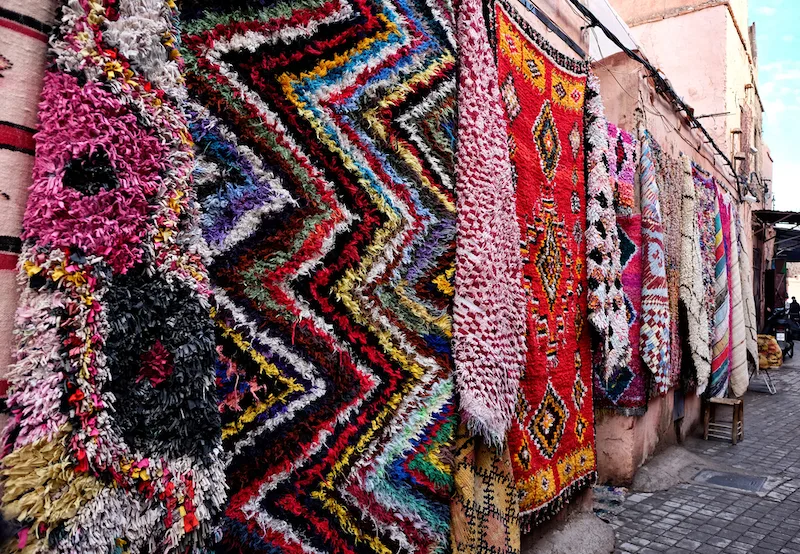 The most popular of these Moroccan rug types are not the typically wool rugs prevalent with other styles. They're made using old fabric that is knotted – the Moroccan rag rug! These rugs are often quite heavy given all the fabric that goes into them but are typically easier to wash without fears of color bleed or ruining the wool. These rugs can be found in large sizes however they're typically smaller area rugs.
Beni Ourain Rugs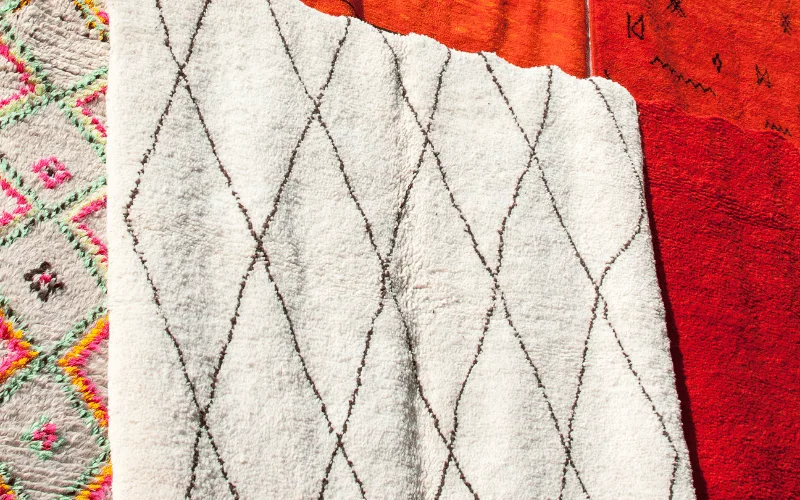 This rug style has become insanely popular in recent across western countries. You've most likely seen these on interior design feeds and in shops. The style is very simple. They primarily use natural wool that hasn't been dyed.
The patterns are simple, geometric diamonds or lines. There are some variations of these rugs such as those having random lines or symbols scattered throughout the rug. The simple style makes it easy to place this rug in just about any home or office and have it fit well.
Moroccan Kilim Rugs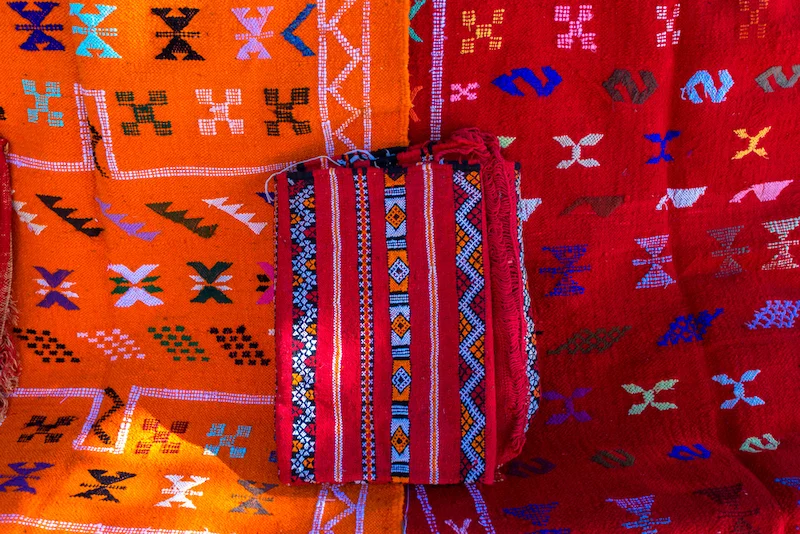 Kilim rugs can be found in a few different styles but are always flat weave. They are meant to be very transportable. The tribes that make these types of rugs are often highly nomadic and need something that can not only be picked up and put down easily but don't weigh much and can be packed into a small space.
If you want a rug that's durable, can be vacuumed easily, and moved around with little hassle this is the rug for you.
Taznakht Rugs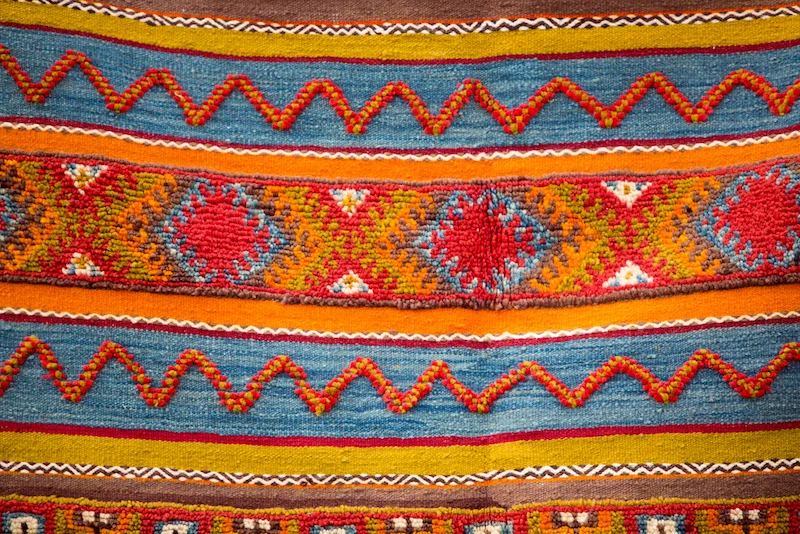 These are truly unique rugs. There are a few different styles but one of the most unique is a three-dimensional rug. Three different weaving styles are used to make these; flat weaving, knotting and embroidery. This creates a raised pattern. Diamonds and triangles make up the vast amount of designs in this style.
They use many different colors and are closer to a kilim rug than some of the higher pile varieties. These rugs are also sometimes known as Glaoui due to the area they are made – it was once held by the infamous pasha Thami Glaoui.
Zanafi Rugs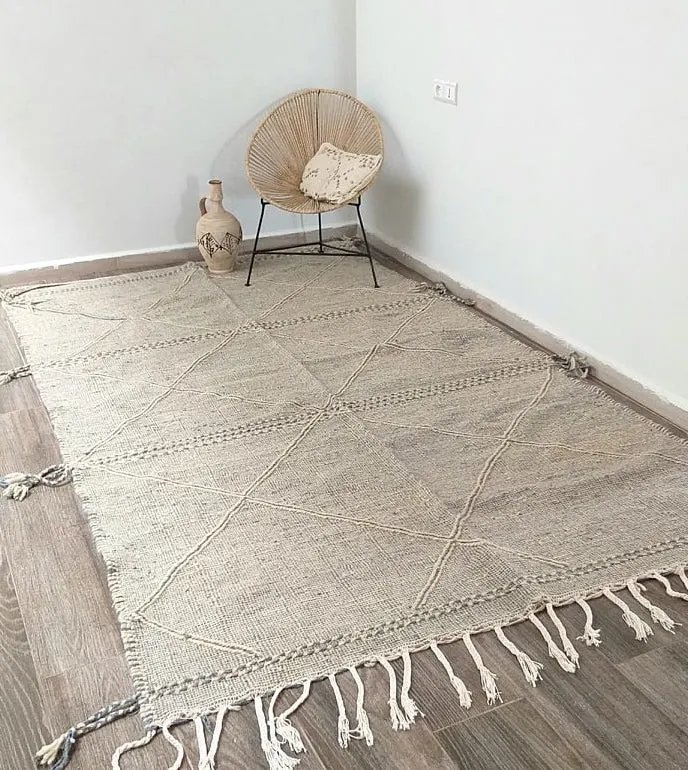 As far as Moroccan carpet patterns go, these aren't the most intricate or elaborate however they do appeal to a certain aesthetic. These rugs are flat weave but have a defining feature.
One of the common features of Zanafi rugs is that they have a raised element that is often loose as a fringe. It is sometimes closed though and is more of a loop (but appears like embroidery). You'll find these rugs in natural hues of wool like white, cream, black and brown.
These are just a few of the different, and more popular styles of Moroccan rugs. There are dozens more with plenty of variations to discover.