Sure, having an authentic, one-of-a-kind Moroccan rug is a thing of beauty however, this isn't possible for everyone. Whether it's financial reasons, not wanting your 2-year-old to destroy your rug, or having a pet that makes messes you can get the look another way. Try Moroccan-inspired rugs instead of the real thing!
To help you, I've scoured through the web to find rugs that look like real Moroccan rugs, but aren't. For these rugs, I've tried to find options that are under $300 however prices will vary depending on the size of the rug you choose.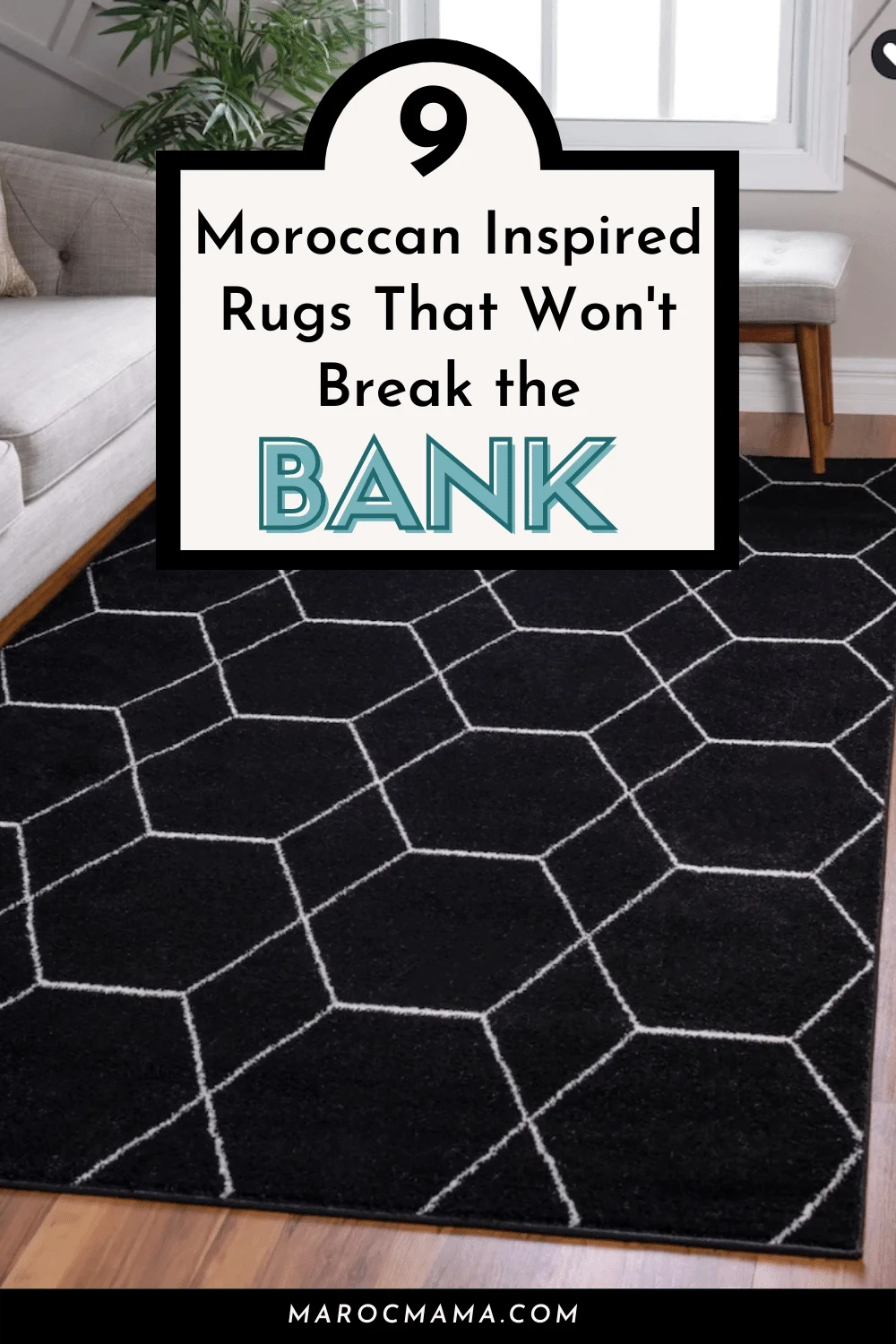 This rug is not quite a Moroccan rug but it has the modern geometric style so many people love about Moroccan design. Consider this a rug meets tile design. It's available in 12 different colors and loads of size options, so you'll be able to find something that fits your house easily.
It's safe to say I am in love with the idea of easily washable rugs. They save a crazy amount of time and are perfect for those of us that have small people and animals (or clumsy husbands) that have a tendency to spill on the carpets. This rug looks like the real thing!
Color lovers this one is calling you! Reminiscent of Moroccan boucherouite styles that are packed full of colors, this beauty will brighten up any room of your home.
This 2×3 kitchen or bathroom rug is a contrast to the usual white with black line pattern commonly seen in Moroccan rugs. I love the dark colors (in small doses!) to add something to a room and let's face it black covers up spills way easier than white!
When you want a higher pile this is what you're looking for. A simple rug that features the well-known Trellis pattern but at a fraction of the cost an authentic Moroccan rug will run. For people who love to swap out their rugs depending on the season this is a great option.
When I came across this rug I wished I could get it delivered to Morocco because I like it that much! It also reminds me of the traditional Glaoui style rugs that use weaving and embroidery techniques to create a 3D effect. It's available in grey or beige.
I like to think of this as the melting rug. It's ideal for people that love the Moroccan look but are also into more modern art and something a little fun. While the blue color is my favorite it also comes in a red color scheme.
https://cdn.shopify.com/s/files/1/1033/0751/products/lunja-border-teal-blue-A-RC-0391-21_3b876084-57e3-4345-b6a8-e07ab8c4c7e5.jpg?v=1604071723
This black rug has both geometric and motif designs to create a Moroccan look. It is fully washable for those that need something that can easily be tossed into the washing machine. (Read my full review of these washable rugs here)
This colorful area rug has a backing and a lower pile making it a good option for someone that wants to use it on hardwood floor in a space like an office. The design is colorful but not overwhelming and uses many colors so it's easy to blend into your existing decor.