Have you tried the Instant Pot yet? This handy appliance has become all the rage recently. If you read cooking blogs, you have undoubtedly stumbled upon people talking about the Instant Pot by now. It has become incredibly popular of late, and with good reason!
What is it? The instant pot
basically does the job of seven different appliances. With the push of a button, your Instant Pot becomes a yogurt-maker, a steamer, a slow cooker, a rice cooker, a warming pot, a saute pan, or a pressure cooker. Comparably priced with appliances that do half as much, the Instant Pot seems to gain a bigger fan base every day. I have long loved slow cookers (even though MarocBaba doesn't share my fondness), and my trusty pressure cooker gets a regular workout, too.
Before we moved to Morocco my dad gave me an earlier version of today's Instant Pot and I swore by it. Do you have an Instant Pot? I'd love to hear what you think about it! And whether you have an Instant Pot or a regular pressure cooker, I offer you the following recipes for some delicious taste adventures you can take without leaving home!
NOTE: For recipes that are using a pressure cooker the standard conversion is if the meat dish cooks in eight hours on low or four hours on high in the slow cooker, it will cook in 25-30 minutes in the Instant Pot.
Marrakechi Tangia
Tangia is a traditional Marrakech meat dish that is unbelievably delicious. Seasoned meat is cooked until it is falling off the bone and eaten with bread. Traditionally, this dish was cooked up by men on Friday (the Muslim holy day). Check out my post about Making Marrakechi Tangia at Home to learn how you can make it yourself!
Moroccan Lamb and Fig Tajine
After enjoying this delicious dish in a local restaurant here in Marrakech, I simply had to try this at home. The trickiest part was obtaining Turkish figs
, a personal preference of mine. Depending on your location, it might not be easy to find lamb at certain times of year. But when you find it available, I highly recommend that you give this tajine recipe a try!
Moroccan Fava Bean Soup – B'ssara
This simple and delicious recipe for our favorite winter staple – b'ssara – is made even easier in the instant pot. This dish is vegan, vegetarian, gluten-free, and incredibly healthy. Typically eaten as a snack or breakfast in Morocco, drizzle with good olive oil, sprinkle with cumin and combine it with some nice bread so you can scoop up every last drop!
Beef Tajine with Prunes
Beef tajine with prunes is one of my favorite dishes. Traditionally served at special occasions like weddings, including my own, this meal is unbelievably delicious. Normally made with lamb, it is also amazing with beef. It's always served with bread so that you can scoop up all the delicious bits!
Chicken Tajine with Potatoes and Green Olives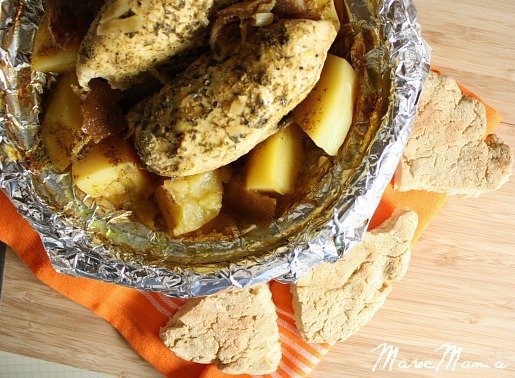 With preserved lemons, tart olives and creamy potatoes, this chicken tajine is delicious, comforting, and tantalizes you with amazing flavors. If you've been to Morocco you'll instantly recognize this tajine served in nearly every restaurant you would have visited.
Tajine of Beef and Apricots
I understand that my recipe for Beef Tajine with Apricots might sound a little odd if you aren't accustomed to Moroccan cuisine. But combining both fruits and vegetables with meat is actually quite common. And once you taste how good it is, you'll be a believer, too!
Pan Fried Chicken Breasts with Zucchini Coins
When making this Pan Fried Chicken Breasts with Zucchini Coins, the pressure cooker is completely optional. While it does shorten the cook time a bit, the main flavor comes from pan frying the chicken until it is nicely browned and completely delicious.
Beef and Artichoke Tajine
The first time I made this, I wasn't sure if I actually liked artichokes or not. Turns out, I love them. Try this delicious Beef and Artichoke Tajine and find out how much you love them, too!
Beef Tajine with Cauliflower
I love to make a good Tajine. There are so many amazing flavor combinations you can put together. This delicious Beef Tajine with Cauliflower is the perfect example. Cook it up in your pressure cooker so the meat is falling apart tender and add vegetables and spices for a healthy, comforting meal.
Lamb with Rice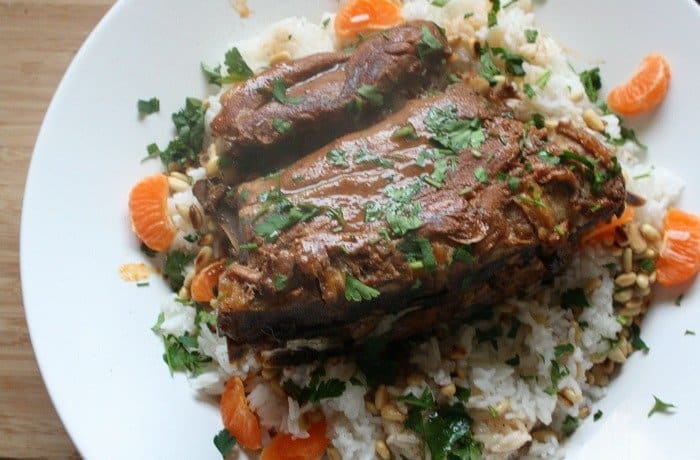 Looking for something a bit different? Try this Moroccan Tagine Lamb Roast with Mandarin and Pine Nut Rice. You can use your instant pot for the tajine and for the rice! I think you'll really like the flavors here and it's something really different.
Lamb Kebabs
Another great recipe to make with leftover lamb, is lamb kebabs, in a sauce rich with lentils and tomato goodness. Cook those lentils nice and soft, the way they eat them in Morocco. Rich in flavor, this is the ultimate comfort food!

Beef Tajine with Argan
Many people know argan oil as a beauty treatment. But it is also quite delicious, nutritious, and adds a distinctive nutty flavor to food. I decided to try some with beef in this Beef Tajine with Argan and I was quite pleased with the results.
Lentils with Caramelized Onion
If you enjoy lentils, you owe it to yourself to give this recipe for Lentils with Caramelized Onion a try. Lentils are cooked until very soft in Morocco, and the tomatoes, garlic, onion and seasonings adds a taste delight you just have to try for yourself. It's also a perfect recipe for vegans and vegetarians!
One Pot Beef and Quince Tajine
If you've never had a Quince, I hope you get the chance to try one. When cooked, this fruit tastes a bit like a happy marriage between a sweet potato and an apple. It can be tough to find, especially in the Midwestern United States. But when you do, you'll want to be sure to give this One Pot Beef and Quince Tagine a try!
Beef and Chickpea Tajine
Rich and delicious, Beef and Chickpea Tajine is easy to make in a pressure cooker. The heartiness of the chickpeas combined with meat that is falling apart tender makes my mouth water every time. Serve with a crusty loaf of bread for an amazing meal!
If you try any of my recipes, I would love to hear what you think. I hope you have the chance to take your own taste adventure as soon as possible!
Need an Insta Pot? Check out some of these!
Snag your FREE Moroccan Couscous Recipe!
If you love food and want to know more about MarocMama's food related content, products, and promotions sign up now! You'll get a FREE downloadable recipe for traditional Moroccan couscous from my new cookbook to preview!