When I say "South of France" what image immediately comes to mind? Is it beaches? Fields of blooming lavender? A picnic on a long wooden table in the French countryside?
But, what about visiting Provence in winter. Is there anything to see or do? Is it even worth it?
The easy answer to this is yes!
It's fair to say there's no bad time to visit France, especially if you love food. There really is something special about it. When I went to the Vaucluse region of France in mid-January, I did so under the promise of lots of food – especially the highly prized black truffle. Black truffles are harvested and eaten between December and March. There are also white truffles in summer time though they are not quite as flavorful as the black truffles.
When I was sharing pictures of our time in France a lot of people assumed the truffles we were eating were the chocolate variety. These truffles are not chocolate, they are a mushroom that grows underneath oak trees. Truffles are typically found in the Mediterranean regions. It's believed the first were discovered in Syria around 47BC! The Greek later associated truffles as a gift from God because they are only found when there has been enough rain in the summer. By the Middle Ages the tides had turned. Truffles were no longer a gift but instead considered a product of the devil, as they were grown underground and found by pigs. Peasants were the ones that harvested them and ate them the same we might do with potatoes! It was when French king Francois I included them on his table that they were seen again as something special. There have been recipes found from his reign that included as much as 250 grams of truffles.
By the beginning of the 20th century France had an estimated production of 1500 tons of truffles; today that number is between 30 and 60 tons depending on the year. Why the dramatic shift? Three main reasons; disease that took many of the grapevines in France and resulted in farmers cutting down their oak trees to plant more vines thereby reducing truffle growing land, the two world wars took many men away and the land was not cared for, and global warming has led to dry summers reducing growth.
Hunting for Truffles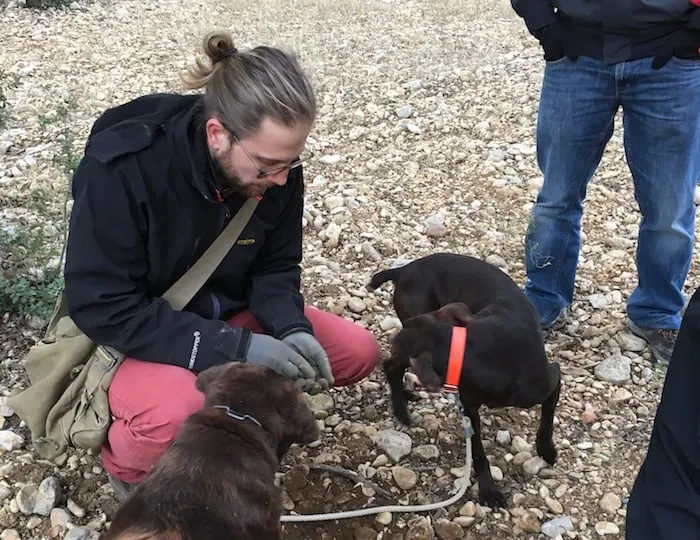 As much as I love eating, I also love learning about the foods I'm eating (as if you couldn't tell from that history lesson above!). Truth be told I knew only a little about how truffles were grown or harvested. I had seen documentaries on farmers finding them using pigs but this idea was soon put to bed. It turns out female pigs were once used (many believe the scent of truffles is similar to the scent of male pigs) pulling a 500+ pound pig off of a truffle find is a bit difficult. Beginning in the 17th century dogs began to be train especially for the task. This is done by feeding the dogs truffles as soon as they are able to eat. The third way to uncover truffles is by paying attention to nature. There is a special type of fly that lays its eggs on the ground directly above the truffles. By paying attention truffle farmers can see when the flies come back. Of all the different methods, dogs are the most commonly used.
Truffle Markets
In Vaucluse there are two major truffle markets; Carpentras and Richerenches. These markets are held throughout the winter and both are outdoor markets. A variety of truffles, truffle products and other food products are sold. When we were here 1 kilogram (2.2 lbs) of truffles was selling for 850€ to the public. There are also special auctions and markets just for wholesalers who get a little better price. We walked through the market and it was kind of surreal. Truffles are sold in bulk out of the back of vans. It's a quick cash transaction and the goods are hustled away.
The markets reminded me a lot of our souks in Morocco with a little bit of everything for sale. The produce was stunning, and everything was so fresh. It's evident people take a lot of pride in what they produce. There also were plenty of truffle products; anything from truffle oils, to tinned truffles, truffle butter, truffle salt, and more.
Truffle Meals
The most important part of learning about truffles is of course eating truffles – and I did a lot of truffle eating! I can't possibly talk about every truffle dish so I will share just a few favorites.
Chez Serge – Carpentras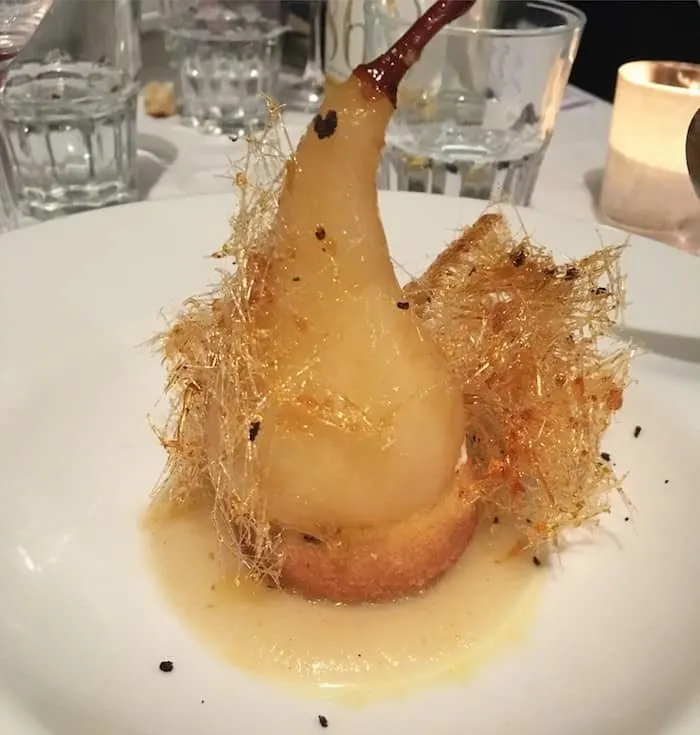 This restaurant in Carpentras is one of my favorite restaurants ever. When we walked into this small restaurant I really had no idea what to expect but my expectations were far exceeded. Every dish on the special truffle menu (presented only on Thursdays during truffle season), included, you guessed it – truffles. Even the dessert. My favorite dishes were a roast duck with truffles and jus sauce and the poached pear wrapped in spun sugar and decorated with truffle sprinkles on a truffled sable cake.
Chez Serge 90 Rue Cottier, Carpentras prix fixe truffle dinner Thursdays in season 97€
Truffle cheese at Fromagerie Vigier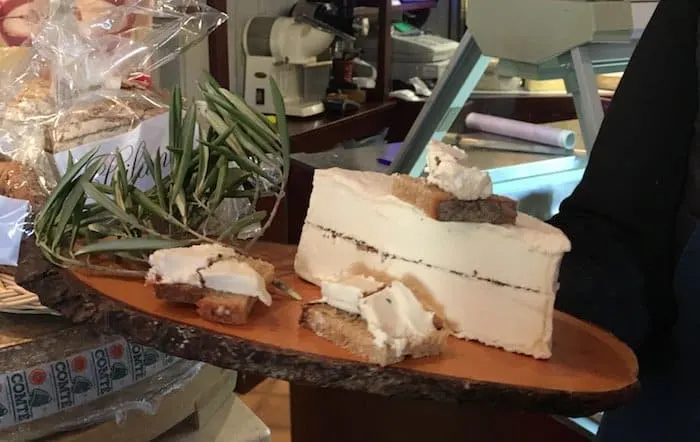 If you want to know one thing about me, it's that I have an absolute weakness for cheese. I grew up in America's dairyland and a meal without cheese, well it rarely happened. At Fromagerie Vigier in Carpentras we had a brillat savarin laced with truffles through the middle. This is a cow milk cheese, super creamy and decadent. It's the ultimate picnic or dinner party snack. This cheese is also made without the truffles so if you ever come across it – just buy it. Trust me.
Fromagier Vigier 23 Place Maurice Charretier, Carpentras
Eggs and Truffles
The most classic way of preparing truffles in Provence is with scrambled eggs. It's extremely simple but the trick is really in the way it is cooked. We were able to eat this several times and I never got tired of eating them. Watch for a quick post and video soon where I'll show you how to make these with truffles or another more budget friendly ingredient!
Maison de la Tour – Avignon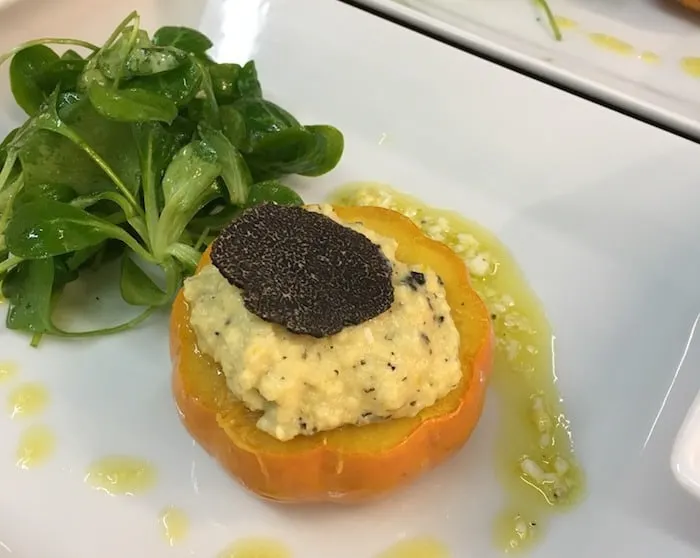 Our last evening in Provence we were treated to dinner at a brand new restaurant in Avignon. True to form it was truffle-icious! The starter was the real star in my book. Truffled eggs served in scooped out mini roast pumpkins with truffle oil drizzled on mache. The dinner also included roast chicken breast, scallops, and truffle desserts, including a chocolate truffle for good measure!
Maison de la Tour, 9 Rue de la Tour, Avignon
Truffle Tartines

Another very simple preparation we had several times was truffle tartines. A tartine is an open faced sandwich. These were always topped with great French butter and covered in truffle shavings. The perfect snack before dinner. I couldn't help but think of other great toppings that could be added to make it a more substantial tartine for a meal.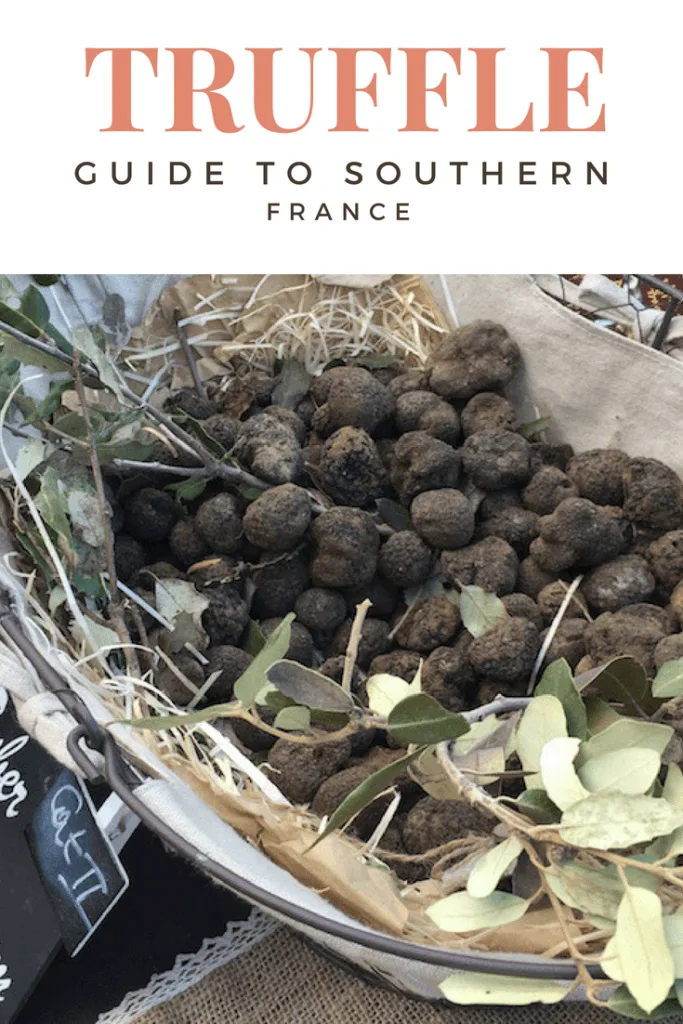 Thanks to the Tourism Vaucluse for arranging this truffle experience in the region. As always all opinions and experiences are my own.