Moroccan breakfast is simple by nature. Pancakes, fatty sausages, and loads of potatoes are not normal fare. Instead you'll find something lighter though usually carbohydrate-laden.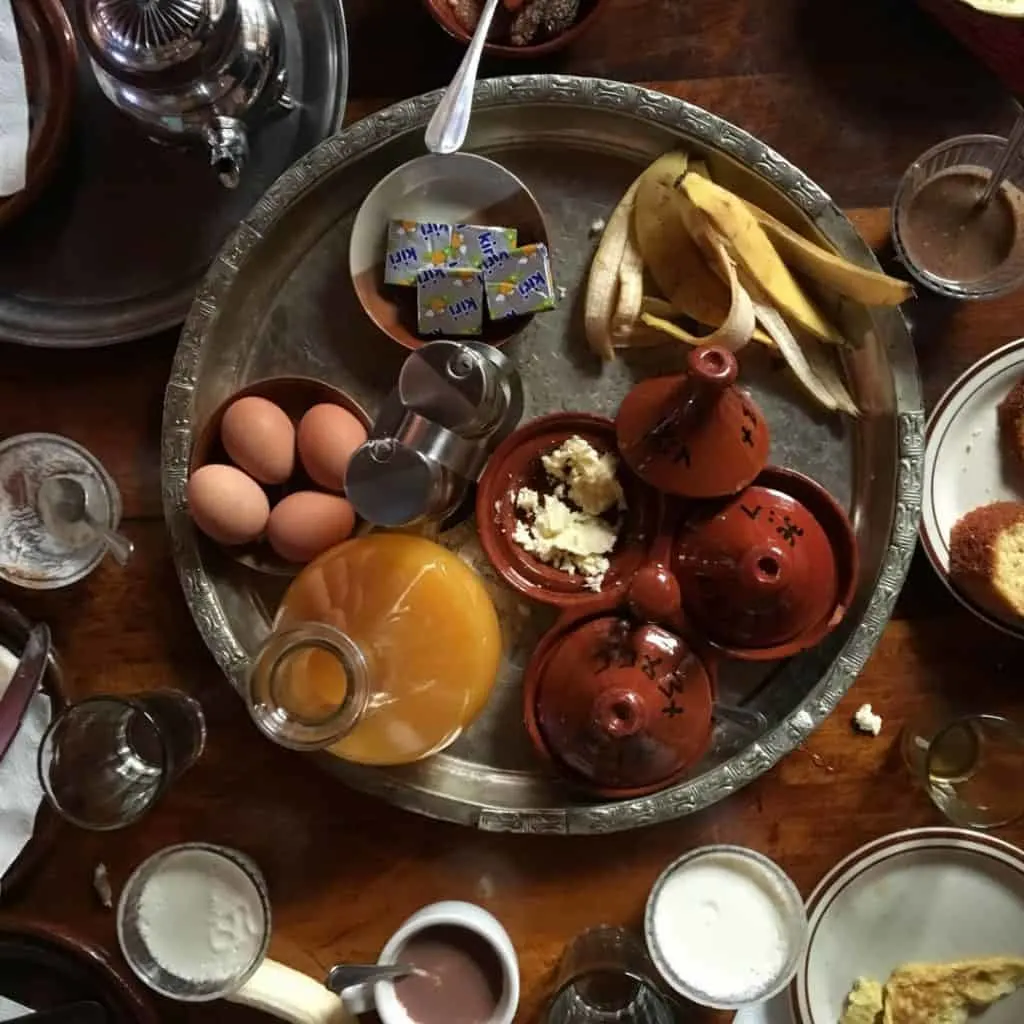 Typical Moroccan Breakfast Options
If you're visiting Morocco and staying either at someone's home or in a riad or hotel you'll be presented with a variety of different foods. However most people eat a simple breakfast of bread with olive oil and tea. Some things you might find are;
baguettes or khobz – Moroccan bread (always)
croissants or other types of pastries
olive oil to be eaten with the bread, slathered on as we might do with butter
butter
some type of jam
Moroccan mortadella – it's a processed meat I'd describe as turkey bologna.
La Vache Qui Rit cheese triangles – known in the US as Laughing Cow cheese
m'semmen (special occasion)
beghrir (special occasion)
you might also find some fruit or yogurt such as traditional Moroccan Raib
eggs/omelette in some cases
eggs with khlii (a type of salted lamb or beef)
mint tea
coffee
orange juice
I find Moroccan breakfast to be a contrast tom other meals. It surprises me how vast the styles, flavors and complexities of lunch and dinner meals can be, while breakfasts and even sweets to some degree are pretty basic.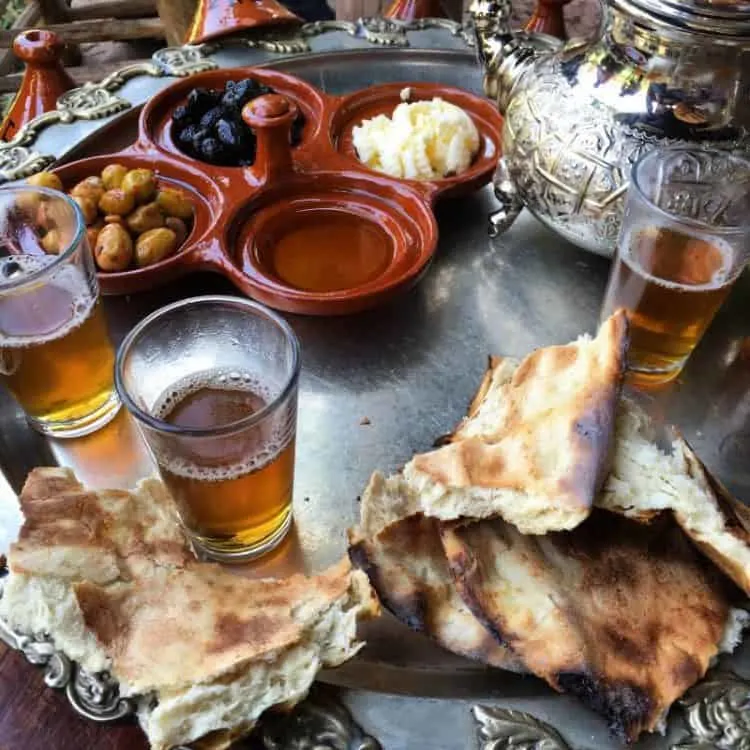 Where to Eat Breakfast in Morocco
A third type of breakfast; not the one at a hotel or in a home is out on the streets.
No guided tour is going to take you to breakfast here, and they're probably not going to tell you about it either. Chances are you won't see too many women eating here. At first glance you won't sit down, you'll keep walking by.
Set up inside street-side shops are you'll see scenes similar to this; large pots or tajines dotting gas burners. Bread and tea pots with glasses. For breakfast there are a variety of different options that will vary based on the stall you visit.
My favorite is white beans in a tomato sauce. MarocBaba chooses b'ssara and a stew of lamb stomach. The interior eating area is very simple, maybe rustic is a good word for it.
The plates are cleared and washed immediately. You can have as much bread as you want (the huge baskets under the cooking area let you know there's plenty to go around). A pot of hot mint tea is standard.
As you eat you'll see many men and boys passing in and out to eat something quickly on their way to work or school. The best part is – the price is a steal. You'll have a great, filling breakfast for under $3.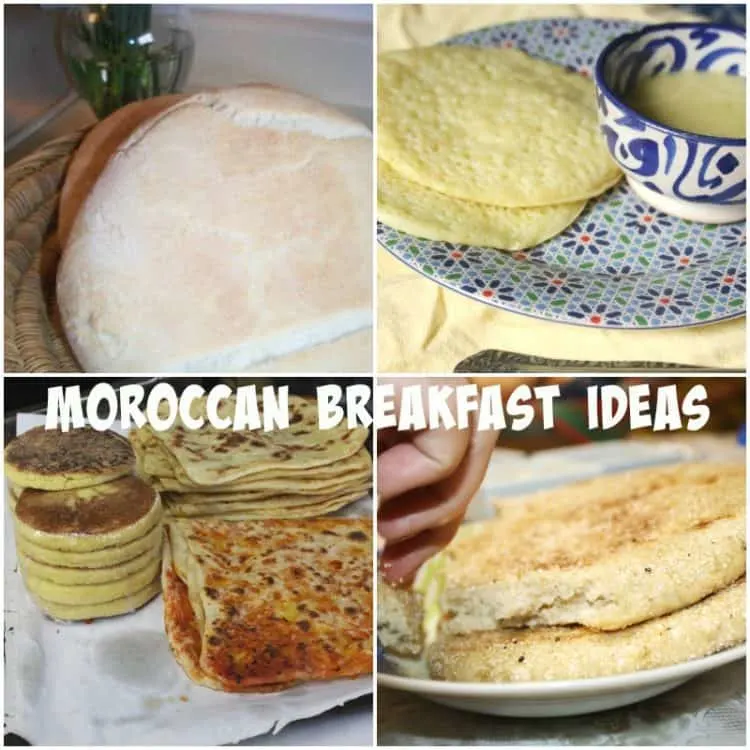 Moroccan Breakfast Recipes
Moroccan Breakfast Recipes
If you want to make a Moroccan breakfast table at home, here are some recipes to help you.
Want some specific ideas of where to eat breakfast in Marrakech or brunch in Marrakech? Pick up my guide to dining in Marrakech! It's full of ideas for all times of day.