I have to be honest with you before I share this smoothie bowl recipe; I don't really like yogurt, nor do I like smoothies or fruit juice for that matter. I can't say exactly why it is but it's just not something I've ever liked. Then one weekend we went to Gaia, a vegetarian restaurant in Marrakech and had their brunch that included a smoothie bowl.
Fair enough, I decided I'd be a good millennial and give it a shot. I actually really liked it. So, I guess you have to keep trying things until you discover a way that makes it work for you.
I love the idea of these bowls for a party or just a breakfast bar for kids. You make the base and then let everyone top theirs how they want. Half the fun of a smoothie bowl is decorating the top – we eat with our eyes before we even take a bite! Get creative and make your bowl a beauty!
What's the difference between a smoothie and smoothie bowl?
The difference between a regular old smoothie and a smoothie bowl base is the consistency. While smoothies are drinkable with a straw and pretty easy to master, smoothie bowls require a little more finesse to get a thick enough consistency to hold toppings and at with a spoon!
How do you make a smoothie bowl thick?
There are a few key things to keep in mind to make a smoothie bowl thick. You need a thickening agent; think greek yogurt, nut butters, or even tofu. It's also best to use frozen fruit, not only does this help keep it thick but lends to a creamier texture. Adding in greens like kale or spinach can also help bulk it up.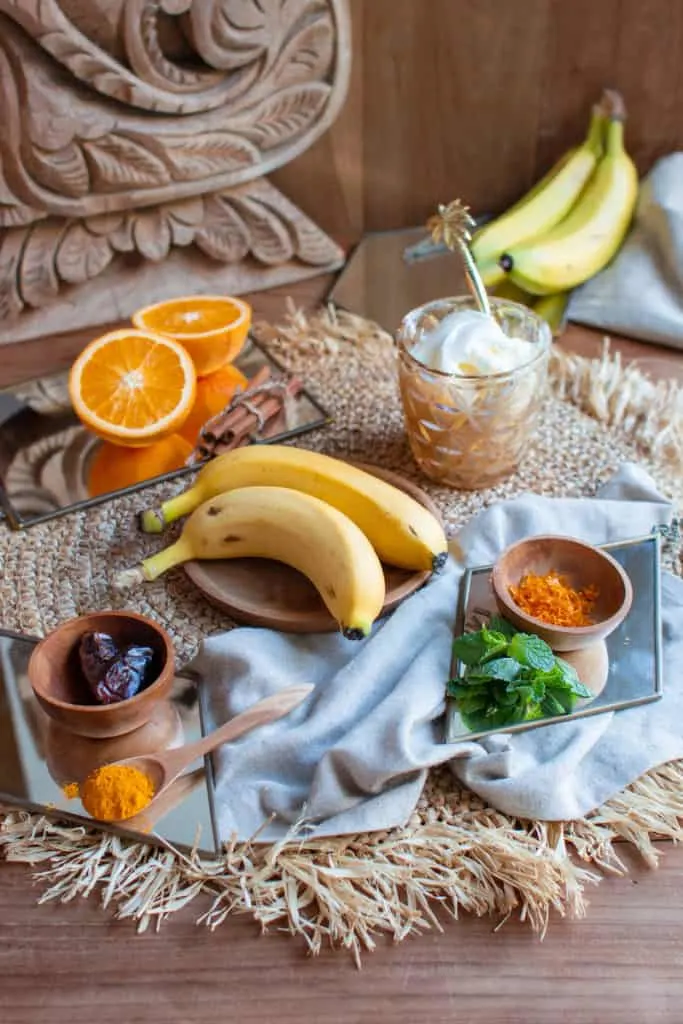 The key to a thick smoothie bowl is to use ice cold frozen base ingredients (bananas are a go-to to make them super creamy) and to blend slowly, not adding any more liquid than absolutely necessary.
Use the blender's tamper, a wooden spoon, or spatula to gently press ingredients down (while blender is off) to help blend -eventually it will blend together into a thick creamy smoothie the consistency of frozen custard.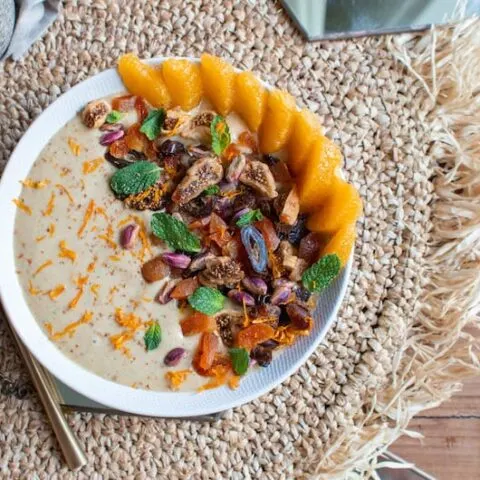 Yield:

1 large or 2 small bowls
Moroccan Orange Banana Smoothie Bowl
Get the base of this down and then go crazy with the toppings! It's also the perfect dish for a breakfast bar where everyone can choose what they want to top their bowl with.
Ingredients
Base Ingredients
4 bananas, peeled, sliced, and frozen
½ cup of thick Greek/set yogurt, frozen
Zest of 1 orange
2 tablespoons of juice from the orange
2 dates, pitted
1 tablespoon (packed) fresh mint leaves, about 6 large leaves
½ teaspoon ground turmeric
¼ teaspoon ground cinnamon
Toppings
8 dried apricots
6 dried figs
4 pitted dates
2 Tablespoons shelled pistachios
Segments from 1 orange
Honey (optional)
Instructions
Chop apricots, figs, and dates into bite size pieces and combine with pistachios in a small mixing bowl. Set aside.
Segment your orange. You can simply peel and separate the pieces, or get fancy and supreme your pieces like in the photo
Set aside.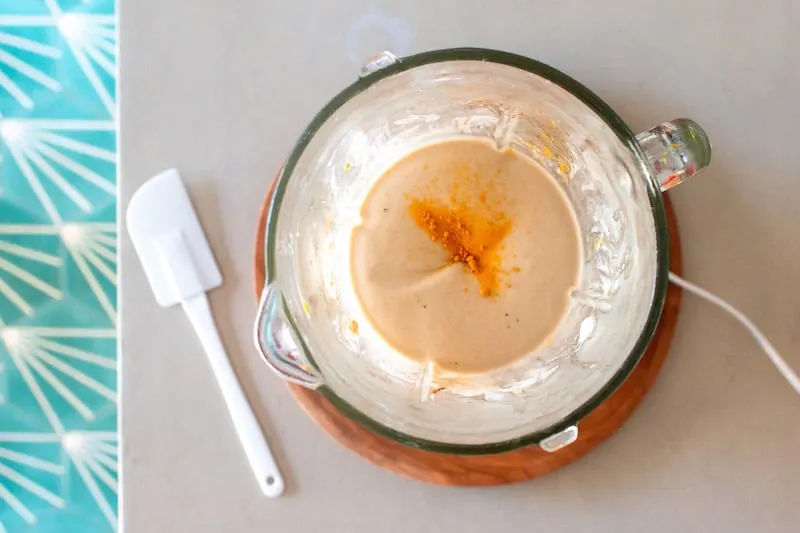 Combine all smoothie bowl base ingredients in a blender, gently pressing down the ingredients to help the smoothie blend without adding any extra liquid.

Pour into a bowl, decorate with the topping mixture, drizzle with honey, and eat immediately!