Many years ago I became very interested in Morocco's Jewish culture. I had no personal connection but found it a fascinating contrast to what I did know about Ashkenazi Judaism. During this period of learning I learned about Mimouna, a holiday that is specifically celebrated by Moroccan Jews.
It's celebrated immediately after Passover and while I don't have proof I wonder if it wasn't developed out of the tradition of Ramadan being followed by a feast day. Passover is also a time for sacrifice and having lived together for centuries it would make sense that there may be overlap.
One of the most standard foods on the Mimouna table is moufleta. The biggest hurdle to preparing for the celebratory party is that no leavening agent can come into the home until Passover has finished. So whatever is served has to either be made without it in advance or made quickly on the day of.
When I made this, it came together pretty quick and only required 20 minutes of rising time before cooking. I can see how if there were a few hands helping cook it wouldn't take long at all. The hardest part is really making sure the temperature of the stove is even (not too hot, not too low) getting into a rhythm with the layers.
Easy Moroccan Moufleta Recipe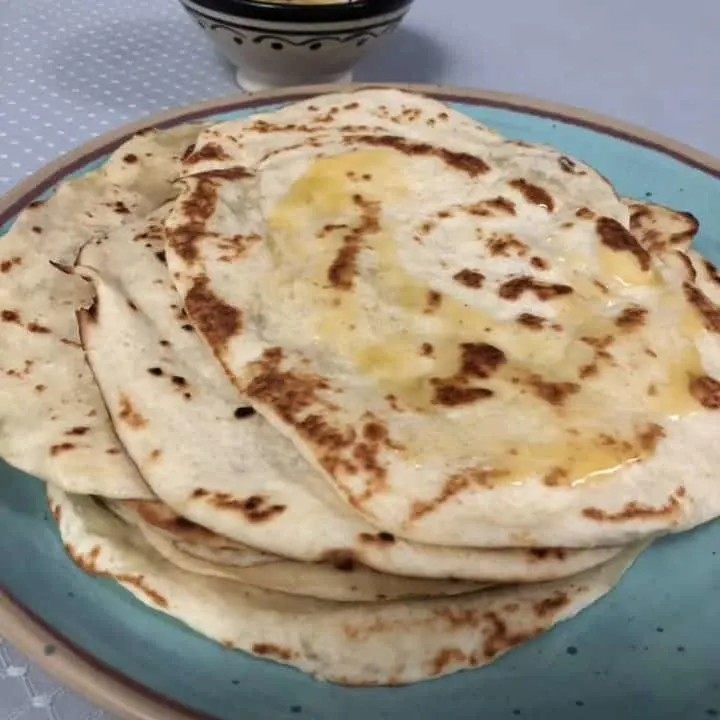 Yield:

16 layers
Moroccan Moufleta
Moufleta is a type of crepe made during the Moroccan Jewish holiday of Mimouna.
Ingredients
3 3/4 cups flour
1 1/2 cups warm (not boiling) water
1 Tbsp yeast
pinch of sugar
Pinch of salt
Vegetable (not olive) oil, as needed
Instructions
In a small bowl add the yeast, sugar and a little bit of warm water. Leave alone for 5 minutes for the yeast to activate.
In another bowl, add the flour and salt.
Start pouring the activated yeast and mix the flour with your hand, just as if you were making bread.
Continue adding water a little bit at a time until the flour is all incorporated.
Knewad until a light and elastic dough is formed. This will take approximately 5 minutes.
Divide dough into small balls. They can be any size you like, the smaller the balls the smaller the final product and vice versa. I divided this recipe into 16 pieces but it could also be 20.
Cover with dish towel and let stand 20 minutes on a flat, well-oiled surface.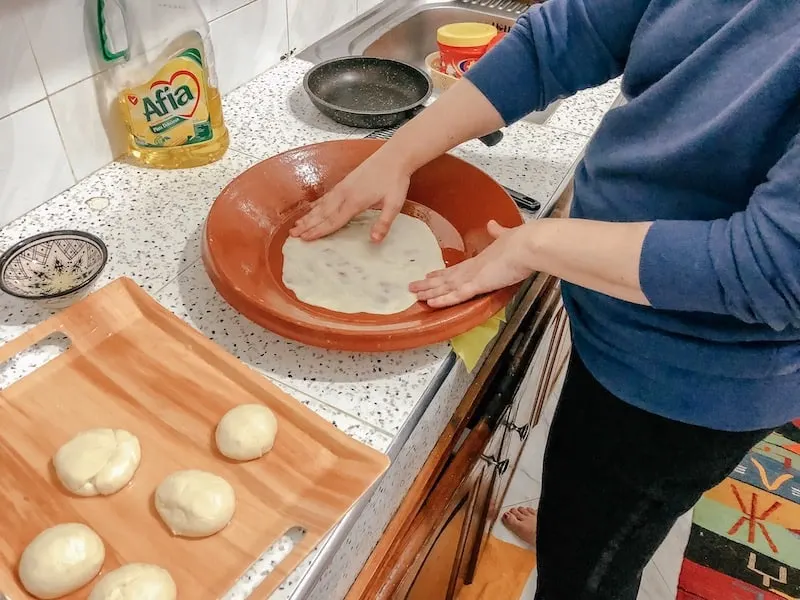 Oil hands and on an oiled surface, place each ball of dough. Use your fingers to push down and spread to form a thin sheet of dough.
Pour a small amount of oil in frying pan. Heat to medium and transfer the dough sheet to the pan. Cook for 1-2 minutes on this side and flip.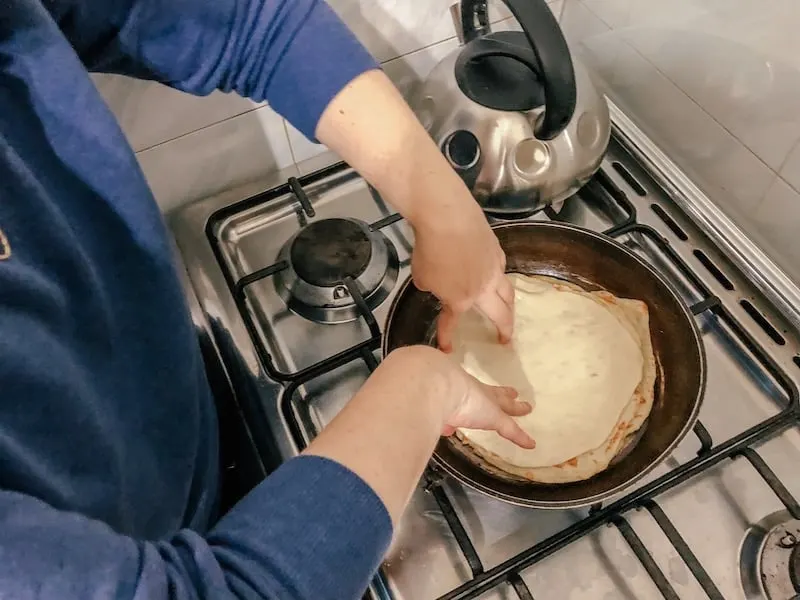 Make a second sheet of dough and place it on top of the cooked bread in the pan.
Continue until all of the dough is used.
Melt honey and butter in a separate pan and use it to drizzle over the moufleta. This part shouldn't be skimped on!
Notes
I found that 8 layers was really enough. The larger the stack gets the longer it seemed to take to cook the new layers, it also starts getting a little unmanageable.