Most visitors to Morocco know about Sahara desert trips however it's not always practical to make this journey. While there are some two-day tours offered the minimum recommended time to make the trip is three days. When considering taking a desert tour from Marrakech people also need to consider how much time they want to be in a vehicle.
The drive from Marrakech is about 8 hours if driven straight, though most organized tours will stop in at least a few places along the way. The time spent in the actual Sahara desert is often very little. On one of my first trips we spent less than 12 hours in the desert; just long enough to ride a camel in at sunset to the tents and ride the camel out at sunrise. It was not what I imagined.
So what if you don't have the time to make this trip or you want to spend time in a desert but a Sahara trip just isn't your cup of tea?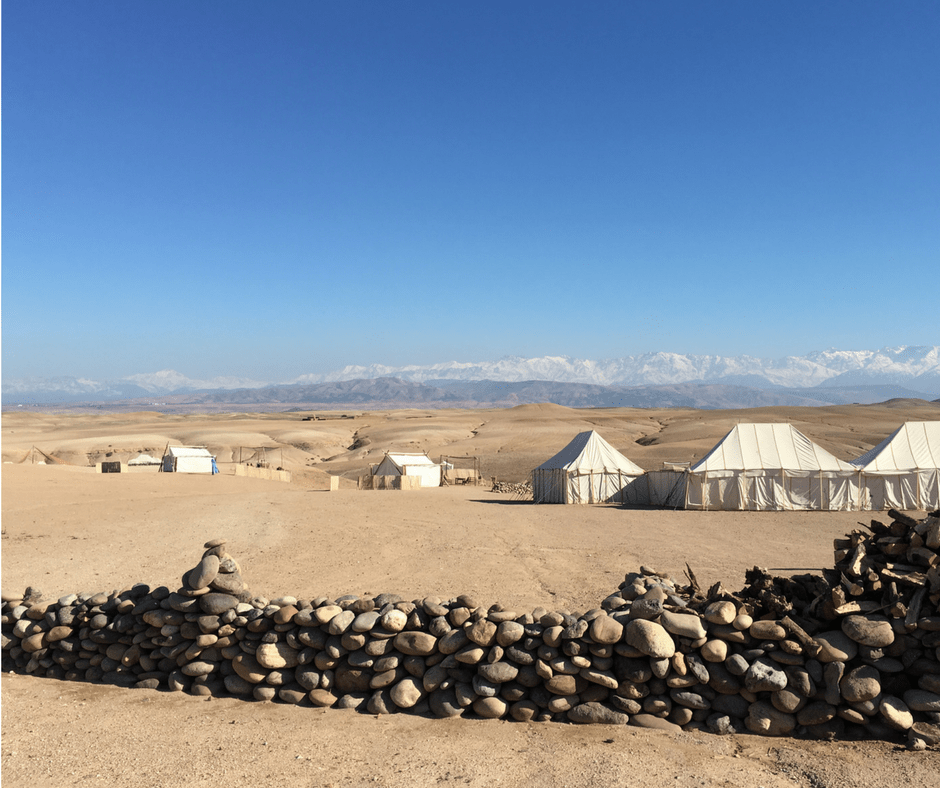 If you don't have the time or desire to make this big trip there are other desert tours from Marrakech. Not a lot of people know about the nearby Agafay Desert just outside Marrakech. While you won't find the golden, rolling sand dunes here (it's a stone desert) you absolutely can have the secluded desert experience complete with a stunning view of the High Atlas Mountains. Plus, it's close enough to easily be a day trip from Marrakech.
What can you do on this Marrakech day trip?
There are a lot of different offers depending on the Agafay desert camp that you choose. But, one of the best things to do is really slow down and relax. Of course this is an amazing location to take your Marrakech camel ride (and trust me it's a lot more atmospheric than riding a camel in the city!) You can easily go trekking or set up a meal with local families – yes people do live out here!
Horseback riding or quad bike riding are a few other activities that you can choose from or bring some cards and board games to bond with your travel companions. Some camps also offer hammam and/or massage treatments to guests in specially equipped tents.
When the sun goes does enjoy a delicious meal with a nearby campfire while gazing at the stars. It won't be quite as clear as in the Sahara, as you can still see some of the lights from Marrakech but it is lovely for stargazing!
Which luxury desert camp to choose?
There are several Agafay desert camps to choose from but I love the Les Vents du Sud (LVDS) camp. Why? I have found the service and staff here to be exceptional. You'll feel completely taken care of, the tents are wonderful and the food is very good as well. All good components to make for a memorable experience.
There are of course other camps as well which you can seek out.
What to expect on an overnight?
You have the option to visit on a day trip from Marrakech or spend an overnight in the Agafay Desert. Some questions you should ask if you'll be spending the night include;
what meals are included?
what are the sleeping arrangements/accommodations?
which activities are included?
which activities are available?
is there any heating or cooling options available (depending on the season)?
how many other guests could there be?
any other questions that might be specific to your personal needs.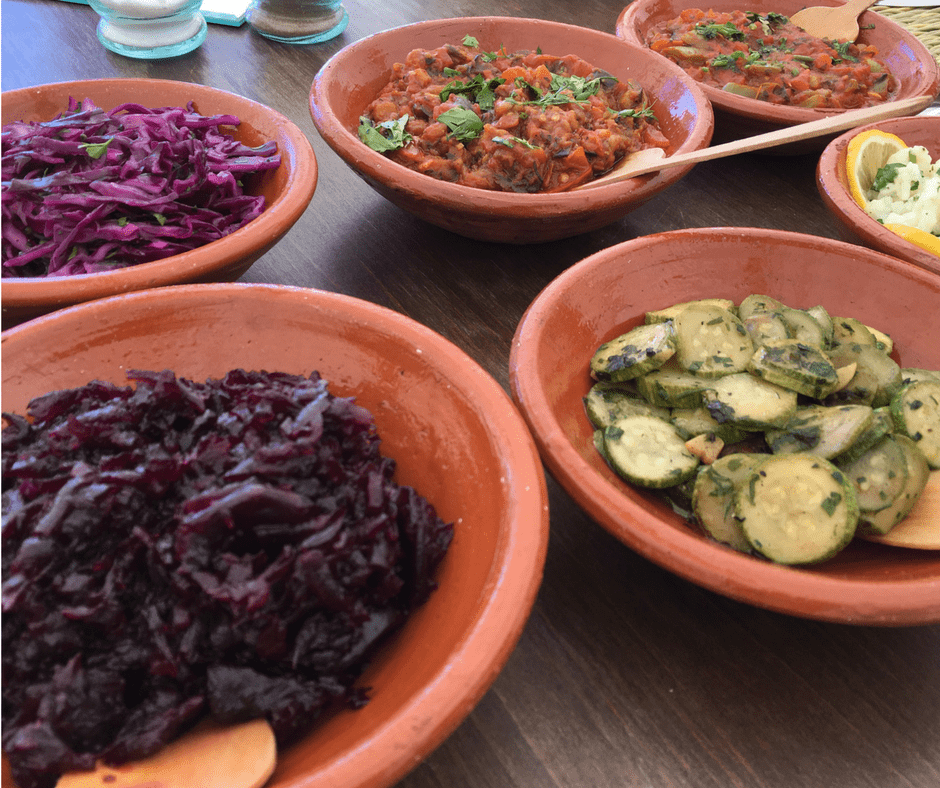 LVDS has a camp area for those guests who want a secluded experience and those that may be having a celebration (yes you can host a party or even a wedding in the Agafay desert!). This is really good because it means both types of visitors can have the experience they want.
If you're spending the night each of the tents has a king size bed and living room as well as a bathroom with a toilet and hot water shower. They're tastefully decorated and keep with the surrounding environment. In summer months, the beds can be taken outside at your request to sleep under the stars!
A day or night in the Agafay desert is a great way to experience the Moroccan desert without having to travel too far!
[ultimate_heading main_heading="Agafay Experiences for You!"][/ultimate_heading]
[ultimate_info_table design_style="design04″ color_scheme="custom" color_bg_main="#cd0060″ color_txt_main="#ffffff" color_txt_highlight="#ffffff" package_heading="High Atlas and Agafay Overnight" package_sub_heading="Explore the villages of the High Atlas by day and spend the night under the Agafay stars!" icon_type="custom" icon_img="29414″ img_width="300″]What you get with this experience;
Pick up from your Marrakech hotel or riad.
Enjoy a drive through the scenic Atlas Mountains before arriving at the Agafay camp.
Dinner, overnight, camel ride (optional) and more!
(Use Code MMA7 at booking for 7% off!) [/ultimate_info_table][ult_buttons btn_title="Book Now" btn_link="url:https%3A%2F%2Fgateway2morocco.com||target:%20_blank|rel:nofollow" btn_align="ubtn-center" icon_size="32″ btn_icon_pos="ubtn-sep-icon-at-left"]