So you're planning a trip to Marrakech and you can't wait to see the hustle and bustle of Djemma el Fna. That's fantastic. I love hanging out in the square because of its vibrant energy from all the tourists and locals interacting in the shops, the stalls, and practically every corner. But there are some common scams that take place in the square and generally can be found in the Medina that can leave tourists with a bad experience in Marrakech. Today I want to describe to you a major scam that you find ALL. THE. TIME. Faux Guides.
Who are they?
Faux guides are individuals who try to scam unsuspecting tourists in a few ways. Official tour guides are supposed to wear a badge on their clothes that indicates that they are certified national tour guides and are allowed to help tourists. Often you'll find the official guides near the square or you can ask your riad/hotel to hire or recommend one for you. There are even some guides now that are online and actively promoting their services. If you're not sure where they are, you can simply stop a police officer and they will bring you directly to them.
How do you know someone is a faux guide?
First of all, if you are walking around Djemma el Fna and you are trying to find your hotel, hostel or riad on your own, they will spot you and try to get you to "follow them to bring you to your hotel." They might take you an extra-long way so it looks as if they brought you a long distance and then they will expect you to give them money for bringing you there. If it was just a couple of dirhams, I'd say that's not a bad deal but these guys ask for 150-200 dirhams just to take you around the block.
The second situation you will find a faux guide is when you're walking around the Medina and either looking for something or just strolling and people will whisper or shout, "Looking for the Square? Come this way? Want to go to the spice souk? I'll help you. Are you lost? I can bring you (insert location here)." Now sometimes you will find that people are being genuinely kind and want to help you if you are lost. But often times, they just want money.
A third situation in which you will find a faux guide is when someone you meet tells you they know a shop where you can find the best prices for carpets/blankets/ceramics/spices/etc. Unless you know the person recommending the place to you, more often than not this location doesn't have the "best prices" and the guide gets a commission from you spending money there. Also, you can find yourself in this situation when you agree to let a faux guide take you around the Medina and they "just happen" to be near their friends' shop so why don't you go in.
A final situation is when someone straight out offers to give you a tour of the city. Any guide that works with tourists needs to be licensed. They will have a very obvious badge that they wear.

Then, how do I avoid them?
Well, here are my suggestions. Don't walk around with a map of the Medina/Marrakech. You can have it with you to check when you're indoors as a back-up but if people see you and your company with a city map, you will automatically be a target. It basically makes you look lost…not a good look here. Second, don't ask for directions from a group of young boys/men. Young boys/men are most often faux guides. They are usually just hanging out, with not much to do so some try to make some extra cash by hustling tourists who don't know better.
Those were the "don'ts" so what are the "dos"?
If you've never been to the location where you will be staying, ask your accommodation to arrange a pick up for you from the airport or train station. If you try to be more independent and arrive to Djemma el Fna yourself or are looking for a landmark or tourist location, then seek out a standing police officers to ask for directions. You can also ask café or hotel workers for directions. They will most likely speak some English, French, or Spanish and are less likely to scam you.
There you have it, my tips and tricks to spot a faux guide and how to avoid them! I hope these tips will help you avoid an unwanted encounter with faux guides and let you enjoy Marrakech the way locals and us expats living here do. Have you encountered a faux guide before?
Looking for the other posts in this series on scams to avoid in Marrakech?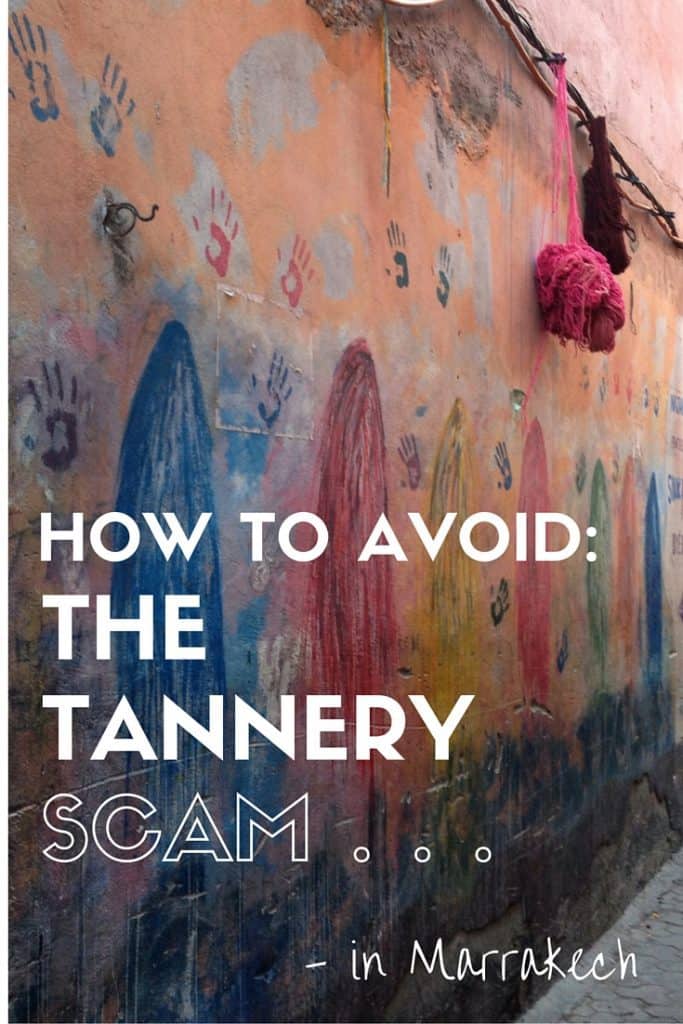 How to Avoid the Tannery Scam in Morocco
Marrakech Scams: The Taxi Scam and How to Avoid it
Be a part of the MarocMama family!
Do you want access to all things MarocMama? Join our community of readers to get updates on new posts, inside information that won't go on the blog and so much more!
Sound good? Pop your email below and you're in!