Marrakech, Morocco has a layer of modernity that sits alongside the traditional scenes of the bustling souks and historical medinas ensuring it caters to all traveler tastes.

For first-time visitors, the contemporary map of Marrakech may not be your focus, while you head for the more iconic heritage places to visit. Return travelers, may find this modern side, the "new city of Marrakech" gives a fresh perspective, revealing a city that is thriving and attracting worldwide attention for art, design, travel and business development opportunities, and rising gastronomy cuisine.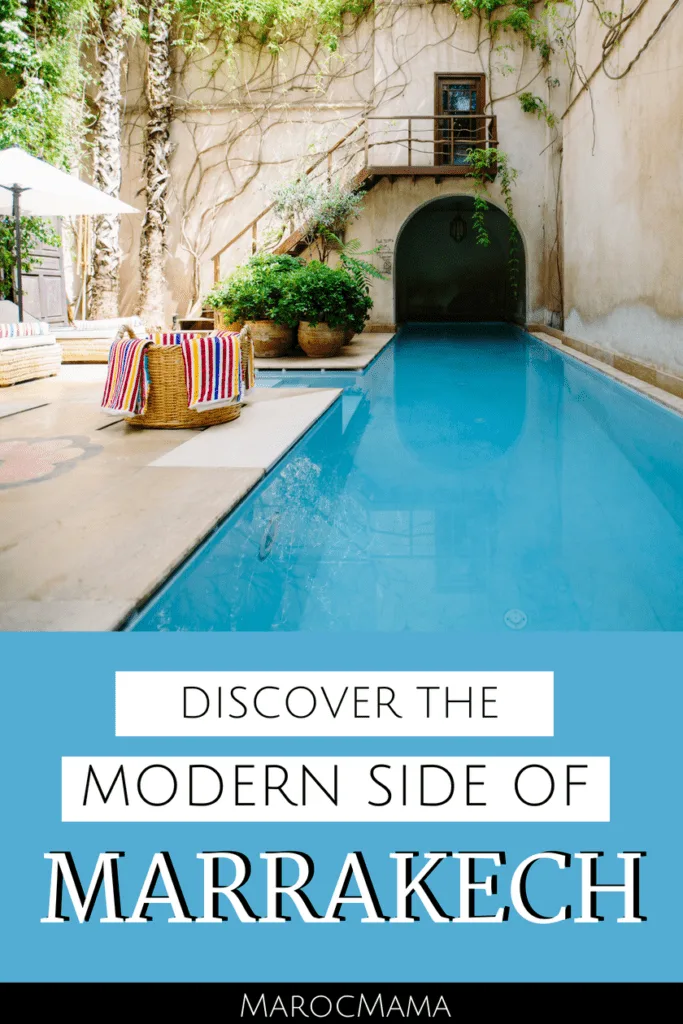 The majority of the contemporary scene is centered in the not so "new" town of Gueliz, founded in 1914. This area was once the French area of the city but today those lines of distinction no longer exist. You may hear it called the French quarter of Marrakech.
You'll spot popular international high-street chains such as Zara, H&M and even Starbucks. Due to an increasing rise in creative and entrepreneurial development, there's a throng of new brands and businesses popping up across the new town and medina.
Here's a selection you might like to try depending on what you'd like to add to your travel itinerary.
Art and Culture in Gueliz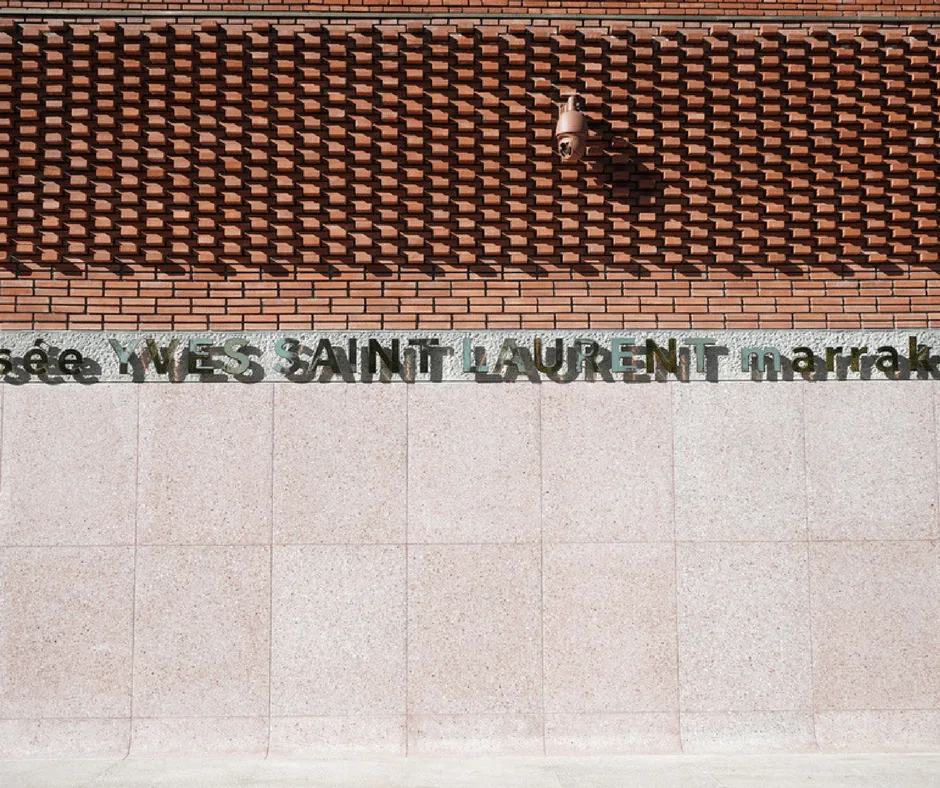 There are many art galleries and museums to find in the new city of Marrakech. Some are a bit more hidden and may require a little extra effort to find, while others are mainstays and you'll need a little strategy to avoid the crowds!
The YSL Museum in Marrakech recently was awarded the "Best New Public Building" design award from the British magazine Wallpaper*. Thousands of international visitors flock weekly o snap the beauty of the architecture by Studio KO as much as the YSL permanent collection. A rotation of contemporary artists are exhibited to keep things fresh.
Musée MACMA or the Musée d'Art et de Culture à Marrakech is a surprising gem. Alongside Kaftan Queen boutique and the Yahya Gallery, it's a peaceful art haven away from the bustle of Gueliz. Representing Moroccan artists like Hassan El Glaoui and Mahi Binebine, it offers a contrast to the traditional artisans in the medina.
Museum of African Contemporary Art Al Maaden (Macaal) showcases the art of Morocco and its neighboring countries through different mediums. It has a strong education program celebrating African and international art.
33 Rue Majorelle curates the best of up-and-coming Moroccan and international brands produced in Morocco. Pick up quirky notebooks (a rare find in Marrakech), trendy fedora hats for men and women, contemporary jewelry, clothes for women and kids, lamps for design-lovers, and gorgeous smelling natural soaps, argan oils, and home scents.
Modern Marrakech Clothing and Boutiques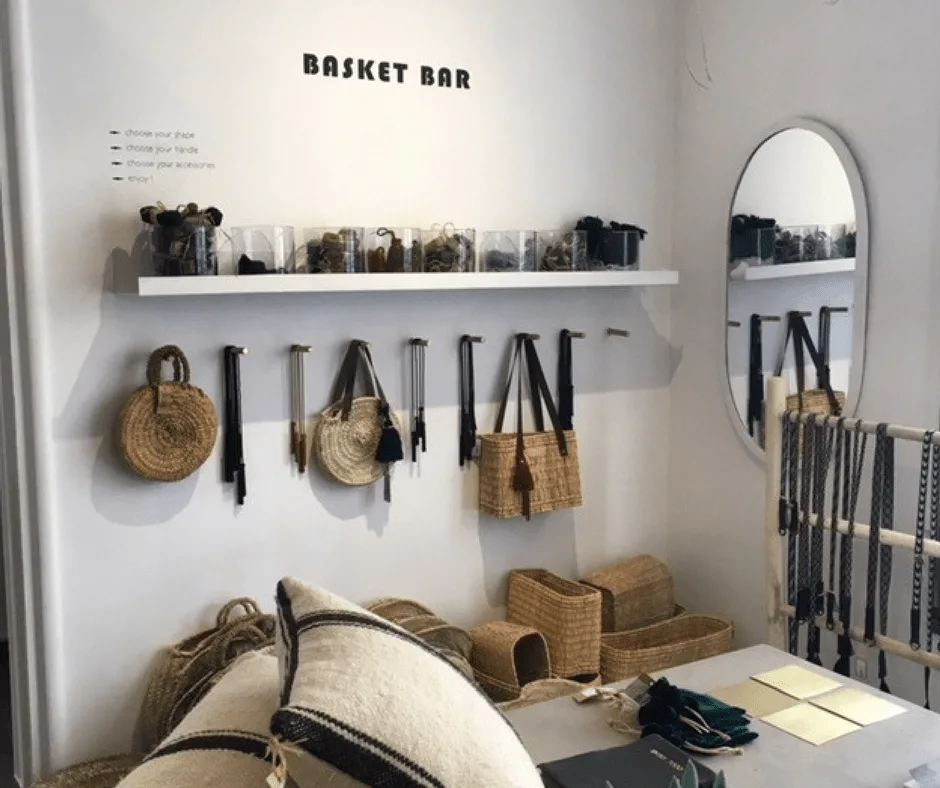 SOME Slow Concept Store
SOME Slow Concept Store was founded by @casabeldi & @nomcreation, two French designers based in Marrakech. An airy sanctuary of well-curated contemporary craft, you can also shop for customizable raffia bags and satchels, and a modern twist on a classic Moroccan ceramic and glassware. On the mezzanine level, you'll find a selection of artisan Berber rugs for the boho-chic home, and in the French-style kitchen, a range of carefully-chosen spices for the gourmet foodie. They've recently opened a small garden cafe, so why not take a rest under the orange trees for tea?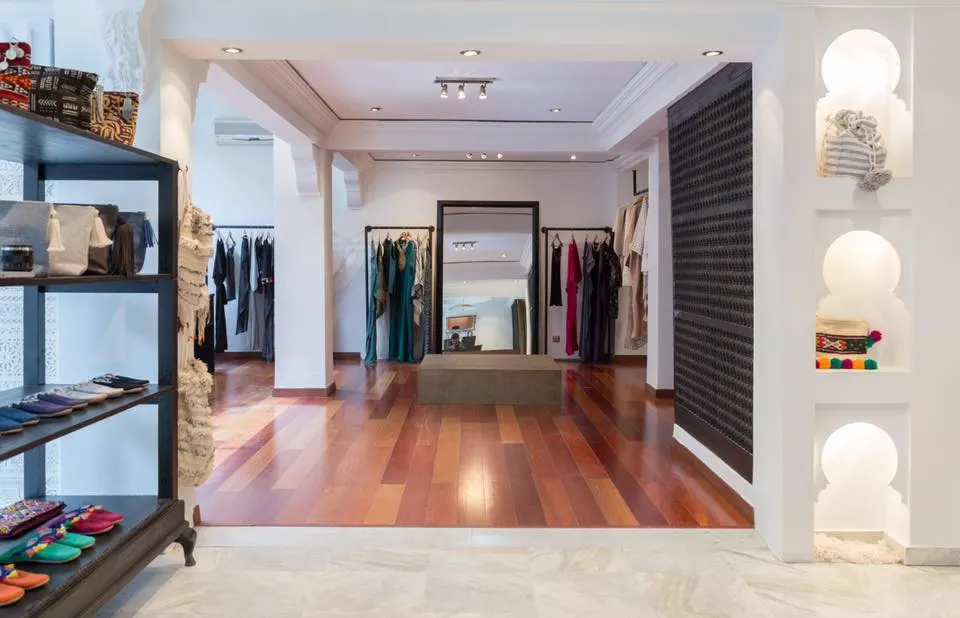 Kaftan Queen Marrakech
Kaftan Queen, founded by British designer Sarah Rouach has opened a 2nd boutique in the Mellah for medina fashion lovers growing from the popularity of her flagship Gueliz store. The classic yet contemporary womenswear and accessories brand is a trusted brand on the scene. Look out for the mesmerizing street scenes viewed from the window in the new store and the vintage furniture pieces (all Instagram-worthy, for sure).
Lalla
Lalla boutique has a beautiful range of bags, purses and travel bags in a range of contemporary colors (check out the gold foil range in the Spring collection!) and fine-art jewelry. You can view the Designer at work in the glass-paned design space at the back of the store.
LRNCE
LRNCE is the Belgian yet Marrakech-based designer, Laurence Leenaert who designs contemporary ceramics, textiles and leather accessories produced in Morocco. Most interior pieces are like works of art yet are equally functional for the home. A visit to her beautiful art studio is a must-see.
Marrakshi Life
Marrakshi Life was recently championed by esteemed designer Garance Doré of Atelier Doré. Their handwoven clothing made in Marrakech sells menswear and womenswear in tailored fabrics in contemporary, yet classic fashion styles.
ATIKA
Long been THE spot to get great shoes Atika offers both local and western styles and designs. It's well known and in a very visible location in Marrakech. Shoes are chic but not so expensive that you'll blow your entire vacation budget on a single pair.
Chabi Chic
This line of ceramic wear is a favorite of mine. With new designs that come out regularly you'll be sure to always find something new on the shelves. The pieces are more expensive than you'll find in the souks but are custom made for Chabi Chic and offer special patterns and pieces you won't find elsewhere.
Where to Eat
Le Petit Cornichon
Le Petit Cornichon is the latest edition to the Marrakech food scene by Erwann Lance who has several 2 and 3 star Michelin restaurants in his range. Listed on the Hottest Table as 'seriously on par with international fine-dining.
Barometre Marrakech
Baromètre Marrakech is an alternative in the same region as Le Petit Cornichon, getting repeatedly good reviews for their fusion food and impressive cocktail menu designed by international mixologists.
Grand Cafe de la Poste
The Grand Café de la Poste still offers a contemporary, yet classic place in the Gueliz map, serving up fresh juices, or a cool beer, or choose from a wine-list that would satiate most wine-lovers. Early-evening, they have a complimentary canapés buffet if you get in quick enough!
Plus 61 Marrakech
It's my go-to spot in Gueliz for a great meal at lunch or dinner. Enjoy the very laid-back chill atmosphere with a menu made up of Moroccan produce prepared as you might find in Sydney. That's right, this restaurant is billed an Australian affair in Marrakech!
If you're searching for an after-shopping or evening drink, you'll find the international and Moroccan locals popping into Kechmara, Radisson Blu Lila bar, Entrepote, Point Bar or Café du Livre too.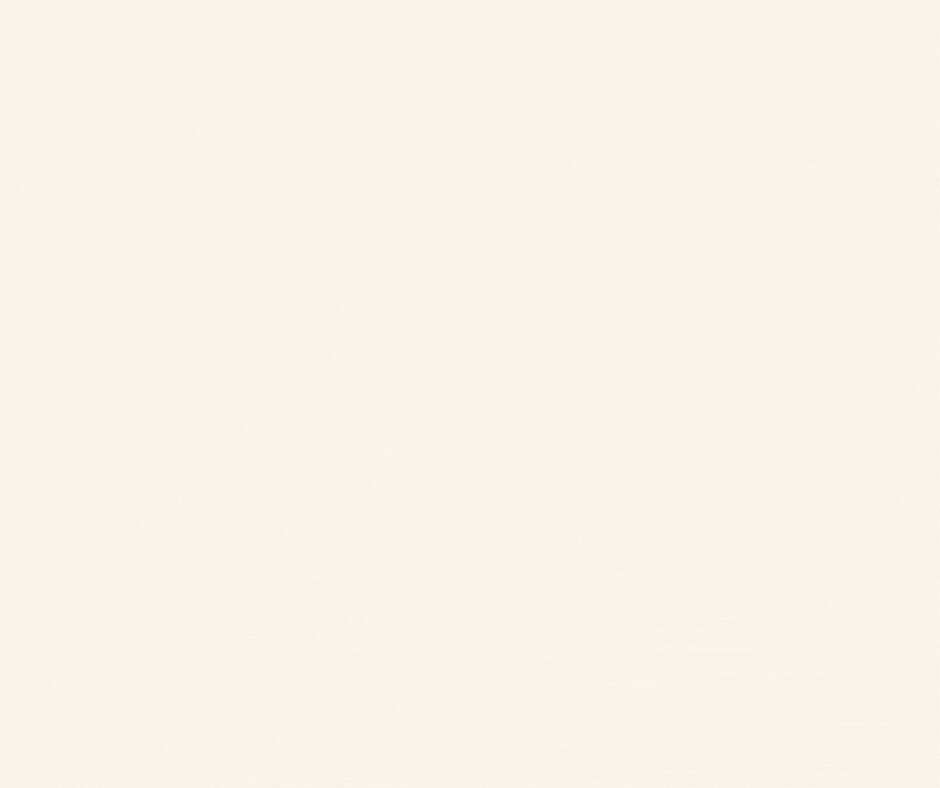 Wellness and Beauty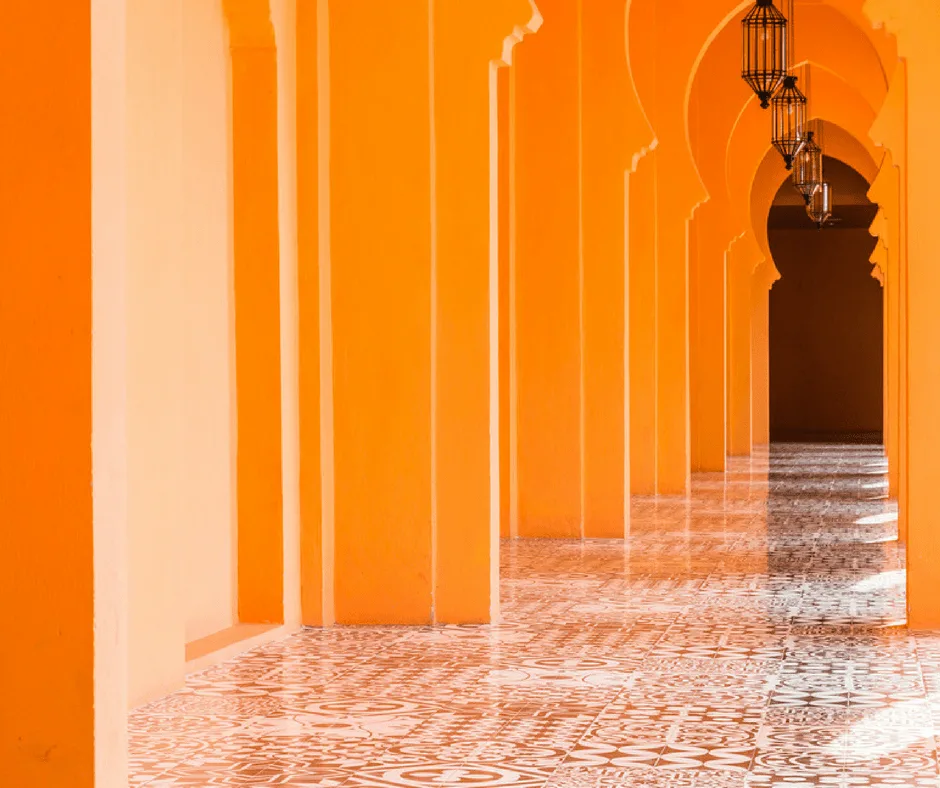 Heritage Berbere
Héritage Berbère is nestled alongside Jardin Majorelle and sells a quality blend of his and her parfumes, colognes, candles and oils inspired by scents of Morocco.
Caudalie
Caudalie spa is like a little oasis on Rue de Liberté. The staff are welcoming and knowledgeable about what range or treatment will suit your skincare needs. A welcome, luxurious beauty and spa break from shopping in the new town. Although often quiet, you'll be free to browse without pressure.
The Moroccans
The Moroccans beauty brand was previously sold in the Lila concept store in Gueliz, but now has it's very own boutique at the end of Rue Yves Saint-Laurent. It specialises in organic and fair trade argan oil cosmetics. Pop in before or after you've queued for the YSL or Jardin Majorelle Museums.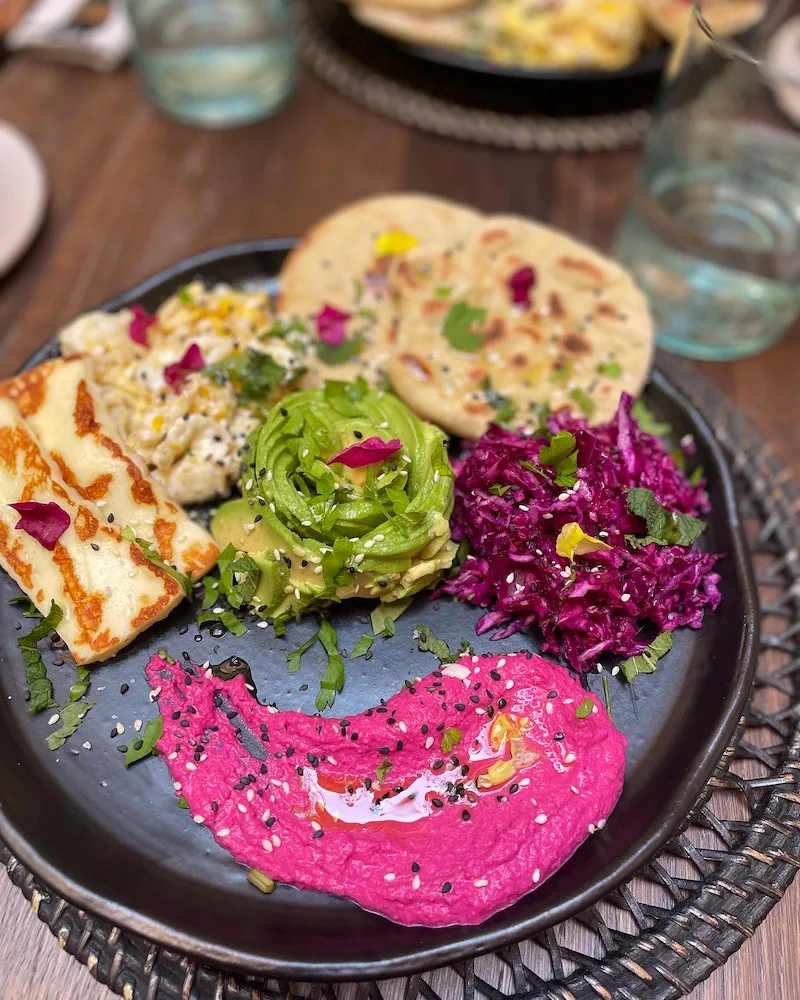 Bloom House Marrakech
Set in a small side street you'll need to make a small effort to get here but once you do, it's well worth! Their small yoga studio is relaxing while the exterior cafe serves vegetarian and vegan dishes that are outstanding.