If you're celiac or simply a gluten-free traveler the prospect of eating gluten-free in Marrakech (and Morocco in general) can seem really daunting. It's true, wheat and specifically bread are a cornerstone of Moroccan cuisine. Bread is sacred. It's served multiple times a day and in any number of combinations.
But that doesn't mean you'll go hungry when you visit. Especially not in a city like Marrakech which has a wide variety of Moroccan and international food choices. MarocBaba was diagnosed with celiac disease many years ago in the US and we thought moving back to Morocco would be a nightmare.
However, we've managed to figure out what foods are safe as well as create a list of places that we like to eat and offer food items for both of us.
If cross-contamination is an issue for you, than you are advised to avoid any restaurant that has mixed items. Few if any places are able to offer a completely gluten-free safe kitchen.
Just as a small side note. If you are gluten free and male and you are traveling with females who are not gluten-free, don't be surprised if waiters assume it's the woman that is gluten-free. This happens to us almost every time we go out to eat in Morocco.
Moroccan Foods that INCLUDE Gluten
While it may be easy to steer clear from items that are easy to see have gluten such as breads and pastries, there are other dishes you might be less familiar with that do have gluten.
I also highly recommend you consider purchasing this gluten-free translation card that lists all of the pertinent information in Moroccan Arabic for your time in Morocco.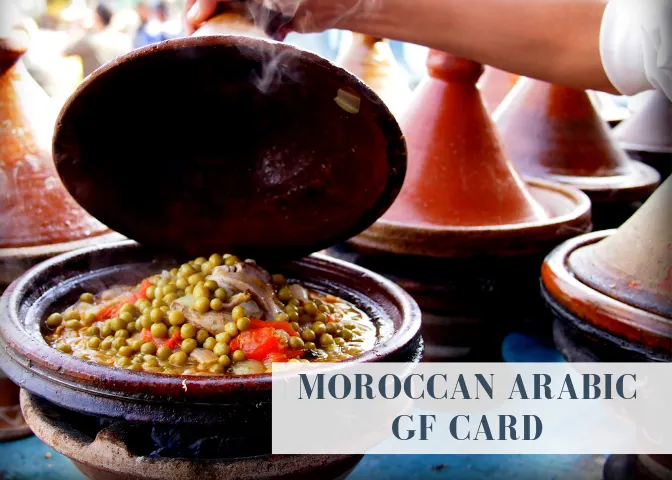 Harira
This is a Moroccan soup that is traditionally thickened using flour. This isn't listed on menus but it is very common so you will want to ask if flour has been used. If you're unsure it's best to avoid it.
Briouats and B'stila
Warka is a type of phyllo dough that is used to wrap up these two items. Warka is made from flour and water and is not gluten free.
Coucous
Couscous is made from wheat flour however not ALL couscous is made from wheat flour. You can have corn and barley (barley does contain some gluten but for those who can process non-wheat items this is an option). Rarely are these other grains used in couscous on a menu but if you're staying in a riad and you ask, often times the staff will be happy to make you a meal that includes this.
You also could ask for couscous with rice however sometimes the grains of the couscous fall through the steamer when cooking and are in the broth. So this would only be an option I'd suggest if you are intolerant and not if you're allergic.
Most Pastries
Almost all Moroccan cookies do contain gluten, however there are some that are made only with nuts. It's always worth asking if they have any that are only nuts.
Moroccan Foods that are Gluten Free (usually)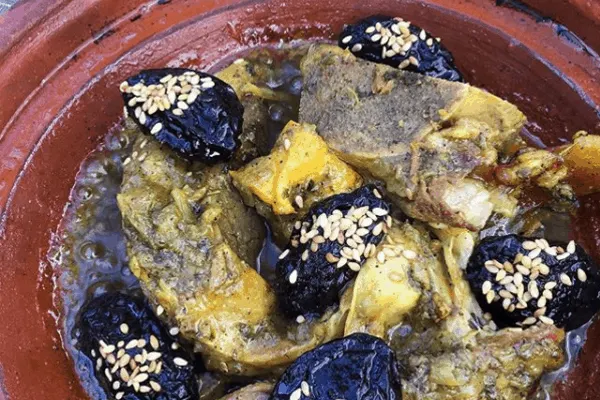 Tajine
This is almost always gluten free, though I have learned lately that some places are cutting corners and using flour to thicken the broth. This is something to be on the look out for. Normally it's eaten using bread however you can ask for a fork and eat it that way instead.
Tangia
This is not tajine. This dish is slow cooked lamb along with garlic and saffron to create a heavenly dish. This also is normally eaten with bread but you can eat it with a fork and possibly order a side of vegetables depending on where you'll be eating it.
Moroccan Salads
There are a LOT of different Moroccan salads and virtually none of them contain gluten. It is always an option to order several as part of a meal.
Grilled Foods
Kefta, grilled turkey/chicken, and sardines are common foods that are grilled and enjoyed by Moroccans. These are all naturally gluten free. You might also see merguez sausage offered however wheat can sometimes be used as a filler for these so it might be better to avoid them.
Bssara
This is a fave bean puree that is often served for breakfast in winter months. Topped with olive oil and sometimes a pinch of hot pepper it's filling, nutritious and gluten free.
Beans and Lentils (Loubia and Addis)
It's not too often these items make it to restaurant menus, they're more street food, however they are naturally gluten free and quite delicious.
Eggs and Omelettes
This is a good option if you're stuck in a situation where there are few options. Eggs are almost always available and can be ordered many ways though omelettes are the easiest. You can ask to have onions and tomatoes added OR order a Moroccan salad on the side and mix the in yourself.
Fruit and Fruit Juices
Fresh fruit is always served for dessert in Morocco and you'll find it readily available any time of day. Fruit juices and blends are also very popular
Where to Stay if You're Gluten Free
We have found the levels of awareness people have about what gluten-free means vary quite a bit. In some cases it's been no issue and in other cases my husband has had to explain exactly what his food needs were.
These are a few places in Marrakech that you can consider if you're concerned about eating safely. I tried to choose one riad in different areas of the medina so that depending on where you wanted to stay there would be an option nearby.
Excellent culinary staff that is extremely well versed not only in gluten-free needs but multiple diet types. For those most concerned with keeping gluten free this might be the best option.
Looking for gluten-free cooking classes and a riad that can cater to a gluten free menu? They can do it. Cooking classes are private and available for outside guests as well. Let them know your needs in advance.
Another riad that understands gluten-free dietary needs and can provide you with home cooked, high quality meals for breakfast, lunch or dinner.
A lovely riad that provides home cooked food from a lovely staff. Again, let them know your needs in advance so that they can best prepare for you.
Most major hotels are aware of what gluten free is however they may or may not have substitutions available for you. Hotels that have buffets you may want to be aware of for cross-contamination issues.
Self Catered Options
There are many riads and Airbnbs that you can rent while you're in Marrakech. If you're very concerned about eating safely this might be your best option, allowing you to prepare your own meals.
6 Marrakech Restaurants to Consider if You're Gluten Free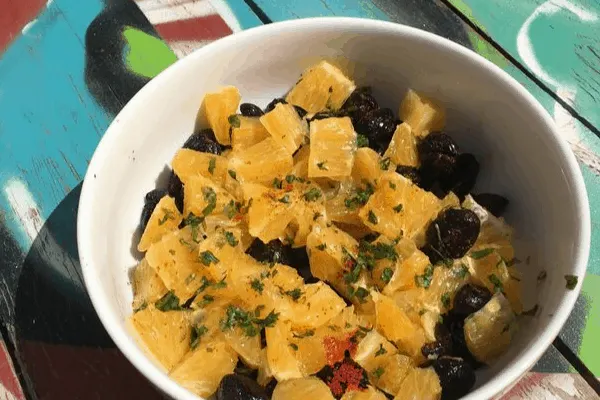 For Moroccan food that is gluten free here are some of the restaurants that offer items that are more clearly marked. If you happen to another Moroccan restaurant where gluten-free items aren't marked you can use the guide of naturally gluten free foods to help guide your selection.
Un Dejuner au Marrakech
One of my favorite restaurants tucked in the Medina but not too hidden. They have a menu that can make anyone happy; meat lovers, vegetarians and gluten-free! Try the green pea soup (bessara), the orange chicken and fruit salad with sorbet.
Marrakech Henna Art Cafe
This is a lovely restaurant where you can not only get a delicious meal but one of the only safe places to have henna done too. Their menu clearly lists what is gluten free as well as vegan or vegetarian.
NOMAD
Known for it's terrace, it's also a very busy place. Expect a large crowd and sometimes hit or miss on the food. For gluten free options try cauliflower roast in charmoula, grilled lamb chops, and the flourless cardamom ginger orange cake.
Pepe Nero
An Italian/Moroccan restaurant in the Medina that lists gluten free options on their menu. A rare find in Marrakech but very useful for anyone who is a little unsure.
Plus 61
A good choice for lunch or dinner with cocktails available. The restaurant is Australian with a rotating seasonal menu. Staff are fluent in English and can make adjustments for dietary needs.
Sushi Store and/or Zushi
Two of my favorite sushi spots in Marrakech that offer not only sushi but a wide variety of Asian dishes. Be sure to ask for no soy sauce used in preparation if you have a wheat allergy.
Looking for more gluten-free suggestions? I keep a much longer, running list of suggestions as a part of my Eating Guide to Marrakech where you'll also find a 50+ page ebook that is an extensive guide to Moroccan food and has dozens of my favorite restaurant suggestions. There's a separate section that is just focused on gluten-free eating. It's just $15 – less than one bad meal!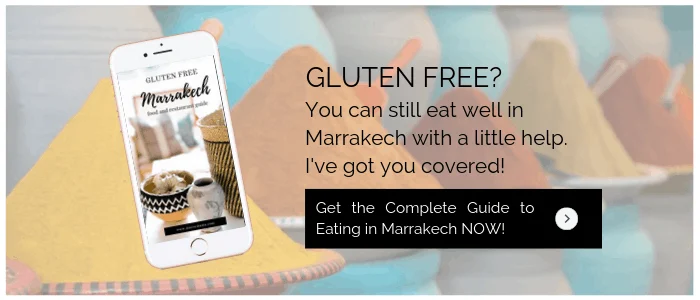 If you're only interested in gluten-free dining you can pick up the standalone guide for $5