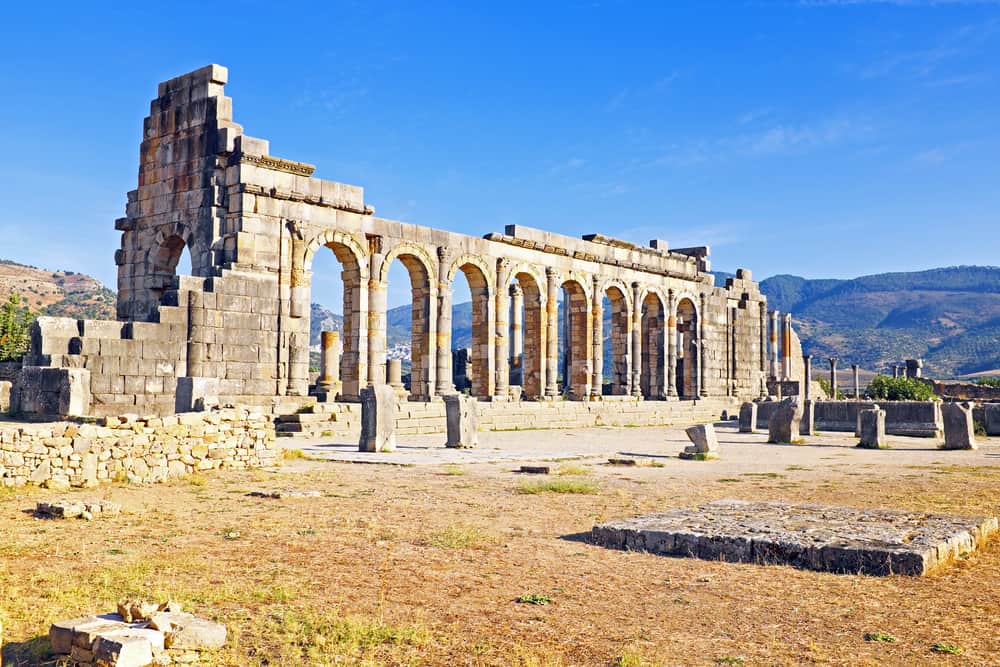 By popular request, I've put together longer, food-focused tours of Morocco along with parters at Roaming Camels Morocco. We've worked together to build great itineraries (there's also a 7 day and 12 day option) that will create an amazing culinary adventure for you and your travel partners.
This is a private tour so if you'd rather experience the sites and tastes of Marrakech with your own private group instead of a tour bus of strangers it's a great option to consider.
You can book this option any time of year! There are no set dates to work around because this is a private, custom tour!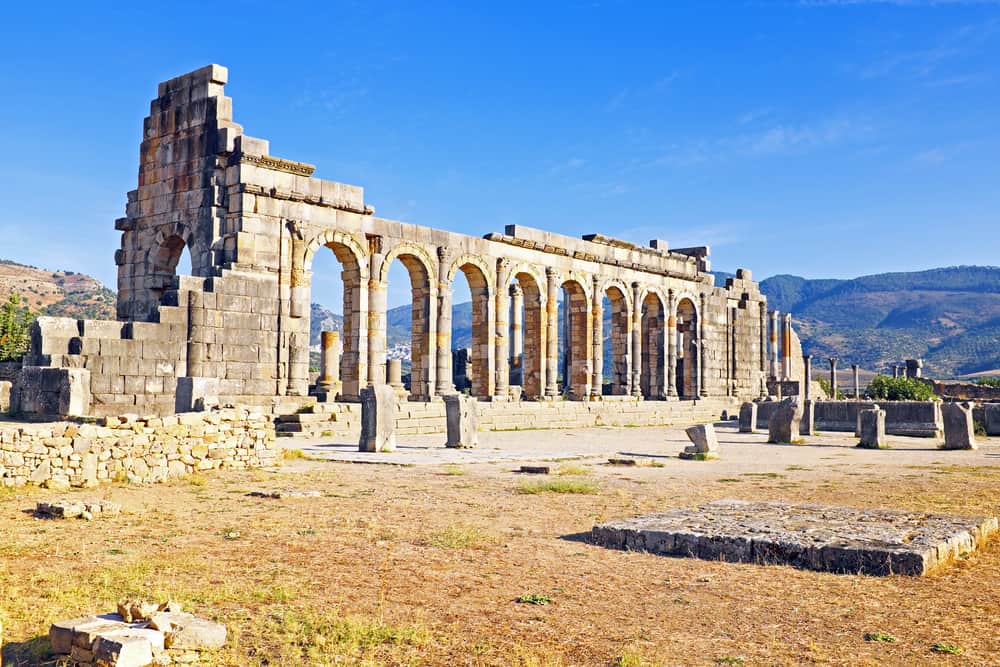 Day One
Many international flights arrive to Casablanca so your tour will begin in Morocco's largest city with a pick up at the airport. From here we'll begin your tour! Travel to Rabat about one hour away for an overview of the capital city and sites.
After a mid afternoon lunch (on your own) it's on to Meknes to see the sites of this city that was once the capital of Morocco during the reign of Moulay Ismail. For dinner learn how tajines are made at a restaurant owned by a local family.
Day Two
Sleep in a bit to wear off some jet lag, enjoy breakfast and then it's on to Volubilis, home to ancient Roman ruins.
For lunch enjoy your meal with a beautiful terrace view at Dar Zerhoune in Moulay Idriss. In the afternoon you'll then visit a local winery for a tasting (optional) or head back to Fez for time on your own to explore and have dinner.
Day Three
Discover Fez with the help of an English-speaking guide. Learn the history of this city while maneuvering the streets of the city and a stop for lunch.
Afterwards head to a local riad and restaurant where you'll try your hand at making one of Fez' most beloved dishes – the b'stilla! Dinner is included.
Day Four
Drive south from Fes and stop in to visit Ifrane, a popular Moroccan ski resort town. Then head south of the city and learn about nomads and their lifestyle. Share a picnic with a nomad family along the way for lunch, or stop in Midelt (weather depending). All meals during your travel day will be arranged and included.
Day Five
Today is your day to experience the Sahara. Travel the dunes, learn how to make bread in the sand. Yes, in the actual sand!
Then meet with some nomads for a musical experience before heading to your camp for the night amidst the dunes.
Some of the culinary highlights today include a date tasting and medfouna – the infamous Berber pizza as well as dinner at the campsite.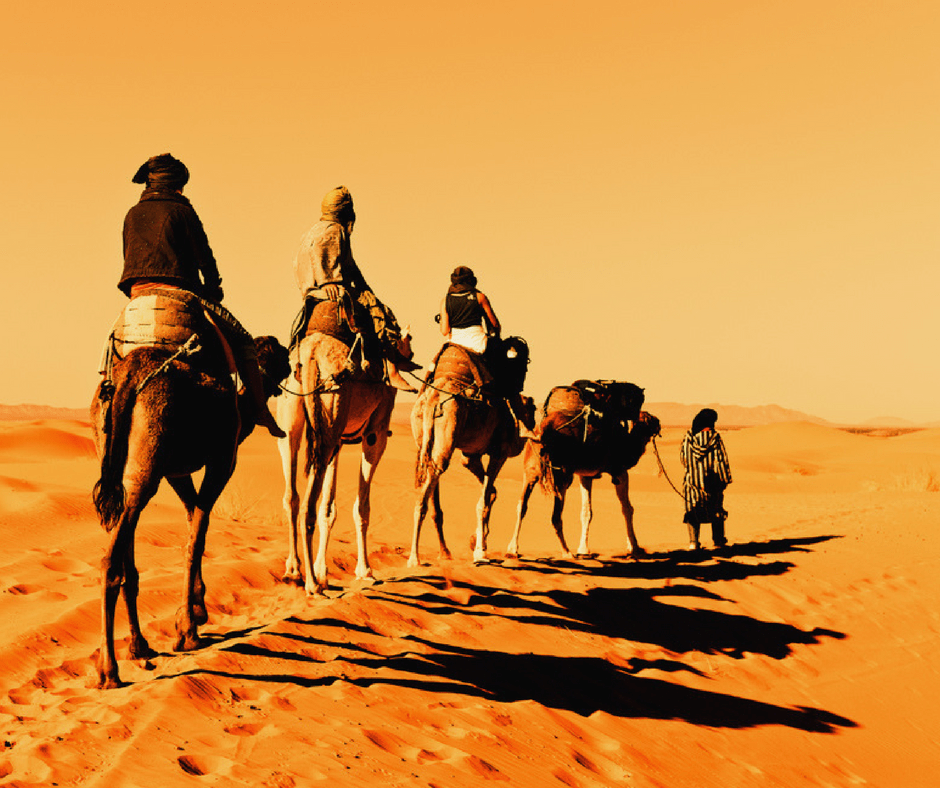 Day Six
Drive to the Dades Valley today. You'll stop in the village of Tinjedad to see a different type of bread being made and taste it along with local specialties like amalou.
Enjoy lunch in the towering Todra Gorge. Dinner will be at your hotel or with a local family depending on availability.
Day Seven
Work your muscles as you help make bread for the mornings breakfast (optional). Your journey will continue onward to Ait ben Haddou, the infamous kasbah in Ouarzazate and Telouet Kasbah where we'll also have lunch. The day will end with your arrival in Marrakech in the evening for some downtime and dinner on your own.
Day Eight
Learn about Marrakech as the Imperial capital with a guided morning tour of the ancient medina. You'll have the afternoon to yourself to wander the souks, take a long lunch or book a hammam to relax.
For dinner embark on a street food tour with Marrakech Food Tours to experience Marrakech at night (included).
Day Nine
Good morning! Enjoy a laid back breakfast before you're whisked off to the suburbs of Marrakech to meet a lovely family who will take you to the market to buy fresh produce. You'll return to their home where you will prepare and eat a traditional Berber tagine meal.
The afternoon today offers free time to explore Marrakech and pick up any last minute purchases you might want. We're happy to provide suggestions if you'd like!
Day Ten
Time to say good bye! Depart from Marrakech or Casablanca (we can help with your return transfer if needed).
What's Included
accommodation throughout your stay in moderate, well reviewed riads or hotels (typically 3-4 star quality) specific locations dependent on availability.
most meals unless specified.
any admission required to be paid
private licensed driver in air conditioned vehicle throughout your stay
Licensed national and/or city guides where applicable
What's Not Included
airfare to Morocco
transportation to Marrakech if arriving in another location (can be arranged for a supplement)
any visas or travel documents required by the Moroccan government for your entry to the country
travel and/or medical insurance
3 dinners and any additional food/drink costs
optional hammam experience
aside from the optional winery visit, all alcohol with meals is at your own expense
any incidental expenses
discretionary tips to driver, guides, riad/hotel staff.
This sounds amazing Amanda! But, how much is it?
2 passengers €2565 per person (€450 non refundable deposit)
4 passenger €2005 per person (€700 non-refundable deposit)
6 passengers €1783 per person (€975 non-refundable deposit)
If you have a situation that doesn't fit one of the above passenger numbers, get in touch and let us know!
Why should I book this instead of a "less expensive" tour with a big agency?
Yes, these prices are more than some of the larger agencies offer however what you get in comparison is huge. With larger companies you're on a group tour, often with 15+ people in a large bus. The quality of the places stayed is dependent on locations that can house a large number of people. You're also just one of many on larger tours with no customization available.
With this tour it's all about you!
We've charted out some of our favorite spots, places tourists don't always go; working with local families and making sure YOU have the experience YOU want. Nearly all of your costs are upfront when you book this trip. Aside from a few meals and incidentals you don't need to worry about anything else once you arrive. No hidden expenses. Before you leave you'll know what is and isn't included.
Ready to Book Your Trip?
Here's how!
As mentioned, I'm partnering with Roaming Camels Morocco to bring this itinerary to you. To secure your departure date, you will submit the non-refundable deposit for the tour here. I will then put you directly in touch with Kathi at Roaming Camels who will continue your reservation and payment plan for the remainder of the tour. Roaming Camels will be your hosts and handle the logistics for your experience.
Book Now!
2 passengers €2565 per person (€450 non refundable deposit)
[simpay id="34654″]
4 passenger €2005 per person (€700 non-refundable deposit)
[simpay id="34655″]
6 passengers €1783 per person (€975 non-refundable deposit)
[simpay id="34656″]
7-12 passengers €1623 per person (€1000 non refundable deposit)
[simpay id="34657″]