Today I'm tackling an important subject you've probably asked yourself while planning a visit to Morocco…what souvenirs to buy when shopping in Morocco! It's true we have some amazing shopping but don't worry if that isn't for you – there are plenty of other things to do too.
You'll find so many amazing gifts from Morocco you'll probably wish you'd brought a second bag.
If you're planning a visit take a read through these things to buy in Morocco also includes an idea of prices to consider while you're shopping.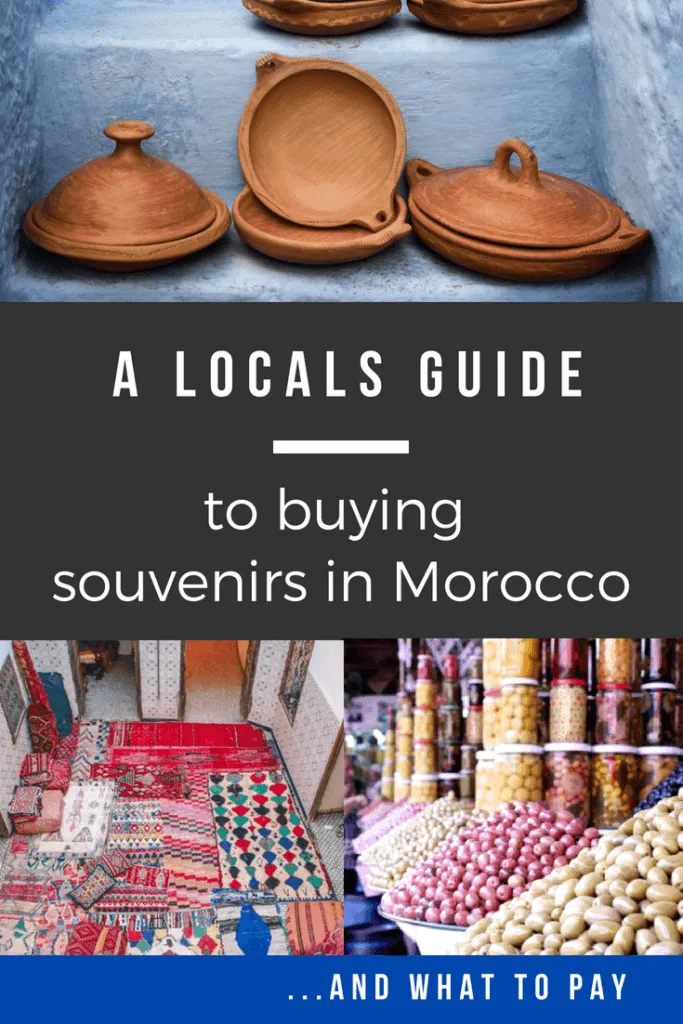 Depending on where your visit to Morocco takes you will alter what you should bring home for souvenirs. While it's true you can get most anything, anywhere there are different cities and regions that produce specific goods. For example, argan oil in Tangier is going to be much more expensive, and potentially of worse quality than if you bought it in Agadir. Morocco is a shopping paradise but take care to ensure you're getting the best quality goods possible.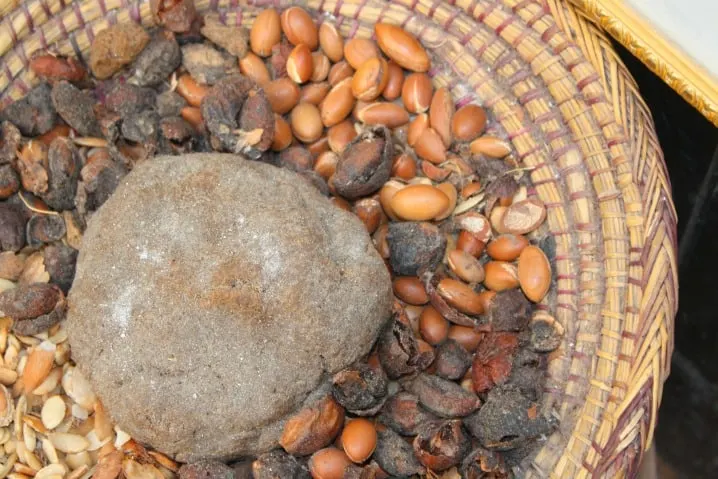 What to Buy in Morocco and How Much to Pay
Here's a quick overview of what you'll find in this list of things to buy in Morocco. You'll also find small souvenirs like postcards, magnets, keychains etc that can be good, small souvenirs to bring a little something home to remember your trip.
argan oil
ceramics
zellige tile
clothing
leather
lanterns
hammered metalworks
musical instruments
spices and dry goods
rugs and carpets
Argan
It goes without saying that if you're interested in buying argan Morocco is the place to do it. If you're wondering what is Morocco famous for? This is it! For the best souvenirs from Morocco you want something that is extra special. You can't go wrong with argan.
Argan is grown in the southern regions of the country. The oil is extracted from roasted seeds. There are two types of argan; cosmetic and culinary. You'll want to specify which you're after. True argan is thick, a golden-yellow color, and smells very nutty. It is sold in bottles as just oil and you'll also find many products with argan infused into them. Some of my favorites are argan shampoo and argan hand lotion.
Remember argan is made only in Morocco so stock up while you're here. It's one of the best souvenirs from Morocco!
Best locations to purchase: Agadir, Essaouira and smaller villages in the region.

Price: This varies widely depending on argan production that year. For 100mL of cosmetic oil you should expect to pay at least 50-75dh up to 150dh. Culinary argan is a little more expensive.

See More: The Secret Life of Argan Amlou Cookies
Ceramics

There is no doubt that you will see hundreds of different types of handmade pottery and Moroccan ceramics during your visit. Plates, bowls, cups, decorative pieces the list goes on and on. Moroccans love bright colors but there are more and more neutral tones popping up in the souks.
Most cities have small shops that sell a piece or two to tourists but also have wholesale shops that sell in larger numbers. If you can find the wholesale shops you'll have a wider selection and you'll also likely be able to get a better deal. If you only plan to buy one or two things, the extra effort probably isn't worth it but if you're wanting to buy in a larger quantity it can pay off.
If you are after a particular color or style don't hesitate to ask the shopkeeper. If you're flying you can also ask to have these items wrapped or better yet if you are planning to purchase these items add some bubble wrap to your bag. There's nothing worse than discovering shattered pottery in your luggage.
Best locations to purchase: Each city has a specific color and style they're known for. The cities of Safi, Fez, and Meknes are best known for their pottery and designs.

Price Moroccan ceramics: Small bowls can cost as little as 20dh. For larger pieces up to 200-300dh. The price for a Moroccan tajine, without decoration, ranges from 20dh for a small tajine to 100dh for a large tajine.

Read More: Buying a Tajine in Morocco
Zellige (Tilework)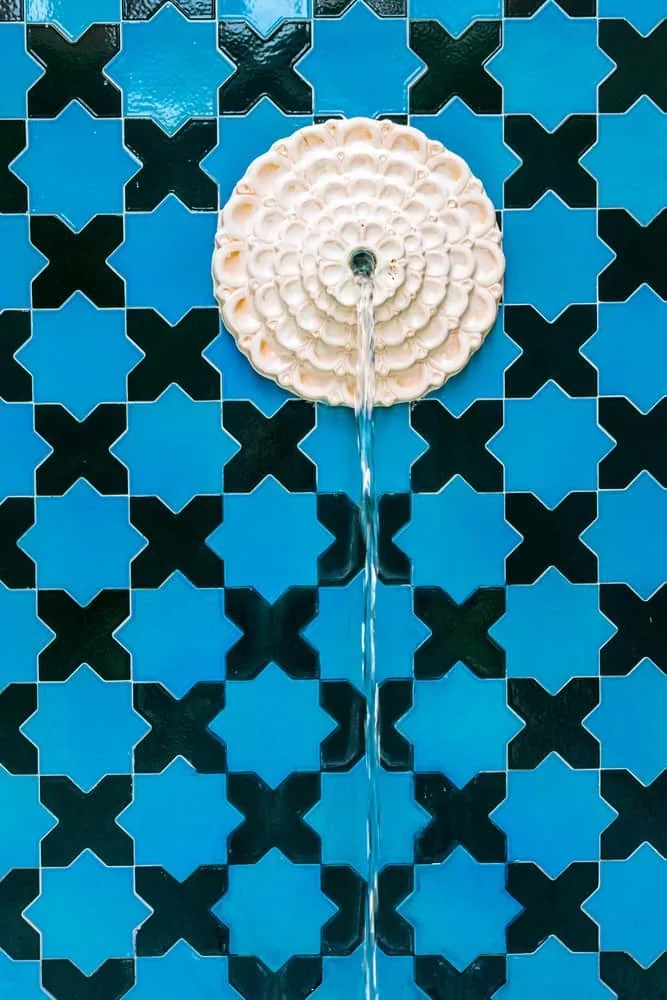 You can't miss the traditional tilework that adorns most places across Morocco. While it's a bit impractical to consider taking home a tile wall, smaller pieces of this intricate art are available for purchase. Moroccan tiles are a really unique craft. Traditionally each of the shapes is chipped by hand. It can take up to 10 years of apprenticeship before someone is considered a master tile maker.
The design is created upside down; meaning the tile maker doesn't arrange based on color but by memorizing the pattern and shapes, arranging them upside down and then sealing them. One mistake means the pattern is off. Just watching this at work is truly amazing!
Best locations to purchase: Fez and Tetouan

Prices of tile pieces: This is completely dependent on the item, size of the item and the pattern (how complex or elaborate it is). You can buy small tile wall hangings that may be a few hundred dirham or tile fountains that can cost thousands of dirham. It's good to consider the amount of work that goes into each piece when looking at prices. Some can take weeks or months to complete.

Read More: Tetouan, Morocco is for Art Lovers
Clothing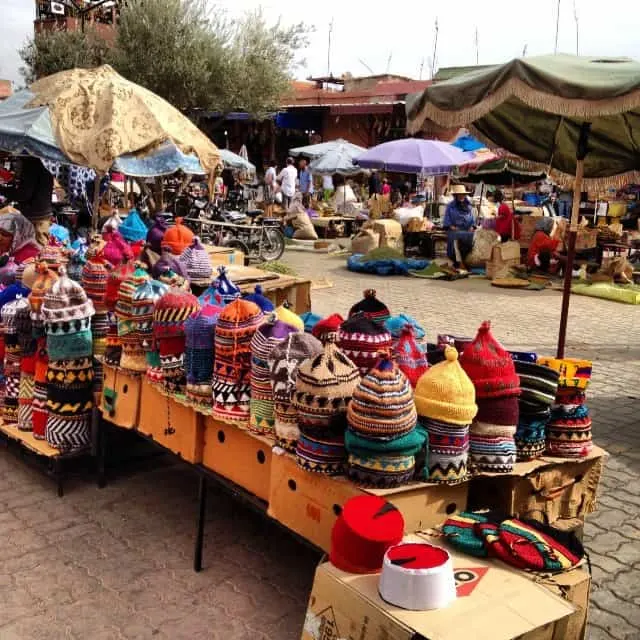 From fanciful dresses to basic djallabas, there are plenty of clothes to buy in Morocco. Many items are still handmade and very affordable. For women tunic tops and linen dresses are great purchases to make in Morocco. Be careful with bright-colored items and wash separately for the first few times in case the color bleeds. Flowy kaftans are another popular item that can be worn when you're home either around the house, outside, or as a pool/beach cover-up.
Men can find traditional and woven hats as well as well made tailored items if time permits. They too may be interested in a thobe that's ideal for relaxing in the summer heat.
One word of caution. Avoid purchasing items that you think look great on the streets of Morocco but might not bode so well when you're home. While you may blend in great in Morocco, back home it might not be the same.
Also look outside the souks. Many Moroccan cities have new districts with boutiques creating items that reflect traditional styles and patterns but have a modern appeal. These are really good choices if you like the colors or design esthetics of Moroccan style but want something that also can transition when you go home.
Best locations to purchase: anywhere. You may see some difference in styles and designs based on the region.

Prices of Moroccan clothing: Very simple kaftans can be purchased for 50-100dh (less if you find a good sale!) Shirts for 100dh, fancy takshita dresses can range anywhere from 1500-15,000dh!

Read More: Shopping in Marrakech: Beyond the Souks
Leather

Today in Morocco leather is being made in much the same way it has been for hundreds of years. The famous tanning souks of Fez are one of the most photographed sites in all of North Africa and the techniques used haven't changed over time. Leather is used to make any number of things, from leather bags to slippers, poufs to book bindings.
You will find many different qualities of leather made with different types of skin including; camel, cow, sheep, and goat. The price of the product depends on the type of leather, the quality of the work and the item itself.
Buying leather in Marrakech or just buying leather in Fez is ultimately the same process. Seek out a shop that either only sells leather or is a workshop making leather goods. They'll offer the best prices and have a connection to the pieces. Don't be afraid to ask for something slightly different or if you have time you can have things custom-made.
Typically it takes a few days to have something made custom (depending on what the item is). But, you can do it for far less in Morocco than in other countries even if you have to pay extra to have it rushed. If you know what you want come equipped with a picture or drawing to see what the artists can do for you.
Best locations to purchase: Fez, Marrakech, and Rissani

Price of leather goods in Morocco: a medium bag (as purchased) 500dh. Leather slippers from 80dh. Leather jackets from 1000dh – 2500dh. Remember if you have time many products can be custom made in a few days.
Lanterns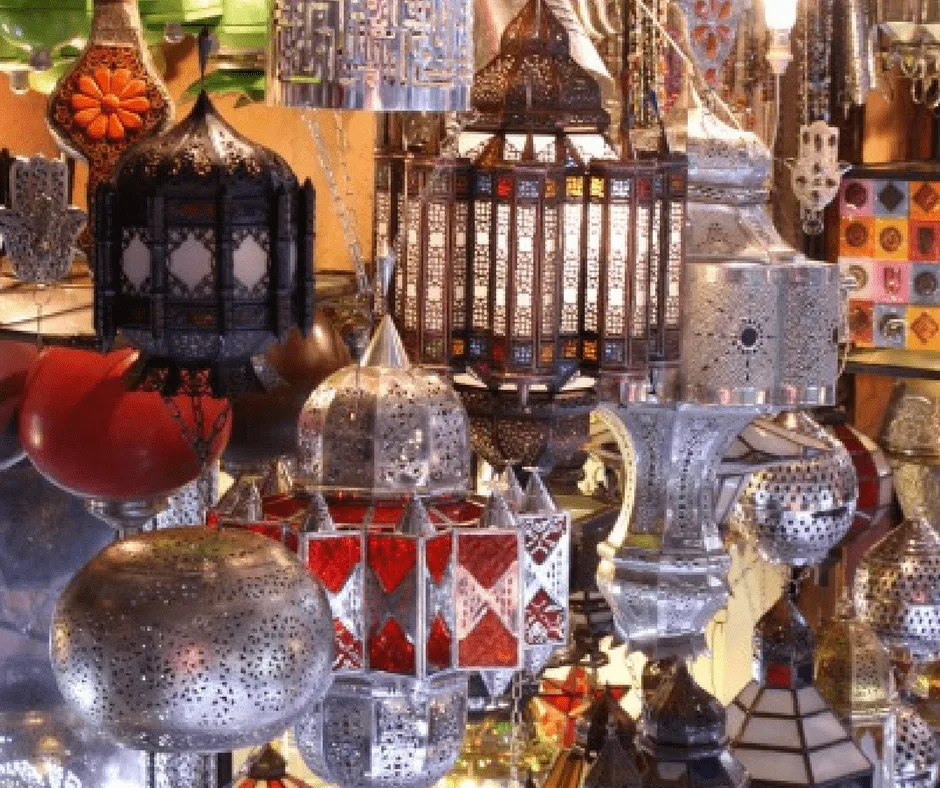 A handmade Moroccan lamp or lantern is a great souvenir to take home and be instantly transported back to Morocco each time you look at it. You will find a wide range of sizes, weights, and materials. Lighter weight lanterns are the most affordable but are typically made from aluminum. You won't want to pack these in your baggage as they'll likely bend and if you don't have space to carry it on, paying to send it home may not really be worth the value. This lesser quality metal also tends to rust or discolor quickly.
If you really want to bring home this type of souvenir invest in a more heavy-duty fixture. Metal lanterns with glass are suitable for indoor or outdoor display. For indoor use you can find metal cut lanterns as well as glass plated lanterns to hang. You'll also want to pay attention to lanterns that come strung with the electrical fixture. In many cases you will need to rewire this to match up with your home electricity.
Best locations to purchase: lanterns are largely the same across the country but you may find subtle differences between craftsmen and geographical locations.

What to pay for a Moroccan lamp: There are two qualities to look for. The lightweight lamps you can expect to pay 100dh- 500dh depending on size and craftsmanship. For the heavier, metal lamps prices start around 300dh for small pieces to 1000-2000 dirham for large lamps.
Hammered Metalworks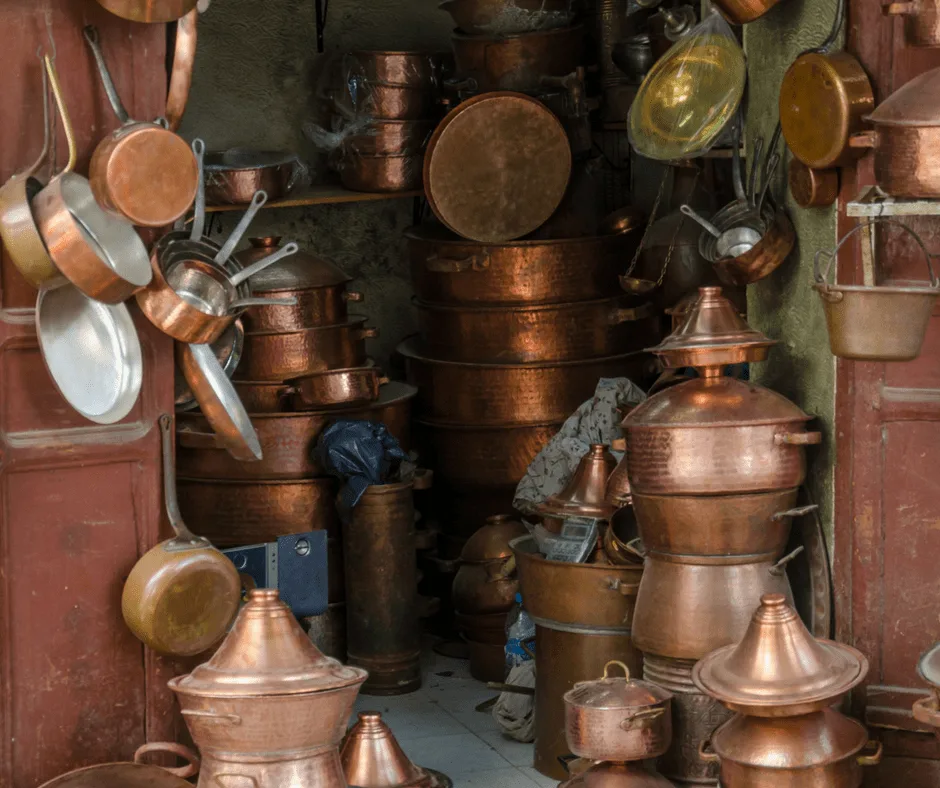 A long lasting tradition in Morocco is the creation of etched metal. Much of the work is on decorative pieces but is also found on more practical things like teapots, trays, and jewelry. The items that can be bought are a mixture of hand stamped and machine stamped pieces. A careful inspection should be able to indicate which is which.
In the souks of most Moroccan cities you will be able to find workshops where metal items are being made. You can see which are done by hand and which are done by machine – though many hand made items do use a machine for some parts of the process. Hand etching is a very honored tradition in Morocco so if you're interested in this type of souvenir seek out an artist who is doing the work in plain view for your purchase.
Anything machine created will be uniform whereas even the best artist will vary slightly with his design. You can purchase brass, silver, and copper etched items. You also will find metal items that have been shaped and designed with a metal cutting saw; such as lantern designs and light covers.
Best locations to purchase: Fez and Sefrou

What to pay for metalwork: Handmade teapots range from 150-300dh. Etched plates 100-500dh depending on size and intricacy. Plain copper ware is less expensive than etched pieces.
Musical Instruments
There are two primary types of instruments found in Morocco; Arab and indigenous inspired. The famous Gnawa musicians of southern Morocco introduced a variety of instruments to the spectrum. You can purchase oud's- the traditional Arabic guitar across the country. For gnawa instruments head to the southern coasts or the Sahara to find authentic pieces and possibly even a lesson or two!
The most common type of instrument you'll see available for purchase are drums like in this picture. They are meant to be played with the hands and are commonly used in festivals and celebrations. They are relatively inexpensive to purchase a smaller size and make a fun souvenir for kids.
Best locations to purchase: Marrakech, Essaouira, and the cities near the Sahara

What to pay: A drum like in this picture is about 100dh. You can purchase the hand cymbals used by gnawa musicians for 10-20dh a piece. Larger instruments will really depend on age and quality.

See More: Making Moroccan Drums in Fez, Morocco
Spices and Dried Goods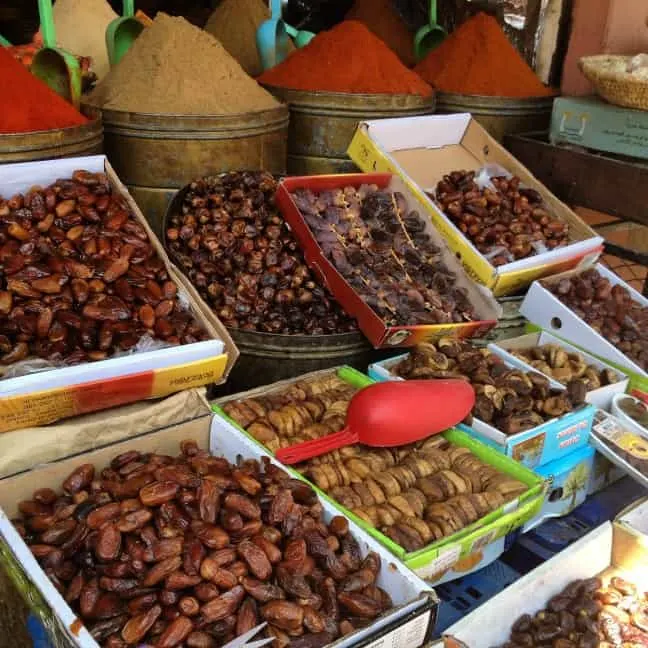 The quality and flavor of spices from Morocco is much better than you'll be able to find in most markets in North America and Europe. They also make an inexpensive and easy gift to transport. Saffron, turmeric, cumin, and ras al hanout are some of the most well known spices to purchase here. When buying ask at the shop if they will grind the spices fresh for you.
The best spices to buy in Morocco are the spices that you will use – don't purchase things just because it sounds appealing if you aren't likely to use it. Some of my favorite spices include; cumin, cinnamon, paprika, and white pepper. The flavor of all of these is so much more intense than what you can find in a regular grocery market.
Other food items include almonds, walnuts, figs, dates, and olives. Argan oil (culinary grade) is also a prized item. You can pick them up at nearly any hanout (the name for a shop) selling dried goods. Avoid shops that appear only to sell to tourists as you are sure to be heavily overcharged.
You may want to wait until the end of your journey to purchase these items so they're the most fresh. That is of course unless you're somewhere that the spice is grown and sold – like saffron.
Best locations to purchase: across Morocco. Saffron comes almost exclusively from Tailouine. Depending on the region and the time of year you may be able to get better quality. For example dates are harvested in November/December in the Sahara and almonds appear in early spring throughout the north.

Price of spices in Morocco: (These are averages and based on 100 grams). Saffron (1 gram) 50-70dh. Ras al hanout: 30dh. Cumin, paprika, turmeric: 20dh. Pepper, ginger, cinnamon: 15dh. Dry mint: 10dh

See More: Saffron Fills the Senses, Medicinal Uses of Moroccan Spices
Rugs and Carpets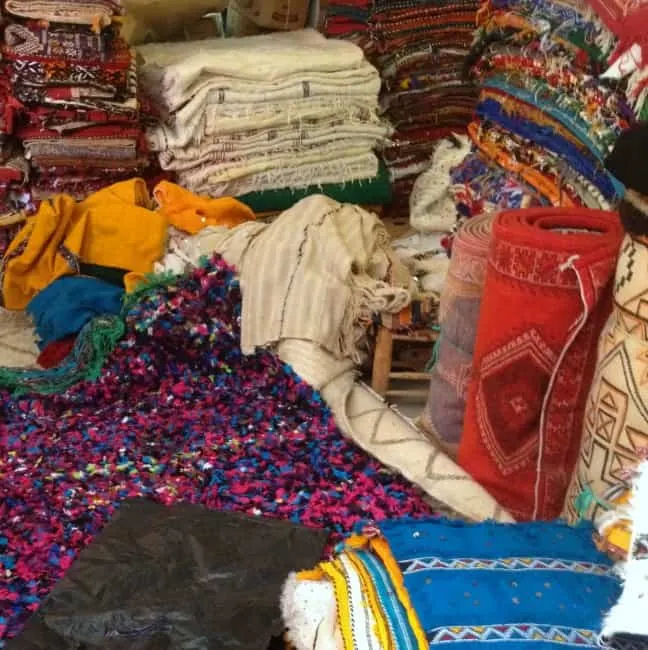 The most prized purchase for many visitors to Morocco? A rug, and for good reason! Moroccan rugs are beautiful and there are dozens of options and price ranges available. Even the most expensive rug bought in Morocco will be far less expensive than if it were purchased in the United States.
This is one purchase you may want to save until the end of your trip. This will give you the opportunity to see what is out there and practice your bargaining skills- you'll need them! While many purchases in Morocco can be done quite quickly, you should expect a rug purchase to take much longer.
Some basic advice is; take your time choosing, don't show too much interest, bargain hard, and be willing to walk away if the price isn't right. You also should remain realistic as many rugs can take several weeks to make.
I know many people are wondering how and where to get a cheap Moroccan rug. I wish there were a solid answer I could give you but there's so much that goes into the making, procurement, and sale of rugs that there is no easy answer. A lot of the price will also depend on how old the rug is, which type of rug it is and how big it is.
The best way to get a good price? Be open-minded, bargain hard -really hard, and be willing to walk away.
Best locations to purchase: there are many different kinds of rugs, you're more likely to find the best deals on the rugs that are local to the region you are in.

Just a heads up, gone are the days of buying a $50 Moroccan rug. You should realistically plan to spend a few hundred dollars on a good rug.

See More: 7 Tips for Buying a Rug in Marrakech and How to Clean Moroccan Rugs at Home
What Moroccan Souvenirs to Buy Where
I'm breaking this down city by city (at least the major ones) in case you want a quick reference guide!
What to Buy in Marrakech
You can really find almost everything in Marrakech because it is the tourist center of the country and also has been a cross-roads of trading for centuries. You may discover that prices are higher because of the high numbers of tourists but this also means you can likely bargain a bit harder to get lower prices.
rugs
saffron and spices
lighting fixtures / lanterns
What to Buy in Tangier
Tangier has a feel that is uniquely Moroccan and not really Moroccan at the same time. It was an international city for many years and as such has developed it's own feel. You'll certainly find Moroccan elements but don't be surprised to find a little bit of everything jumbled together.
antiques – thanks to Tangiers' international status for decades you can find a little bit of everything!
woven goods (visit Fondouk Chejra – the weaver's market)
Riffian style tasseled hats and clothing
What to Buy in Fez
Fez has been an artisanal hub for generations and so it's a very popular destination to buy traditional Moroccan handicrafts. Many traditions are still in place and the quality of products coming from here remains top-notch.
pottery
leather goods
zellige (tile work)
a Fez hat of course!
What to Buy in Essaouira/Agadir
The best thing you can buy in these places is argan, due to their close proximity to the argan growing trees of Morocco. But this part of the country also has a slightly different climate and traditions so you can find things that don't exist – or would cost a lot more – in other parts of Morocco.
argan oil
wooden items like trays
gnawa instruments
What to Buy in Casablanca/Rabat
Many tourists visit Casablanca on arrival in Morocco and while there is shopping to be found, the artisan markets just aren't quite the same here. Rabat's medina retains a traditional feel while nearby Sale (just across the river) has a market where bargains can be had.
clothing – many boutiques can be found in Casablanca fusing tradition and modern
pottery – especially in Rabat where it's made.
antiques – harder to find a bargain but plenty remains from Moroccan history and the French occupation.
Missed your chance and want to buy some things? Here are some Morocco Inspired Gifts that will help you find Moroccan souvenirs online!
With this information in your arsenal, you'll be on your way to bringing home the best souvenirs.