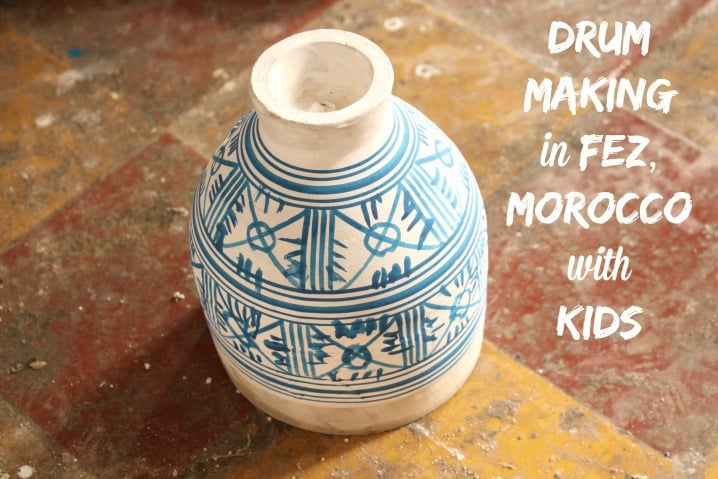 On our long weekend in Fez, Morocco I set out to find things that our boys would enjoy doing. I know my kids (and husband for that matter) well enough to know that dragging them up and the streets of Fez shopping was not going to be enjoyable. While I am enjoying decorating and designing our apartment, I also didn't want to spend my days shopping. There are a lot of museums and historical sites in Fez, it's really a very fun place and I'll write a post just on that too. But, this post is all about the drums.
There are some great companies in Morocco that aim to provide unique and interesting experiences for all ages. I consulted my memory rolodex and recalled a company that was doing food tours in Fez. I first stumbled on them when I started to research what kind, if any, food tours existed in Marrakech. I quickly perused the website and found a drum making experience. Perfect!
Plan-It Fez is owned by two women, British and Australian, who now call Fez home. As soon as I contacted them I knew this was going to be great. Not only would we be able to make drums but also visit a cheese farm outside of Fez. But back to the drums. Our guide Jamal picked us up at our riad the morning of our drumming date. My boys instantly took to him and thankfully he was more than happy to reciprocate the feelings.
We wound our way through the streets of the medina (did you know Fez has the largest car-free medina in the world?) and I couldn't help but notice how nice it was not to dodge motorcycles at every turn. My first trip to Fez, I felt like there were so many more people but maybe that was due to the overwhelming sense of displacement my 19 year-old self was experiencing. We finally arrived at the drum shop and the fun began!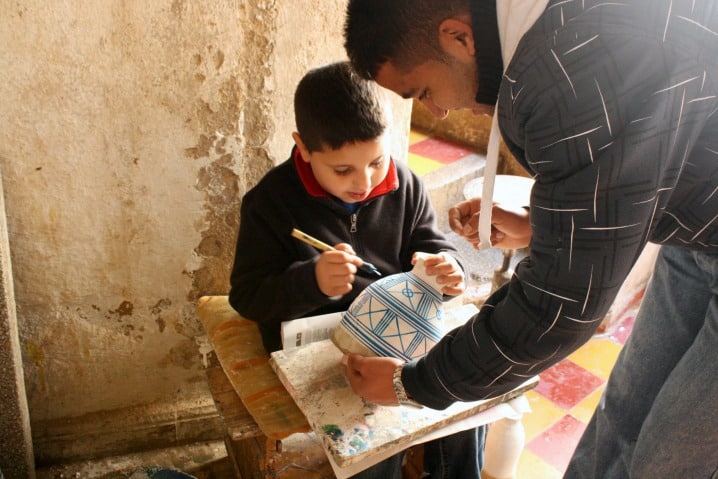 The drums themselves are already made so there's no pottery shaping which was totally fine. After poking around the shop and learning a little bit about the drums and techniques it was time for the kids to dig in. They would be making a double drum and each got to paint one of the drums. The design was geometric and we were told a Berber design. The kids used the brush (that looked a lot like a calligraphy pen) to paint on the design with some help from the painter. It was fun to hear them talking back in forth in Arabic as they worked. (If you don't speak Arabic, don't worry – our guide was able to translate and the guys in the shop did know some English).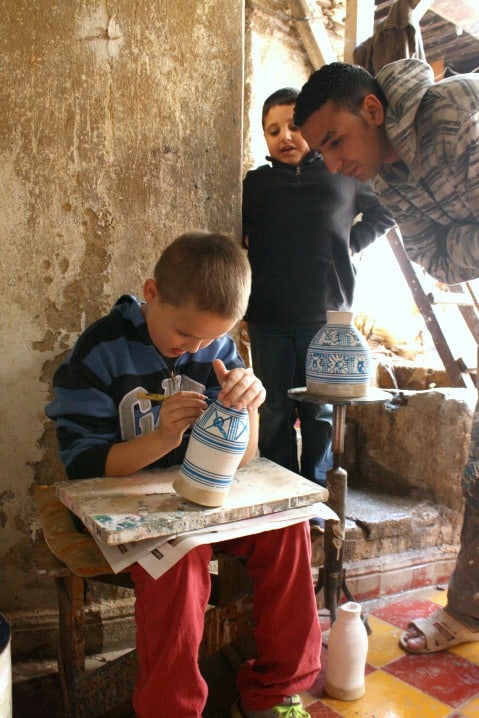 The night before we weren't sure if M would be making it to the drum shop after having a run-in with some bad food, but he was not to be deterred. I knew he would love this the most as he's a bit more artistic. As you can see he was in deep concentration painting! Once the designs were all applied we left them alone to dry. MarocBaba tried his hand at the skinning process.
The drums are topped with leather, either from cow, camel, sheep, or fish (really!) The skins are delivered with the hair on them and are soaked. Then the hair and fat layer is removed using a sharp trowel like knife. It's not a pretty job and while we thought it looked pretty easy MarocBaba said that it really was difficult. This wasn't a part of the process for the kids to help with – sharp knife blades.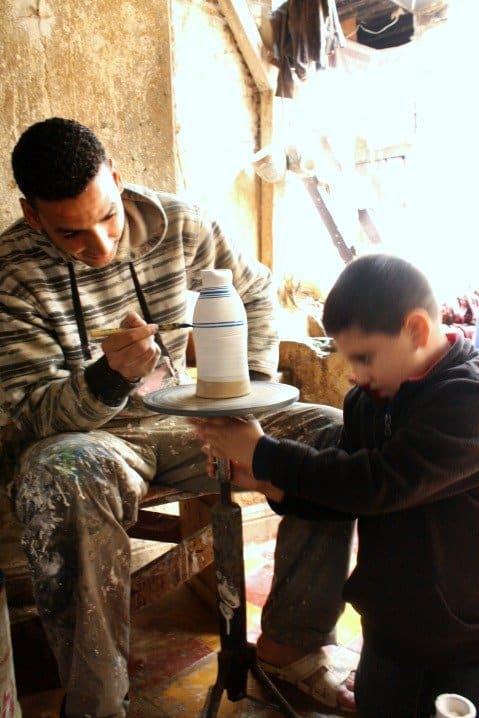 We waited for the kids drums to dry and watched the other parts of work going on in the shop. K was infatuated with the spinning pedestal that the painter uses to make the lines on the drums. He "helped" for a long-time and I was so grateful that the man painting was patient and didn't mind at all. He adjusted his technique so that K could spin the turnstyle for him. This is one thing I love about Morocco – kids are just allowed to help out and it's ok. People (for the most part) have so much patience and really do love children.
The final steps were to add the leather top, sew on the kin and bind the drums together. The leather is again soaked to get wet and then trimmed to fit the top of the drum. Any imperfections or weak spots can't be on top of the drum or it won't work right. Not only are the tops made with leather but the cording used to tie it together as well. The leather "man" uses a pair of sharp scissors to trim long ropes of leather cording that are then used to…
Sew the top on. There is no glue used at all in the process. Tying on the leather the right way ensures it dries tight without any gaps between the top of the ceramic and the leather. A long sharp needle is used to sew it on. Each of the boys were able to sew it on and did an awesome job! For our drums the large and small were tied together and then they had to be left out to dry.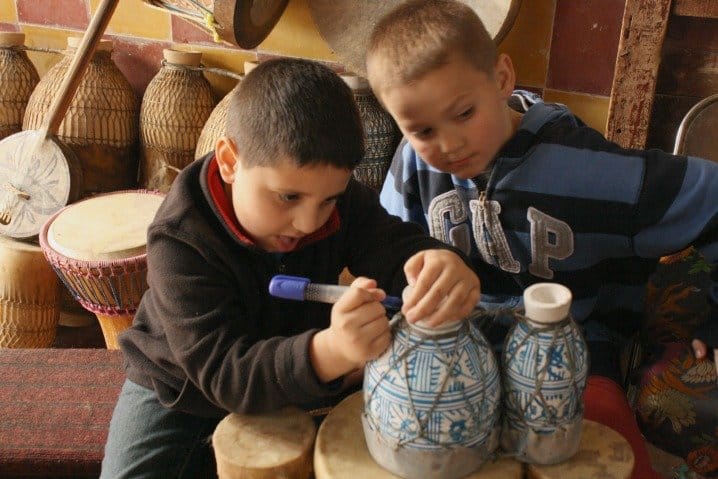 The boys took their turns signing the drums. They of course played with the other drums in the shop and tried to learn how to play a rhythm. Let's just say they probably won't be the next great percussionists! We were going to be in Fez longer so we went back the next day to get our fully dried and ready to play drums but if you don't have time to come back then you can take your drum with when you leave. This was a really great way to spend the morning, just long enough to hold their attention and keep them busy. It's been one of their favorite things we have done in Morocco so far! If you want to shop for pottery or leather goods, there are several shops within the same area that mom or dad can browse while the kids are hard at work.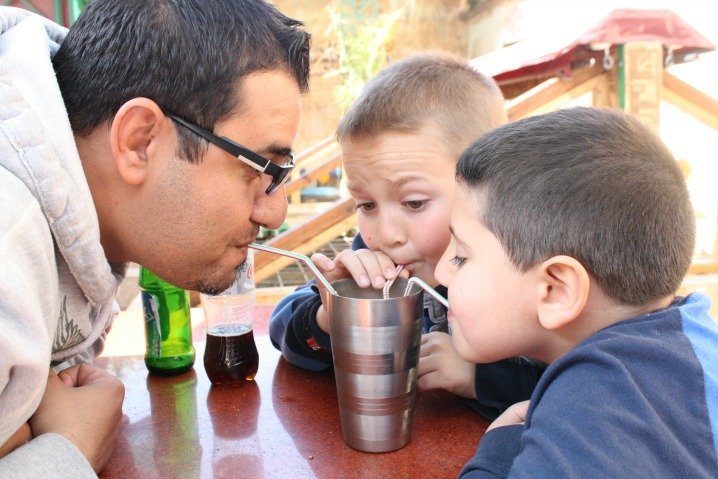 After spending the morning working hard on drums there was only one thing left to do – grab a milkshake and relax!!
If you're going to Fez, I highly recommend visiting the Plan-It Fez website for unique and fun activities in and around the city. The staff is helpful, very responsive, and able to make great recommendations for you and your family. Watch for an upcoming post about our other excursion with Plan-It Fez to an organic cheese farm!
[optinlock id="2″][/optinlock]
Be a part of the MarocMama family!
Do you want access to all things MarocMama? Join our community of readers to get updates on new posts, inside information that won't go on the blog and so much more!
Sound good? Pop your email below and you're in!