[vc_row][vc_column][vc_column_text]Grandpa Pope had a very "special" chicken soup he would make whenever my grandma left on a vacation. It was a recipe no one else wanted to share, no matter how he might try to pass it off. Everything went in the pot and he loved it. Grandpa had grown up with an immigrant father and mother and was born during the Great Depression.
His dad had left Sicily as a teenager, like many immigrants, because there was no work. The enclave he found in Michigan's Upper Peninsula was a world away from the warm winds of Sicily. Other immigrants from northern regions like Abruzzo and Marche brought their own stories and traditions to the area to create a little Italy, not unlike the Finnish immigrants who had done the same. I grew up on stories over homemade bowls of pasta and red sauce. My aunt took a twisted sense of pride in teaching us naughty words in Italian as we got older. Shortly after M was born, my grandpa passed away , there would be no more of his famous soup.
Even though my heritage is mixed like most Americans, I've always felt a strong attachment to Italy. So my first trip to Italy was truly something I'd been waiting my whole life to experience. Did the stories I had heard have a glimmer of truth in them? Was the food I had always thought to be Italian, truly Italian or just the Americanized version? Most of all, would I feel some attachment to this place?
Marche is a region of Italy which borders the Adriatic sea. It's south of Venice and north of Rome in central Italy. The region is a mixture of coastal cities and mountain towns. It's no surprise fishing has been a huge part of the culture for generations. In San Benedetto del Tronto we would learn to make brodetto, a fish stew that is a specialty of the city.
The stew has a practical history. Sailors often ended up with fish that broke and therefore couldn't be sold. Instead of tossing them aside they would save them and then make a stew with the cast off pieces. It's meant to serve a lot of people, you don't make brodetto for two. There are different versions across the region but what sets this one apart is the use of vinegar in the recipe. There's one rule that's for sure – 13 varieties of fish must be used.
There is no set recipe for brodetto, the recipe has been passed down orally in each family generation to generation so there are many variations. You'll have to toy with the recipe a little bit to make it your own but here's the basics to feed 12 people.
Start with a gigantic size pan- this one fit over two burners, turn the heat on and warm it up. Then pour in 1 liter of olive oil and 2 sliced onions. Fill another pot with water and turn it on until the water boils. Once the oil begin to bubble and onions begin to soften add a few handfuls of small octopus. They must be small! Cook until they begin to brown and then add a few ladles of the boiling water to the pan.
The octopus will begin to turn red, then add a few handfuls of cut up squid. Cook until they are tender and easy to break.
Into the pan you'll then add 1 liter of white wine vinegar and 1 bottle of white wine (you can leave out the wine if you prefer). Cut up 2 red and 2 green bell peppers and quarter 12 green tomatoes. Add the vegetables to the pan. You'll then add several ladles of the boiling water to cover everything or as the chef says "make it swim!" Leave this to cook for 20 minutes.
Now it's time to add the rest of the fish. Everything should be cleaned, scaled, and spines removed. The toughest fish that need the most time to cook should be placed at the bottom, followed by more tender fish closer to the top. Cover with more water. Once all of the fish are in the pan, do not move again. Cover and cook for 15 minutes, It can then be left to sit for a little while before serving hot with plenty of bread.
Traveling in a hijab I am never sure how people will respond. Sometimes I am just like everyone else, and other times I may as well be a four headed alien. When we went back to taste the brodetto after visiting a local museum I wasn't feeling well. My blood sugar had dropped and I asked to please have something sweet to drink as soon as we sat down. The chef quickly came back with a Sprite and asked if there was anything else he could get me.
I tasted the brodetto with everyone else but it was just too much fish for me. I didn't want to be rude or have anything special made but he quickly went back to the kitchen and brought a plate of fresh ravioli and sauce for me. He continued to check on me throughout lunch and even came with a special dessert. Sure, it could have just been the makings of a great chef and host at work, but I caught a wink he sent my way after he was certain I was ok and in that moment I felt my grandpa was there with us. Besides how could he have known ravioli were my favorite if grandpa wasn't there watching out for me?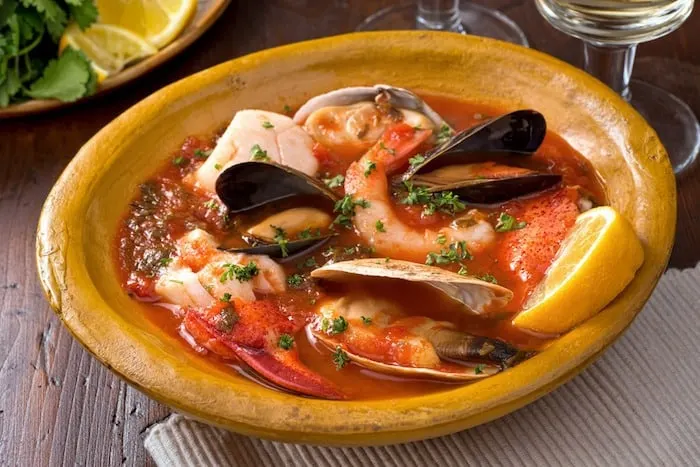 Ingredients (to serve 12)
1 liter olive oil
2 onions sliced
1 green tomato per person
1 green and red tomato each per every 6 people
1 liter white wine vinegar
1 bottle white wine
2-3 handfuls small octopus
2-3 handfuls squid
assortment of other fish and/or rays
salt and pepper to season at the end as needed.
I visited the Marche region of Italy in conjunction with a press tour offered by the regional tourism board and their #ilikemarche campaign.
[/vc_column_text][/vc_column][/vc_row]