What do you do when you have one day in Rome? Well if you're me, you eat. I'm not ashamed to admit my idea of traveling revolves around one question – what can I eat? It's what inspired us to start our Marrakech Food Tour, because I couldn't be alone in my quest of traveling for great food. There must be others like me – and from what I've learned, there are many other people just like me. But back to my food encounter in Rome.
MarocBaba and I went to Athens for TBEX (a big travel blogging conference) and on our way home we had an all day and overnight layover in Rome. During the conference I shared our Rome layover with some friends who then said, "You have to do the Eating Italy food tour." Food tour? IN! We didn't have many plans, maybe see the Coliseum or check out the Vatican but a walking night tour to eat great Italian food, that was much more my style. We had one hurdle which was we flew into one airport and were flying out of another (NEVER again…but that's another story!) so on arrival we first took care of getting to the hotel near our departure airport (if you need some ideas check out these ideas on where to stay in Rome). This took so much more time than we anticipated that by the time we did reach the hotel we had to turn around and go back into the city to find the right meeting spot.
We were taking the Twilight Trastevere tour and had to meet in the Trastevere neighborhood. To get there we crossed this bridge over the Tiber that we later learned is more than 2,000 years old. Julius Ceasar, Marc Antony and every Pope (sans the current one) has walked across this bridge, and now we had too! We met our tour group and got ready to eat, eat, eat!
Everything we ate on the tour was excellent but for me, the first stop took the cake. Fried artichokes and fresh burrata cheese. Yup, they could have just left me at Da Enzo al 29 to stuff my face. Not to mention MarocBaba and I got to try this Italian soda that is similar to Sprite but so much better. I wish they could ship these bad boys to Morocco.
Our second stop was to a wine cellar with an impressive history. It's over 2000 years old! We had some delicious all beef meatballs and a barley salad while the others on our tour sipped on some local wine.
From here it was off for cookies. What can I say except that Italian cookies are pretty tasty! This shop is a family business and the oven that's used was custom made decades ago specifically for this bakery. We tried a few different kinds and could also buy some to take home. My favorite were the chocolate dipped biscuits.
You can't visit Rome without eating…
PIZZA of course! This was a highly anticipated stop. In Italy you don't order pizza by the pie, you go in, pick the pizza you like and then show them with your hands about how much you'd like. It's then weighed and you pay by the weight. Even more impressive is the size of these pizzas! We were able to go into the back where the oven cooks the pizza and breads that come from this bakery.
Pizza is simple, delicious dough, simple flavorful sauce and a few toppings but never too many. We took a big chunk of this home for later! The next stop was the one I was waiting for.
Cheese, glorious cheese – so many varieties and they all were calling my name. Pecarino Romagna is the local cheese and it was full of flavor. A 1/2 kilogram made it's way into my purse. MarocBaba said I'd never eat all of it but only half is left! This family owned shop sells not just cheeses but meats, and dry goods like pasta. It's a neighborhood institution having been in place since the early 1900's.
You had to know there would be some pasta. We sat down to eat at this local restaurant and were first given a very simple but delicious ravioli. Followed by this fettuccini and finally a spaghetti carbonara. I loved the fettuccini because the oil the recipe starts with first is simmered with hot peppers. The peppers are removed before the sauce is completed and there's just a small undercurrent of heat with the silky sauce.
Suppli are also one of the items we tried. This Roman street food is everywhere. I have always just called them rice balls and have made them several times for my family. I even have blogged my recipe for them! They are so simple but delicious. You can stop into small shops on every street corner where these are sold along with other fried goodies.
Our final stop was for gelato at Fatamorgana. There were so many flavors to choose from that it was difficult to pick just one. I seem to have a hard time with the creamy gelato's so I usually pick fruit based flavors that are similar to a sorbet. There were some really creative and interesting flavors and it's clear the owner is very picky about quality. I can see how this could become a very bad habit if I lived closer.
The night had come to an end and with a full stomach we walked to find the bus that would take us back to our hotel. We had a great time tasting a lot of delicious Italian food we likely wouldn't have found otherwise and exploring a part of the city we might not have ventured to. They offer two other tours as well as a cooking class for adults and one for children.
We give it two thumbs up!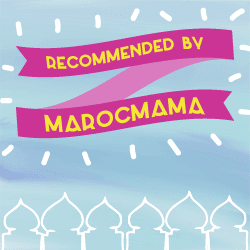 Rome, Italy
88€ for adults
Disclaimer: We were provided a complimentary tour, however all opinions and experiences were our own!