Are you looking for the perfect Moroccan inspired gifts? Perhaps you want to bring a piece of Morocco home for Christmas and add some Moroccan theme décor to your home, or pick the perfect Moroccan inspired gift for a loved one?
Whether you're looking for Moroccan gifts for her, Moroccan gifts for him or Moroccan décor ideas for your home, these 27 Moroccan themed gifts are perfect for the someone in your life itching for a gift that sings of far off lands!
Moroccan Christmas Party
Sometimes the best gift of all is an experience, so why not throw a Moroccan inspired Christmas party for your family or friends? This guide gives you recipes, games and printables – basically everything you need to throw a celebration. Find out more and get your copy of the Moroccan Christmas Party Guide.
Moroccan Decor Ideas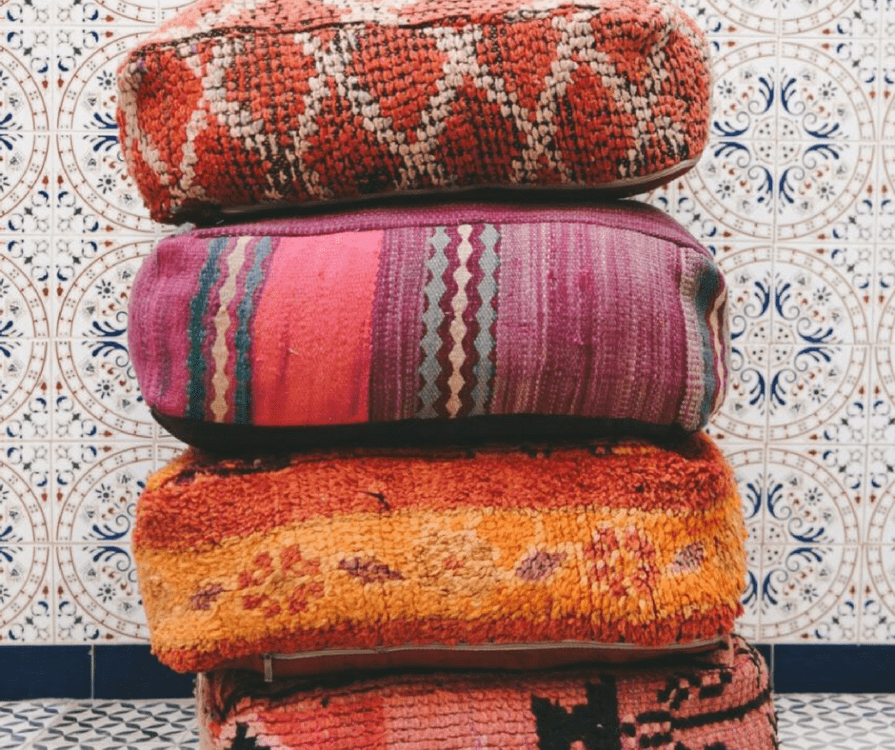 If you're looking to add some Moroccan style decor to your home but can't come and shop the souks for the perfect Moroccan lanterns or rug to bring home, have them delivered instead!
Below I carefully handpicked some of the Moroccan home décor (and Moroccan inspired decor) that would be perfect for anyone wanting to bring a little Moroccan design to their home.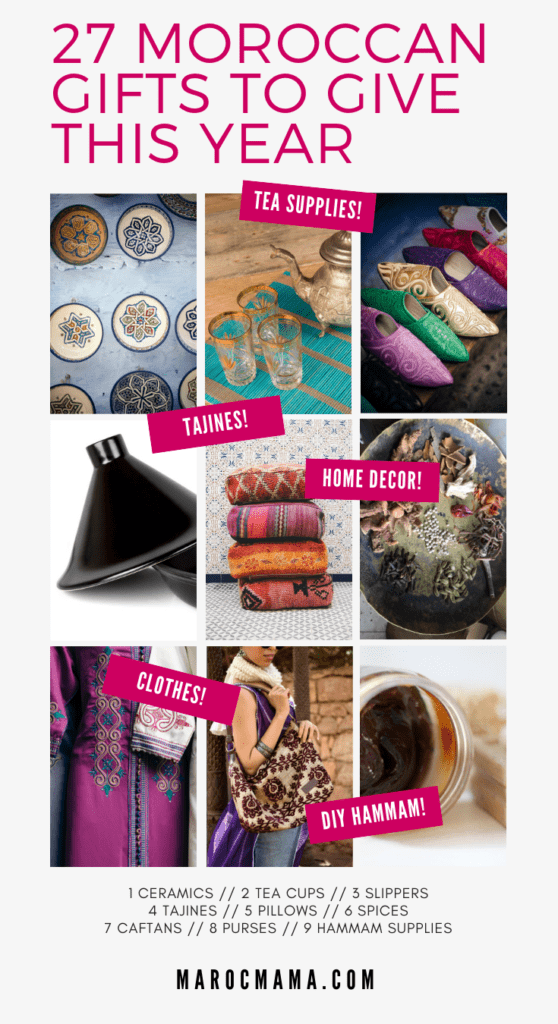 Moroccan Lanterns – Moroccan Birdcage Iron Candle Holder Hanging Lantern
These beautifully inspired Moroccan hanging lanterns will create the perfect relaxing ambience in any home. Made from cast iron they would look fantastic hanging over the fireplace or buy several of them to create the perfect atmosphere in your garden.
Moroccan Pouf: Hand Made 100% Moroccan Leather Pouf
This hand made 100% Moroccan leather pouf will look fantastic in any living room. Handcrafted by Marrakeshy artisan, this Moroccan pouf has been imported from Morocco.
It comes in range of colors and makes and excellent accent pieces. Put a tray on top and you've got an instant Moroccan table!
Moroccan Mirror: Handmade Moroccan Metalwork Mirror
This stunning 24-inch hand tooled metal and glass Moroccan mirror will be a stunning addition to any Moroccan themed room. Handcrafted directly from the artisan in the medina of Marrakech, you can have your piece of Morocco in your home without leaving the country!
Moroccan Wall Art: Camel Wall Watercolor Print
If you're looking for some Moroccan wall art to brighten up your room, this Moroccan inspired wall décor is a great option.
A watercolor camel print that works in any room of your home, this is a cute piece for an art lover – or anyone that loves that desert feel.
Moroccan Candle Holder: Moroccan Inspired Votive Candle Holders
This pack of Moroccan inspired candle holders would make a fantastic gift idea for anyone or a perfect addition for a Morocco themed party. Each Moroccan candle holder is made from glass, and will reflect the candle light beautifully, leaving you dreaming up visions of the streets of Morocco.
Moroccan Cushions: Ambesonne Geometric Throw Pillow
Moroccan cushions are a great way to add color to a room. This Moroccan inspired design cushion is 16 x 16 inch and will fantastic in the living room or bedroom. Buy one as a gift a for yourself as well!
Moroccan Floor Lamp: Mosaic Glass Floor Lamp
This inspired Moroccan floor lamp will create an exotic atmosphere to any room. This handmade Moroccan style lamp measures 29.5 inches tall and is made with glass, mosaic, beads and metal.
If you're looking for a Moroccan rug check out this post on where to buy Moroccan rugs online.
Moroccan Bedroom Décor Gifts
If you want a Moroccan style bedroom or know one some who does, these Moroccan style gifts are simply perfect!
Moroccan Blanket: Plush Tile Quatrefoil Lattice Throw
For those wanting a Moroccan inspired bedroom, this 100% polyester reversible blanket is ideal. This Moroccan blanket is velvety soft coming in either grey, teal, yellow or pink and is machine washable as well as dryer safe.
Moroccan Pillows: Peacock Beauty Decorative Pillow
This one might not be completely authentic Moroccan pillow but when I think of the palace gardens peacocks are what come to mind.
These pillow covers are 50 x 50cm. I think adding a few of these inspired Moroccan pillows to a room would make for the perfect Moroccan bedroom décor.
Moroccan Gifts for Her
If you're looking for the perfect Moroccan inspired gift for your sister, mom, wife or friend, then take a look at these below gift ideas.
Moroccan Slippers: Babouch JIDDI Sheepskin Slippers
A must for a truly Moroccan feel! You'll find thousands of styles in the souks of Morocco but if you can't make it, bring a pair home! I love the design and neutral color. These Moroccan slippers can easily be worn with jeans or paired with something much more formal. A great feature for those of us who travel a lot and hate carrying multiple pairs of shoes.
Moroccan Jewelry: Moroccan Pendant & Earrings Set
If you've got the shoes you need the earrings to complete the look. This inspired Moroccan jewelry set with Moroccan pendant and earrings are simple and elegant. Another great idea for day to evening wear. Plus they're affordable!
Moroccan Caftan: KOH KOH Womens Long Kaftan Maxi Dress
This Moroccan caftan is a gorgeous maxi dress. Draped sleeves with a bat-wing look and flowy fabric make it comfortable for year-round wear.
Moroccan Bags: Handmade Moroccan Purses
Not only are these purses from Mushmina ethically made they're beautiful! Available in a variety of colors and designs you're sure to find one that suits the bag lover on your shopping list. My favorite is the fuschia but you can't go wrong.
Moroccan Themed Gifts for the Kitchen
The kitchen is a second home for many people who love Morocco. It's what first made me fall in love (well after MarocBaba of course!) and even for the novice cook Moroccan flavors and recipes are easy and approachable. Get them started by preparing the kitchen with these fantastic Moroccan homewares.
Moroccan Tagine: Emile Henry Flame Top 2.1 quart Tagine
For less than $100 this Moroccan tagine can be under the tree. Emile Henry is a trusted name in cookwear and this tagine can go on the stovetop, in the oven, or even on the grill. There are multiple colors and bigger sizes available as well. Why not add a cook book and make it into a Moroccan cooking gift set.
Another good option is this tagine from Uno Casa. It's cast iron and under $70. The quality is really good and it has a larger bottom portion so you can use it for a variety of cooking.
This tagine not quite what you're looking for? Read my guide on picking the right tagine for you (or a loved one) and decide!
Traditional Moroccan Spice: Mina Harissa
Moroccans don't use harissa (a pepper paste) as much as their Algerian or Tunisian cousins but it's still used and a great condiment to have on hand. Try serving it on the side of a couscous or mixed into a salad dressing. I also make a roast chicken that I baste with green harissa, which is a little spicier than the red version.
Moroccan Recipe Book: The Food of Morocco
I've often said if I had an English-speaking Moroccan mother-in-law it would be Paula Wolfert. She's the Julia Child of Moroccan food in America. This cookbook is a compilation of her best and some new recipes accompanied by gorgeous photographs and cultural insights. Don't look any further, this is the Moroccan cookbook to own.
Moroccan Plates: Moroccan Blue Khamsa Plate
The souks of Morocco are riddled with pottery of all colors, styles and designs. I love the white and blue patterns and in the past have even carried an entire dining set back in my luggage. I should have just ordered them! This khamsa salad plate is one of the items I've eyed for ages and am dying to add to my collection.
Moroccan Tagine: Mini Spice Tagines
These solid color mini tagines are great for spices – we use them for salt, pepper and cumin on our table. They are just a little "cooler" than your run of the mill salt and pepper shaker!
Moroccan Spice Mixture: Ras al Hanout
Literally translated as "the head of the shop" this spice mixture is never the same twice. Dozens of ingredients are combined to make each blend unique. You only need to use a little to get great results.
MOROCCAN TEA GIFT SET
A Moroccan tea gift set not only makes a fantastic gift but are also great Moroccan accessories for bringing a touch of Morocco into your home.
I recommend purchasing all the items in this section for the perfect Moroccan gift basket – I've done all the hard work for you!
Moroccan Tea Pot – You might think it looks too beautiful to serve but tea in pots such as this are how guests are traditionally served. Generations of craftsmen have perfected the art of engraving pots with geometric designs.
Moroccan Tea Glasses, Fez Silver – There are hundreds of different types of Moroccan tea glasses, from simple glass with no design to gold leafed, elaborate designs. Buy one that compliments the home design or whichever you think is most beautiful!
Chinese Gunpowder Tea – Moroccan tea is traditionally made with Chinese gunpowder tea. It's a variety of green tea. Moroccan tea is always brewed loose.
Organic Dry Spearmint– While fresh mint is always best, it's not always practical. Instead keep a store of dried mint on hand to brew a pot whenever you'd like.
Straw Market Bag – Because I love this bag and it's great for storage or taking out of the house.
If you decide to put together this set, I've also created this printable tag that you can tie on, letting the recipient know how to make their own Moroccan Mint Tea!
MOROCCAN HAMMAM GIFT SET
The Moroccan hammam is a treat to experience. But, it's also something that can be recreated at home with the right supplies.
The Moroccan hammam is a treat to experience. But, it's also something that can be recreated at home with the right supplies.
The kessa is the glove used to scrub off the dead skin and you'll need one to get as clean as possible. I'd argue it's the most important part of the bath!
This all natural soap is also called savon beldi and has an olive oil base with eucalyptus. It's great for having a hammam experience at home especially if you've got a bit of a sniffle, the eucalyptus will help clear that up!
This product is labeled as Turkish but we have them in Morocco too! These towels are thin but dry fast. They're great for people who travel a lot and need something lightweight that gets the job done. But, they also look beautiful in a bathroom. Take note, they feel coarse at first but after being washed and with use they get softer and softer.
You can find all of these items on Amazon, so order from the comfort of home! If you don't have it already, sign up for Amazon Prime Membership (first 30 days are free!) and get your gifts shipped free!
Be a part of the MarocMama family!
Do you want access to all things MarocMama? Join our community of readers to get updates on new posts, inside information that won't go on the blog and so much more!
Sound good? Pop your email below and you're in!