Chances are you've heard of argan oil before but did you know you can use it in food?
You can!
There is both cosmetic and culinary argan and the big difference is culinary argan is made using roasted argan nuts and cosmetic argan uses the raw nuts. It's a delicious oil that I'm a huge fan of especially for breakfast with fresh out of the oven bread.
I've made and shared a few recipes on here using argan like the orange and olive salad with argan oil, Argan Banana Muffins, and a Beef Tajine with argan. Of course it's also tasty to eat just as it is with bread!
I've been told argan is a bit like sesame oil, not really meant to be used IN cooking but as a drizzle or condiment. I've cooked with it plenty of times and enjoy it. So you go ahead and use it however you want!
While I am happy to just use the oil it also can be made into the Moroccan version of "peanut butter," amlou. It's a nut butter made using almonda, argan oil and honey and is delicious and addicting.
These cookies use amlou to lend a nutty, almond flavor to the cookies. You'll need a food processor to make the amlou but it's worth it. Double or triple the recipe and save some of the amlou for eating as it is!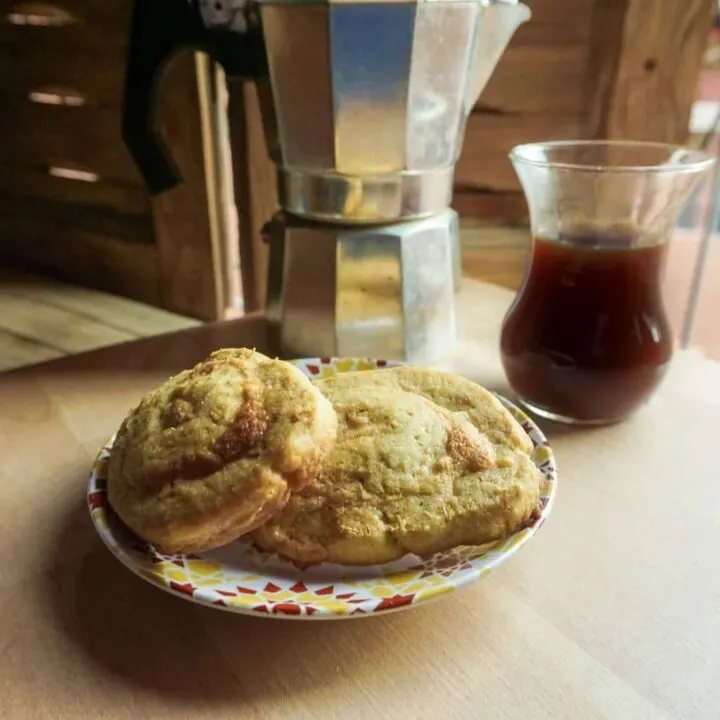 Yield:

12-15 cookies
Amlou Pinwheel Cookies
Total Time:
4 hours
12 minutes
Amlou is a paste like spread that is commonly eaten in Morocco along with bread. In this recipe I use them as a filling for these pinwheel cookies.
Ingredients
For the Amlou
- 1 cup of raw almonds
- 1-2 tbsp argan oil
- 2 tsp honey
For the Cookies
1 cup white flour
1 cup oat flour
1/2 c powdered sugar
2 tsp salt
1 tbsp baking soda
1 egg
1/2 cup melted butter
flour or almond flour for dusting
Instructions
Making the Amlou
Add all of your almonds to a food processor and start running.
Leave it for about 4 minutes.
The almonds will first break apart and look like flour, as they continue to break down they will start clumping up - don't worry let it keep running.
They will then start to get creamy as the oil releases.
After 4 minutes turn it off and open it up and check. You should have a paste similar to a thick peanut butter.
Return the cover and drizzle in the argan oil to loosen up the paste. You may need to add a little more or less oil just depending on how your almonds broke down.
Remove the paste from the food processor and mix in the honey.
To Make the Cookies
Sift flours, baking soda, salt and powdered sugar together in a large mixing bowl.
Add egg and melted butter. Mix together gently using a whisk. You will not want to overwork it but just get it all together.
The final product will be a ball that is a little wet. Wrap up the ball with plastic wrap and put in the refrigerator for 1-2 hours. The dough needs to be firm enough to roll out into a sheet.
Once rested use a rolling pin to flatten the dough into a large rectangle. I find this easiest to do by placing the dough between two sheets of plastic wrap or parchment paper.
Sprinkle some flour on your work surface to keep the dough from sticking.
Once all the dough is about 1/4" thick use a spoon to spread a layer of amlou over the entire rectangle. It will be a thin layer. If you are finding that the amlou is not fluid enough to spread, add a little more argan to the amlou and mix.
Once the amlou is down begin rolling the dough up into a large cylinder.
Wrap as tightly as possible.
Wrap the dough with plastic wrap and refrigerate another hour or longer. The dough should be firm enough to cut through without breaking apart. You may alternately decide to pop it into the freezer for 30 minutes to firm up.
Preheat your oven to 350F.
Remove dough from refrigerator and cut into slices between 1/4 and 1/2" thick. Try to make all cuts as uniform as possible.
Lay flat to bake on a cookie sheet.
These cookies will not spread much so you can place them near one another.
Bake in the oven for 12-15 minutes until just starting to brown.
Remove from the oven when they're just turning brown and place on a cooling rack. The cookie will be similar to a shortbread in texture.
Recommended Products
As an Amazon Associate and member of other affiliate programs, I earn from qualifying purchases.