The sea. The sand. The sun.
Morocco's Coastal Road marks the edge of the Sahara Desert, and it's a place where you can lose yourself in the heat of your own imagination.
If you're looking for a beach vacation that feels like a real getaway, look no further than this road trip to Morocco's Coastal Cities. These are the places where you can relax, enjoy yourself, and just be yourself without worrying about anything else. This is an amazing Morocco itinerary to consider.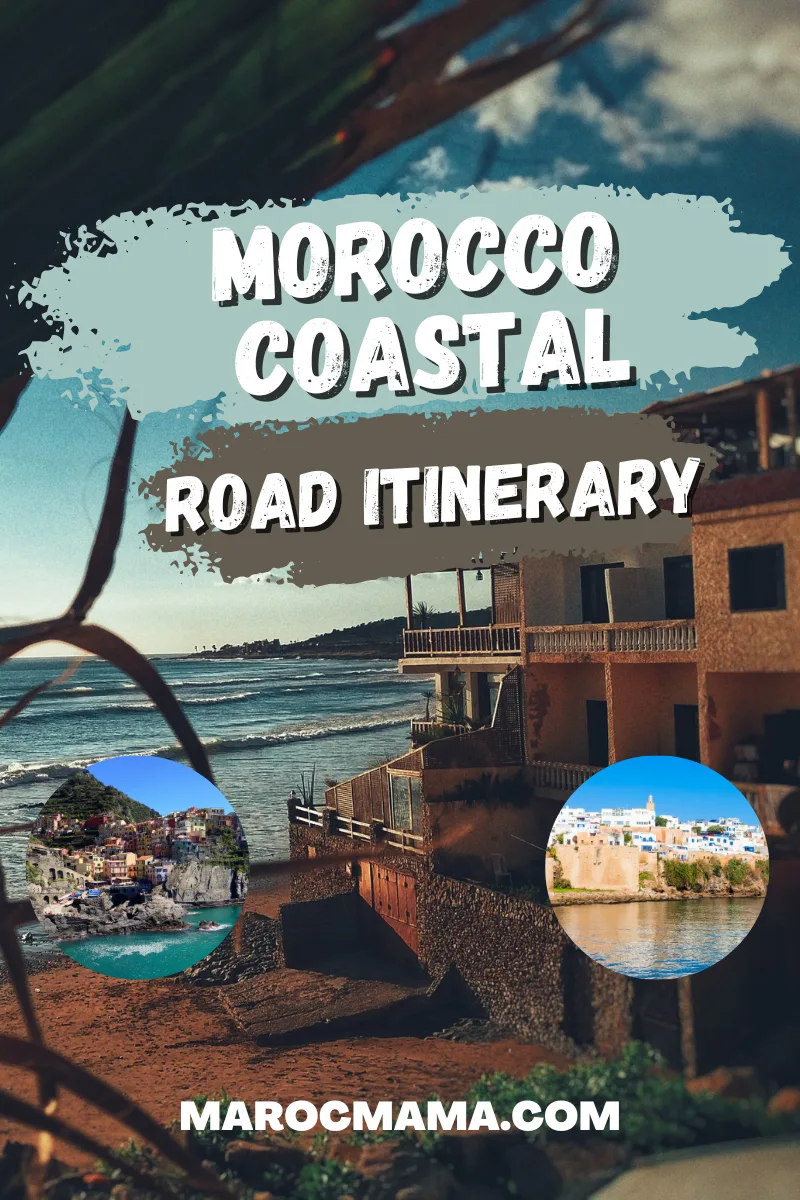 You'll find clean ocean waters and pristine white sand beaches with plenty of space to spread out—and even more freedom to explore!
This year I was interviewed by Amateur Traveler about this specific itinerary. If you're more of an audio person, you can listen to that podcast here!
If you've always wanted to go on an adventure but couldn't find the right one for you… well then, this is the one for you! There are fantastic restaurants serving up local cuisine, as well as shops selling gorgeous handmade goods from around the world—so don't forget to pack your shopping bags!
What are Morocco's Coastal Cities?
This itinerary is focusing on the cities along the Atlantic coast. You could easily do a secondary or different road trip that would have you visiting the cities on the Mediterranean coast. For those that love the ocean and all coastal cities have to offer you're spoiled for choice in Morocco!
Casablanca
Start with Casablanca if you're searching for a fun, welcoming, and enjoyable Morocco coastal vacation. This is also where many international flights land, so it makes sense to use as a starting point.
Although it's no secret that Morocco boasts some of the most stunning beaches in the world, Casablanca is an excellent choice if you're seeking for something a little more thrilling than seaside leisure.
Set out a day or two at the beginning of your vacation to go to the Hassan II Mosque, which is perched atop a hill overlooking the Atlantic Ocean.
With space for 27,000 people at once, it's one of the biggest mosques in the entire of Africa! This futuristic structure will be sure to leave an impression on you as it looks like something out of a sci-fi movie.

After taking in all of this fascinating history, visit the Habous district for an Art Deco-style tour of Casablanca's past and present.
From colonial structures to contemporary skyscrapers, you'll see it all. You might even stumble into some local musicians playing on street corners and public spaces around the city.
If you don't know where to stay, stay at Le Doge, a fashionable Moroccan coastal hotel that was originally built as a home for King Mohammed VI; the rooms are gorgeous and have fantastic views of the city below.
This 5-star hotel in Casablanca is one of our favorite locations to stay in Morocco since it will make you feel like royalty.
I heartily recommend NKOA restaurant and Le Cabestan seafood restaurant for dinner; both are situated near Hassan II Mosque on Avenue Des F Agrarier & Avenue Muhammad V.
Madame Fhal bakery is another place you ought to go. This place has the best babka in town but all of their treats are great.
If a stay in Casablanca is on your radar you might also want to read my full guide on things to do in Casablanca.
El Jadida
After spending a few days in Casablanca, head south to El Jadida (about 90 minutes by car or train).
El Jadida was a Portuguese settlement in the 16th century that has become a popular tourist destination today. The city is home to a beautiful beach and has many restaurants, cafes, and shops.
One of the most interesting things to do in El Jadida is to visit the Portuguese Cistern.
These underground reservoirs were built by Portuguese settlers who were trying to preserve water from rainfalls during the dry season. They are still used today for storing rainwater for agricultural purposes.
Another must-do activity is spending time at L'Iglesia, a converted church that now serves as an excellent hotel with amazing views of the ocean from its roof terrace. We recommend staying here if you want some peace and quiet after exploring the city all day long!
You can also enjoy delicious food at La Prive restaurant or any of the other great eateries that line the beachfront road.
More on what to do in El Jadida.
Oualidia
After visiting El Jadida, continue towards Oualidia by bus or car to enjoy the renowned oysters of this area.
Oualidia is a small fishing village located along the coast between Casablanca and Essaouira.
The town has been attracting visitors for decades because of its natural beauty, its excellent seafood, and especially for those who love oysters.
Oualidia is also known for its weekly Saturday souk, which attracts many local people. This market is one of the most important events in the region and it's held every Saturday morning in the heart of the city.
You can find everything here: clothes, shoes, food products, flowers, and even jewelry! If you're looking for something specific, then this will be your best bet.
If you want to enjoy a day out with your friends, we recommend taking a boat tour through some of the offshore caves. There are also several options for bird watching and boat rentals available, so you won't run out of things to do.
After spending some time exploring Oualidia's main attractions, stop by Ostrea II for dinner.
If you choose to spend the night here, you can choose to stay at Azalai Beach Cottage or La Sultana. At La Sultana, you can try dining at La Plage for an incredible dinner before moving on to your next location.
Even more information about Oualidia.
Safi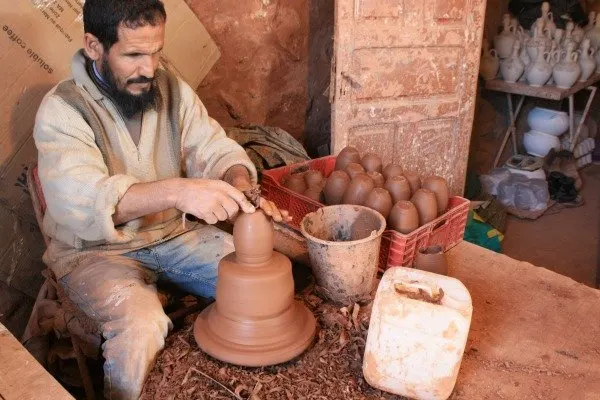 Explore the enchanting beauty of Safi after visiting Oualidia! This place is only an hour away and can be reached by bus or car.
This city is known as the country's pottery capital because its clay is collected nearby and used in various types of pottery. You can take pottery classes to see the entire process from start to finish—and even buy some souvenirs!
Safi is located on the Atlantic coast, so you can enjoy warm temperatures and sunny skies even in the winter. Most areas of the city have basic hotels and restaurants where you can spend the entire day or night.
Essaouira
The Moroccan city of Essaouira is a lovely place to visit. It's a small town with a relaxed atmosphere and plenty of great food and activities.
Take advantage of the windsurfing opportunities available here if you're looking for an adventure.
You can rent a board and take lessons from local instructors, or you can take classes from one of the many companies in the area. If you aren't quite ready to learn how to windsurf, you can rent surfboards!
You can also take a walk along the port, where there are many restaurants and cafes where you can stop for lunch or dinner while admiring the scenery.
At Marrakech Food Tours we also offer a day tour in Essaouira. It's the ideal way to explore Essaouira in a fun and engaging way.
This tour is run by a team of handpicked, friendly guides who know the city inside and out.
There are two options; either start the tour in Essaouira or take a full day trip from Marrakech to Essaouira for the tour.
If you want to stay in a beautiful apartment right between the medina and the beach, we also recommend Jack's Apartments.
To enjoy a beautiful riad with stunning views of the medina, choose to stay at Riad Emotion, and if you want a charming hotel with air-conditioned rooms and balconies with views of the ocean, then go to Salut Maroc!
Essaouira is the place to eat great seafood but there are also several restaurants we love. Mandala Cafe, Salut Maroc, or Umia offer some of the best dining experience in Essaouira. These are all excellent options that you should try.
More Coastal Adventure!
There's so much to see along Morocco's coast that it's easy to overlook some of the best sights. So, I've also included some must-see locations beyond Essouira for you.
Continue on to Agadir for a more epic adventure. This city is Morocco's most popular tourist destination, and it's easy to see why: it has beautiful beaches, fantastic hotels, delectable food, and some of Africa's best surfing. However, don't stop there!
Take a drive down Morocco's coastal road southward toward Taghazout and Tamri.
Taghazout and Tamri
Tamri is a small town with beautiful beaches, delicious food, and friendly people who will make you feel at ease.
This is a really small town so if you want something really off the beaten path you'll find it here.
Taghazout is another fantastic place to visit while in Morocco. Although it is smaller than Tamri, it still has a lot to offer, including great restaurants and a variety of activities such as scuba diving and kitesurfing, to name a few.
These two towns are home to some of Morocco's best surfing spots!
Mirleft and Sidi Ifni
Mirleft and Sidi Ifni are hidden gems that will make your trip memorable with the medina, the surf, and the Spanish town.
They are located approximately two hours from Agadir. This location is accessible by private car, which you can either rent or hire a driver to drive you there.
There are numerous things to do in Mirleft and Sidi Ifni! You can take a day trip to the beautiful Legzira Beach and enjoy the numerous restaurants and shops nearby.

You can also take A stroll through Sidi Ifni's old medina. The medina is filled with small shops selling colorful Moroccan goods.
There are also some small, local restaurants where you can eat after exploring this historic section of town.
And don't forget to visit the historic Spanish Town. This small town dates back to Roman times, but the Spanish later expanded it during their occupation of Morocco.
There are remnants of this period everywhere, from ruins to buildings constructed during this time period. The best part is that it is completely free.
Going Back to Casablanca
Take Morocco's coastal road back if you want to return to Casablanca and enjoy the adventure again, but this time in reverse. You can also enjoy the fantastic breeze off the sea by driving through the argan forests road that winds next to the ocean.
The highway (toll road) going back to Casablanca, on the other hand, will take you back much quicker albeit without the ocean at your side.
You can also fly to Agadir from Casablanca. Flights from Casablanca to Agadir start at $60.
With the world at your fingertips, you can't go wrong with Morocco's Coastal Road. It's a fantastic place to drive down in any season, especially during the summer when the weather is warm but not too hot.
There's plenty of culture and history to explore, but it's also one of the most famous surf spots in the region.
If you're looking for a great place to get away from it all and connect with nature, then this Morocco itinerary is for you.
More Coastal Morocco Trip Planning Information
Want to make the most of your trip to Coastal Morocco? Check these articles out!