The big name cities like Agadir, Essaouira and obviously Marrakech are well known and sought out. Don't get me wrong, those are all beautiful cities, but what if I tell you that you can take your holidays up a notch in two hours south of Agadir and experience the true magic of Morocco?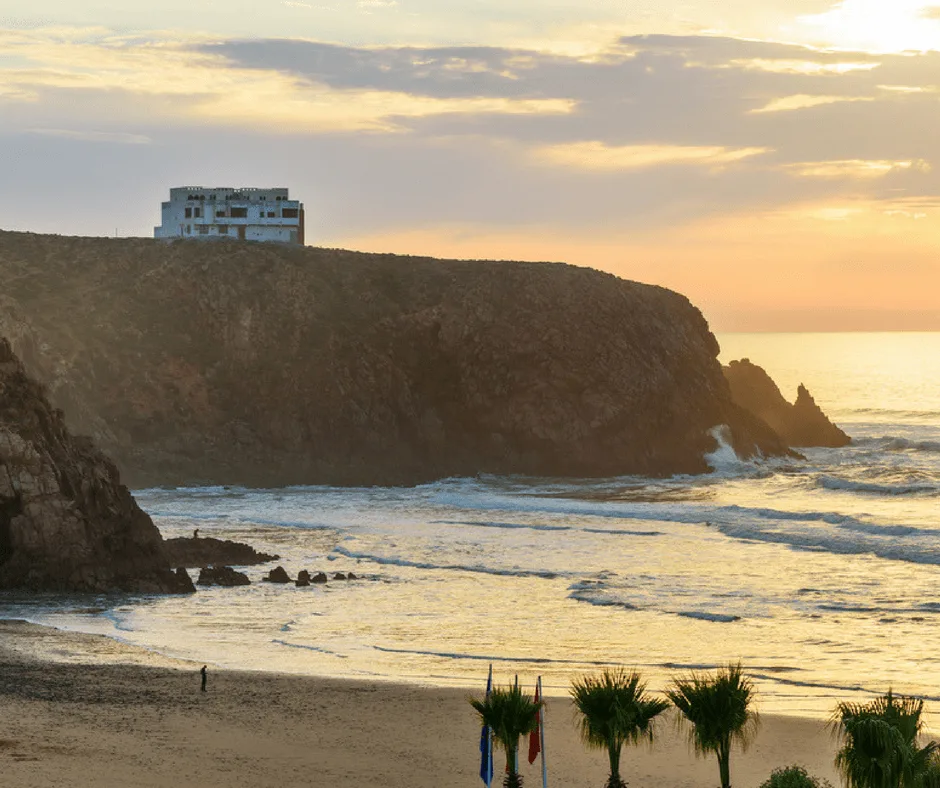 All About Mirleft and Sidi Ifni
Mirleft is a small Berber town where ocean meets the mountains, where humbleness meets enchantment and where time cease to exist. Visiting Mirleft 25 years ago or visiting Morocco today will evoke the same untouchable feelings. It's a place that has been left untouched by time and a wonderful place to get away from it all.
The town is very laid back. Many French and Germans came to visit in the late 80's and chose to call it home by investing in hotels, restaurants and guest houses.
Only two hours south of Agadir, benefiting from all year round agreeable weather, Sidi Ifni is the perfect get away for all bohemian lovers. A Berber town full of history and modesty.
Sidi Ifni was the last city surrendered by the Spanish colonisation in 1969. The impact of it all is very fresh and can be felt the moment you enter the city. You sens it from the locals who will greet you with a hola! instead of bonjour. You will hear the Spanish music in every corner. Cafes full of electrified young men watching the Spanish football league.
The alluring architecture captivates the visitors. Sidi Ifni tells its story by the white and blue faded walls, the artistic doors and the stunning hilly Medina.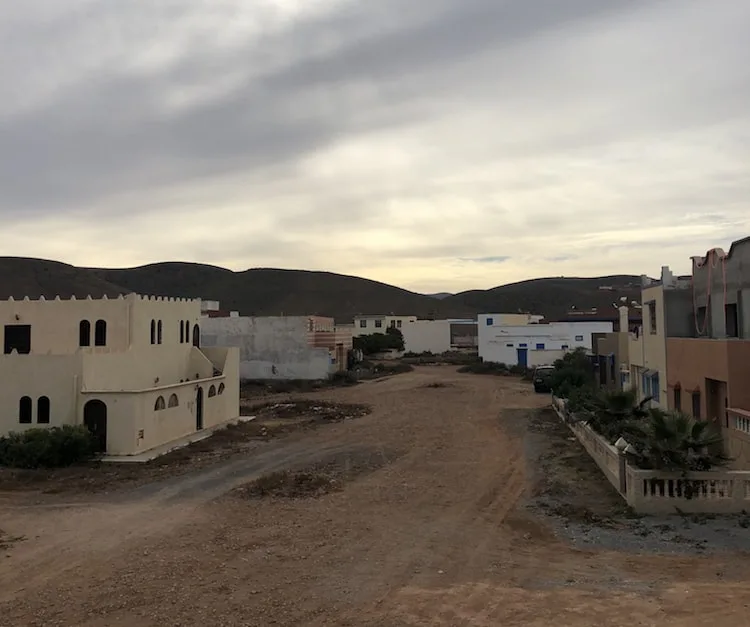 Getting to Mirleft and Sidi Ifni
Reaching these cities will take a little planning. The best way to do so is via a private vehicle. You can either rent a car and drive yourself or hire a driver to take you.
It's also a popular spot for RV owners to visit. If you plan to visit beaches in nearby communities or just get around in general than having your own vehicle will really be the best way.
There is bus service from Agadir to Mirleft once daily via CTM bus service. You also may be able to find public buses that are going to Mirleft from the main bus depot in Agadir.
When you're in Mirleft you'll want to hire a bike to get around if you don't have a vehicle.
Things to do in Mirleft
Mirleft is a good place to go if you really just want to kick back and relax. There isn't a lot to do in town itself but there are a few things to consider if you start to go stir crazy!
Take a day trip to Tiznit, famous for its hand craft silver items that are more affordable than Marrakech or Essaouira.
Consider a day trip to Sidi Ifni.
Go hiking or trekking on the beach or nearby trails.
Hit the water and try out surfing or paddle boarding.
Climb up the old Spanish military fort to take in a panoramic view of the town.
Where to Eat in Mirleft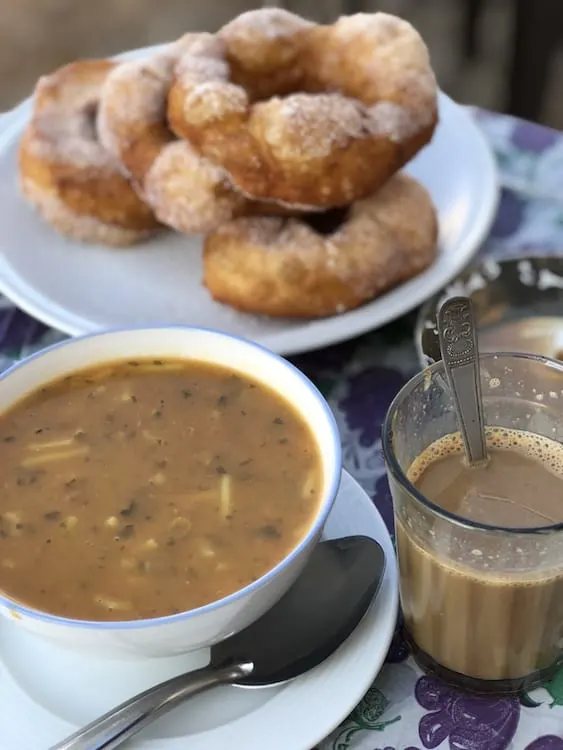 Mirleft is a small village so it's worth keeping in mind when you're planning where you'll eat – limited options! But here are a few things we think are worth it.
Stop at Musa's to have beignets! You'll find this tiny shop on one of the main shopping streets (there's only a few) and he makes food too but in the afternoons you have to come for these!
Visit a local bakery and get tafernout. This is the best bread and it's what they make here so you need to try it.
Go to the fish market in the afternoon. Unlike many places it opens in the afternoons when the fishermen come back in, and buy fresh fish. There are a few spots nearby that can grill up whatever you choose.
Buy the supplies you need to have a picnic (or if you're staying in a hotel ask if they can put one together for you) and bring it to the beach.
Bar Abertith is a spot that a trusted friend suggested (unfortunately road work was happening while we were here and we couldn't reach it). A short menu plus dishes of the day are available.
Things to do in Sidi Ifni
Sidi Ifni is a smaller town but you could choose to base yourself in either of these two places and take a day trip to either one. If you visit Sidi Ifni, here are some things to do;
Pack your bag and go backpacking on the coast
Take a day trip to stunning Legzira Beach
Walk in the old medina of Sidi Ifni
See the old Spanish Town
Take to the water and go surfing or kite surfing
If you're there on a Saturday, visit the weekly souk.
Beaches in and around Mirleft
There are several really beautiful beaches in the area. Having your own transportation will make accessing them easier. Most beaches do not have lifeguards present so you will need to be aware especially when traveling with children. It's also worth noting both the high tide times and the general weather. It can be very windy in this area leading to high waves.
These are a few of the local beaches that we visited and are easier to access and felt good to go with kids. There are a few others that are frequented by surfers and those looking for more adventurous waves. Ask the locals for specific instructions on how to reach those spots!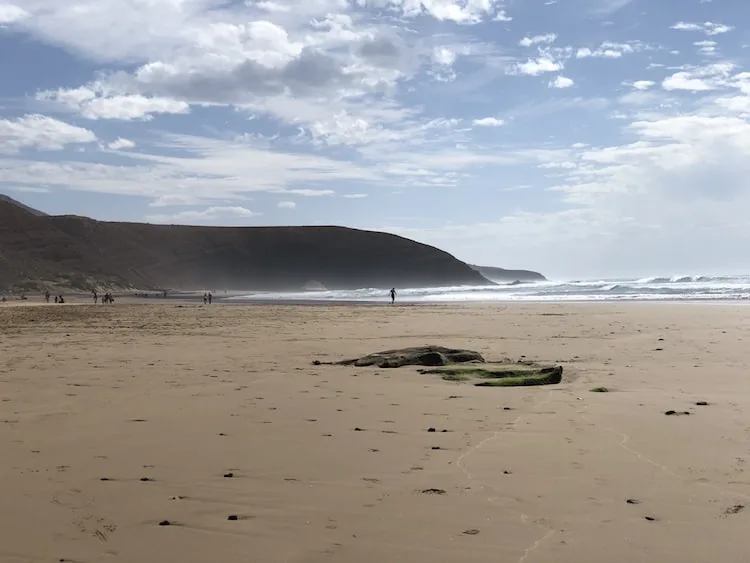 Legzira Beach
This beach is most famous thanks to its giant stone arches (and they really are impressive). One of them collapsed in 2018 however the remaining arch is still spectacular. The beach itself is wide with a lot of space to spread out. There are a few modest places to stay directly on the beach as well.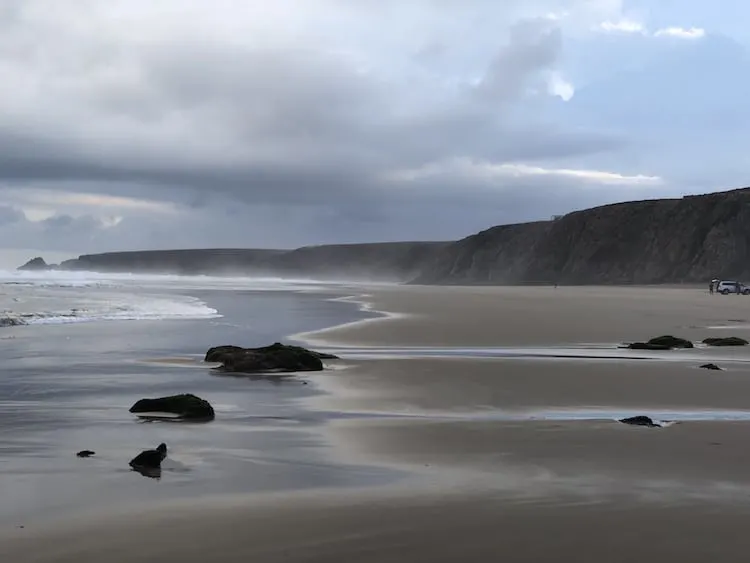 Imin Tourga Beach
This is the closest beach to the city proper. There are two ways to access it; either from the road if you have your own vehicle or there is a set of stairs that leads from the top of the rock cliffs down to the water. This is a beautiful beach to take an early morning walk, or go fishing. In the afternoons it fills up especially when the weather is nice.
Marabout Beach
Honestly, our kids said this beach looked like something out of a movie scene and I must admit it does a little! With the rock outcropping and mosque right on the beach it's a cool spot to visit. The beach itself is somewhat small and a little bit rocky in places.
Where to Stay in Mirleft and Sidi Ifni
This little B&B is quite popular (it was booked when we tried to visit) but I have it on several recommendations that it is a fantastic place to stay. It's also close to Imin Tourga Beach – if you don't mind taking the stairs.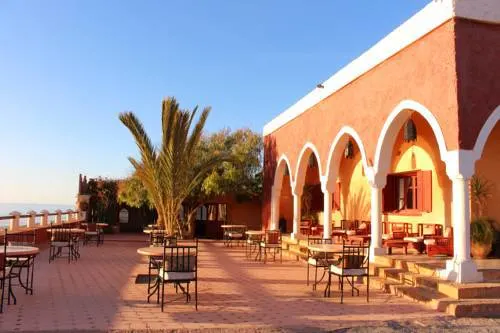 Converted from a 1930 French Army fort to a relaxing guest house. The place has a unique flavor and overlook the town and the ocean.
For a more more luxurious touch and tranquility on your getaway. The gorgeous pool overlooking the water is an added bonus.
An art deco maison d'hotes and a direct view over the ocean. With the privacy and convenience of a hotel but charm and welcome of a guest house. Located in Sidi Ifni.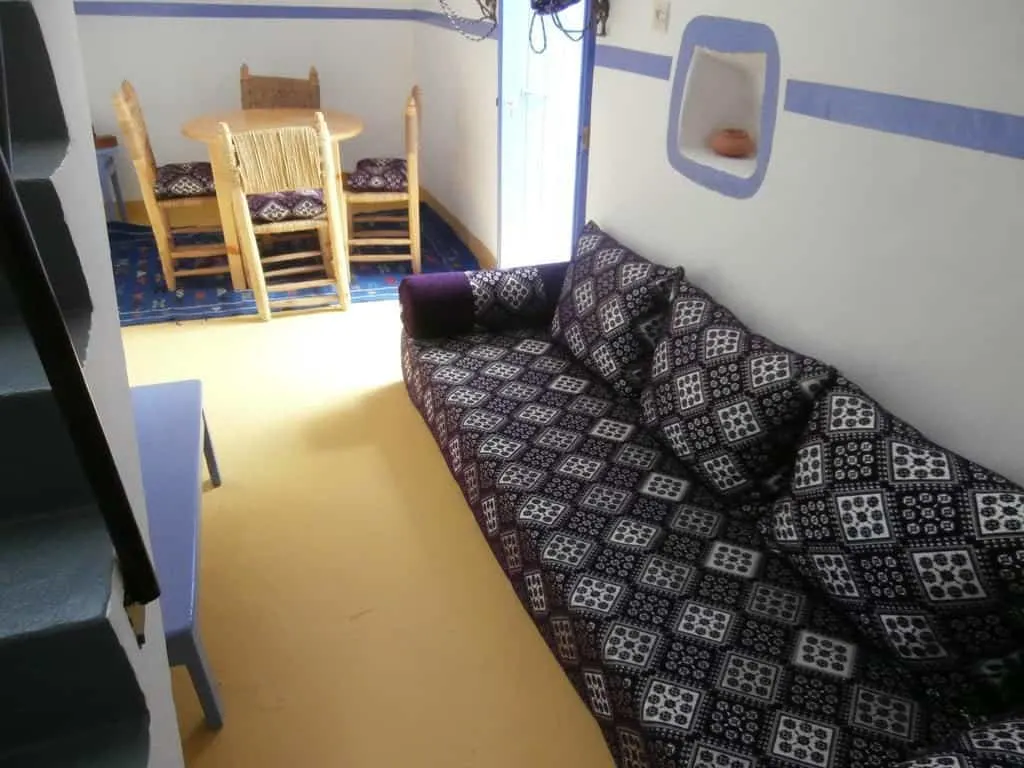 This holiday home is a good choice for families or friends traveling together who want a little more space. The townhouse apartment is close to the beach with a roof terrace.
If you're looking for something a little more homey consider renting an apartment or Airbnb. That's what we did when we went!
Trips and Tours to Consider

Agadir Legzira Beach Full-Day Tour with Lunch
Wondering what to pack to visit the beach in Morocco? I have a post to help you plan and pack accordingly!