The big name cities like Agadir, Essaouira and obviously Marrakech are well known and sought out. Don't get me wrong, those are all beautiful cities, but what if I tell you that you can take your holidays up a notch in  two hours south of Agadir and experience the true magic of Morocco?
ALL ABOUT MIRLEFT AND SIDI IFNI
Mirleft is a small Berber town where ocean meets the mountains, where humbleness meets enchantment and where time cease to exist. Visiting Mirleft 25 years ago or visiting Morocco today will evoke the same untouchable feelings. It's a place that has been left untouched by time and a wonderful place to get away from it all.
The town is very laid back. Many French and Germans came to visit in the late 80's and chose to call it home by investing in hotels, restaurants and guest houses.
Only two hours south of Agadir, benefiting from all year round agreeable weather, Sidi Ifni is the perfect get away for all bohemian lovers. A Berber town full of history and modesty.
Sidi Ifni was the last city surrendered by the Spanish colonisation in 1969. The impact of it all is very fresh and can be felt the moment you enter the city. You sens it from the locals who will greet you with a Holla! Instead of Bonjour. You will hear the Spanish music in every corner. Cafes full of electrified young men watching the Spanish football league.
The alluring architecture captivates the visitors. Sidi Ifni tells its story by the white and blue faded walls, the artistic doors and the stunning hilly Medina.
GETTING TO MIRLEFT & SIDI IFNI
Reaching these cities will take a little planning. The best way to do so is via a private vehicle. You can either rent a car and drive yourself or hire a driver to take you. It's also a popular spot for RV owners to visit. If you plan to visit beaches in nearby communities or just get around in general than having your own vehicle will really be the best way.
There is bus service from Agadir to Mirleft once daily via CTM bus service. You also may be able to find public buses that are going to Mirleft from the main bus depot in Agadir.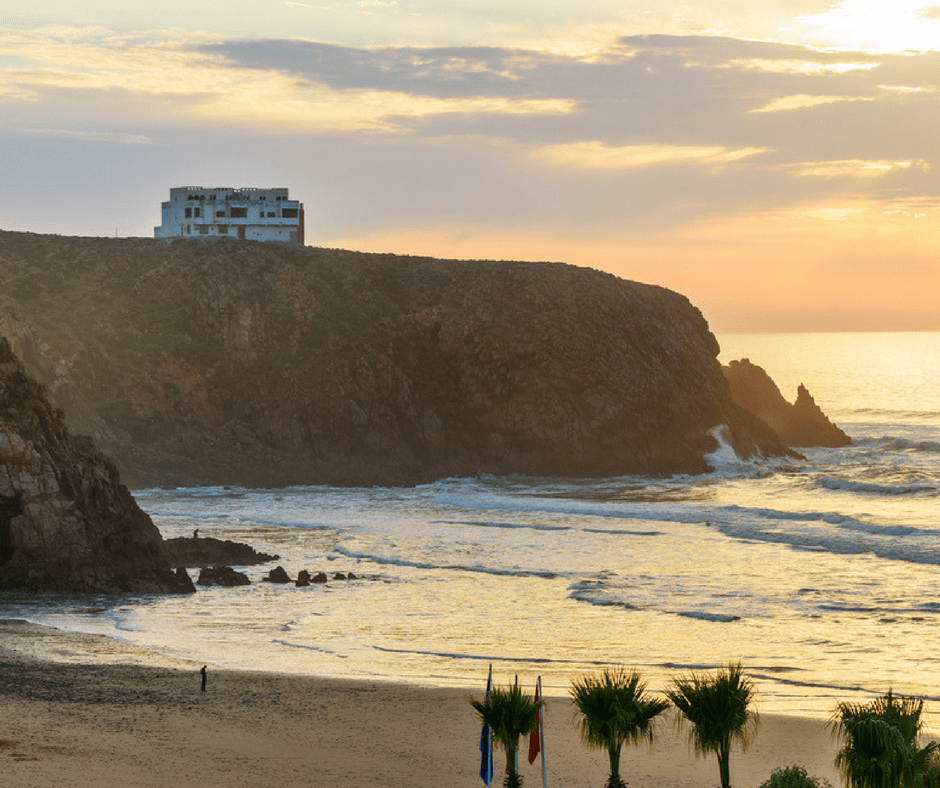 Mirleft is a good place to go if you really just want to kick back and relax. There isn't a lot to do in town itself but there are a few things to consider if you start to go stir crazy!
Take a day trip to Tiznit, famous for its hand craft silver items that are more affordable than Marrakech or Essaouira.
Consider a day trip to Sidi Ifni.
Go hiking or trekking on the beach or nearby trails.
Hit the water and try out surfing or paddle boarding.
Climb up the old Spanish military fort to take in a panoramic view of the town.
Sidi Ifni is a smaller town but you could choose to base yourself in either of these two places and take a day trip to either one. If you visit Sidi Ifni, here are some things to do;
Pack your bag and go backpacking on the coast
Take a day trip to stunning Legzira Beach
Walk in the old medina of Sidi Ifni
See the old Spanish Town
Take to the water and go surfing or kite surfing
If you're there on a Saturday, visit the weekly souk.
WHERE TO STAY IN SIDI IFNI
TRIPS, TOURS, AND ACTIVITIES
RELATED DESTINATION GUIDES
Be a part of the MarocMama family!
Do you want access to all things MarocMama? Join our community of readers to get updates on new posts, inside information that won't go on the blog and so much more!
Sound good? Pop your email below and you're in!