Sun, fun and surfing in Morocco? Sounds like a recipe for fabulous family fun!
Check out our guide for the best Morocco surf spots; we have scoured the country for the most popular places as well as hidden gems. Morocco, known by the surfing world as the 'land of the pointbreak', is at your disposal for this fun and engaging activity.
Morocco is truly a haven for waves with its variety of swell, tide and wind variations. A huge bonus is that Moroccans love children; so the beaches we are listing are most certainly kid-friendly. It's the perfect place to follow your dreams and start surfing.
The choices are vast, the shores are lively and the waves are exhilarating!
Many of the places we have researched offer great classes for beginners as well as expert surfers. The southern part of the country tends to be the most popular for surfing, however, don't rule out the northern beaches as they can be quieter and more peaceful with just as much surfing punch.
First and foremost, note that the Moroccan coast is huge! Thousands of kilometers of variable coastline, from rugged and rocky to sandy and tranquil.
Although the more well-stocked surf shacks in the typical surfing towns will carry most everything you'll need on your surfing vacation, we advise you to bring plenty of good quality, waterproof, reef-safe sunblock (it's likely more expensive in Morocco). Zinc is a great protection from that dreaded sunburn, particularly on the face and under the eyes, where the skin is most sensitive.
We also suggest bringing a good quality, long-sleeved swim rash guard, as well as a sturdy surfing hat if you have kids. If you are feeling like being extra prepared, bring some surf wax with you and save having to go and buy some. Most of the surf rental shops will provide a wetsuit if the weather is cool.
We advise you to always check the tides, swell rating, and wind online before you head out to beach to catch your waves.
In the past several years, Morocco has seen a surge in surfing tourism. Please do your part to protect this beautiful county and follow proper protocol to ensure that Morocco's beaches are protected and hence, sustain the wildlife that depends on the waters and beaches as their livelihood. Look into sustainable tourism and eco-friendly spots while doing your surfing vacation research!
If you are looking for a one-stop-surfing holiday, head to Agadir as your starting point. Although the town isn't necessarily the most pristine for surfing, it has a lot of choices for world-class waves within easy distance. Agadir is a main transport hub as well, making it an efficient and stress-free destination on your way to the beaches whether you're headed north or south.
The Atlantic Ocean tends to be cold year-round, however if the sun is hot, you will appreciate the coolness of the water! The larger swells can be found during the winter months and the smaller swells tend to be in the summer months between late April/May and August.
Morocco's pleasant weather year-round makes it an even more desirable location for surfers. Read on and start planning to ride the waves in this warm and friendly surfing country.
Surfing Morocco's Southern Coast
This is where it's happening, particularly for those seeking a more organized, efficient surfing experience.
Imsouane (Magic Bay or The Bay)
Best known for being one of the longest breaks in Africa and in the world, Imsouane is found in southwest Morocco, about 80 km north of Agadir. This gorgeous spot is perfect for beginners and advanced surfers alike; with picturesque rocky cliffs that wind down to a peaceful bay and calm waters. The beach has a relaxed, hippy feel and is not so touristy, making it a fab spot for those seeking a peaceful surfing experience.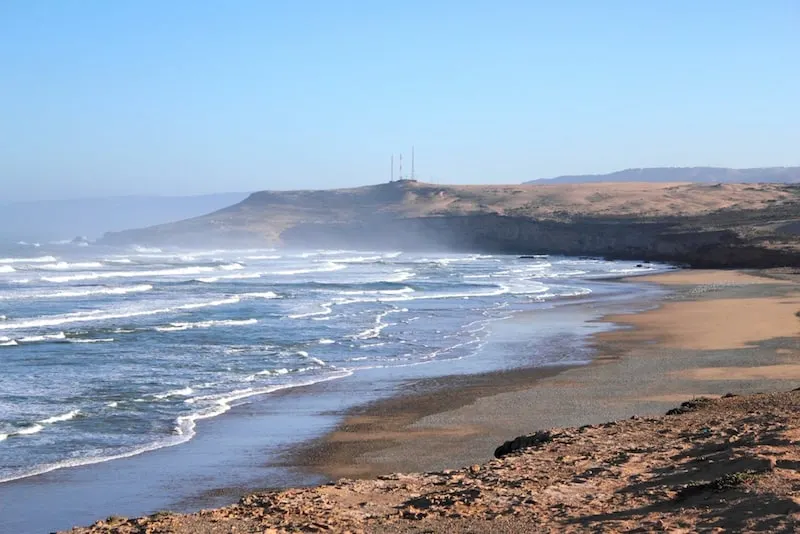 Tamri
Located between Imsouane and Taghazout and about 55 km north of Agadir, this non-touristy spot is a nice respite for people who want more than just waves and perhaps those who crave a more authentic Moroccan experience.
Check out the gorgeous vistas from the cliff edges that surround the spot. For beginners, be aware that the strong current will likely carry you down coast. The locale is also known for its estuary; home to flamingos and excellent birdwatching.
Essaouira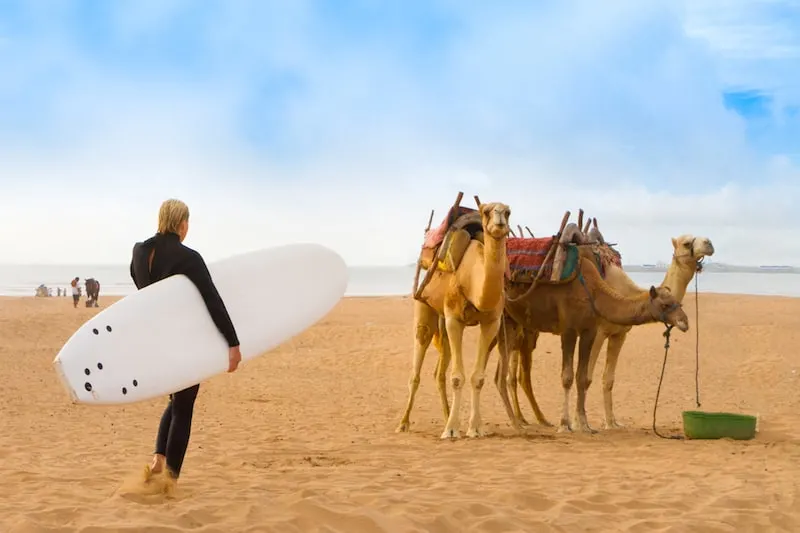 Essaouria, the ever-wind swept popular beach destination, located about two hours west (190 km) of Marrakech on the Atlantic Coast, is another wondrous spot for surfing enthusiasts. The lovely bay is protected by Mogador Island.
Boasting a 180-degree bay that is sprawling and wide-open, it's a picturesque-perfect spot for beginning and intermediate-level surfing enthusiasts. The soft sand makes it perfect for kids, although again, it is known for being rather windy. When the swell is big, surf near the port and when the swell is small, try heading to the other end of the beach near the lighthouse.
Be sure to spend a day discovering the enchanting medina and 17th century UNESCO World Heritage recognized fort that sits on Essaouria's water's edge. Think Game Of Thrones!
Lastly, an added bonus, Essaouira has fabulous cafés and restaurants peppered all over the seafront and in the charming medina for you to enjoy. A number of surf shops and surfing schools are dotted all over the Eassaouira beach, making it a popular place for surf vacations. Essaouria also provides ideal conditions for kite surfing and wind surfing.
The Spot Surfing School is a fabulous, all-in-one locale for learning how to ride the waves in Essaouira; owned by experienced Moroccan/British surfers, too. The business is located in a lovely riad (Moroccan guesthouse) within walking distance to the beach.
Sidi Kaouki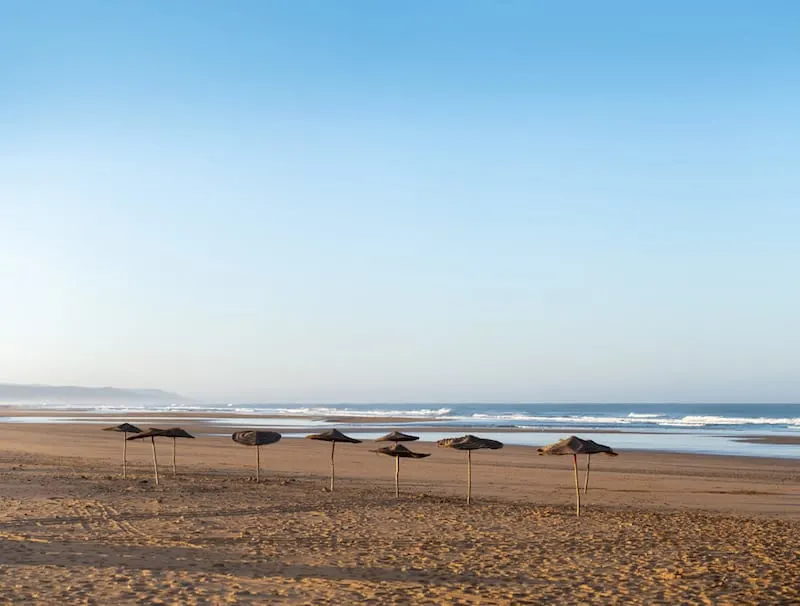 Just 30 km south of Essaouira lies the relaxed, sleepy beach town of Sidi Kaouki, well-known for being a top surfing destination in Morocco. Bask in the rustic charm of this quiet fishing town and surfing hotspot as its long, sandy beach is an ideal location for intermediate surfers as well as surfing experts seeking an adventurous challenge.
Camel and horse riding is also popular along the coast and Sidi Kaouki has a relaxed, bohemian feel that goes along nicely with the white-washed buildings along the beach. It's also a lovely day trip from Essaouira.
Check out the popular and convenient Sidi Kaouki Surf School + Restaurant, where you can learn to surf AND have a fab lunch or dinner after your lesson. The school also offers wind surfing, kite surfing and stand-up paddling. And yoga! Enjoy their authentic restaurant rooftop with a fabulous view of the pristine beach below. Fresh local seafood, delicious veg options and even burgers are on the menu-this place has it all; even camels and donkey rides on the beach for kids.
Anza
With frequent low tides and left hands, this spot has also recently had a revival after a successful campaign to clean up the beach. Anza is located about 15 minutes north of Agadir.
Pop in to the colorful Blue Waves SurfHouse, Anza, for experienced surfing instruction, cozy rooms, yummy BBQ, and fabulous Moroccan vibes; all literally on the edge of the beach.
Tifnit
For expert wave riders, Tifnit, about an hour south of Agadir, is an isolated beach that is recommended for group surfing.
Taghazout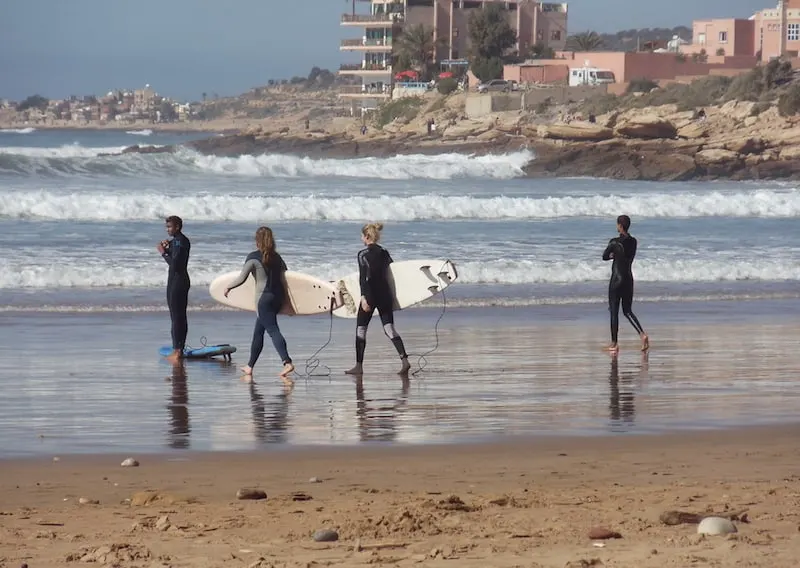 This fabulous little Berber fishing town is about 20 km south of Agadir and has some of the best surf in the world. According to GrindTv, a respected worldwide source for adventure travel, it's ranked #3 globally for riding waves, only preceded by Hawaii and Barbados.
The wee town is quaintly dotted with cafés, surf shops and shacks and it's a great spot for kids to learn (as well as adults!) as Taghazout has a bevy of experienced surfing instructors to keep you comfortable and safe in the waters.
High season for Moroccan surfing (September to March) can get quite busy as this is when the winter swells are the biggest thanks to storms on the North Atlantic Ocean. However, you can still manage to find some pristine spots if you do some research beforehand.
We also suggest going during the off-season for quiet beaches and peaceful scenes in the town itself. This is also a great time to score a deal on a Taghazout surf camp.
Note that the city is in the midst of a development boom, so there is some construction near the beaches; once again, do your research before you choose your spot.
Some of the best spots in Taghazout for catching waves are Killer Point, Hash Point, Mysteries, Panoramas, Camel Point and the most popular for surfing aficionados; Anchor Point; the 'Holy Grail' of Moroccan surfing with its phenomenal right-hands, long curling surf breaks.
Anchor Point is well known for having breaks up to a kilometer long and waves from 3 feet to 15 feet, so be prepared for your legs to be sore afterwards!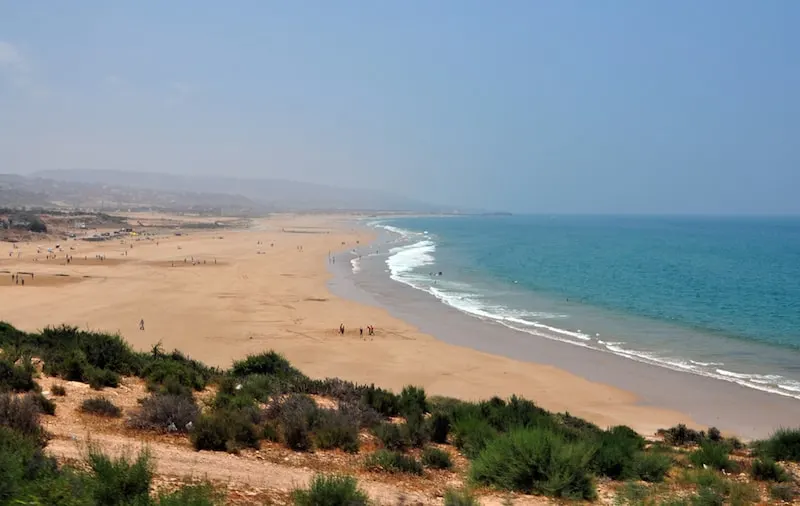 La Source is the best place for beginners in the area; named after the fresh water springs that bubble up on the beach's rock formations, and La Source also boasts a solid left wave.
If you are in it to win it, experienced surfers will love the thrill paddling the 20-minute trek out to challenge the fast-break known as Killers, which is a locals favorite and has a gorgeous sunset to boot.
Boilers is also a fav for expert surfers and thrill seekers; named after the boiler of a shipwreck that can be seen peeking out from the waves. You'll occasionally see professional surf photographers in the water and on the beach, trying to get that perfectly intense shot. Definitely wear surf shoes if you are headed to the Boilers as there are sea urchins below.
Taghazout can get crowded and a bit touristy during high season, but the waves still make this destination worth its while. The welcoming surf culture is in full force in Taghazout, making it an ideal surfing vacation for anyone.
With over 20 surfing spots within a 15 km range from Taghazout, you could spend days and even weeks here. Bottom line is, do your research before arriving in Taghazout as otherwise, you might feel overwhelmed, in the best of ways!
Here are several options for surf camps and schools in the busy Taghazout area:
Moroccan Surf Adventures, situated just south of Taghazout, is a great family-run surf school where prices are reasonable and other outdoor activities, including yoga, are also offered. There's even the possibility to eat a fabulous meal with the surfing team as well as cooking classes. What more could you ask for?
Surf Berbere in the center of Taghazout is a well-respected surfing school. Surf Berbere also offers yoga classes and packages, if you are seeking to find your zen-
Taghazout Surf Waves is another reputable option in this bustling surfing hotspot-
Lastly, perhaps check out Surf Maroc, where you can sign up for surf classes and find charming accommodation for your stay-
Tamraght
Just 10 minutes south of Taghazout is Tamraght, where you can find the breaks of Devil's Rock and Banana Point, aptly named after the many banana plantations that are found in this tiny fishing village.
Tamraght is near the vibrant village of Aourir, which is also fondly nicknamed 'Banana Village' as one can find delicious local banana stands dotted all over the roads. Tamraght also has family-friendly cafés and a lively surfing community vibe for those seeking to feel one with the waves.
While in Tamraght, be sure to check out the well-known, Azrac Surf Morocco for fab surfing packets, experienced instruction, yoga retreats, and even a delightful cooking course filled with local Moroccan flavor.
How to Reach These Morocco Surf Areas
There are a few ways to reach the destinations listed above (and below). However if you're looking for the easiest and most direct way than consider booking a shared shuttle from Souk to Surf.
The routes available include;
Marrakech to Essaouira
Marrakech to Taghazout/Tamraght/Agadir
Essaouira to Imsouane
Imsaouane to Taghazout/Tamraght/Agadir
Essaouira to Taghazout/Tamraght/Agadir
as well as the reverse of all these routes. The best part is it's a really competitive price!
If you want to explore other options you can also book a private driver, a grand taxi, or consider using the CTM or Supratour buses.
Banana Beach
Perfect for beginners with mellow right and left waves and with a spectacular view of one of the King's palaces and grounds, this spot is named for the right hand 'ride' that curves in the shape of a banana.
Dracula
This dauntingly-named spot is one for the experienced surfer as the swell takes its name from the rocks beneath the surface of the water that resemble pointy teeth. Talk about an adventure with strong rip tides and rocky terrain and a tricky paddle in and out! Dracula can be found 40 km north of Agadir.
Mirleft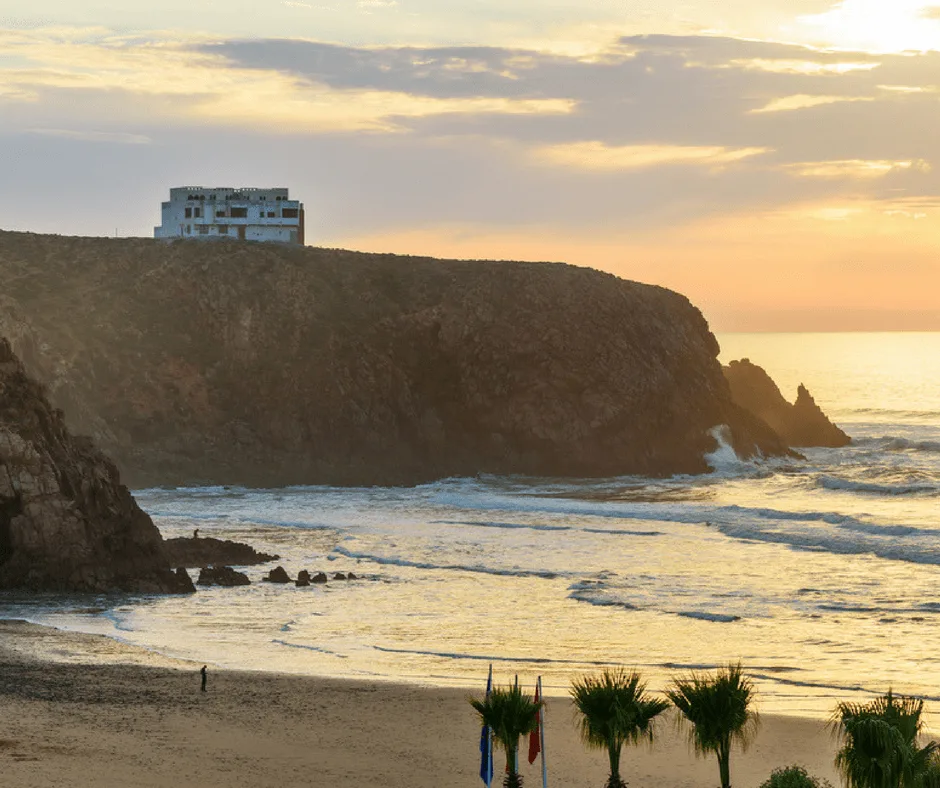 This secluded beach destination, about 2.5 hours south of Agadir, is only accessible by car or taxi. However, the beaches are not crowded and this means more room for you to find that perfect wave. Mirleft is certainly for those seeking a surfing destination that is undeveloped and untouched by tourism.
Sidi Ifni
Close to Mirleft, you will find the often-deserted beach of Sidi Ifni. Most of the breaks are only accessible by car or boat, so do your research before you go. Big waves, a long, open shoreline and wide, open beach will greet you. Some say that Sidi Ifni is the ideal spot for beginners. Surf school?
Dakhla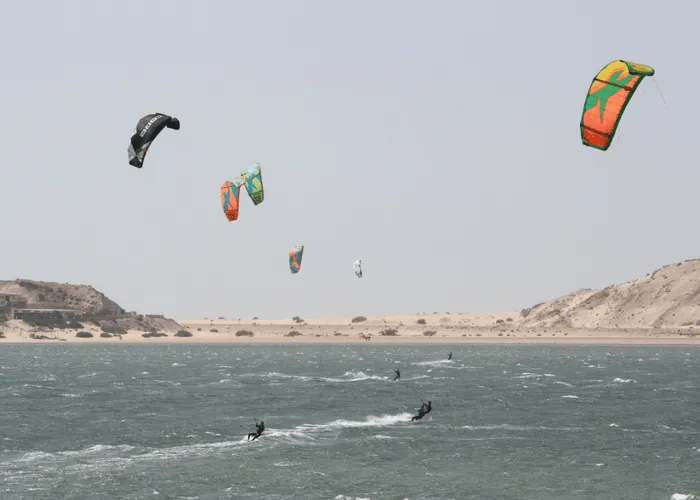 Dakhla is a unique spot all the way down the southern coast, jutting out from the Sahara Desert to the Atlantic Ocean. Although it's in the disputed territory of the Western Sahara, it's possibly a must-do for surfing enthusiasts. Dhakla is an utterly fascinating spot; where one of the greatest deserts meets one of the greatest oceans. Fly into the Dakhla airport is easily done from Casablanca and Agadir on Royal Air Maroc.
Safi
Driving north from Essaouira on the rugged Atlantic Coast in Central Morocco, just under three hours from Casablanca, you will find this world-renowned surfing destination for expert wave riders.
Pros come to surf here for the waves that can surge over 5 meters high. Catch 'the Garden' wave, if you know your stuff; some of the best global (male and female!) surfers have ridden this 'tube' for up to 15 seconds long!
The strong currents, tricky waves and rocky terrain make Safi a great destination for the experienced, adventurous surfer. There are several surf shops and surf camps close to the beach.
Bonus fact: Safi is well-known as a mecca for colorful pottery!
Central + Northern Atlantic Coast
Although the southern coast of Morocco is teeming with surfing spots, the Northern Coast can be just as reliable, less windy, and sometimes even more consistent wave-wise.
Oualidia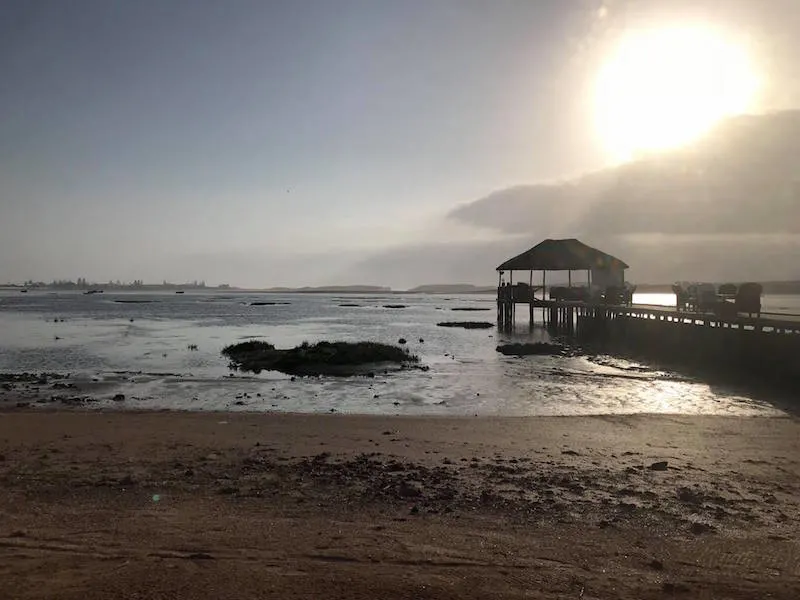 A perfect family spot, Oualidia is a gorgeous protected lagoon that is also a UNESCO World Heritage Site. Well-known for being one of the safest surfing destinations in Morocco as its waves are often describes as 'easy', it is ideal for families.
Oualidia's golden sandy beaches are also perfect for sandcastles! It has a relaxed, charming atmosphere and is well-known for its fresh seafood, particularly world-class oysters.
Check out the Hotel Hippocampe, a family-owned cozy hotel right on the beautiful beach. Next door is a great surfing shop + school that takes out groups of surfers into the protected lagoon.
Dar Bouazza
Just about 45 minutes south of Casablanca, you will find the unobtrusive surfing beach of Dar Bouazza. Not a tourist spot, this destination is for those who gravitate toward solitude and peaceful calm and know how to navigate the waves alone.
Oued Cherrat
Oued Cherrat is another quiet oasis for surfers, just about 30 minute's drive south of Rabat. Because most people seeking surf tend to go south, this area can be a lovely respite from the tourist buzz.
Bouznika
Just about 25 minutes south of Rabat is the quiet beach town of Bouznika. The rocky beach has a whimsically colorful little surf shack called the Eden Island Surf Club, where you can take lessons. Eden Island Beach Club is right next door.
Rabat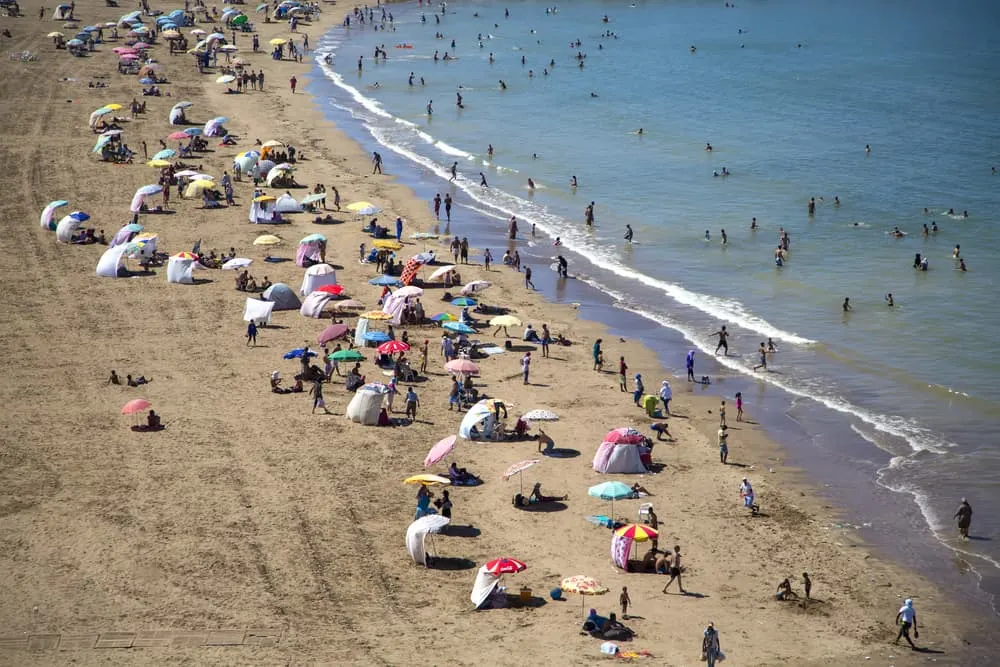 The administrative capital of Morocco has some great winter surfing with a Moroccan flair, and prices are very reasonable. The Oudeyas is a fab spot for winter surfing near the jetties, located just on the side of the old kasbah, or city fort, along the water. You can find several surf shacks along the beach, albeit rustic-however, this is also part of their charm!
Note: Rabat also has a Decathlon store; a mecca for outdoor sports, including surfing gear. Its prices are extremely reasonable. There are several other Decathlon stores scattered throughout Morocco including Agadir, Casablanca, Mohammedia, Marrakech, Kenitra, and Tangier.
Medihya
Located close to the town of Kenitra, just 30 km north of the capital city of Rabat, you will find this unlikely, rustic surfing spot for experts. Sitting on the edge of an estuary, intense surfing here is best during the winter around low-tide.
Plage Des Nations
This un-crowded beach is an unassuming spot for surfing enthusiasts is located about 45 minutes north of Rabat on the road to Kenitra. It has fairly consistent surf and beach breaks, but the rip currents are strong so it's likely best for expert surfers.
Moulay Bousselham
Moulay Bousselham is a hidden gem of a surfing spot, located 1.5 hours north of Rabat on the Atlantic Coast. Summers can be a little crowded with locals enjoying the sun, but in the winter, this spot is all but empty and the waves are fabulous for surfing. You can find dirt-cheap accommodation or higher-end (check out Vila Bea; they have lovely beachfront views and a fabulous pool). Plus fresh, local seafood is bountiful.
Asilah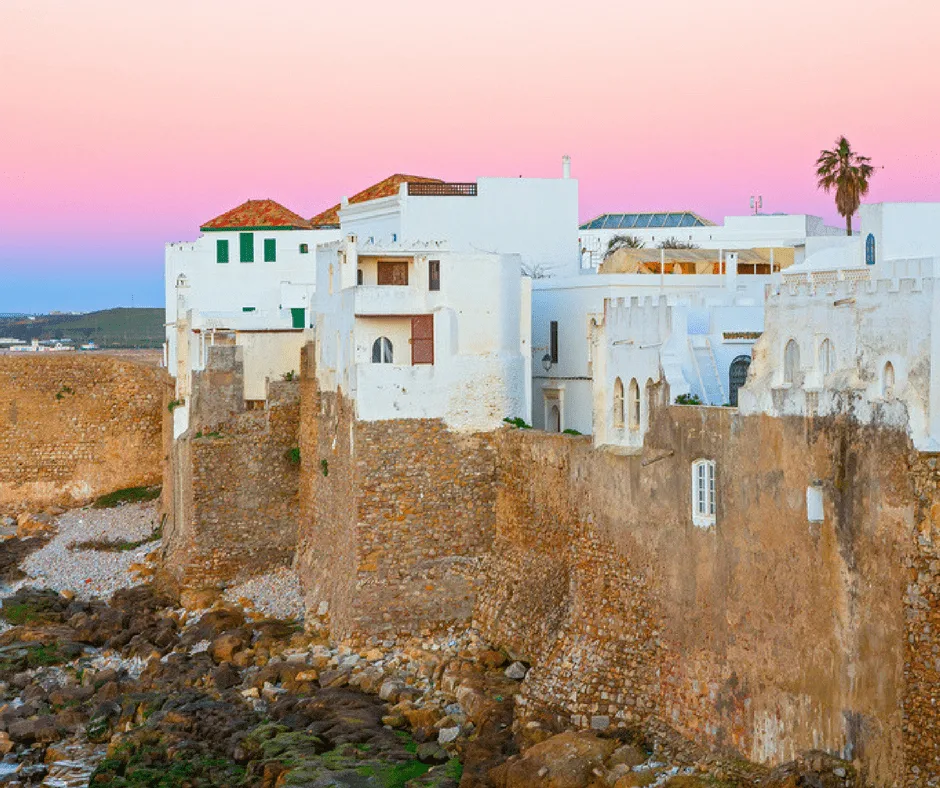 Asilah, a lovely little artsy town about two and a half hours north of Rabat also has a couple beaches, albeit not touristy, for surf-seekers. Briech and Paradise beaches are likely the favorites, although much more under-developed than the touristy beach spots in southern Morocco.
There is no doubt that surfing fans will find their perfect spot amongst these fabulous beach choices all over mystical Morocco.
Check out these other vacation guides as well: