Casablanca is always recognized by name for being the setting of the famed film of the same name. However, the city often inspires feelings of hesitation, skepticism, and a little fear among tourists and Moroccans alike.
It has a reputation of being dangerous, stressful, overwhelming in size, and confusing. Like most large international cities, it is, of course, some of those things. And yet it is also so much more than that. So if you're looking for things to do in Casablanca you're in the right place.
Casablanca has been undergoing a change. It moves forward into the future, driven by its citizens, the Casawi, who are generally proud of their city and often have an expansive, international worldview. The downtown is in continuous revival, with buildings being renovated, more pedestrian walkways, and better lighting at night. There is a very cosmopolitan vibe in this city that is the business and economic capital of Morocco.
At once rough around the edges and full of flash and glamour, Casablanca is a place of extremes in social culture. There is a very wealthy, Western-minded, well-traveled Moroccan population in this city, concentrated in the Quartier Californie, just a short cab ride away from a large sprawling shantytown/black market souk, Derb Ghallef.
There are people delivering produce or cleaning up garbage from horse-drawn flatbed trailers as brand new BMWs, Ferraris and Mercedes cars cruise by, blasting hip hop music in cacophony with the chebbi music coming out of a nearby bright red (signature Casablanca color) petit taxi. It is at once gritty and graceful.
It is definitely worthy of a solid 24-48 hours visit. Choose some sights or some specific activities you want to try before you arrive and let yourself enjoy this interesting city.
Getting to Casablanca and Getting Around Casablanca
The Mohammed V airport is the main point of arrival for international visitors to Casablanca. From the airport it is possible to take a train, bus, or a taxi into the city. You could also rent a car from the airport though be prepared, driving in Casablanca is no joke.
Need a transfer from the airport to a city hotel? You can book them online – here's one to consider.
From the airport, you can take the train to the city center. However, you will need to make a switch. The airport train runs from the airport to the Casa Oasis station. If you are going to the city you will likely need to disembark at Casa Oasis and switch to a different train. There are only two train platforms making it relatively easy but do be aware.
You may also arrive to Casablanca by train, bus, or car from other locations in the country. Almost any trip you take from North to South and back by bus or train will have a connection in Casablanca. The main train station in Casablanca is Casa Voyageurs.
Once in the city, without a car, you have a few options for getting around:
Hailing a petit taxi. These are the red four-door compact cars riding around the city. They can only take 3 people at a time and if there is room, they will pick up people who are not traveling with you if everyone is going in the same direction. They have meters and you should ask the driver to use them.
There is also a tram – The Casablanca Tramway which takes you through the city center to the coast for a reasonable 6dhs per person. Its clean and efficient and offers enjoyable views of the city.
If you'll be visiting for a short time you may be thinking of a day trip from Tangier to Casablanca. Thanks to the high-speed train you can make this journey in just over 2 hours. The train line in Morocco connects Casablanca with many of the major cities making it very easy to access.
When you determine where you want to visit and settle yourself into a neighborhood, it is possible to walk and enjoy the city on foot. The Corniche, the Quartier Ma'arif, and several other destinations will offer beautiful walking opportunities. However, walking between neighborhoods can be time-consuming, physically tiring, and confusing so taxis and the tram are recommended.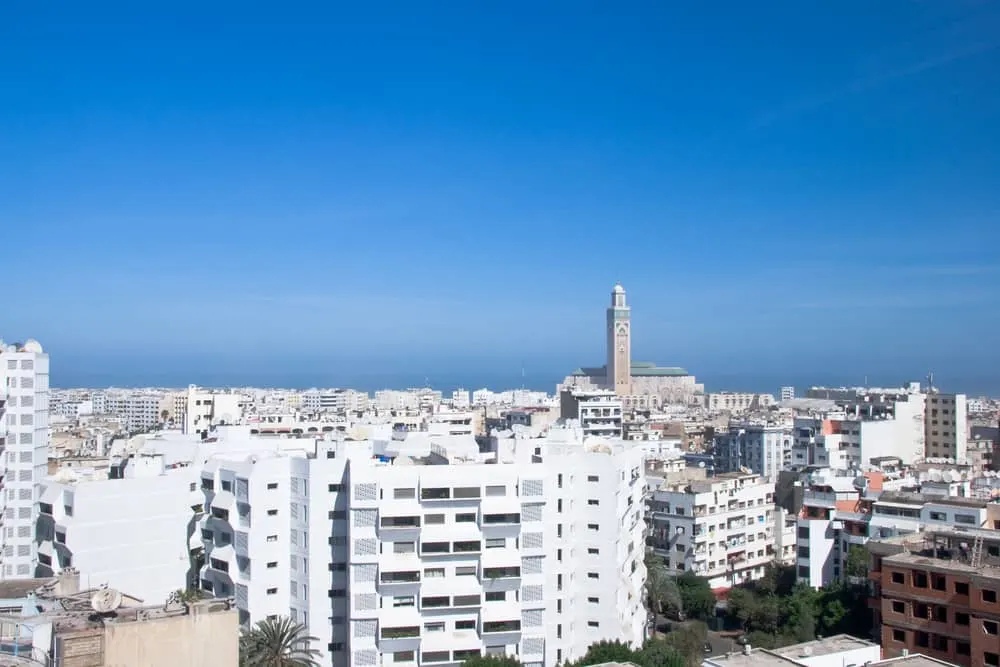 As the largest city in Morocco, there's no shortage of things to do in Casablanca. Whether you're visiting for a day, a week, or you're going to call Casablanca home here are 13+ things to do in Casablanca to keep you busy!
Hungry?
Eating in Casablanca can be an adventure and there's a wide range of different options that you can choose from. There are simple street food carts up to expensive luxury dining and everything in between. I keep a running list of places to consider when you're visiting. Check out some of my suggestions in this post;
Where to Stay in Casablanca
There are a LOT of options on where to stay when you visit Casablanca but knowing what you want can be a challenge. The most popular areas are in central Casablanca and on the ocean. From budget to luxury this list will help you narrow down some ideas on where to rest your head.
But, what about the movie?
I can't tell you how many times people have told me they are going to Casablanca solely because they expect the glamour of the movie Casablanca – and then they're usually disappointed.
Remember – it's a movie! It wasn't even filmed in Morocco and it's over 70 years old.
If you do want to know what Casablanca was like at that time you may want to read my post about the real Casablanca in 1942.
Culture Tips
If you can read French, check out the culture section of TelQuel Maroc. You will find insider information on local music festivals (genres as diverse as Jazz, African beats and the Saharawi traditional trance music, Gnaoua. You will also find listings for art galleries and other events.
You may notice some beautiful murals covering the sides of high rise buildings. These are the signs of a budding more intentional street art movement and here is a website where you can read up on the latest paintings and find them around the city.
Coming in Spring/Summer 2020, A New Arts and Culture Center in the Gauthier neighborhood of Casablanca. It is right in the center of the new town, not far from the US Embassy.
A Final Note
The real charm of Casablanca lies in the diversity, the vastness of its size and the surprises available therein. The Moroccan residents in Casa represent all walks of life; from the high society set to people who migrated from the countryside to the city in search of work. There are communities of Indian and Asian as well as European and American ex-pats.
Casablanca has an art scene, a large yoga community, local musicians and DJs and actors and filmmakers. As a visitor to the city, you will not be able to access all of the city's subtleties. Yet it is worth a try.
Unlike any other city in Morocco, this place will stand out in your memory as a contrast to many of the other places you might see during your stay. Take the time to wander around the neighborhoods you visit. Try some street food, Observe the people and allow yourself to see the unexpected.
Special thanks to Erin Wilson long-time Casablanca lover for helping compile this guide!