Nestled on the Atlantic Coast between Al Jadida and Casablanca, Oualidia is a cozy little fishing town, famous for its seafood and in particular, its oysters. This small village was off the map for many years due to its somewhat isolated location. Today many people both Moroccan and tourists enjoy visiting year-round, but especially in summer due to the beautiful oceanfront.
The first "royal beach" came to be in Oualidia in the 1940's when King Mohamed V built a palace and dubbed it so. It's long been abandoned but many people, especially of the elite class followed the king's lead. Today it's best known for oysters but they really weren't on the radar until the 1950's when Japanese oysters were used and French techniques applied. It's since grown into quite an industry.
While summer is the most popular time of year to visit Oualidia it's beautiful year round. We visited in November and the weather was still lovely, though perhaps a little too cold if ocean swimming is on your radar.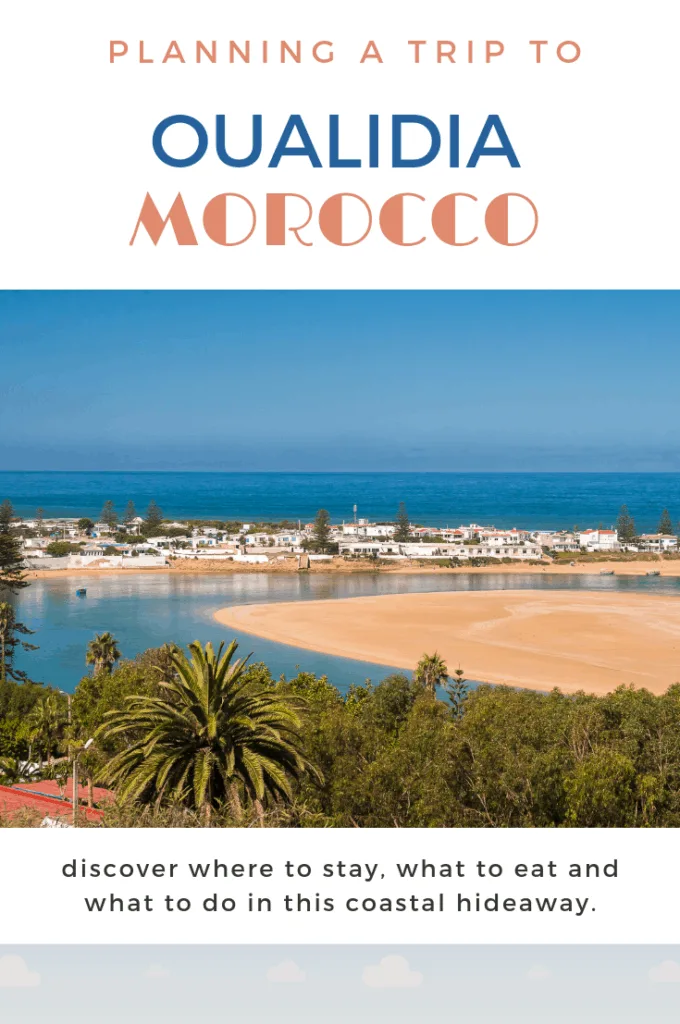 Getting to Oualidia
Oualidia is between the cities of Safi and El Jadida. It is approximately two hours driving from Casablanca and three hours driving from Marrakech. The roads to Oualidia are small two lane roads though partial access exists from the larger toll roads.
Using Public Transportation to Reach Oualidia
There are limited public transportation options available to reach Oualidia.
Trains
No train lines run to Oualidia directly but you can take the train from Casablanca to El Jadida and then transfer to the CTM bus from El Jadida to Oualidia. This route is available once a day.
Buses
The CTM bus line runs from Casablanca to Oualidia once a day and costs 85dh. You also can travel from El Jadida to Oualidia and Essaouira to Oualidia as options. From Marrakech you can reach any of these three destinations and continue on to Oualidia.
Taxi
Grand taxis are available from most cities to reach Oualidia, however the closer your starting point to the two-lane the easier it will be to find a ride. A shared grand taxi is the least expensive option however you will need to wait until the taxi fills up which can be a long time. It's also possible to hire the driver and the full car to take you.
Driver
A private driver might be the best option if you don't want to rent a car (or have access to a car) and don't want to drive yourself. Most hotels and riads can help you arrange a driver for forward transfer. This can be done either with a 4×4 or van OR they also can arrange a private taxi. The price should be discussed and agreed upon before departure.
Getting around Oualidia
The city is small two-lane so it's possible to walk most places. You can also rent a bike or use the petit taxis to get around the city. If you want to go further afield then you'll need to grab a grand taxi.
What to do in Oualidia
You don't come to Oualidia to do things – you come here to relax! If you're after an active holiday two-lane point to this might not be the best stop for you. But if you want to chill out you couldn't have found a better spot.
Weekly Market
If you're in Oualidia on the weekend then it's really worth a trip into town to visit the weekly souk (market). You can't miss it. This is where Moroccans from the village and surrounding areas come to do their weekly shopping. You can wander the stalls selling produce and home goods as well as any and everything else you can imagine. It also has a section where you can find people eating lunch with lots of seafood of course! If you're adventurous it's worth having a meal here.
Surfing and windsurfing
The main area of Oualidia near the city is largely a calm lagoon but if you go a little further afield you will find plenty of surfing and windsurfing.
Birdwatching
In the spring and autumn are the best times to do birdwatching in Oualidia. This is when the migrations happen from Europe to Africa. Birds like flamingos, ergets and storks are just some of the flying creatures you can observe.
Boat Rentals
Boats, kayaks and canoes are available to rent from agencies in town and near the water. The smaller crafts you can take out on your own. If you'd rather a chartered boat for fishing or simply a boat ride these are also available. Rumor is between August and October it's possible to do some whale watching off the coast.
Eating in Oualidia
Seafood, seafood, seafood
This is what Oualidia is known for and why many people come to visit. So it's no surprise that there is a lot of seafood on menus! The city is known for their oyster farms (though personally I think the ones in Dakhla are better) but all types of fish and seafood are available.
L'Araignee Gourmande – A very popular restaurant for seafood you can get a wide variety of seafood at a reasonable rate. They have an extensive menu but make sure to ask for any daily specials depending on what seafood is fresh that day.
Ostrea II – If you're coming to Oualidia for their signature oysters this is where you should go. They do a variety of seafood but oysters are their signature. Keep in mind you can't have oysters year round so double check if this is important to you.

La Plage (at La Sultana) – For a special meal head to La Plage. In addition to fresh caught seafood and fish, the hotel also has its own organic garden where the vegetables are sourced personally two. Dress up and enjoy a sit down gourmet meal – make sure to make reservations ahead of time.
Where to Stay in Oualidia
This wonderful family-friendly hotel is possibly one of the best-kept secrets in Morocco! The Ilane Family has proudly run the Hippocampe (meaning 'seahorse', in French), for over 30 years. Recently under new (still family!) management by Irina and Neil Illane, this gem of a spot has a gorgeous garden, friendly staff, and a warm feel that welcomes families of all ages.
The hotel also offers an array of fun outdoor beach activities such as kayaking, surfing, and more. The hotel pool sits over the beautiful sheltered cove, a UNESCO recognized site. The lovely hotel restaurant, specializing in fresh seafood, is also open for lunch and dinner if you are passing through town.
One of the most luxurious hotels in Oualidia this is where you want to go if you want to be spoiled. The 5 star property has every amenity you could want with fantastic service. Their gorgeous pool overlooks the lagoon; truly the ultimate place to relax. Book in advance, rooms here usually fill up quickly especially in the summer season.

This is a self-catering apartment is simple but just a short walk to the lagoon. You will want to have a vehicle if you're staying here to access areas nearby. You have a kitchenette at your disposal if you'd prefer to cook yourself. If you're looking for an affordable option in Oualidia this is a good choice.
Find this small guest house in the kasbah of Oualidia. The beachfront destination promises great views along with a restaurant or shared kitchen if you prefer to cook for yourself. Free WIFI and breakfast are included with the rate. There are also plenty of outdoor seating areas for when you want to soak up the sun or enjoy an evening drink.
If you truly are looking for a secluded getaway this is where you want to be; but you will need a vehicle to access it. It's one of my favorite stays in all of Morocco. Choose from rooms in the main house or detached bungalows; it's ideal for couples or families traveling. Enjoy walks along the Atlantic cliffs or relax by their pool. To top it off their food is fantastic. We took both breakfast and dinner at their onsite restaurant – it's a set menu so you do need to let them know ahead if you have allergies and if you'll be dining in.
Trips and Tours
Book a day trip from Marrakech to Safi and Oualidia
Two Day trip from Marrakech to Oualidia with an overnight
This tour includes an overnight in a comfortable hotel. If you're not picky about where you stay and want to make this trip from Marrakech it's a good option.