Essaouira is an absolute must for families with children; its lovely setting and relaxed vibe makes it a perfect beach destination for children of all ages. It's also one of the most child-friendly destinations in Morocco. Here are some of our best tips in the area for having fun with kids in enchanting Essaouira. And don't forget your hats and sunblock!
Looking for a relaxed beach tour on horses for families with older kids? Essaouria is the perfect wind-swept spot for a fun horse ride and Zouina Cheval, just a few minutes outside of the town, fits the bill for a fun day or half-day. Request with the Zouina Cheval team to time your ride at sunset and you will be delighted with the gorgeous views. Camel rides also offered Ask for hotel or riad transfer from Essaouira.
Your kids will love this one! Ranch De Diabat is well-known for being an engaging destination for kids. Camel rides are a must and horse/pony rides and beach treks are also an option. Check out spectacular views around Essaouira and your children will be thoroughly amused on their camel ride.
Tours, treks and hikes also offered for those families wanting to discover some of the beautiful nature scenery that the region offers on foot. Fishing half-day tours are also an option. There is a restaurant, a relaxation lounge and a nomadic tent at the ranch to enjoy a Moroccan mint tea or cold drink
before or after your adventure.
The ranch now offers summer camp sessions for children and adolescents. The camp focuses on learning about and appreciating nature, working with animals, and an array of fun, interactive activities. And if you want an all-in-one experience, ask about Ranch De Diabat's camel trek, traditional Moroccan dinner and bivouac tent evening where you will spend a night out under the beautiful stars.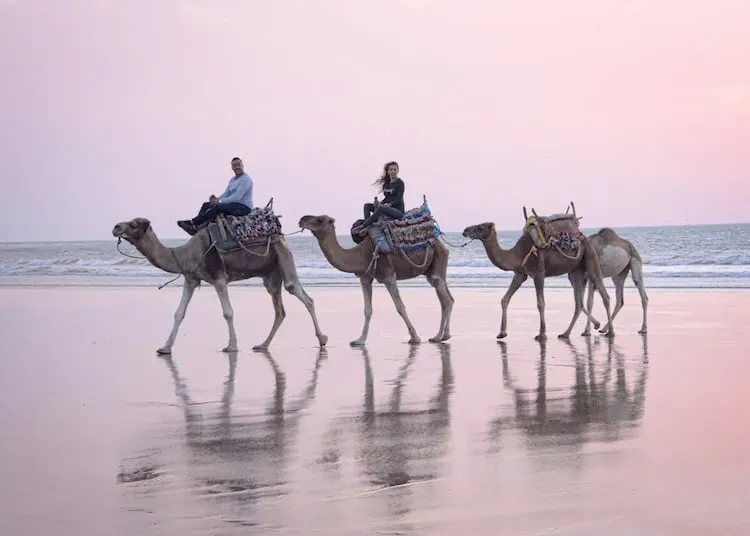 The Beach
Although it's almost always windy, Essaouria beach and promenade are a fabulously relaxed spot for families-there are a ton of outdoor beach activities from which to choose-from surfing, to kite surfing and playgrounds, children will have a beachy blast. And if all else fails, there is enough sand for plenty of sand castles so pack a picnic lunch and a blanket and being your day of beach fun! Bring a kite and your children will thoroughly enjoy the windy fun.
Perhaps the best beach in the area is Plage Tagharte, in Essaouria proper; this locale is rustic and windswept but utterly charming and fabulously perfect for Essaouira.
Sidi Mohamed Ben Abdulah Museum
This former 19th century mansion focuses on the founder of the town of Essaouira. The museum pays homage to the city's rich history and Berber culture. It's a nice, quiet change for families needing a break from the busy feel of the medina. The mansion is a lovely structure in a picturesque setting.
Hotel Ocean Vagabond
We've shared positive vibes about this hotel before and it's worth mentioning here again as this place is such a kid-friendly location.
Hotel Océan Vagabond is a good bet for a fun-filled family vacation in Essaouira. They are experts in beach activities-the array of choices include surfing, kite surfing, wind surfing, quad/buggy rental and tours, and beach excursions to the many local beaches. The hotel offers boat trips around the island of Mogador, 3 km off the coast of Essaouira.
Hotel Océan Vagabond also has one of the few large-sized heated pools in the area, making it a must-stay location for kids. Interconnecting rooms offered for families.
Essaouira is well-known for its wild and windy beaches, ideal for surfing. Surf Essaouira offers packages that include equipment, warm-up, a two-hour surf lesson with an experienced and friendly surf instructor, free surfing time and a tasty lunch on the beach.
It is a wonderful environment for families. If you want a one-stop-shop, Surf Essaouira also offers camel rides, horse rides and quad riding. The company also has yoga classes and workshops available. Check with their staff to arrange hotel or riad transfer.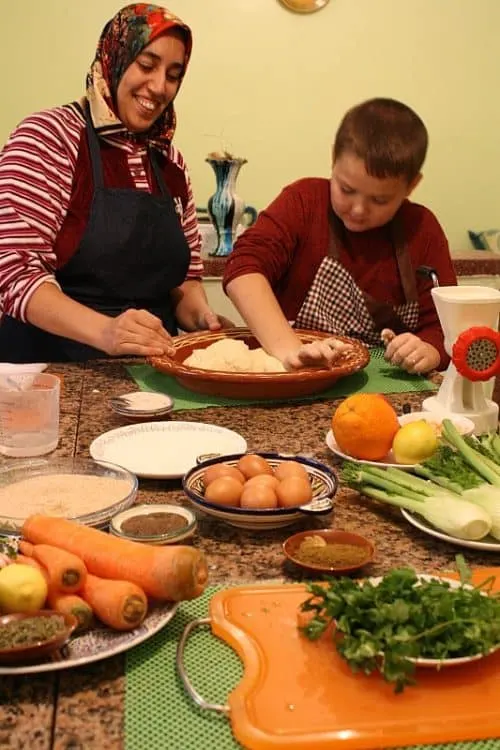 This fabulous family-owned business is in the cozy home of Khadija and Hussein, where you will be welcomed for one of the best cooking classes in Essaouira.
With a passion for fresh foods and Moroccan flavors, Khadija will patiently and interactively show your family how to fuse fragrant spices and delicious flavors into dishes. Kids are welcome to join in the fun of preparation and cooking. Once you have prepared your meal, your family will be invited to sit down and enjoy the fruits of your labor.
If you and your family are looking for a uniquely creative, interactive workshop in Essaouira, check out the Yellow Workshop. Hassan, expert wood worker and musician, is a native of Essaouira. Hassan has been a at the realm of this fabulous endeavor for over 20 years.
In addition, he's a proud expert in making beautifully-crafted traditional Moroccan gnaoua instruments. Hassan's wife, Sanne, enthusiastically and patiently runs the paper and painting collage workshops. Arrangements can be made for older children can be dropped off for a few hours while you have some free time in the medina! Hassan speaks English.
Histoire Des Filles
A cute concept shop in the medina for ladies clothes and accessories, this adorable store has a room in the back where kids can play while you shop. Rue Mohamed Ben Masoud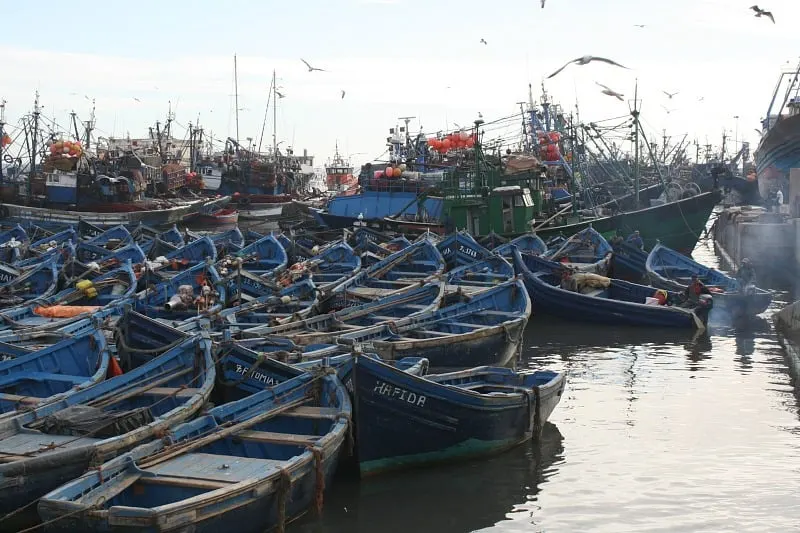 The Fishing Port
This is the place for your iconic family photo! The old blue boats that scatter throughout the harbor are a fun climbing spot for kids. It's also a great photo op for parents!
Essaouira is a town that depends on fishing. The port has not changed much over the years, retaining its authentic, gritty-yet-charming feel.
Skala Ramparts
Kids of all ages (and parents!) will enjoy roaming around the ramparts. Your kids can explore and run around these fascinatingly ancient defense walls that used to guard a castle or kasbah (fort) from the mid-1700's. The massive Portuguese canons are still intact and this beautiful setting provide the best seaside views for ocean gazing as well as picturesque photos.
Don't miss sunset here, either, as it's a beauty, particularly with the waves crashing below.
Fortress Tower Borj El Barmil
This cool site, exposed from the Atlantic Ocean at low tide, is a unique spot at the south end of Tagharte Beach. If your kids are walking enthusiasts, they will enjoy the 3 km walk from the main gate of the medina, Bab Sbaa.
If they are little, pop them in the stroller and start strolling! This is a unique spot that highlights some of the incredibly rich history of Essaouria; the ruined watchtower from a castle built in the 1700's. The ruins rest on the remains of a much more ancient fortress dating back to Phoenician times.
Henna Art at Au Petit Bonhomme La Chance
Au Petit Bonhomme La Chance is your one-stop shop for kids to get reliable, non-toxic henna art and for parents to buy spices and argan products. Lovely Habiba is the proud owner of this tiny space.
Address: 30 Rue Laalouj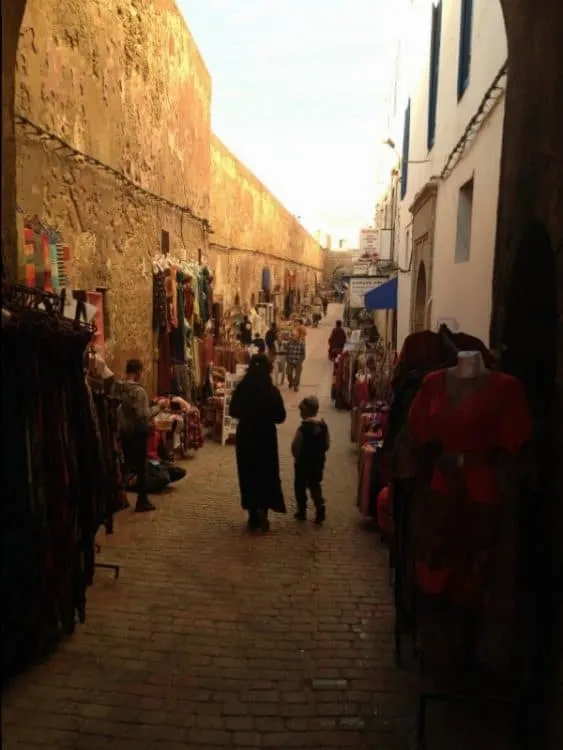 The Medina
Grab a nutella crêpe for your little ones (easily found in the medina; the ancient walled city) and pop them in the stroller and start walking! Essaouira is known for its beautiful handicrafts, particularly its wooden boxes. The medina of Essaouira is famous for its relaxed, colorful atmosphere; there's something for everyone along the way.
Gnaoua World Music Festival
'Gnaoua' is the traditional Moroccan music and dance that is deeply rooted in African Islamic rhythm and heritage. This global cultural festival has music from all over the globe for three days. The fun event, with an array of free concerts, is typically held in late June in Essaouira. Kids and families will enjoy the festive environment though it may be harder with younger children as its quite crowded.
Where to Eat in Essaouira with Kids
Fun central for kids and families! Océan Vagabond Beach Restaurant has a trampoline, a fun setting and a kid's menu-what more could you want? There is even a seesaw in the garden as well as camel and
pony rides. And parents can chill in comfy day beds.
Patisserie Chez Driss
Great prices, comfy chairs, and delicious pastries. And for tired parents, Patisserie Chez Driss has good coffee and you'll have plenty of choice for something sweet.
Address: 10, Rue Al Hajjali
Taraa Cafe
Taraa Café is a fab spot for a quick family lunch of Moroccan-European fusion food. Prices are reasonable and the quality of the cuisine is excellent. The café sits in an ideal spot, nestled at the of the medina; perfect for people-watching and relaxing with your family. Often you can see street musicians and artists while you eat.
Address: Rue Boutouil, Essaouira
This lovely restaurant is well-known for its authentic Italian fare and most certainly its pizzas, yum. Staff is super friendly and if your kids are older, stay for the live music.
Address: Rue Charif El Idrissi behind the Oilibya Gas Station
Chez Sam
For the best family-friendly seafood in a cozy atmosphere, head to Chez Sam. Be warned, though, as Chez Sam gets very crowded on weekends and into the evenings, so if you are going with children, we advise you to get there right when they open. Reservations taken.
Address: Rue El Aylachi
One of the best things about this lunch spot is they offer a lunch and pool deal. That's right come for lunch and enjoy swimming too! There's also a kids play area as well as games. The restaurant is located outside of the medina proper so you'll need transportation. If you don't have our own car a grand taxi can be booked to take you and return at your request. Reservations highly recommended.
Where to Stay in Essaouira with Kids
I've written a full post on this to help give you some guidance and suggestions on places that are good for families!
Where to Stay in Essaouira with Kids
If you want some more general advice to help plan your visit to Essaouira you'll also want to read our destination guide to the city.
Everything you need to know about Essaouira