Morocco is a great destination for families with teens. There is so much to see in this fascinating country. In this one-week central Morocco itinerary, you will experience some of the best of Morocco.
Before traveling, make sure to teach your teens about the interesting history and culture of Morocco, and show them some photos of things you will be seeing. Reading a book that is set in Morocco (or listening to an audiobook) can also be fun. Getting kids involved in planning this Morocco itinerary will make the trip more meaningful.
You may want to see Gladiator, Lawrence of Arabia, and some of the other famous movies filmed in Morocco before traveling, or download them for the flight over. (Psst – I've got posts on movies filmed in Morocco and great books set in or about Morocco).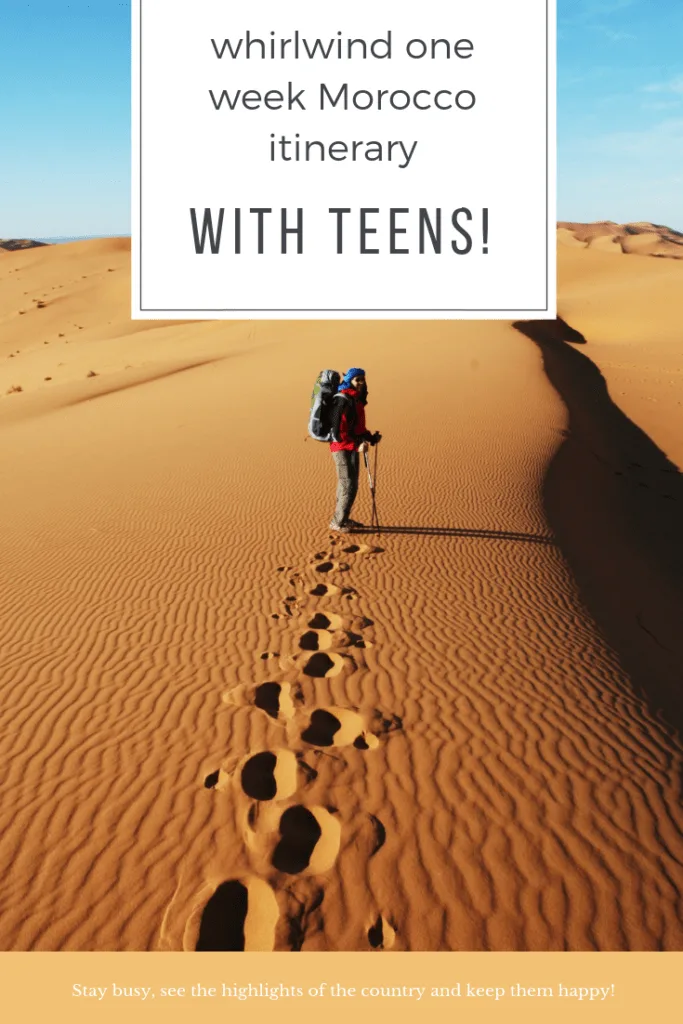 DAY 1 ARRIVAL IN MARRAKECH
Arrange an airport pick up in advance through your riad. It's so nice to have someone waiting for you (with your name on a sign), after you get through customs. Not to mention finding your riad in the labyrinth of Marrakech can be a feat in and of itself. It's worth it to have a little extra help on arrival to get started on the right foot.
Arrive at your riad and get settled in. Talk to your hosts, get a map of the Medina and ask any questions you may have. Our family had a great stay in two affordable rooms at the beautiful and conveniently located Riad Alnadine. There are many great options, you may want to make sure to choose a riad with a "pool" (a must for traveling with teens!) depending on the time of year you're traveling. Keep in mind most riads won't have full size pools but plunge pools.

Set out for a walk around the Medina. Make sure to have an offline map on your phones, you will be walking through an ancient maze! Give yourself more time than you think to find your way back.

Upon your return, cool off and relax in your riad's pool. Enjoy a Moroccan dinner on the rooftop for your first night (book in advance.) If you stay at Riad Alnadine, you will be accompanied by their pet turtles!
*Once you get back to your riad, ask that your teens stay there with you and not wander out alone. As with many big cities around the world, it is best to stick together as a family.
Amanda's Tip: Staying in a riad is a great option but make sure to check ahead to see the ages the riad allows. Many don't allow children under 12 and some don't allow children under 18. It's best to make sure before you arrive so there are no surprises and you're not stuck without a place to stay.
DAY 2 MARRAKECH
After having a typical Moroccan breakfast at your riad, walk to the 19th century Bahia Palace for a tour (on your own or with a guide, depending on your teens' interest.)
An optional activity is to take a stroll around the Jardin Majorelle, by Yves Saint Laurent. This is nice but not a must see (your teens may find it slightly boring.) Take a taxi there and back.

In the Medina, sit and take a rest at a rooftop Moroccan restaurant. Try some Moroccan specialties followed by the typical mint tea (the daily mint tea ritual was a teen favorite!)

Walk around the souks and visit the market at Jmaa el-Fnaa. Take a one hour horse and carriage ride around Marrakech.

*Negotiate the amount of time and price (show the number on your phone, so there is no miscommunication) before you and your family get on the carriage.

Walk back through the souks to pick up souvenirs. Some things to shop for: rugs, lanterns, argan oil, and spices. (Check out Amanda's Morocco souvenir guide for more ideas.

While your teens take some downtime at the hotel, get a spa treatment at Heritage Spa, or take your teens with you and visit a rustic "hammam" with the locals. (They are separated by gender.)

Take a food tour!

Marrakech Food Tours loves having guests of all ages and it's a fun, interactive experience for teens.
Get ready for excitement and craziness! Stroll back over to the famous Jemaa el-Fnaa's for the nightly gathering of snake charmers (yes, cobras, though at dusk they are put away), storytellers, acrobats, monkeys, music, and more! This is a must-see in Marrakech but can be overwhelming, even for very experienced travelers. Stay close together, and prep your teens. When someone is trying to sell you something, politely look them in the eyes, and say a firm "No, thank you." We did this, and one of my sons still ended up with a large monkey sitting on his hip, grasping onto him. We paid the man and gave him back his monkey.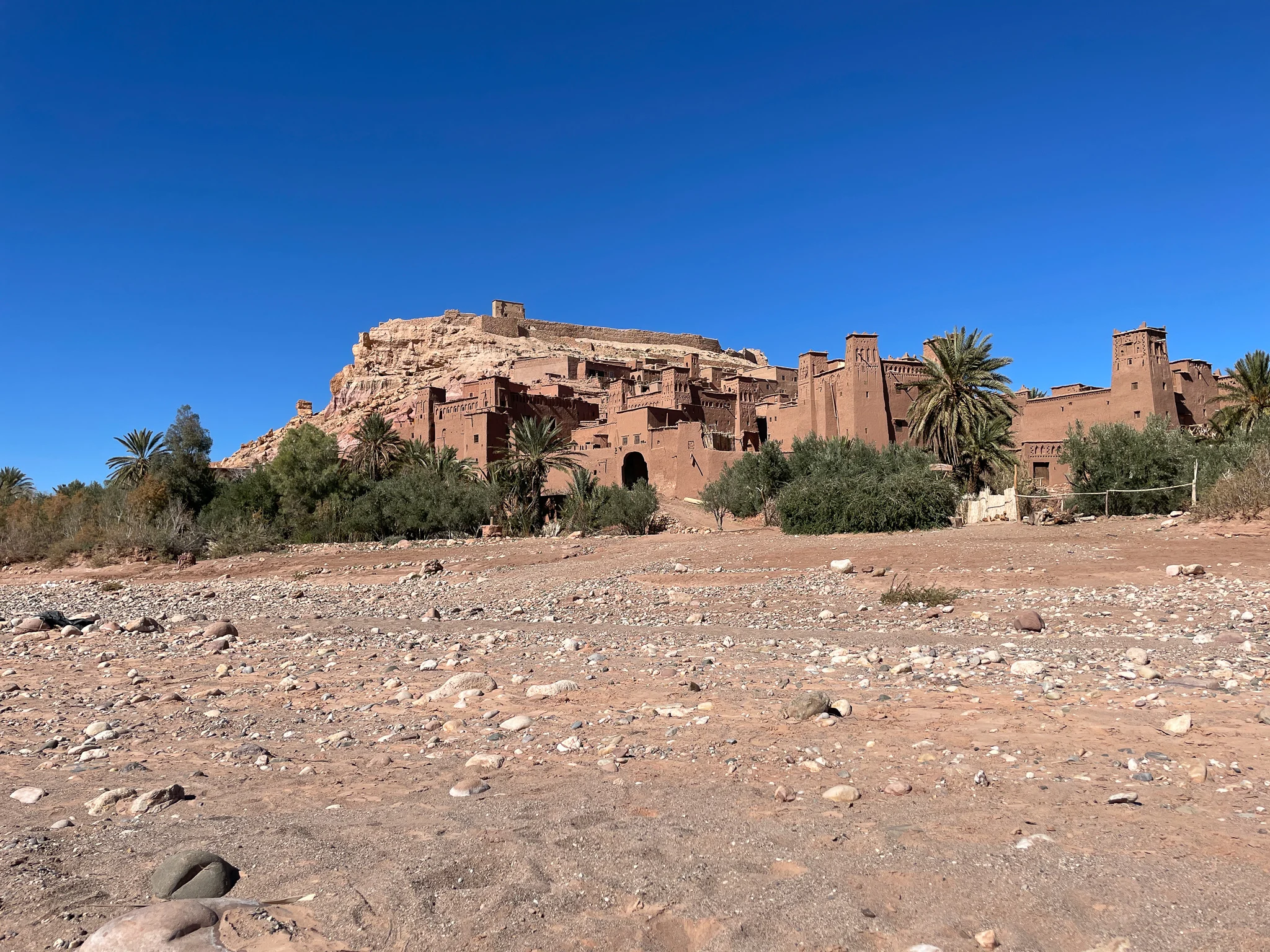 DAY 3 MARRAKECH–AIT BEN HADDOU-OUARZAZATE–DADES VALLEY
Have an early breakfast at you riad and let your three day private tour begin! Your guide will drive you towards Ouarzazate through the High Atlas Mountains and you will see your first small mud Berber villages.

Visit the spectacular UNESCO World Heritage Site of Ait Ben Haddou, the largest Kasbah in Morocco. This is a filming site of the series, Game of Thrones, as well as many famous movies, like Gladiator!

Continue on to Ouarzazate, "The Gate to the Desert." It now called "The Hollywood of Africa," and you can visit one of the filming studios.

Drive along the Road of the thousand Kasbahs into the Dades Valley, landing in the middle of the Dades Gorge. Spend the night here and enjoy an outdoor dinner at your guesthouse. We had a great stay in a two bedroom family suite at Chez Pierre.
DAY 4 DADES VALLEY–TODRA GORGE–MERZOUGA DESERT-CAMEL TREK
After breakfast, the tour continues through the valley to see "the monkey toes," an interesting rock formation. See panoramic views of old Berber villages overlooking the valley.

Take a walk and see rock climbers scaling a 300 meter high red cliff! This area is one of the best rock climbing areas in the country.
Drive a bit further and get ready for your desert adventure. Choose to wear a Berber style-turban (you will need to do some shopping!) and get ready for some laughs as you board your camels! Take the incredible ride into the stunning sea of sand dunes in the Erg-Chebbi or Erg Chigaga. Once you arrive at highest sand dunes in Morocco your camel will rest and you will be at your destination- a nomadic Berber encampment.
Check out your tents, then grab the sandboard, hike up the dunes and watch your teens take the ride of their lives' down! Sit in the quiet together, looking out over the unbelievable Sahara Desert, and see the best sunset ever. Have dinner while listening to the Berber drums. You will not believe how many stars fill the sky! Take your mattress outside of the tent and fall asleep gazing.
Amanda's Tip: Finding a good Sahara excursion company can be difficult I highly recommend ATTA.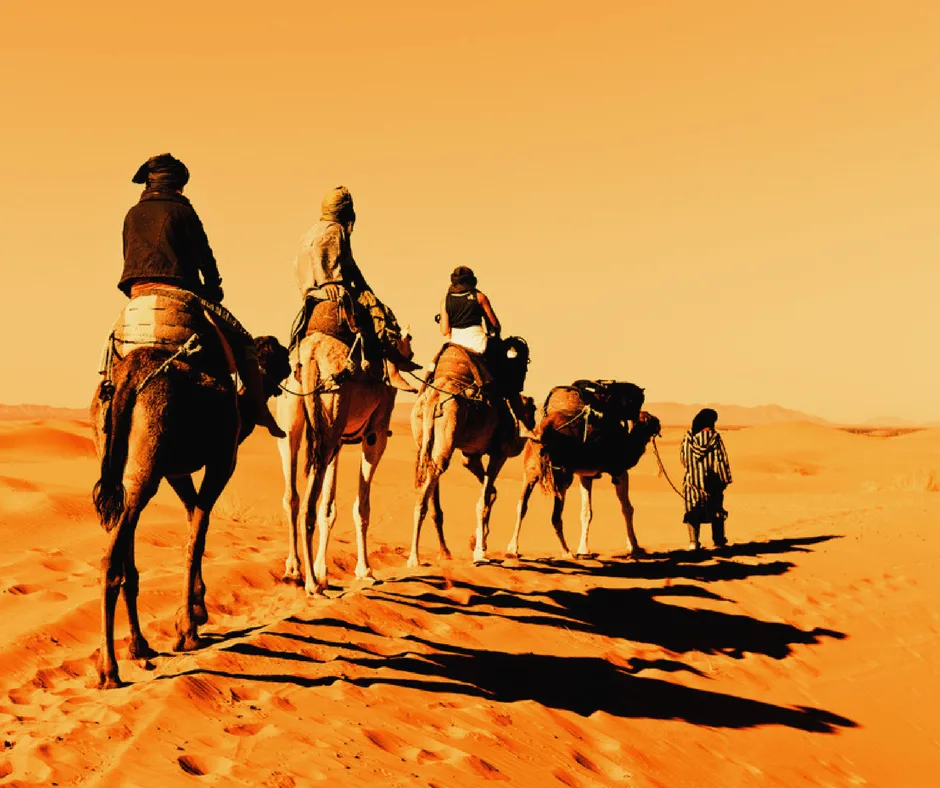 DAY 5 MERZOUGA DESERT-ZIZ VALLEY–CEDAR FOREST–FES
There is no sleeping in while in the Sahara Desert! Hike back up to the high point of a dune and watch a breathtaking sunrise. Feel free to take the board so you can ride back down. Get back on your camels for a leisurely ride back to Merzouga where you will have breakfast and possibly shower (some camps have these facilities on-site).
Leave for your drive north to Fes. You will see more incredible landscapes including an oasis and volcanic rock. Stop by a local farmers market. Enjoy a traditional Berber barbecue lunch with the locals, followed by, of course, a refreshing glass of mint tea!

Stop in the Middle Atlas Mountains to see one of the highlights of your trip- the Barbary macaque (and maybe even some babies) up close in the cedar forest! They will take fruit from your hand. You may find it hard to leave, as we did. Getting closer to Fez, see Ifrane, known as the Switzerland of Morocco.

Arrive at Fez in the late afternoon or evening. Check into your riad in the medina. Our family had a fantastic stay in luxury at

Riad Dar Bensouda. Have dinner at the riad (make reservations) because you will be tired and I don't recommend taking on the advanced maze of the medina until morning.
Amanda's Tip: While the Barbary macaques are cute, it's best to have as little contact with them as possible. Admire from a distance. They are a threatened species in Morocco and many poachers kill or kidnap them to sell or use as props. By having them not fear humans it makes it even easier for poachers to harm them.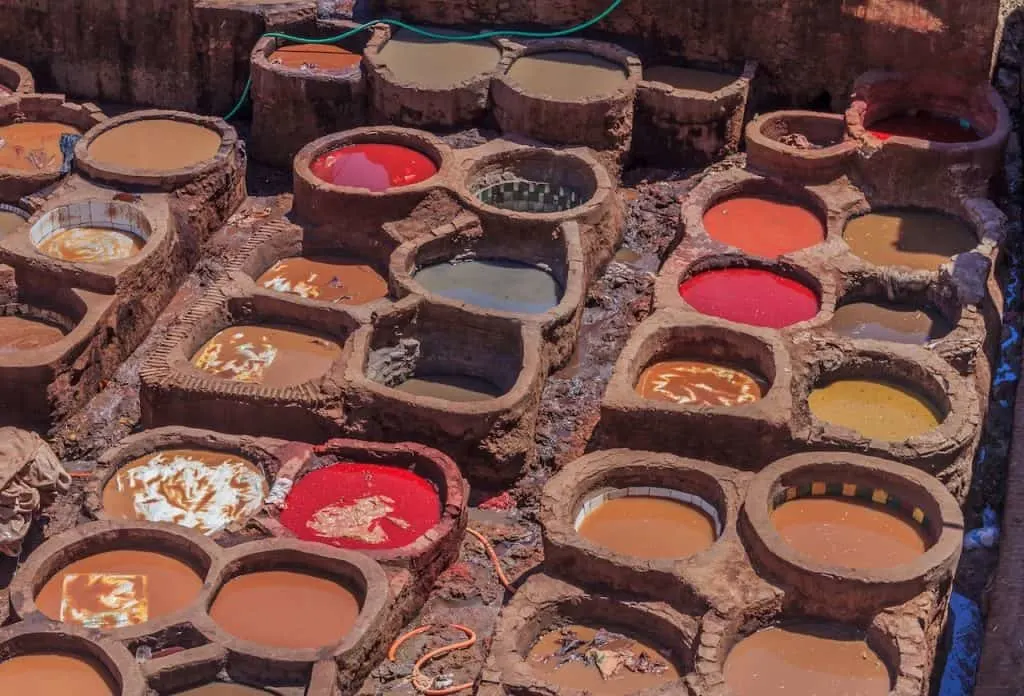 DAY 6 FES
Don't miss the opportunity to have coffee on the rooftop, for a fantastic panoramic view in a peaceful place. Have breakfast at the riad before your walk.

Walk the Medina with an offline map (which may or may not work) and a paper map. If your teens are up for it, arrange for a tour guide through your riad. See The famous tanning souks (hold your breath!), and shop for leather, pottery, hammered metal works and spices like saffron, turmeric, cumin, and ras al hanout. Or just stroll the ancient streets and look- shopping can be overwhelming in Morocco!

You may be interested in visiting Univers des Herbes, run by trained pharmacists who will make you a custom blend from dozens of pure powders and tinctures. We had fun experience learning from a "medicine man."

Your teens may need some downtime today- relax and enjoy a hammam, scrub, and massage at Dar Bensouda or another reputable spa.

There are many delicious Moroccan restaurants in Fez.
*If you are eating in the Medina, ask your riad for an escort or to call the restaurant to ask if they can send one to get you (and return you to your hotel.) It really is difficult to find your way in Fez, and getting lost or separated from each other, can be stressful.
Amanda's Tip: If you hire a guide in any city, Fez is the place to do it. The city is incredibly confusing and you will learn and see so much more with the aid of a guide. Your riad can arrange for a licensed guide to accompany you.
DAY 7 FES
Get up early to enjoy coffee
Arrange for transportation (through your riad) to the Fez Airport.
Say goodbye to Morocco!
For a Portugal and Morocco Itinerary, depart from Fez, fly to Faro, and follow Whitney's Portugal Itinerary Here
Additional Moroccan Itineraries
Discovering the Agadir to Essaouira Coastline
Spain and Morocco Itinerary – 10 Days of Tours, Trips & Tips
A 10 Day Northern Morocco Itinerary of Smaller Cities
Thinking about a trip with teens and seeking a great Morocco itinerary? I've got good news for you! I invited Whitney from Designs for Travel to share the itinerary she and her family did when they visited. This itinerary hits the highlights of the country and will give you and your family a taste of Morocco if you have just a week. I've added in a few additional tidbits and advice from my own experience as a mom of teens to give you tons of information to have the best trip!