You've got 10 days to spare and you're looking to plan an unforgettable trip to the Mediterranean. The only thing is… you can't decide whether to do Spain or Morocco. Well, here's a suggestion – why not plan a Spain and Morocco itinerary?
You can experience a magical 10 days and do the essential best of both worlds, so to speak. Here's a great suggested itinerary for just that – how to spend 10 days on a Spain and Morocco itinerary.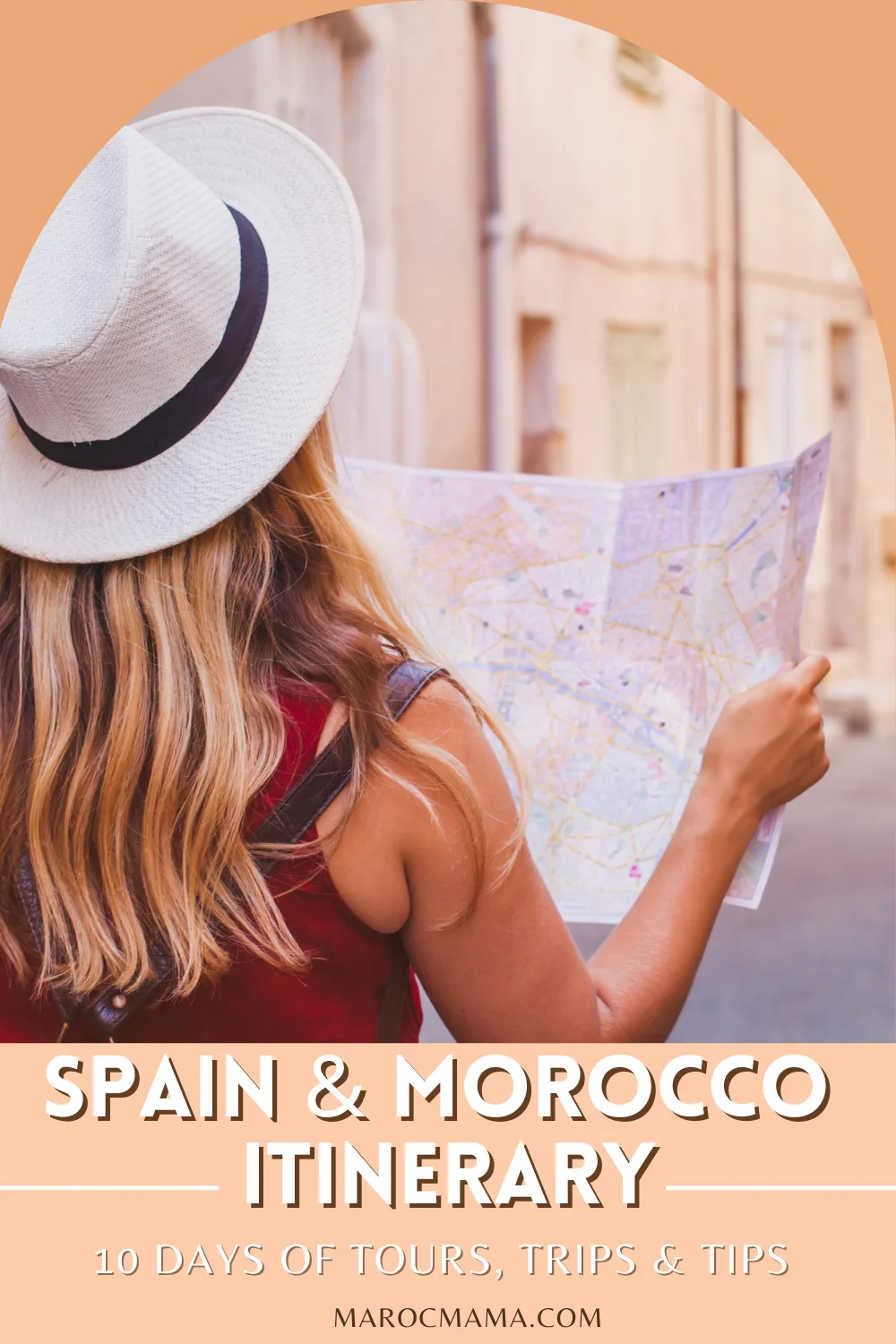 Day 1: Madrid
Welcome to the capital. There's a whole lot of things to do in Madrid, but let's try to experience these three essential attractions as a kick-off to your Spain and Morocco tours and sites.
The Plaza Mayor
This beautiful huge plaza was originally called the Plaza del Arrabal when it was completed in 1619. You can find bars, restaurants, and shops all around the square. But even the architecture on its own is worth a visit.
The Royal Palace of Madrid
The official residence of the Spanish Royal family is used as the site for major ceremonies today. Within the palace, you can visit the Royal Armoury, which has weapons and artifacts from as far back as the 1200s.
There's also an art gallery, which has many revered masterpieces.
Try to plan your visit here for a Wednesday or Saturday. You can see a changing of the guard, which is a wonderful photo op for your holiday album.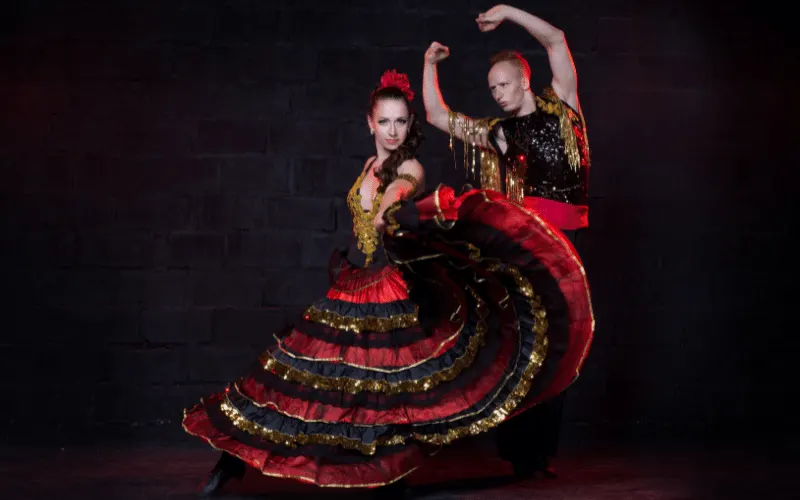 Centro de Arte Reina Sofia
If you're an art lover, this museum named after Queen Sofia has several major Spanish 20th Century pieces to admire, including works by Picasso, Gris, and others.
Where to Stay
Madrid has no shortage of hotels and other accommodation options. In the city center, The Regina is right beside the Puerta del Sol, one of the city's most popular public squares.
If you're up for something more regal, try the Only YOU Boutique Hotel Madrid. It's actually in a restored 19th-century palace!
You can take the train from Madrid to Seville early in the morning in just 2.5 hours. There are also regular flights available.
Day 2: Seville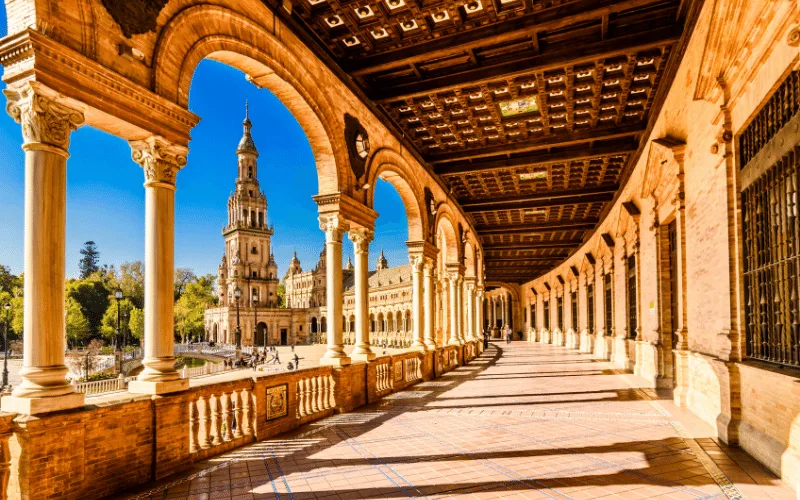 Next stop Sevilla, the old roman city. Hop a high-speed train from Madrid, and you'll be ready to explore Seville in under three hours.
Plaza de España
Another huge plaza to walk around, taking in the stores, snacks, and feeling of the 50 000 m² of the public square. What makes this plaza even more endearing is the surrounding canals, upon which you can take a romantic boat ride.
Seville Cathedral
The Santa Maria de la Sede's claim to fame is that it may be the largest Gothic cathedral in the world. It contains some 80 chapels across more than 11 500 m² of space, combined with an impressive height, it might make it technically larger than even St Peter's in Roma.
Royal Alcazar
Another amazing building with a special place in current world history. The Royal Alcazar is reputedly the oldest existing palace in the world still in use. Throughout its more than nine centuries in existence, it has taken on lots of architectural influences ranging from the Islamic, Mujedar, Gothic, Baroque, and beyond.
Take in a Flamenco Show
Flamenco refers to the particular music and dance of the southern Andalusian Roma people, influenced by Moor and Jewish cultures. The result is this emphatically Spanish artform. You can't visit Spain without seeing a real flamenco performance. It's a treasured and unique part of Spanish culture and it might as well be experienced in the capital.
You could opt to see much of the city's highlights with a fun bike tour. It's best to do this with a guide, as they can illuminate many of the small interesting details of various buildings and monuments.
The Metropol Parasol
Make an effort to see a new mini-wonder of the 20th Century – a structure made completely of wood. And it's one of the biggest in the world. The parasols provide moving shade for the enormous Plaza de la Encarnación.
The entire structure is constructed over four remarkable levels, including its own entertainment complex, balcony, and restaurant.
Short for time? Take a tour of the center city on a horse-drawn carriage.
Where to Stay
The famous Triana neighborhood of Seville is where you'll find Zenit Sevilla, complete with a gorgeous view of the Giralda, the bell tower of the Seville cathedral.
Alternatively, hang out in oldtown for a bit of a more traditional Spanish feel, in a 16th-century monument, the Hotel Posada del Lucero.
Day 3: Cordoba
Cordoba is less than an hour from Seville by train. Here's what to see when you get there.
Alcázar de los Reyes Cristianos
The name translates to the Castle or Fortress of the Christian Monarchs. It's certainly one of the most famous medieval buildings in the city. The monarchs in question are most likely Ferdinand and Isabella, who lived there.
Today people can visit the halls to see some incredible ancient artifacts and enjoy the beautiful gardens in the warm Spanish sun.
Mosque-Cathedral (Mezquita)
This incredible building is loaded with history, and like many things on the Iberian coast, it is informed by both the Muslim and Christian eras of the region. The 8th-century construction started its life as a mosque and was converted into a cathedral. It is now a UNESCO World Heritage Site, known locally as the Mezquita.
The extraordinary contrasts of exploring rooms like The Hypostyle Hall, and the Mihrab are quite the experience, telling a rich story of the city. This is a must-see tour on a trip to Cordoba.
The Synagogue
Another city highlight is the synagogue located in the Jewish quarter. It was built in the 1300s, and through the years has served as a hospital, hermitage, and more. Today it stands as a restored national monument. Of special interest are the inscriptions that were discovered some years ago, reflecting the early use of the synagogue.
Take a Spanish Cooking Class
If you've done as suggested and taken opportunities to try local delicacies and food, now would be the time to consider a cooking class. You'll be delighted to learn how to bring the Spanish and Mediterranean influence to your own kitchen once you get home.
Be sure to take extra notes on what to buy from markets. The ingredients could well be the most important element of Mediterranean cooking.
Where to Stay
Looking for a 5-star palatial experience? The Palacio del Balio is an outstanding option. You can also get closer to the Mezquita by trying the Las Casas de la Judería.
Days 4-5: Malaga
Malaga is a great final stop in Spain, and you may want to consider spending two days here. This is partly to give yourself a moment before heading into Morocco on your second leg. But Malaga also has a couple of fun day trips you may want to consider, without the stress of having to be on the move again so quickly.
Besides, you've been bouncing from town to town for four straight days. It's probably time to take a breath.
Malaga is a port city on the legendary Costa del Sol. It offers the usual options of prime beach time and an easy, relaxed lifestyle. Like most other Spanish towns, though, it has a rich history. Notably, it was the home of Pablo Picasso, a fact that the local lore talks about rather proudly.
Granada (Day Trip)
Granada is about 90 minutes by car from Malaga, but it's a popular day trip. Make sure you see these three things on your day out here:
The Alhambra – the red walls are distinctive. So much so that some say this is the most visited monument in all of Spain. Whether or not that's true, it certainly is famous and well worth seeing.
The Bañuelo – Remarkable for the state of preservation, these 11th-century Arab baths are adjacent to the Alhambra. You may want to see this first thing, as the attraction closes in the afternoon.
Cathedral of Granada – This building took 181 years to build, and it was built on top of a mosque.
The Alcazaba
On your second day in Malaga, the Alcazaba is a great place to start a day's sightseeing. The citadel was a military defensive fortress. But there are Roman and Aduana additions to the complex, making the general area architecturally diverse and culturally interesting.
Best records indicate that the Alcazaba dates back to the mid-11th century, built partly from materials "borrowed" from the adjacent Roman amphitheater.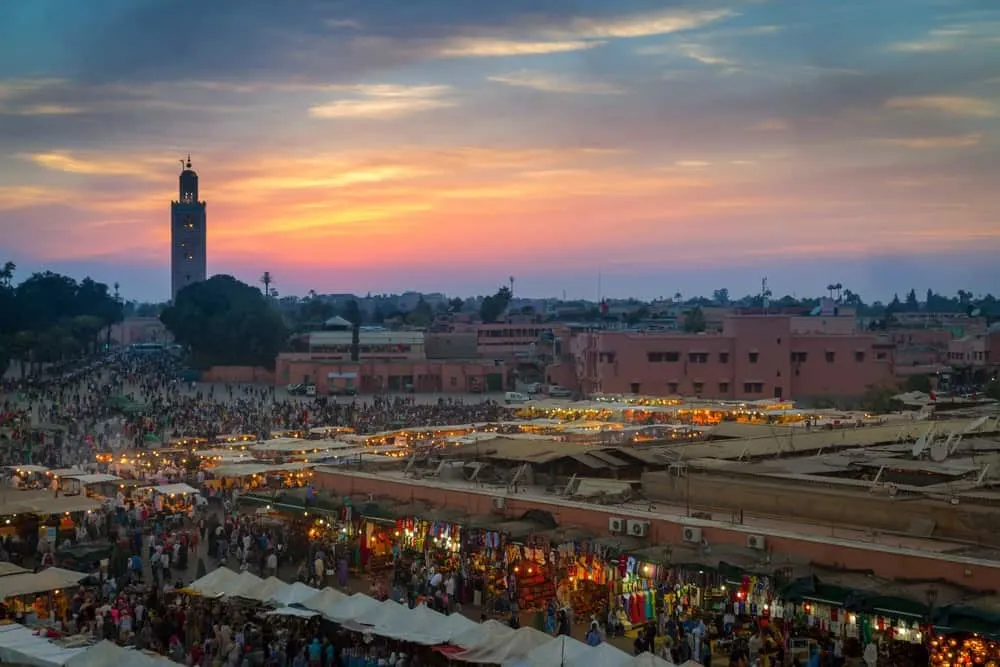 Fly to Morocco (Marrakech)
Forget the one-day tours to Morocco from Spain. There are plenty of flights daily from Malaga to Marrakech. They range in price, anywhere from around $50 to $150.
Look for direct options when you travel from Spain to Morocco, as they are really quick – you could be in Africa in less than an hour. Unfortunately, while travel restrictions out of Spain apply because of Covid19, these may be a little harder to come by.
Several airlines offer flights that go via other cities like Casablanca, London, and others. Sometimes they are cheaper, but they feel unnecessarily long, given that Marrakech is less than 500 miles (800km) from Malaga.
At the time of this writing, the most available option is to fly to Casablanca. And bus or drive the rest of the way. Unfortunately, this eats up about 6 hours of your trip flying and three hours driving, respectively.
There are many amazing options for places to stay in Marrakech – you can find most of my favorites in my article on the best riads and hotels in Marrakech.
Day 6-7: Marrakech
I've written a previous post about how to do Marrakech on a budget. You may want to look at squeezing in a couple of those suggestions while you're here.
You could easily spend a half-day tour getting acquainted with the basic surroundings of Marrakech. On a tour like this, you'll want to look in at the Saadian Tombs, the Bahia Palace, and the Koutoubia Mosque.
Take your time. You want to also try out a bakery, take a look at a souk, and ask your guide for some history and insights into traditions and the culture here.
Why not take a food tour or even a cooking class in the evening, if you have the time, and want to explore your own North African cooking skills?
Qubba Almoravid
Built-in 1120 as part of a mosque complex, which was itself part of a palace (the Qasr-al-Hajar). Over time, the mosque was abandoned and has since ceased to be used. But the structure that remains is this former ablution facility. The distinctive domed shape and pillars of the Qubba make it one of the most notable landmarks in the city.
Kasbah District
This historical district lies in the south part of the city and contains the royal palace. It is a fascinating part of Marrakech, for all intents and purposes a sort of "oldtown" within an old city. Various monuments sit in a number of small neighborhoods here. The streets are an endless source of photographic wonder.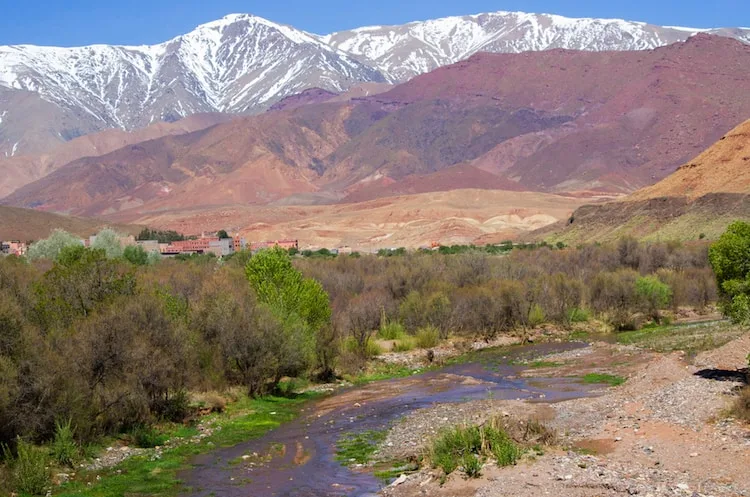 Day 8: Atlas Mountains (Day Trip)
The Atlas Mountains are built for hiking. If you want to use up a day to explore this incredible region, head up to Imlil village. The drive takes you along a river, past a number of villages and hills.
Guided walks and camel rides trek from Imlil take you along trails to Aroumd. From here you'll have options to continue to Tagadirt and Targa.
The Toubkal National Park is also in the Atlas Mountains region. Though lesser known than its taller cousin Kilimanjaro, Mount Toubkal is actually the eighth-highest peak in Africa and the highest in North Africa.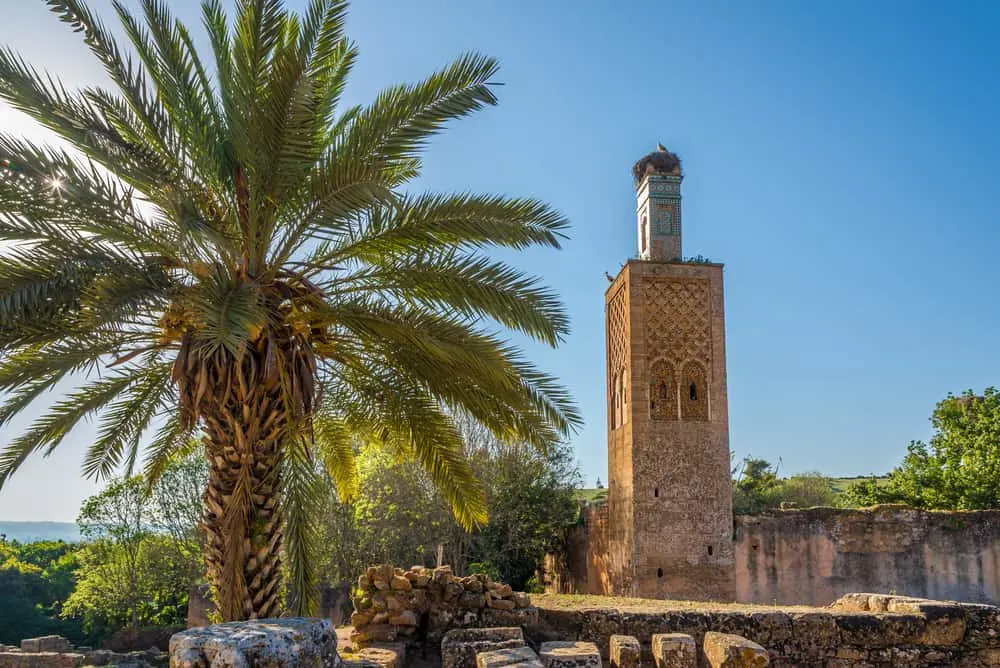 Day 9: Rabat
Rabat is Morocco's capital city and is a coastal town. The key attractions here are the Royal Palace and the resting place of Mohammed V. You can drive from Marrakech to Rabat in about 3 1/2 hours or take the train in a bit longer. Go with an early morning option to make the most of your time.
Mausoleum of Mohammed V
This tomb complex contains the remains of King Mohammed V and his two sons, Hassan II and Prince Abdallah. An interesting bit of trivia is that the modern complex was designed by a Vietnamese architect, Cong Vo Toan. It was completed in 1971. It is just one example of the extraordinary beauty of the traditional Moroccan aesthetic.
Kasbah of the Udayas
Much like in Marrakech, the Kasbah district here is sort of an old town. It was actually established as a fortress in the 11th century. Sights worth noting here include the historic Kasbah Mosque, the oldest in Rabat (built 1150).
Where to Stay
With plenty of accommodation options available, you can choose from luxury stays like Dar Mayssane, or the RIAD Dar Ouezzani, both are central and close to the Medina.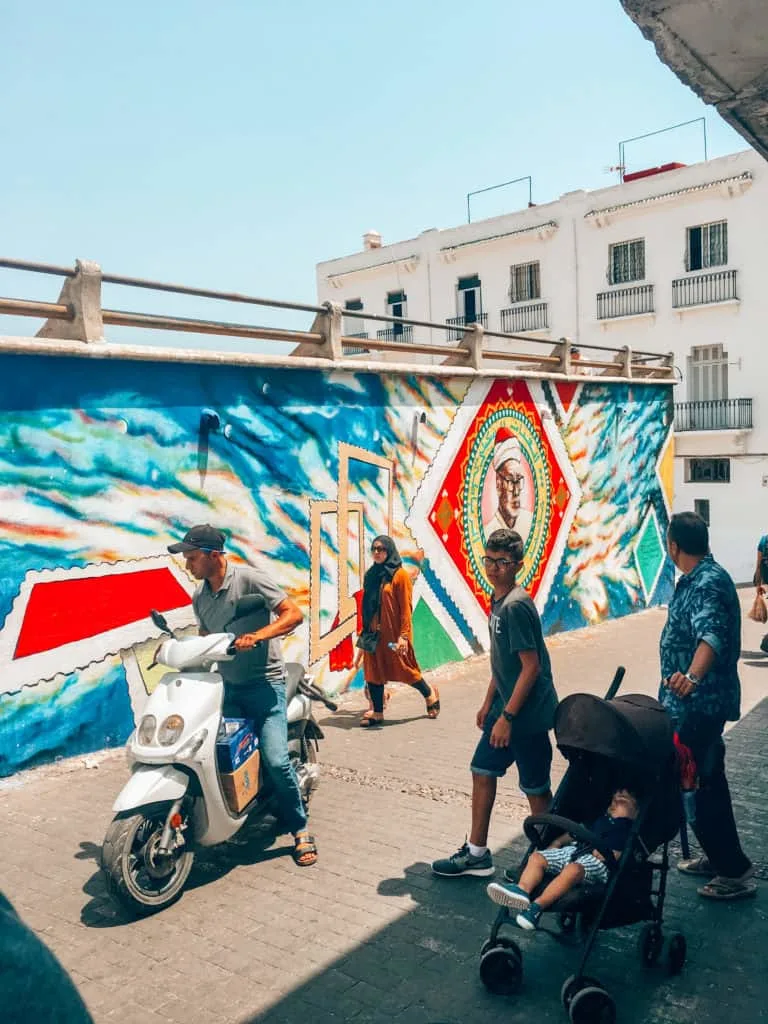 Day 10: Tangier (Fast Train)
Day nine is reserved for a bit of a thrill! Book a high-speed train to Tangier from Rabat – you'll get there in just under 90 minutes – an impressive 130 miles (217km) away.
Tangier is regarded as the city of the Prophet Mohammed. So it's little wonder that the number one attraction here is The Prophet's Mosque – Al Masjid an Nabawi. It's also known as the Al-Haram Al Madani. The building has served as a school, legal court, and even a community center.
You should walk around the Medina, a maze of alleys and small streets. There are hundreds of opportunities to pick up a trinket, or just stop by a cafe. It's actually the original part of the city in what used to be the old Portuguese stronghold.
Also, make sure you stop by Dar Al Madinah, the biggest collection museum dedicated to the history of Al Madinah.
From here you can take the ferry back to Spain!
Conclusion
That's a pretty full 10-day itinerary for your trip. And that's not even counting the thousands of places you'll try the food, stop for a refreshing drink, or simply take in the relaxing sights and atmosphere.
Your Spain and Morocco trip is ready and waiting.