Whether you want to try your hand at some Moroccan recipes, grab the best Morocco travel guide book to start planning your trip or read some of the best books about Moroccan history, I have compiled a list of books that are just perfect. The list even includes some novels with some great books set in Morocco for both adults and children, as well as some Arabic for beginners book options so you can speak the lingo when you're next in Morocco.
Some of my all-time favorite Moroccan books are on this list and so I hope they bring as much enjoyment to you as they have to me over the years.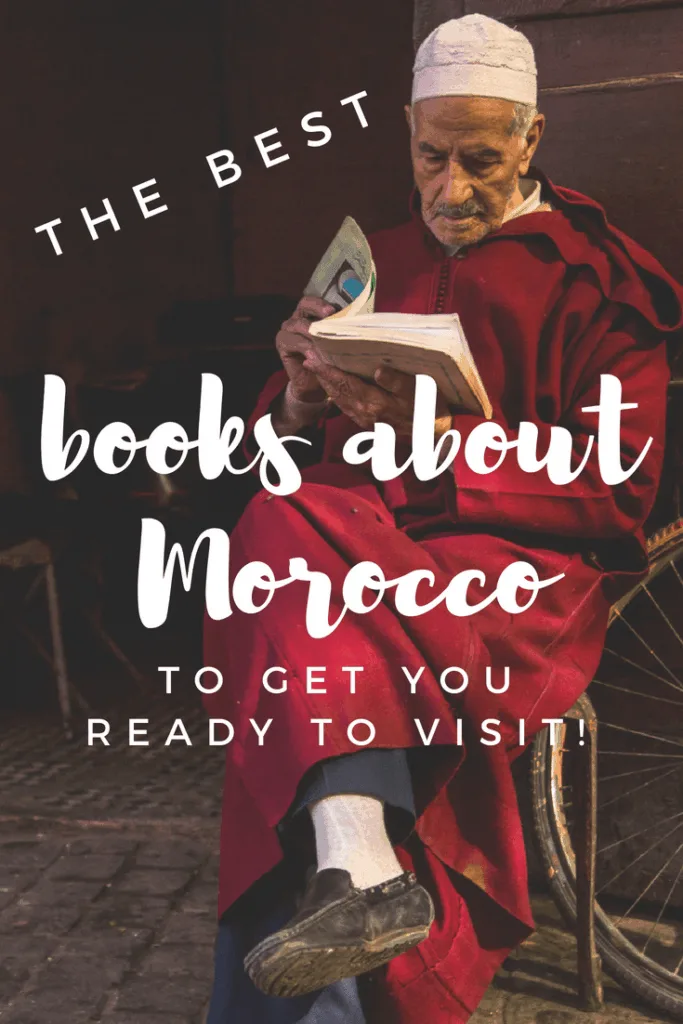 Travel to Morocco: The Best Morocco Travel Guide Options
The best Morocco guidebook will help you not only plan your trip to Morocco but help you navigate your way around the country once you arrive. If you are the type of traveler that loves a hard copy guide book I highly recommend one of these Morocco travel books.
Lonely Planet: Morocco by Paul Clammer, Bret Atkinson, Virginia Maxwell, Lorna Parkes and Regis St Louis
The Lonely Planet Morocco book is the 13th Edition published in September 2021 and provides updated advice on what to see on your trip of a lifetime to Morocco.
Over 500 pages, this Morocco travel book covers all the major cities such as Marrakech, Casablanca, and Tangier as well as tips such as visiting the Fez Medina, taking a camel ride through the Sahara, and watching the sunset over the Erg Chigaga dunes, and much more. Other tips include suggested itineraries, recommended hotels, how best to get around, and spots to be wary of.
If you are just visiting Marrakesh, then you may just wish to buy the Lonely Planet Marrakech travel guidebook.
Moon Guides to Morocco
I like this guidebook because of the way it is laid out as well as the information contained inside. If you're looking for a good deep dive into Morocco and want something that goes a little further this is it. It also has multiple routes for itineraries.
Non-Fiction Books on Morocco
Lords of the Atlas
The Lords of the Atlas tells the story of history, intrigue, mystery, and action in Morocco. This book tells the story of the Madani and T'hami el Glaoui, warlord brothers who carved out a feudal fiefdom in southern Morocco in the early twentieth century.
Set in the medieval city of Marrakesh and the majestic kasbahs of the High Atlas mountains, these warlord brothers combined the aggression of gangland mobsters with the opulence of hereditary Indian princes, and ruled with a mixture of flamboyance and terror, until their reign came to an end in 1956 when the French left Morocco.
Dreams of Trespass: Tales of a Harem Girlhood – Fatima Mernissi
This book tells the true story of Fatima Mernissi who spent her childhood behind the iron gates of a domestic harem.
Writing about Moroccan culture, Fatima recounts her own memories and the memories of the women who surrounded her growing up who were deprived of access to the world outside, and so recreated it from their imagination.
This is an interesting read about gender and sex in the modern Muslim world.
A Street in Marrakech: A Personal View of Urban Women in Morocco by Elizabeth Warnock Fernea
An interesting true story about a young American woman who moved to Marrakech. The book looks at her family's journey through the private and public worlds of a traditional Muslim city and how as a western woman she was often met with suspicion and hostility. There are few books written by non-Moroccans that pick up on the nuances of life without sounding pedantic as this one does.
Making Morocco: Colonial Intervention and the Politics of Identity by Jonathan Wyrtzen
This book looks at Morocco's twentieth-century process of political identity formation via political archival sources, newspapers, Amazigh (Berber) oral history and poetry.
This history of Morocco book focuses particularly on the protectorate period (1912–56), as Wyrtzen talks about the story of Morocco's early colonial and Arabo-Muslim élite political history, as well as discussing the role of the Berbers (Imazighen), Jews, and women in shaping the nation.
Morocco: The Islamist Awakening and Other Challenges by Marvine Howe
Marvine Howe is a former correspondent for The New York Times and in this book, she provides an in-depth look at the Moroccan kingdom and its people, past and presentHowe personally knew the late King Hassan and in this book, she credits him with laying the foundations of a modern, pro-Western state.
She goes on to consider the pressures his successor, King Mohammed VI has come under to transform the autocratic monarchy into a full-fledged democracy.
Other issues covered include equal rights for women, elimination of corruption, and correction of economic and social disparities. The Islamist Awakening is a little dry to read at times but for anyone interested in history and politics it is engaging.
The Last Storytellers: Tales from the Heart of Morocco by Richard L Hamilton and Barnaby Rogerson
The Last Storytellers, Tales from the Heart of Morocco is about how the ancient storytelling tradition is on the brink of extinction. With distractions of modern times such as television, movies, and the internet, there is little interest for people to seek our storytellers for entertainment.
Authors Hamilton and Barnaby have tracked down the last storytellers in the labyrinth of the Marrakech medina, recording their stories before they have all disappeared.
For Bread Alone by Mohamed Chokri
For Bread Alone is a story by one of the several Moroccan authors, Mohamed Chokri. How this book came to be published is quite a story. The author was illiterate until adulthood when he learned to read and write classical Arabic. Chokri told this story to Paul Bowles in Arabic and then Bowles translated it to English.
The story itself is autobiographical and not an easy read. It tells in rough detail the life and situations the author dealt with as a child in Tangier and the surrounding areas. This book was banned in Morocco for several decades due to "moral concerns" but is an up-close look at life on the streets during the end of the protectorate in Morocco and early independence movements
In Morocco by Edith Wharton
In this memoir, the great American novelist Edith Wharton, the author of the Age of Innocence and the House of Mirth, details her account of visiting Morocco in 1917 during the turmoil of World War I.
In this story, Wharton explores the culture, history, and beauty of Morocco. This book is considered one of the first travelogues from a woman in this region.
Stolen Lives: Twenty Years in a Desert Jail by Malika Oufkir
Stolen Lives was the first book I ever read about Morocco. It is the memoir of Malika Oufkir's remarkable life. Malika was born in 1953 to General Oufkir, the King of Morocco's closest aide. At the age of 5, she was "adopted" by the king and spent her childhood in the seclusion of the court harem.
In 1972 her father was arrested and executed after an attempt to assassinate the king. Malika, her siblings, and her mother were immediately imprisoned in Morocco's secret desert prisons. 15 years later after digging a tunnel with their bare hands, they escaped only to be captured 5 days later. Malika eventually left Morocco in 1996.
Adult Novels about Morocco
There are some great novels set in Morocco and while a Moroccan story is the creative work of a talented author, these stories can give you a glimpse into what life was once like in Morocco as well as a look at modern-day Morocco.
I have numerous favorite novels about Morocco and struggled to pick the best. I hope you enjoy this Moroccan literature both written by Moroccan authors and set in the country.
I bought this book some years back at a second-hand bookstore in Phoenix, Arizona for $1. I almost didn't pick it up, but I can't walk past a bargain rack and not at least look. As soon as I started to read it I was taken to another place. The story is split between the UK, Morocco, and Ethiopia and the writing is absolutely beautiful.
It's one of my favorite books of all time. The story follows the life of Lilly whose hippie British parents are murdered when she is just a young girl. Lilly is then raised at a Sufi shrine in Morocco and as a young woman goes on pilgrimage to Harar, Ethiopia, where she teaches Qur'an to children. However, despite being in a traditional headscarf, Lilly can't escape being marked as a foreigner and is eventually forced to flee Ethiopia for England where she once again is forced to confront the riddle of who she is and where she belongs.
This story is about family, survival, and hope for a new life, in a new land. Thousands of migrants from Morocco and the rest of Africa cross the Mediterranean every year hoping to make their new life in Europe. Some succeed in crossing only to realize the journey is only the very beginning of a long struggle. While this is fiction set in Morocco, the events happen every day and could be the story of countless immigrants.
This is the story of three American travelers in the cities and deserts of North Africa after World War II. Through these characters, the author Paul Bowles examines the ways in which Americans' incomprehension of foreign cultures leads to the ultimate destruction of those cultures. Many people praise this novel and really love it, it truthfully isn't my favorite but is considered a classic the genre – you be the judge!
This story gives an interesting insight into the lives of both the rich and poor living in Casablanca. This Morocco fiction story follows the life of Youssef El Mekki who is raised by his mother in a one-room house in the slums of Casablanca. Despite his start in life, he has always dreamed of a life of luxury, which appears to come true when he discovers his father, whom he had thought to be dead. His father is a wealthy businessman and Youssef goes to live with him and lives a life of luxury. Unfortunately, this is short-lived and he is sent back to the slums of Casablanca where be soon becomes easy prey for a fringe Islamic group.
Julia is given a book of exquisite 17th-century embroidery patterns which also includes faint diary entries. The diary entries tell the story of Cat Tregenna, an embroideress who was stolen out of a Cornish church in 1625 by Muslim pirates and auctioned off as a slave in the streets of Morocco. Julia sets off to Morocco to uncover more of Cat's story and in doing so meets a Moroccan guide. It then appears that despite being almost 400 years apart, the stories of the two women converge and history may well repeat itself.
Tangerine is the story about Alice Shipley who arrives in Tangier with her new husband. Here she is surprised to see her old friend Lucy Mason, who had she had not spoken to since an accident at Bennington, where they both attended university the year prior. Lucy tries to help Alice adjust to life in Morocco. However soon Alice starts to feel controlled by Lucy and then when her husband goes missing, Alice starts to question everything around her. There are several twists and turns in this story and for lovers of books like Gone Girl, it's a good read.
Working closely with a real-life survivor, author Tahar Ben Jalloun tells the fictitious story, of the desert concentration camps in which King Hassan II of Morocco held his political enemies under the most appalling conditions. It was not until 1991 that due to international pressure, the Hassan regime was forced to open these camps.
Only a handful of survivors emerged from the six-by-three-foot cells in which they had been held underground for decades. This Blinding Absence of Light is a critically acclaimed bestseller in France and winner of the 2004 International IMPAC Dublin Literary Award.
Children's Books about Morocco
Of course, children who have visited Morocco or plan to visit may also be intrigued to learn more about this fascinating country. Here I have selected some great books for the children to discover more about Morocco in an easy-to-understand way.
Naseem is excited to visit his father's village and his family. He learns how nice it is to have two places to call home. If you get this book you can also pick up my unit study that is an add-on to the book.
This children's book by author-illustrator Evan Turk, tells the story of how a young boy comes to the Great Square for a drink only to discover the wonderful ancient art of storytelling. Up until this time, storytelling had almost been forgotten and the young boy discovers the power of a tale well told.
In this story author, Shelley Fowles retells one of the Moroccan folk tales for kids. It is the story of a grumpy old bachelor who loses his last lunchtime bean down a well. An Imp down the well gives the bachelor a pot that makes delicious food. But then an old lady steals the pot and even stranger things happen.
Follow the adventures of Luhut a small cat who lives on the colorful streets of Marrakech. See the people he meets and the wonders he sees every day.
The Best Moroccan Cookbook Options
With a range of influences including Berber, Moorish, Arab and Mediterranean, Moroccan food is incredibly diverse. You will find Moroccan food full of flavor, with spices being featured heavily in most dishes. If you are interested in giving some Moroccan cooking a try, you will love these Moroccan cookery books.
I have selected some of the best Moroccan cookbooks from chefs around the world who are renowned for cooking great Moroccan food. Within these best Moroccan cookbook options, you will find some amazing traditional Moroccan food recipes which I know you will just love.
Get my full list of Moroccan cookbooks I recommend when you click this link
Be a part of the MarocMama family!
Do you want access to all things MarocMama? Join our community of readers to get updates on new posts, inside information that won't go on the blog and so much more!
Sound good? Pop your email below and you're in!