Fez is one of Morocco's most historical and enchanting cities. This couldn't be more true than when it comes to old homes and riads. There are hundreds of fantastic places to stay in Fez but to help you narrow things down I've chosen a few of the best riads in Fez for couples and the best hotels in Fez for couples.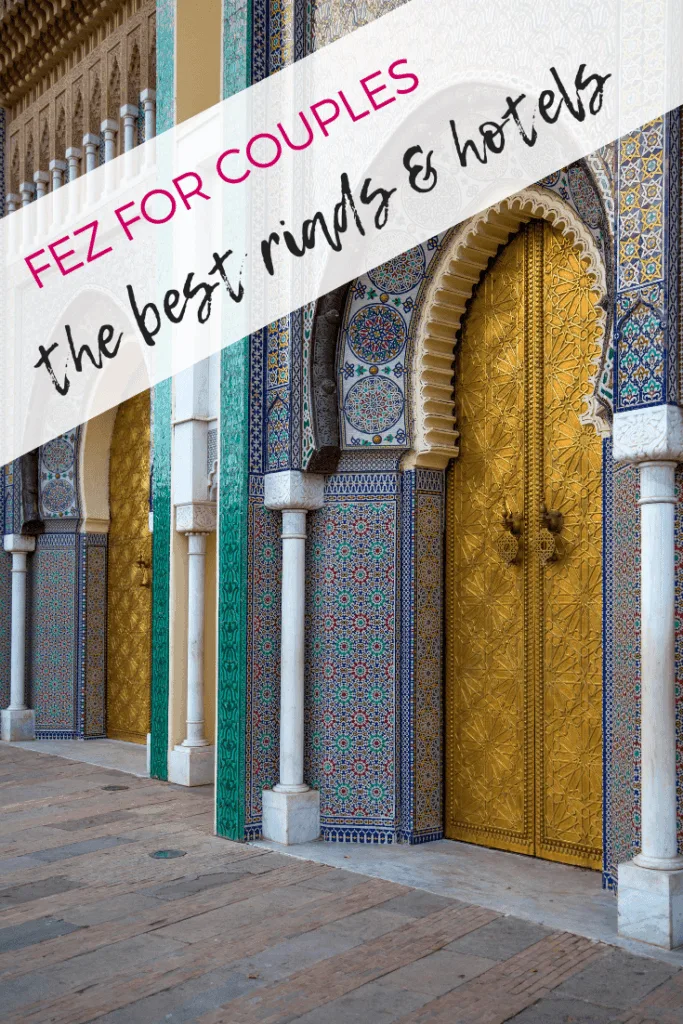 Whether you're coming with your partner for a holiday, honeymoon, or another special occasion to Fez, Morocco you're sure to find a great fit here. I have purposely included items that are at different price ranges because I know everyone travels at different price ranges. These hotels are not listed in any specific order of quality or preference.
Best Riads and Hotels in Fes
When visiting Fez, one of the best things to do is stay at one of the city's many wonderful hotels and riads. There are a number of fantastic options available, but if you're looking for a romantic and relaxing getaway, then I would highly recommend checking out the following accommodations.
Dar Tahri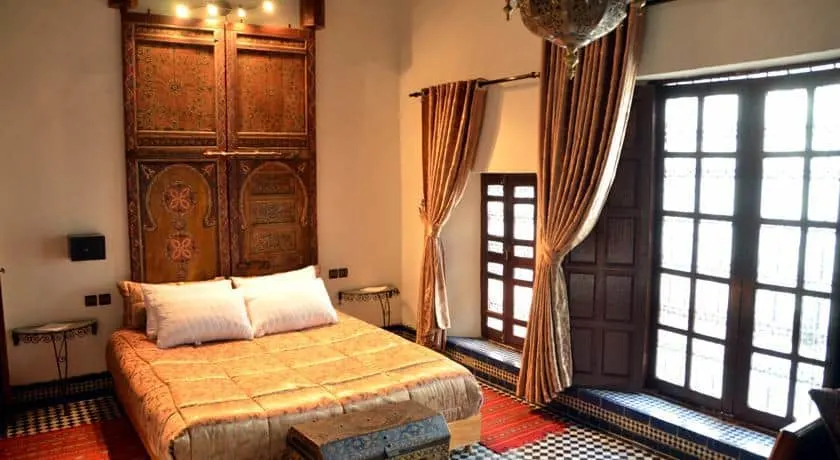 Located in the heart of the Fez Medina, only 15 kilometers from the airport, the beautiful Riad Dar Tahri offers you a comfortable stay in a place of tranquil beauty. This riad features six elegant and modern rooms and suites decorated in charming, Moorish architecture.
Relax in your room or the lovely year-round patio, which is comfortably heated in the winter and air-conditioned in summer. There is also a beautiful terrace with a solarium and wonderful views of the Fez Medina. The 4-star property includes a meeting room and a business center with free Wi-Fi.
All six rooms and suites at Dar Tahri have a patio and terrace, a private bathroom with a bath or shower, and a dining table. You'll enjoy amazing views of the city and mountains, along with free Internet, room service, and satellite channels on your flat-screen TV. And if that isn't enough, you and your beloved are welcome to enjoy a complimentary breakfast each morning before heading out for a day of adventures.
Ibis Budget Fez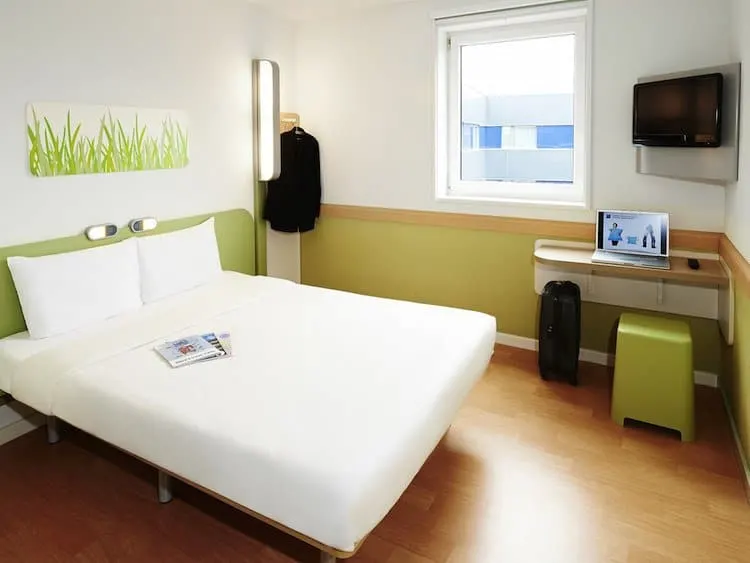 For budget-minded couples looking to enjoy a comfortable stay without spending a fortune, the Ibis Budget Fez is worth checking out. This modern hotel is located just five minutes from the Fez Medina and the main train station. Rooms feature comfortable furnishings, air-conditioning, private bathrooms with showers, flat-screen TV, and WI-FI. Snacks are available anytime, and an unlimited buffet breakfast is included in the price of your room.
The Ibis Budget Fez offers 121 rooms offering either a double bed or double bed with an overhead bunk. Clean and comfortable, this modern hotel might not be known for fancy decor, but it's a great way to save money for romantic dinners out on the town and other fun vacation activities. And after all, what could be more romantic than that?
Dar Seffarine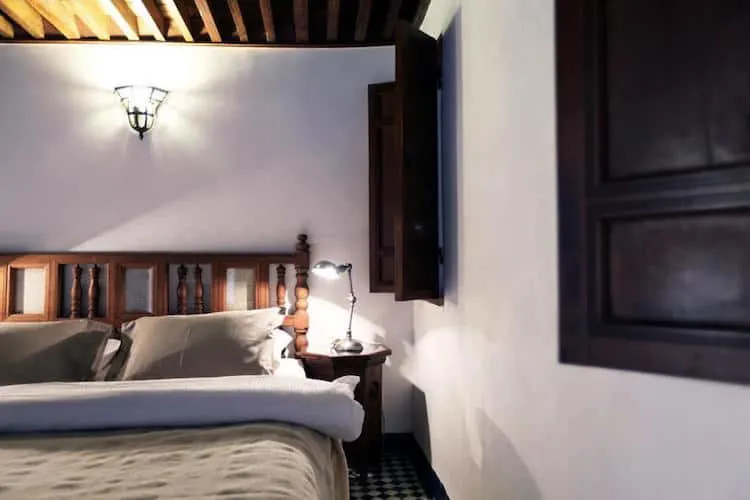 If you are looking for a romantic stay in traditional surroundings, be sure to take a look at the Dar Seffarine. Located in Fes El Bali, Dar Seffarine is an ancient palace. Over 600 years old, this beautiful building's Moorish architecture has been lovingly restored, offering guests an experience of traditional Moroccan living.
Enjoy the seclusion of a beautiful courtyard or the breath-taking views of the Medina from the terrace – in addition to your private guest quarters. There are 6 rooms to choose from – four rooms and two suites. And if you are traveling with other couples or family, you can even rent the entire guest house – which sleeps up to 12 people.
Each room has been beautifully restored with traditional mosaic tile, cedarwood ceilings, and the original windows and door. Each room has a private bathroom with a shower, and your room rate includes breakfast each morning. Every room has a view of the courtyard and the upstairs rooms also have great views of the Medina and the surrounding land. Conveniently located for couples anxious to explore the old Medina, this lovely guesthouse has a lot to offer.
Barcelo Fes Medina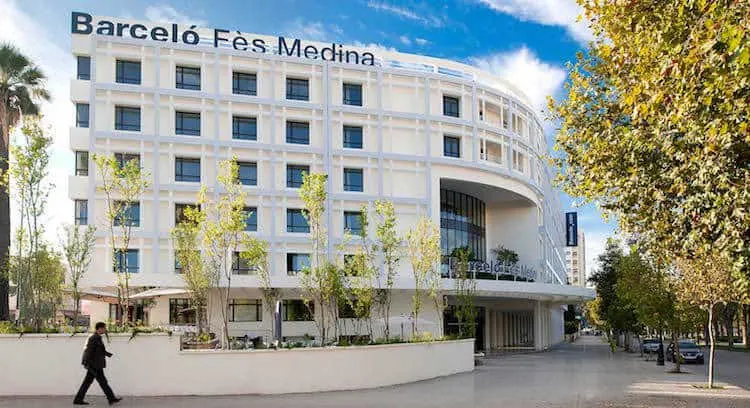 Located in the heart of the new city, the newly built Barcelo Fes Medina is 5 minutes from the Fes Train Station and 20 minutes from the Fes-Saiss International Airport. This beautiful modern hotel is comfortably decorated with clean, vibrant colors. Guest amenities include an outdoor swimming pool, air-conditioned rooms, free Wi-Fi, hammam treatments, and a modern fitness center filled with exercise equipment.
The Barcelo Fes Medina offers 134 comfortable guest rooms filled with modern designer furniture. Rooms offer desks, minibars, safes, satellite channels on flat-screen TVs, and private bathrooms with bathrobes and complimentary toiletries. Continental breakfast is included in your room rate and you can enjoy it in your guest room on request. There is also a stylish on-site restaurant serving international cuisine and a jazz bar serving delicious cocktails and drinks.
For guests looking to explore the beauty of Morocco while enjoying all the modern conveniences, the Barcelo Fes Medina is a great choice.
Riad Fes Maya Suite & Spa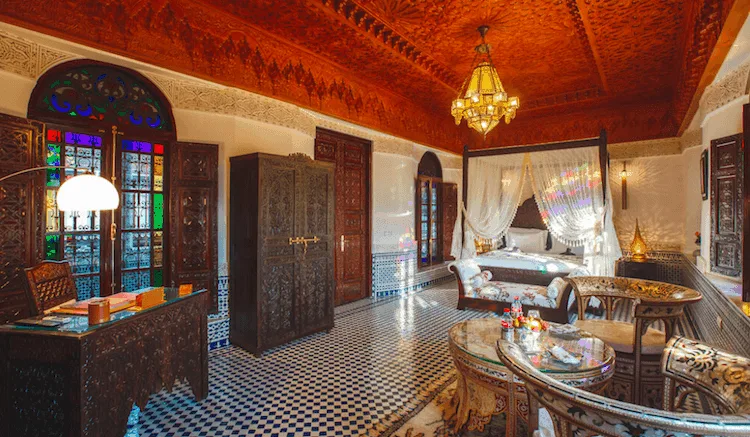 The Riad Fes Maya Suite and Spa is a beautiful 5-Star bed and breakfast located in the heart of the Fez medina. The lovingly restored building is richly decorated in traditional fabrics, mosaic tiling, and hand-carved cedar. The decor is luxurious and beautiful, providing a romantic environment where couples can enjoy a relaxing and enjoyable vacation.
Each of the nine rooms and suites includes a seating area and private bathrooms with a shower or bathtub. In addition to your room, there is a courtyard with a lovely fountain, an amazing terrace where guests can enjoy some soothing mint tea and biscuits while taking in the views of the city, a spa offering both hammam and massage, a 24-hour front desk to help you with all your needs, and free Wi-Fi.
Enjoy your choice of a halal, vegetarian, or American breakfast, included in the price of your room. And the lovely on-site Moroccan restaurant offers delicious traditional cuisine made with fresh, local ingredients. A selection of local beers, wines, and French champagne is available for guests who like to relax with a drink.
The staff at the Riad Fes Maya Suite and Spa want to help you have the best stay possible when you're visiting Fez. They'll even help book you for a guided tour of the city or an excursion into some of the surrounding locations. They'll take care of the details so you and your beloved can just relax.
Riad Tizwa
Located in the Batha area of the Fes Medina, the Riad Tizwa offers a luxury boutique hotel experience at an affordable price. The beautiful riad is refurbished and restored in full Moroccan and Fasi-an splendor, designed to provide you with an environment of relaxation and comfort.
Choose from seven attractively-decorated rooms and suites. The decor is bright, clean, and tasteful and each room is air-conditioned for your comfort. In addition to your luxurious room, the riad features a huge courtyard and a beautiful dining room and salon. There's also a wonderful rooftop terrace where you can enjoy a meal outside or do a little sunbathing.
Riad Tizwa offers free Wi-Fi and 24-hour guest services. And every morning, a delicious breakfast is included in the price of your room. If you are looking for a relaxing and romancing stay with your special someone, the Riad Tizwa is waiting to welcome you.
Riad Laaroussa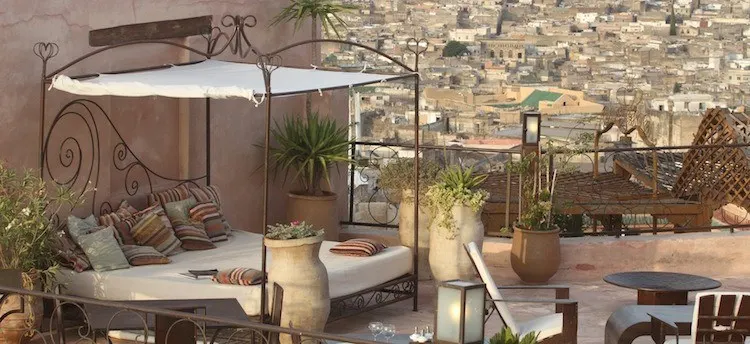 If you are looking for a place of pure romance, the Riad Laaroussa is definitely worth a look. This extraordinary riad is located inside of a 17th-century palace in the heart of the Fez Medina.
There are eight beautiful rooms and suites to choose from, and all rooms include a safe, private bathroom, hairdryer, heating, and air-conditioning. Each room and suite looks out over a traditional courtyard shaded by beautiful orange trees.
Couples can enjoy the peaceful sound of running water from the fountain while relaxing together. There's also a beautiful terrace where you can eat breakfast, enjoy the view from one of the lovely lounging areas, and – in cooler months – step inside an enclosed dining area warmed by a charming fireplace.
Riad Laaroussa is also known for amazing food. They have a full bar and restaurant, serving up delicious Moroccan cuisine, freshly made with locally grown seasonal ingredients. Lunch and dinner are available on request, and if you have special dietary needs, just let them know and they will do their best to accommodate you. If you really want to learn about Moroccan cuisine, consider taking one of our cooking classes, free of charge to our guests. And if you are a wine connoisseur, they are happy to offer you some amazing wine, locally sourced from the Meknes region – the heart of Moroccan wine country.
Karawan Riad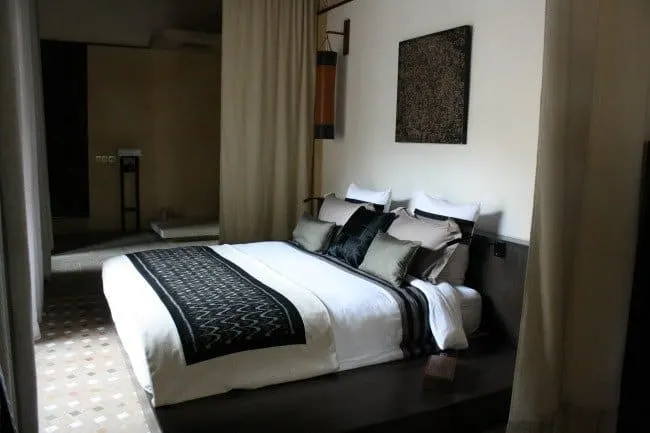 The exquisite Karawan Riad is the perfect combination of modern and traditional, offering couples a romantic haven from which to explore the Fes Medina. There are seven beautifully appointed rooms and suites, a peaceful and cool inner courtyard, free Wi-Fi throughout the riad, a lovely and refreshing terrace, 24-hour front desk service, and a relaxing hammam spa.
Each of the seven rooms and suites comes with a king-sized bed fitted with luxurious linens, a seating area, writing desks, heating and air conditioning, a private bathroom with a bath or shower, hairdryer, and bathrobes. They even include an iPod dock!
If you are looking for delicious Mediterranean cuisine, the Karawan Restaurant is sure to please, as well. They are even happy to help you out with your dietary needs, so be sure and let them know if you require gluten-free, vegan, or if you have allergies.
If you are looking for some romantic adventure, too, be sure to talk with your hosts at Karawan Riad. They can help you find guides and tours or anything else you need in order to make your romantic vacation all you want it to be.
Riad Anata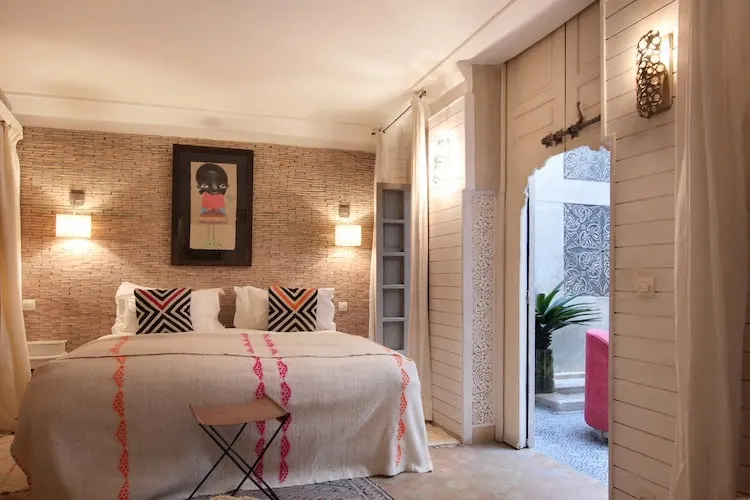 When you step into the Riad Anata, the first thing you will notice is how tranquil it is. From the beautiful decor to the enticing lounging areas at every turn, this lovely boutique hotel is a romantic escape from the outside world.
Choose from five lovely rooms with comfortable beds, air-conditioning, private bathrooms, each looking out on the welcoming patio and pool. And in addition to your private room and the central patio, there is also a gorgeous terrace for lounging and dining, and comfortable sitting areas where you can relax with books or watch television.
Each morning, you are invited to enjoy a continental breakfast and delicious coffee. And if you get hungry later in the day, you're welcome to join them for dinner, too. You can even take a cooking class here so that you'll know how to share some delicious Moroccan foods with the folks back home!
Riad Anata is a great place to escape for a romantic holiday with your one and only. And if you are traveling with friends or family, you can even rent the entire house to enjoy the utmost privacy during your stay. This luxury riad is ready to provide you with whatever you need for your perfect stay.
Dar Mansoura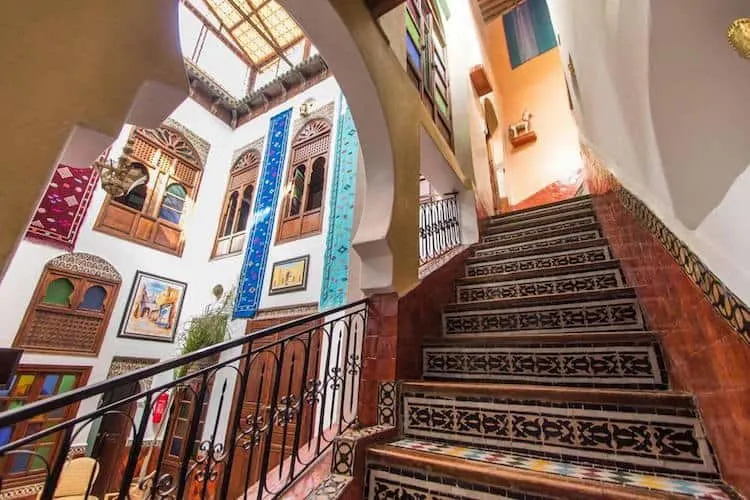 Dar Mansoura is a comfortable and cozy guest house offering your choice of several roomy and attractive rooms and suites. Each room and suite includes free Wi-Fi and air-conditioning – along with a sofa, laptop safe, balcony, television, and free toiletries. In addition to their private room, guests are welcome to relax on the comfortable patio or enjoy a meal on the terrace. Continental breakfast and coffee are included in the price of your room and there is a restaurant to enjoy when you get hungry later in the day.
Dar Mansoura Guesthouse is only a short distance from the Palace Fes and Batha Square. Whether you wish to explore the exciting Medina or head off for other adventures, the 24-hour desk can help you with tours, tickets, and transportation. If your animal companion is accompanying you on your romantic adventure, he or she is welcome at the Dar Mansoura, too.
Fes Marriott Hotel Jnan Palace
If you're looking for five-star accommodations in Fes, the Marriott Hotel Jnan Palace has plenty to offer. Located ten minutes from the Medina and within easy reach of the Train Station and the Royal Golf de Fez 18-hole course, this beautiful hotel has a lot to offer!
The Fes Marriott Hotel Jnan Palace offers six types of rooms and suites, each featuring air-conditioning, attractive decor, plenty of room to move around, a refreshing balcony, and a private bathroom with complimentary toiletries. Many of the rooms also have a great view of the pool or gardens.
Other guest accommodations include 24-hour front desk, three on-site restaurants serving Moroccan and international cuisine, and three bars where you can relax with a cocktail or wine. For those seeking activity without leaving the hotel, there is an outdoor swimming pool and a great fitness center. And if you're looking to relax, you can order up a massage treatment, or hang out in the sauna. There is even a library area where you can curl up with a good book!
Palais Houyam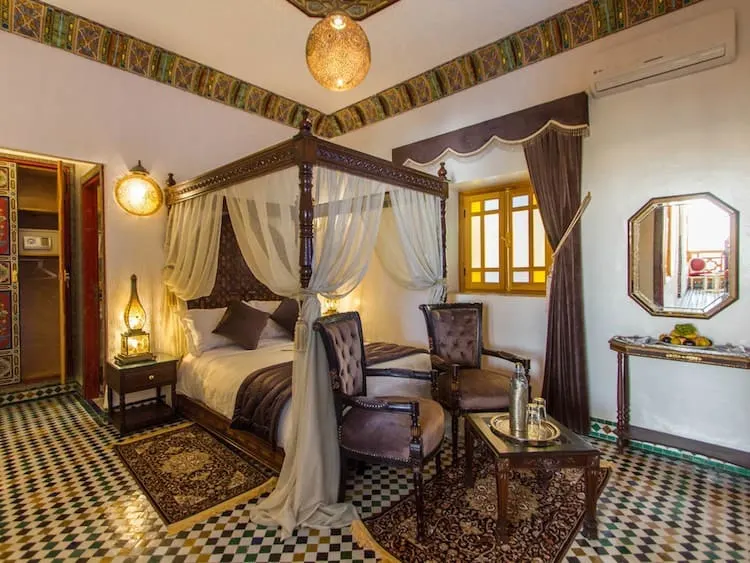 Simply put, when you step into the Palais Houyam, you find yourself surrounded by luxury and beauty. From the grand patio to the incredible sculptured wood, to the exquisite linens on canopy-draped beds, this guesthouse is sheer romance.
There are four rooms and suites to choose from. Each room includes free WiFi, a flat-screen TV with satellite channels, fridge, electric teapot, a desk, and a nice sitting area. Your private bathroom includes a shower and hairdryer, as well as complimentary toiletries.
When you aren't enjoying the quiet comfort of your room, you are welcome to spend time in the Hammam spa or the outdoor swimming pool. And if you need help getting around town or to the airport, the staff at the 24-hour desk is happy to help.
The Palais Houyam offers a daily breakfast with both halal and continental options, as well as traditional Moroccan cuisine throughout the day in their on-site restaurant.
Riad Mayfez Suites and Spas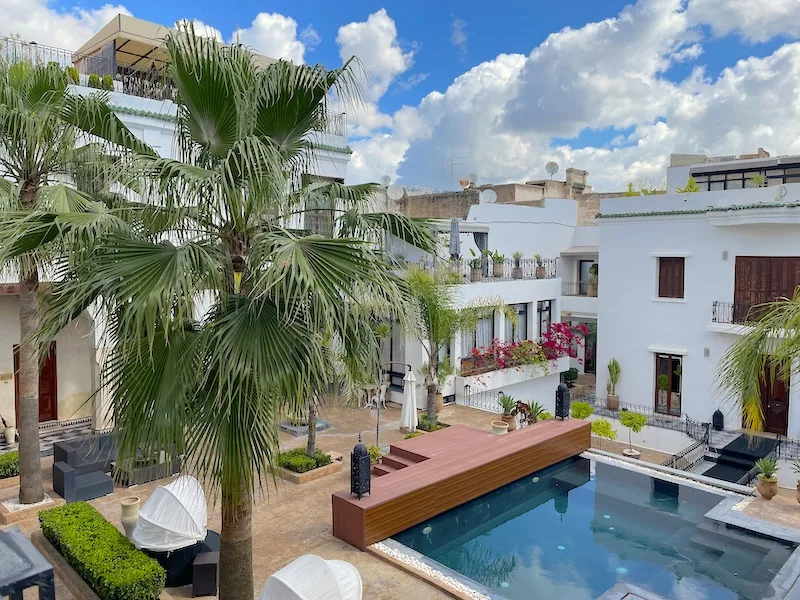 The lovely and romantic Riad May Fez is a welcome escape from the busy Fes Medina. Tucked away just enough to bring you into the heart of the medina this beautifully restored riad is the ideal place for couples who want to get away.
There are five elegant rooms with heating and air-conditioning, free WiFi, and private bathrooms with bathtubs and bathrobes. Other guest accommodations include a 24-hour service desk, a central swimming pool that is large enough to spread out, and a beautiful upstairs terrace that looks out across the entire medina of Fez.
Breakfast is served every morning in the dining area or pool side. Additional meals are available, as well, if you get hungry later in the day. And if you and your beloved are looking to relax, be sure to check into a full-body or couples massage.
Riad Noujoum Medina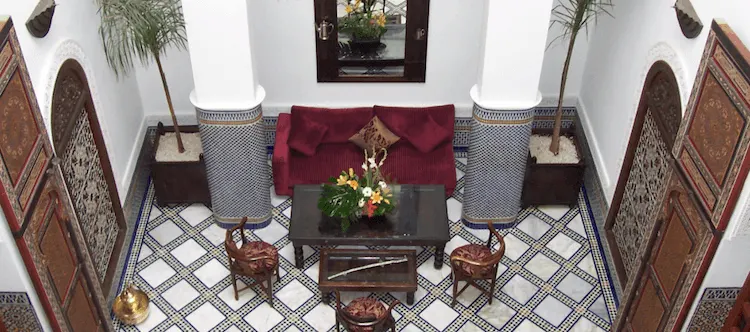 Riad Noujoum wants to be your home away from home when you visit Fes. Located within easy reach of the Madrasa Bou Inania and Batha Square, this welcoming riad has been fully restored with traditional decor and Fassi artwork.
There are four lovely and comfortable suites to choose from. Each suite comes complete with plasma screen TV and satellite channels, Wi-Fi, air-conditioning, a safe for your belongings, a private bathroom with bath or shower, robes, and hairdryer, and a beautiful balcony with views of the city and surrounding mountains.
Continental breakfast is available, and meals in the restaurant are all prepared with fresh local ingredients.
Riad Noujoum is also happy to help you get to and from the airport, and if you'd like to schedule a tour into the Medina or excursions to other areas outside of the city, they are happy to help you with that at their tour desk. When you aren't in your room, you are welcome to enjoy the central patio, lounge, or relax on the beautiful terrace. At the Riad Noujoum, it is easy to feel right at home.
Riad al Bartal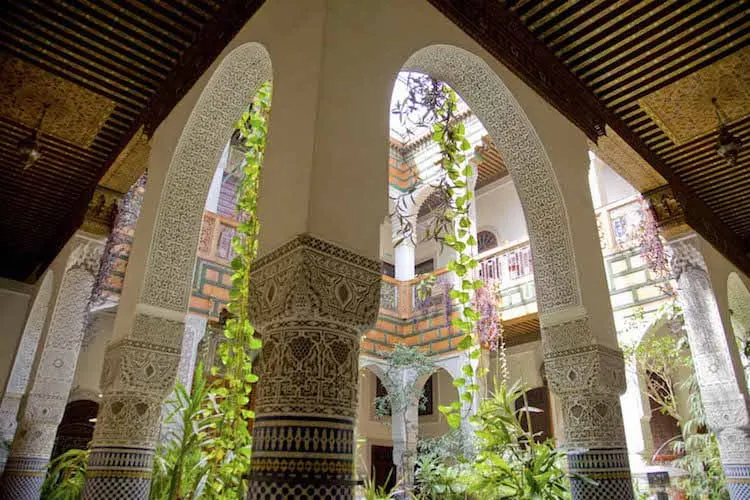 If you like birds, plants, and artistic decor, you will love Riad Al Bartal. This place is simply breathtaking! The rich decor includes a mix of mosaic tile, cedar, and marble. This riad is so filled with plant-life – especially in the central courtyard and the terrace, it is like relaxing in a beautiful garden.
The name "Al Bartal" is Arabic for bird – and the Riad is so-named because prior to renovation, it was abandoned for many years and overtaken by birds. Fully restored and decorated in traditional Moroccan decor, the beautiful courtyard is still visited by birds each day. And Riad Al Bartal even has its own resident bird mascot – a gray parrot named "Poulette" who loves to beg sweet treats from friendly guests.
There are four spacious rooms and suites to choose from. Each of the beautifully decorated rooms each come with a wonderful view of the central courtyard. Rooms include a private bathroom, air-conditioning, and free WiFi.
A Halal breakfast is served each day, and other meals are available throughout the day, as well. The delicious Moroccan cuisine is prepared with fresh, seasonal ingredients, and you are welcome to eat in either the courtyard or terrace. There is also a living room with a fireplace and a lovely library where you can read for pleasure or learn more about the history of the area.
More Options for Fez? Check out These Posts
5 Day Trips from Fez to Add to Your Trip Plan