One of the first Moroccan salads I truly liked was a Moroccan eggplant salad called za'alook. Eggplant isn't loved by everyone and that tends to put off a lot of people when they first see this recipe. But, it was how I learned to like eggplant in more varieties than just fried.
Cooked salads are a big part of a Moroccan lunch, in fact you'll rarely see lunch served without at least one salad and sometimes there will be as many as five (or even more!)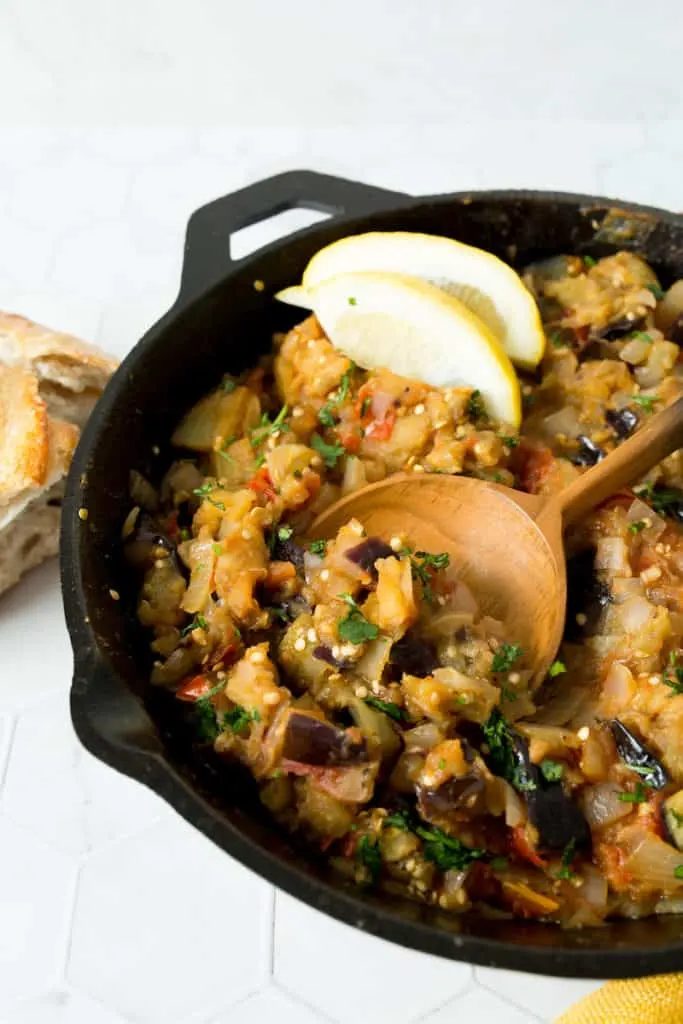 Preparing this Moroccan aubergine salad is simple, but feel free to adjust the seasonings for your taste. Sometimes we add a bit of chili pepper to give it a little zing. This is just one of many different Moroccan eggplant recipes. If you're looking for another check out my braniya recipe.
I suggest cubing and soaking the eggplant in salted water for a little while (half hour to an hour) before beginning. Salting the eggplants helps to remove moisture. It also can make them feel less slimy which is something some people dislike about them.
This recipe is naturally vegetarian, vegan, and gluten free! You can eat it with a fork however it's typically scooped up with bread – the typically Moroccan utensil!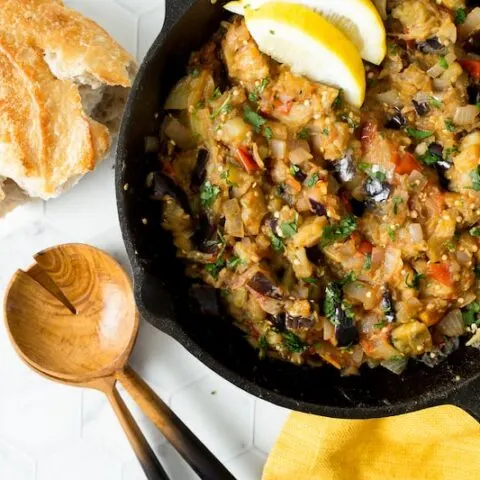 Yield:

4-6 servings
Moroccan Za'alook Salad
An easy to make, cooked Moroccan eggplant salad.
Ingredients
1 large cubed eggplant
1–2 tomatoes cut small
1 small to medium chopped onion
1/4 cup olive oil
2 cloves garlic chopped finely
2 tsp paprika
2 tsp cumin
salt and pepper to taste
1/4 - 1/2 lemon to add a punch of flavor
chopped cilantro to top
Instructions
Clean eggplants and cut into cubes for faster cooking. Place in a large bowl and lightly salt to remove some of the excess water.
Add a few tbsp oil to a frying pan. Once it heats up add the garlic and onion and cook until softened (3-5 minutes). Add half of each of the spices.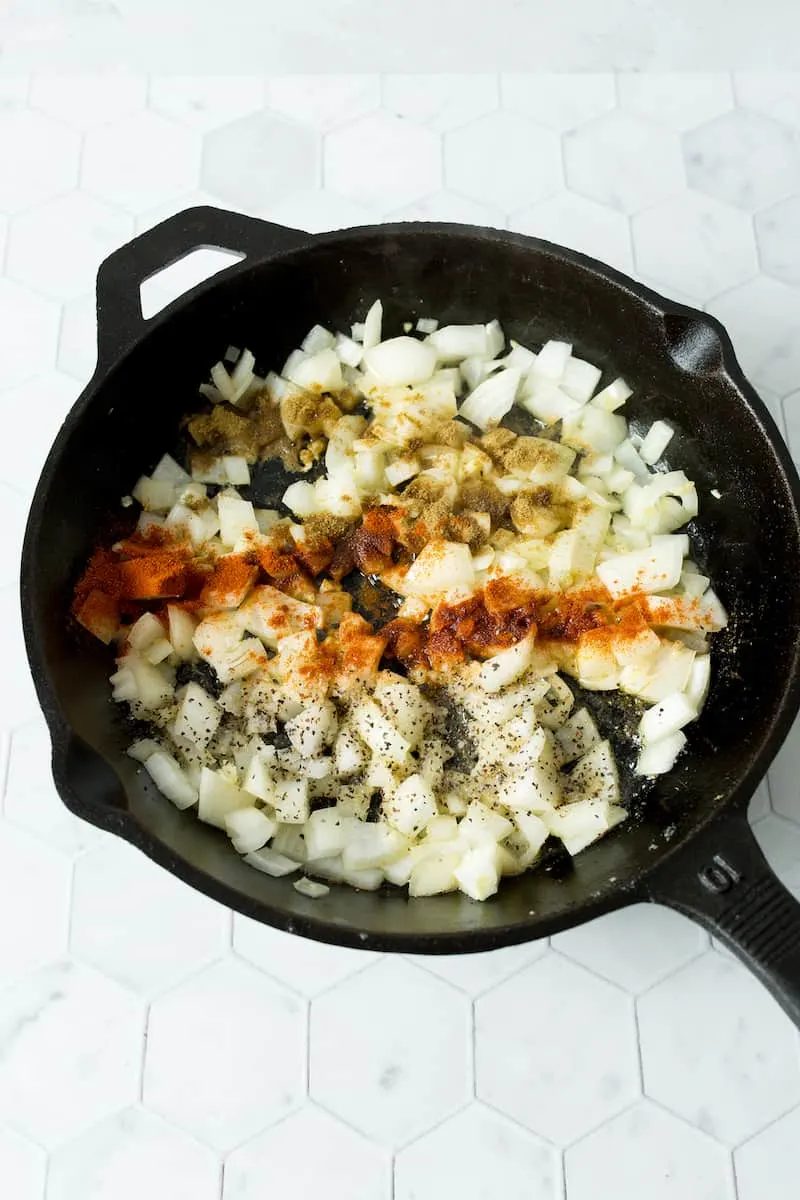 Next include the tomatoes and eggplant. If you want you can add about 1/4 c of tomato sauce to make it smoother.
Add the rest of the oil and cook as the tomato and eggplant soften. Mash as this occurs. Add the rest of the spices at this point.
The final result should not be too chunky, as you should cook until they are relatively soft. Some chunks are ok.
Top with a squirt of lemon juice and cilantro
5 More Eggplant Recipes You'll Love
Braniya {Lamb and Eggplant Tagine}
Air Fryer Eggplant Bites (Za'alook)
Fried Eggplant with Honey (Berenjenas con Miel)
Honey Glazed Moroccan Eggplant