Ramadan is right around the corner and it's time to start planning Iftar meals. Whether you're a beginner in the kitchen or an experienced chef, I have just the thing for you – delicious chicken recipes for Iftar celebrations!
Not only are these easy-to-make dishes sure to please everyone at the dinner table, but they won't take too long to prepare either.
So if you're looking for Ramadan recipes that are tasty and easy to create, look no further than these mouthwatering recipes tailored specifically for busy home chefs.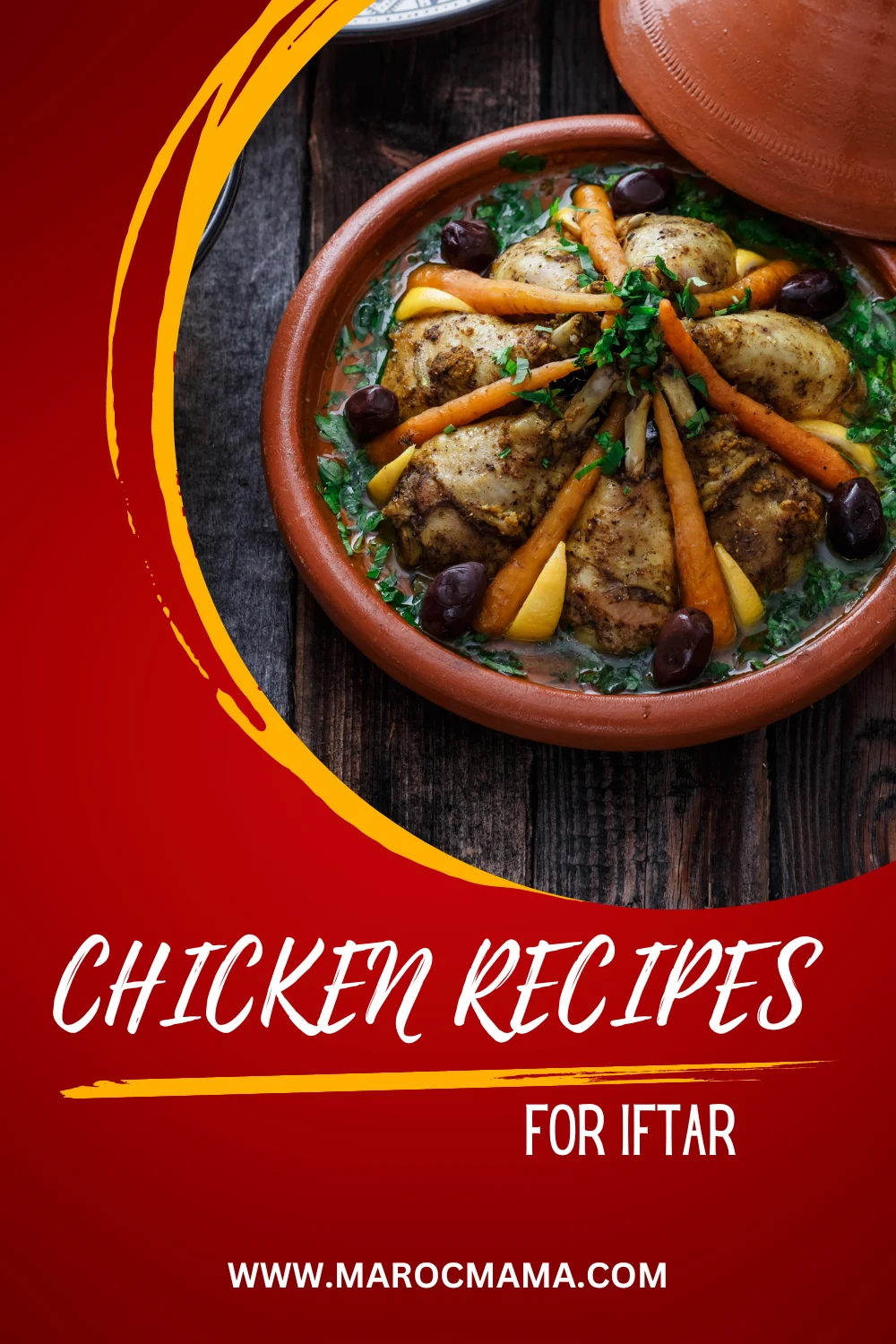 Time to get cooking so you can spend less time in the kitchen and more time enjoying delicious food with your family this Ramadan season.
Is Chicken a Good Food to Break Your Fast?
While eating dates is the most common way to breakfast, eating chicken can also be a great way to break fast during Ramadan to rebuild your energy!
Chicken is an excellent source of lean protein, which helps repair muscle tissue after a long day of fasting. The high-quality proteins found in chicken also help maintain healthy body weight and help regulate hunger.
Chicken contains other essential nutrients, such as vitamin B and iron, which are important for energy production, not to mention, chicken is low in fat and cholesterol, making it an ideal ingredient for those looking to eat healthily during Ramadan.
What is typically served at an Iftar meal?
A typical Iftar meal includes a variety of nutritious dishes, such as dates, salads, stews, soups and curries, along with finger foods and desserts.
Traditional Iftar foods are quite sumptuous, and recipes from around the world include dishes made with fava beans, salads with bulgur & tomatoes, various meats mixed with spices, and loads of desserts, like baklava and qatayef (deep-fried pancakes stuffed with cream).
Chicken is a great lean protein to incorporate into many of the dishes served at iftars, whether the meat is used in appetizers, salads, or served as the main protein source of the night.
13 Delicious Chicken Recipes for Iftar
13 Delicious Chicken Recipes for Iftar
Do I need a meat thermometer when cooking chicken?
To determine if chicken is fully cooked, the best method truly is to use a meat thermometer. Insert it into the thickest part of the meat, away from bone or fat, until it reads 165 °F.
Reasons to use a meat thermometer:
Using a meat thermometer is the most accurate way to ensure that chicken and other meats are cooked properly
Eating undercooked chicken can lead to serious foodborne illnesses
Since different cuts and shapes of chicken vary in thickness, you can insert a thermometer in various locations, making sure that all parts of the chicken reach the correct temperature for doneness
Where can I buy a meat thermometer?
There are many great meat thermometers on the market now. Here are some of my recommendations if you are ready to add this gadget in your kitchen collection:
Budget Pick: Lavatools PT12 Javelin Digital Instant Read Thermometer
Lavatools PT12 Javelin Digital Instant Read Meat Thermometer for Kitchen, Food Cooking, Grill, BBQ, Smoker, Candy, Home Brewing, Coffee, and Oil Deep Frying
Compact, inexpensive, with a fold-out probe, this model makes for a great start meat thermometer. The digital read-out can be set to Celsius or Fahrenheit, a magnet on the back allows for easy storage on your fridge, and the temperature displays both accurately and quickly.
Upgraded Pick: Original MEATER – Smart Meat Thermometer
Original MEATER: Wireless Smart Meat Thermometer | 33ft Wireless Range | for The Oven, Grill, BBQ, Kitchen | iOS & Android App | Apple Watch, Alexa Compatible | Dishwasher Safe
For a completely hands-free experience, consider the Original MEATER. This smart meat thermometer is a small probe that connects via Bluetooth to your smartphone or tablet, eliminating wires entirely. Use the device app to monitor the temperature of your meat in real-time, up to distances of 30+ feet away. You can extend your distance by connecting to WiFi and Alexa, allowing you to roam your house while cooking the perfect piece of meat.
Chicken makes a great Iftar protein because it's lean and versatile – you can grill it, fry it, bake it, or even turn it into kabobs. And should you find yourself in a time crunch, the recipes shared can be made in 30 minutes or less.
Whether you're looking for something traditional or want to try something new, there's sure to be a recipe here that will please everyone at your table. So tell us, which one will you try first?
More Ramadan Food Ideas For Busy Nights
If you're looking for inspiration or ideas for your family for Ramadan, look no further! Try some of these ideas!