None of my kids have ever been very good at wanting to eat breakfast first thing in the morning. They also tend not to go for traditional breakfast foods. Quiche were something that everyone always liked and were something I could make ahead and they could heat up when they wanted.
For these quiche I used chicken and goat cheese, it's a good combination and with the spices the mixture is savory and delicious. You can easily substitute whatever fillings you like in this recipe.
Some of the other combinations that I think would work well;
tomato and smoked turkey
merguez and more onions
vegetables like green peppers, tomatoes, and onions
a mixture of different cheeses
try my sweet potato crustless quiche instead!
These quiche can be made in advance and either stored in the refrigerator for up to 4 days or frozen and thawed before eating. While you can microwave these, I think the best way to warm them up is in the oven – even a toaster oven – they'll taste fresh out of the oven. You don't have to thaw them if you'll put them in the oven.
Yield:

5 servings
Mini Chicken and Goat Cheese Quiche
A delicious breakfast option or addition to a brunch buffet, these quiche are simple to make and the recipe can easily be doubled or tripled.
Ingredients
Crust Ingredients
1 cup / 145 g all purpose flour
1/2 teaspoon salt
1/4 cup / 60 ml olive oil or canola oil
1/4 cup / 60 ml ice cold water
Filling Ingredients
3 eggs
1/2 cup / 70 g chicken breast, finely chopped
1/3 cup / 75 g goat cheese
2 Tbsp milk
2 tablespoons fresh cilantro, chopped
1/4 cup / 15 g onions, sliced
1/4 teaspoon ground cinnamon
1/4 teaspoon ground turmeric
1 tablespoon olive oil
salt and pepper
Instructions
Preheat the oven to 200C / 370F.
Prepare Quiche Dough
In a medium bowl, mix flour and salt together and in a small bowl, mix oil and water together. Pour oil and water mix in medium bowl. Combine all together until it forms a dough.
With a rolling pin, roll dough 0.25 cm thick. Use a round cookie shape to cut 5 rounds. Roll the remaining dough and cut 1 cm strips.
Place each round ramequins or muffins forms. Adjust edges with the strips by pressing with your fingers to glue them together.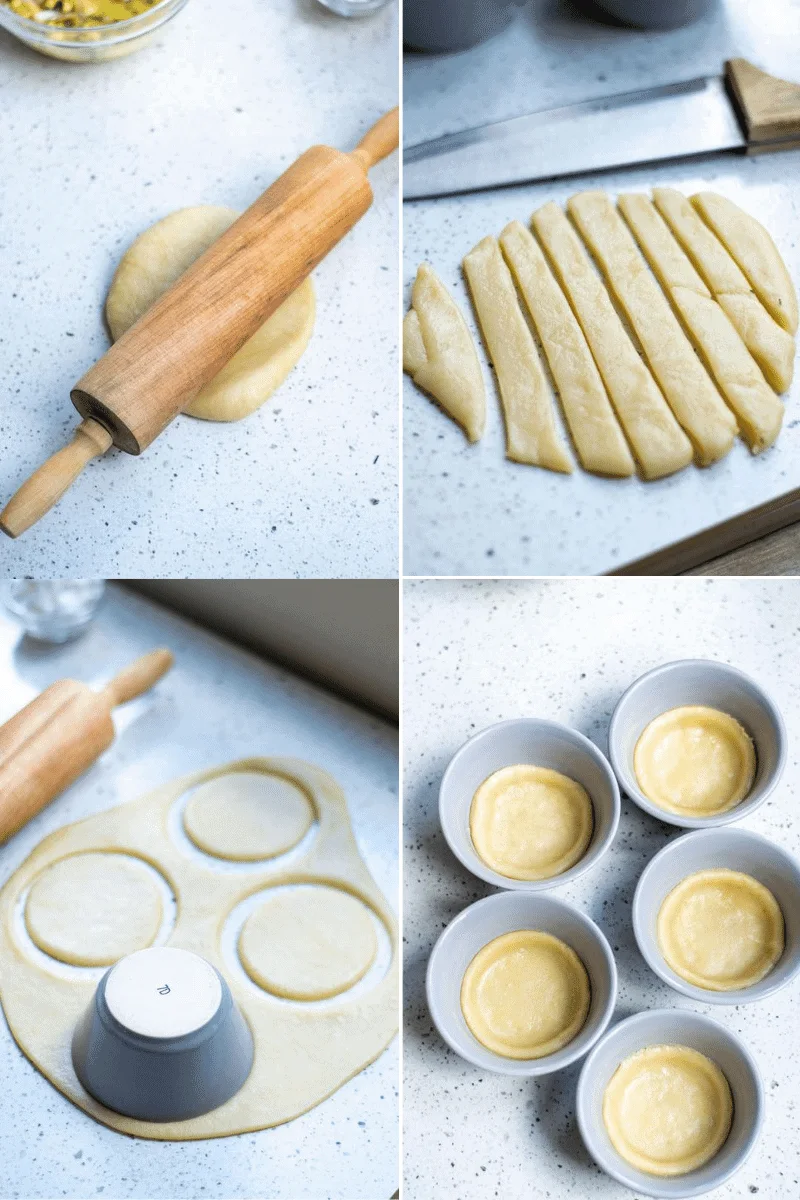 Prepare Fillings
Heat a non sticky pan with oil. Fry chicken until light golden brown then add spices mix then add cilantro and onion. Stir and cook for 1 minute.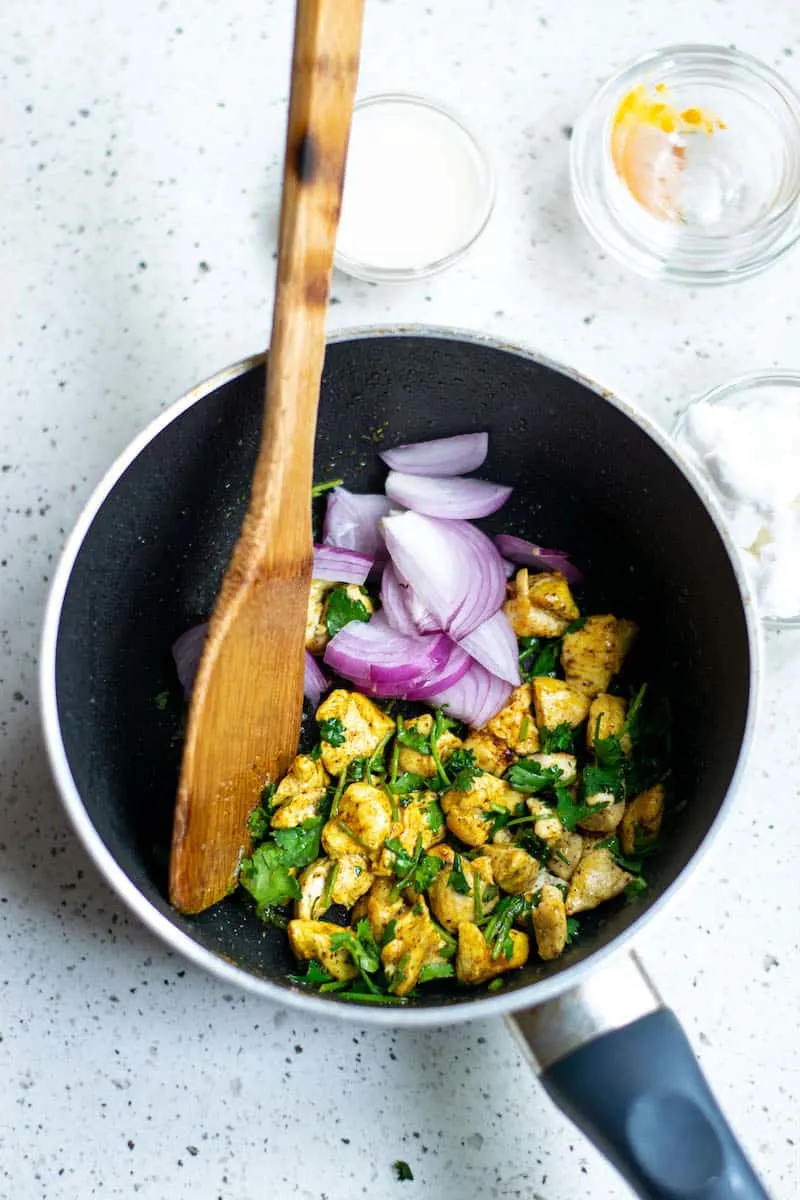 In a medium bowl, beat almond milk and eggs together then add chicken mix with salt and pepper.
Pour equally in 5 ramequins. Bake for 30 minutes until the top is crispy.
These can be served warm or at room temperature.
Notes
These can be stored in the refrigerator for up to 4 days. They also can be frozen and thawed and/or warmed up when you are ready to serve them.