Ramadan is just around the corner, which means it's time to get your home festive with decorations! A favorite Ramadan decor item found in many homes this time of year is a lantern hanging outside, at the window, or simply sitting as a centerpiece on the table.
Crafting your own paper lanterns for Ramadan is a great way to save money on your holiday decorations and a fun way to involve the kids in the celebration of Ramadan. This is a simple Ramadan activity for kids.
Paper lanterns don't just make a good decoration for the festivities but they also provide a lovely ambiance in your home. They are perfect to gather around for late-night conversation, giving a magical glow as you are present and reflecting on life with your kids and loved ones.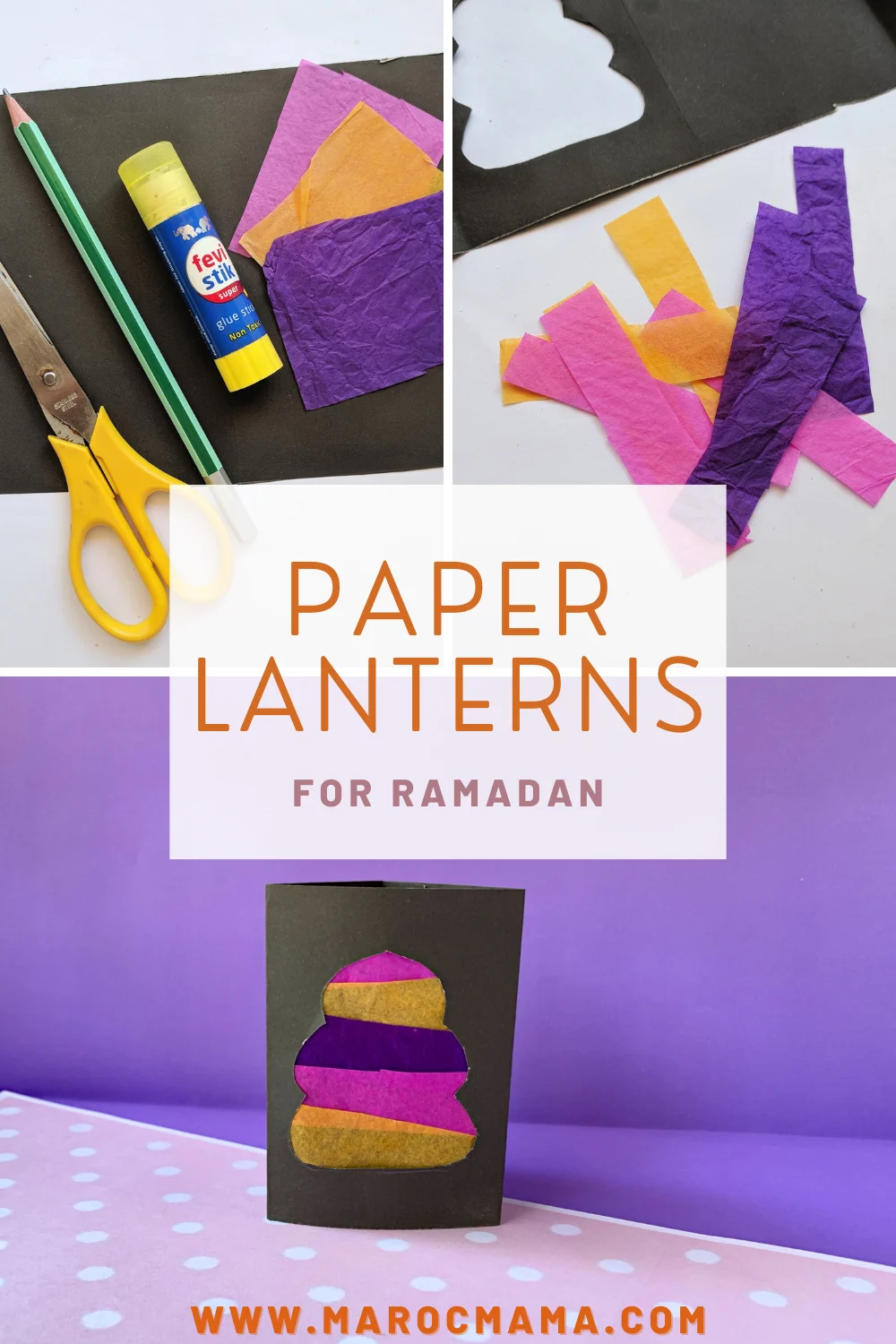 If you're ready to craft, then let's get started! This Ramadan lantern is perfect for your kids and in jus a few easy steps, you will have your paper lanterns ready to add magic to your home!
How To Make Ramadan Lanterns Out Of Paper
Do you have paper, glue sticks, and crepe paper? If so, you're ready to start.
Crepe paper is the perfect material to use for a paper lantern because it allows light to pass through, giving a strong and beautiful ambiance to your home.
Choosing the crepe paper color for this craft is important. If you opt for dark colors, the lantern will give out moody, muted tones. If you go with bright colors, then your paper lantern will luminate more vibrantly. There's no right or wrong choice – it's just a matter of personal preference.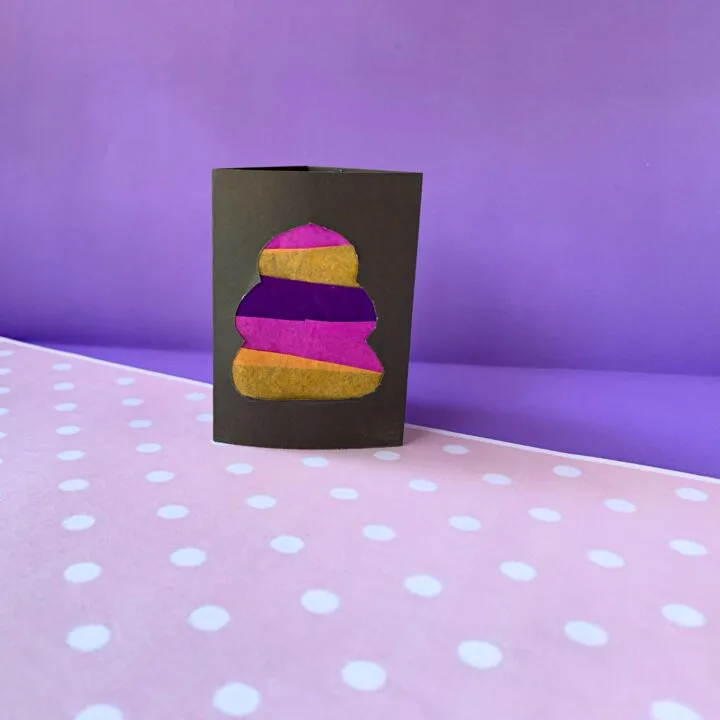 Paper Lanterns For Ramadan
This paper lantern luminary is a perfect and easy craft for kids during Ramadan, but it can also be created at any time during the year. Just tweak the colors of the crepe paper to make lanterns for any holiday you are celebrating!
Materials
Black construction paper
Crepe paper or tissue paper
Glue stick
Pencil
Scissors
Instructions
Print and cut out the Ramadan design template provided
On one side of the construction paper, fold over a 1 inch segment.
Fold the remaining length of construction paper into 3 equal parts.
Open up the construction paper to see the 3 equal sections. Locate the middle section.
Trace the Ramadan design template on the middle section of the construction paper using a pencil.
Cut out the traced template from the construction paper.
Cut strips from different colors of crepe paper or tissue paper. You can use your preferred color.
Attach the crepe paper strips one at a time on the back side of the cut you created in step 3. You can attach the strips vertically, horizontally, diagonally, or overlapping one another - be creative!
Once you've completely covered the hole with crepe paper, fold the construction paper back up (it should be triangular, with 3 sides) and seal your paper luminary using a glue stick. Apply the glue to the 1 inch fold made in step 2 and seal it on the inside of the lantern.
Let it dry and then add an artificial flame inside.
Where To Buy Crepe Paper
Crepe paper can be found at many craft stores, but it's also easily purchased online in a variety of colors.
I love the colors in this crepe paper variety pack – they would make lovely, warm lantern light:
Sizzix Surfacez Crepe Paper, 12
For moodier lighting, try these dark botanical colors:
Lia Griffith PLG11034 Heavy Crepe Paper, 26.7 Total Square Feet, Botanical Garden, 10 Count
If you don't want to do as much cutting, especially if you have very small children, buying crepe paper in streamer-sized rolls is a convenient option. This pack gives you 16 different color options for just over $10:
Crepe Paper Streamers Rolls 16 Color, Gold Crepe Paper Decorations 525ft Birthday Party Decor Wedding Hanging Confetti Holiday Decorative Paper (1.38
More Ramadan Craft Ideas for Kids
If you're looking for inspiration or ideas for other Ramadan crafts ideas, look no further!