I am always looking for new recipes for my family and chicken is always the protein of choice in our house. Truthfully I think my kids have gotten a bit tired of Moroccan food and so branching out is a must. We are big fans of food from the rest of the region and the further Middle East. While I was making a list of foods we loved and wanted to try I realized why not share them with you?!
I tried to choose recipes that represent multiple countries across North Africa and the Middle East. I've left off Turkish and Persian dishes because…they're not Arabic countries or cultures, even though it's all lumped together often times.
These 10 easy Middle Eastern chicken recipes are going to change up your chicken game!
Saudi Arabian Chicken Kabsa Recipe
Chicken kabsa is a popular traditional dish from Saudi Arabia – sometimes considered THE national dish of the country. It is also known by the name of makbus. There are variations of this dish made in the areas around Saudi Arabia as well. What makes this dish really special is the use and combination of spices that flavor the chicken and the rice. Take the dish up a bit with the addition of daqqus, an Arabic tomato sauce that can be made spicy if you like. Kabsa rice is easy to make and can be reheated if you make a big batch by placing into the oven, covering with aluminum foil and slowly warming up.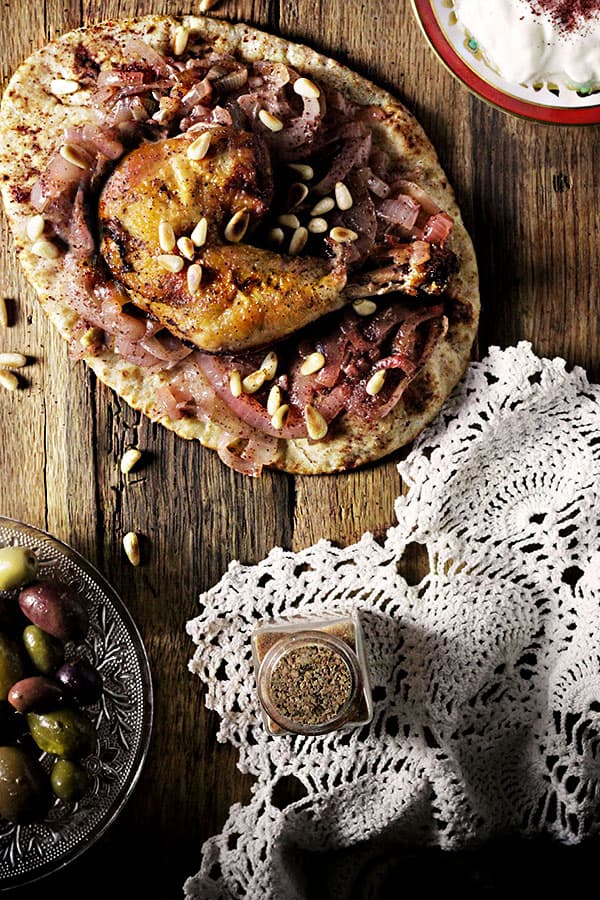 Palestinian chicken musakhan is a delicious and fun addition to any dinner table. Don't be scared off by the steps, the flavor pays off in the end. This is a great way to save some money too as it uses chicken legs, though you could swap for any cut of meat that you like. The ingredients in this dish are all easy to get in the region though if you're living elsewhere it may require a little bit of effort. This dish is a favorite for kids.
Why?
You get to eat with your hands!
recipe and photo from Global Table Adventure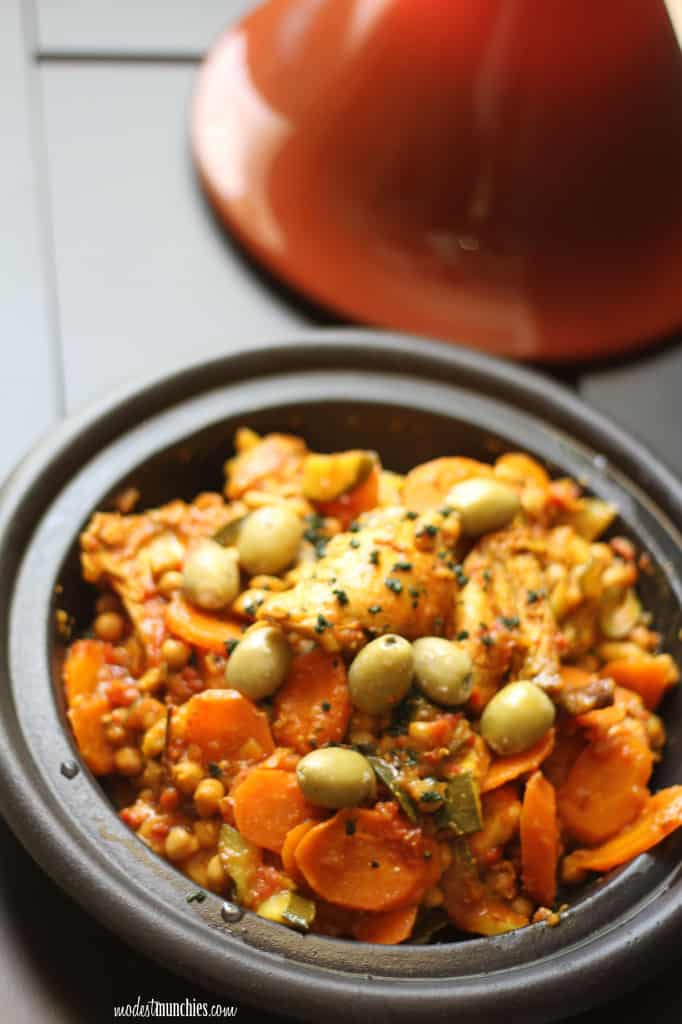 I wouldn't say this recipe is super authentic but it is delicious! For example in traditional Moroccan cooking we rarely combine garlic and onion in a dish, it's usually one or the other. Also in Morocco you'd never eat a tagine with couscous or rice on the side – it's always bread that's used to gobble up all the goodness! That being said, the flavors in this dish are really yummy and you probably have everything in the recipe on hand in your kitchen.
recipe from Modest Munchies
Slow Cooker Chicken Shawarma Recipe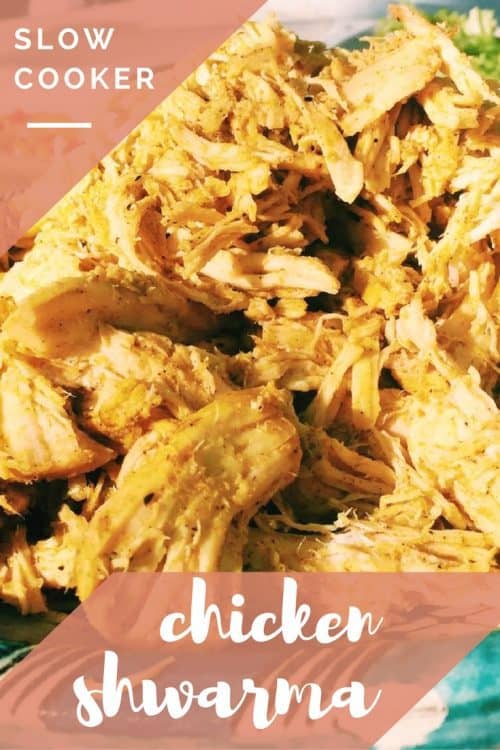 My youngest son absolutely adores chicken shawarma and living where we do it's easy enough to pop outside and buy a sandwich. But, they're not always the healthiest and I can't really control the quality or what's in them. Instead I love making this dish at home. It's also turned out to be a REALLY popular dish for potlucks and gatherings. Make up a big batch, put it out with different toppings and whip up some shawarma sauce and you're all set to party!
Iraqi Yellow Spice Rubbed Chicken
The Arabic name for this dish is Djaj bil-Bahar Il-Asfar and it makes for a fantastic summer grilled chicken recipe. When you want to really up your grill game – go for this! The spice blend on this chicken is what really makes it special and it does require a few specialty items you might not have in your pantry. You can leave them off but know the recipe won't be quite the same. When I made this I added a bit of olive oil to the spice paste and popped it in the fridge overnight. Drool worthy!
recipe and photo from Saveur
Get ready to go crazy for this dish! Basically there is nothing wrong with this meal – what's not to love when you combine chicken, fried pita bread, rice, and a garlicky yogurt/lime sauce? Best of all, there's a shortcut if you don't have the time to cook a whole chicken to add to the dish – rotisserie chicken works too. Make this when the rice and chicken are warm and eat immediately because it really can't be reheated. Don't worry you won't have any leftovers to heat up anyway!
Copycat Halal Cart Chicken and Rice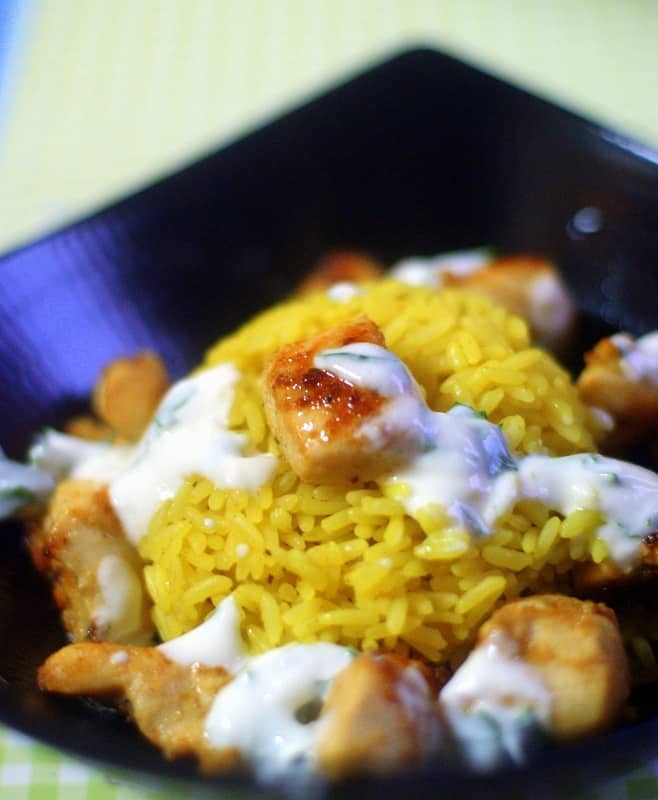 I made this dish for the first time recently after having it saved on Pinterest for months. I don't know why I waited so long. My family LOVES this dish. So much so that my husband has asked me to add it to the weekly meal plan. My kids gobble it up and ask for seconds and thirds. I like it because honestly, it's really easy to make! While you should marinade the chicken for 2+ hours I've left it for just 15-30 minutes and it's still very good. Whatever you do, DO NOT skip making the yogurt sauce topping, it really makes the dish.
recipe and photo from Mideats
Instant Pot Mediterranean Chicken and Rice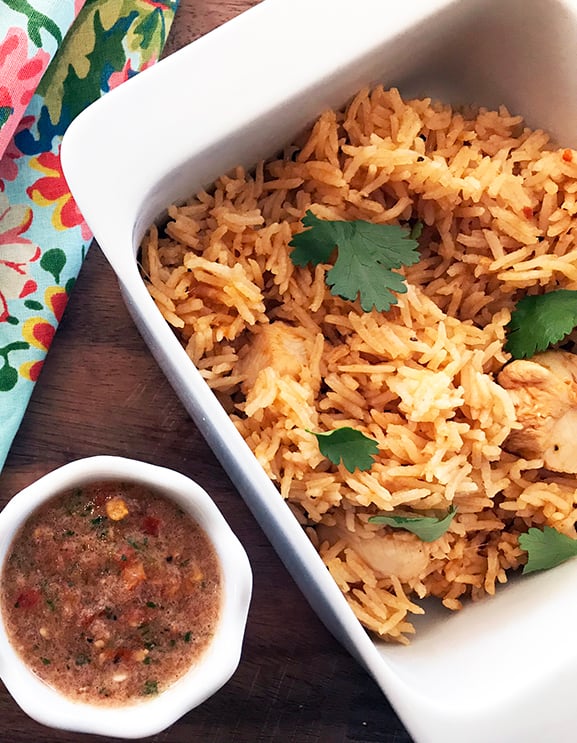 For those of us who are really short on time but still want to put something delicious on the table, this recipe might be just want you're looking for. Not only is it super fast, you're going to have minimal dishes to wash from cooking! It is a great use of an instapot for dinner. Make the recipe once and then adjust based on your tastes. Add more hot peppers if you'd rather a bit of a kick, or mix in some toasted nuts when it's complete for added texture. There are dozens of variations you could make!
recipe and photo from Happily Hafsa
Molokhia with Chicken Recipe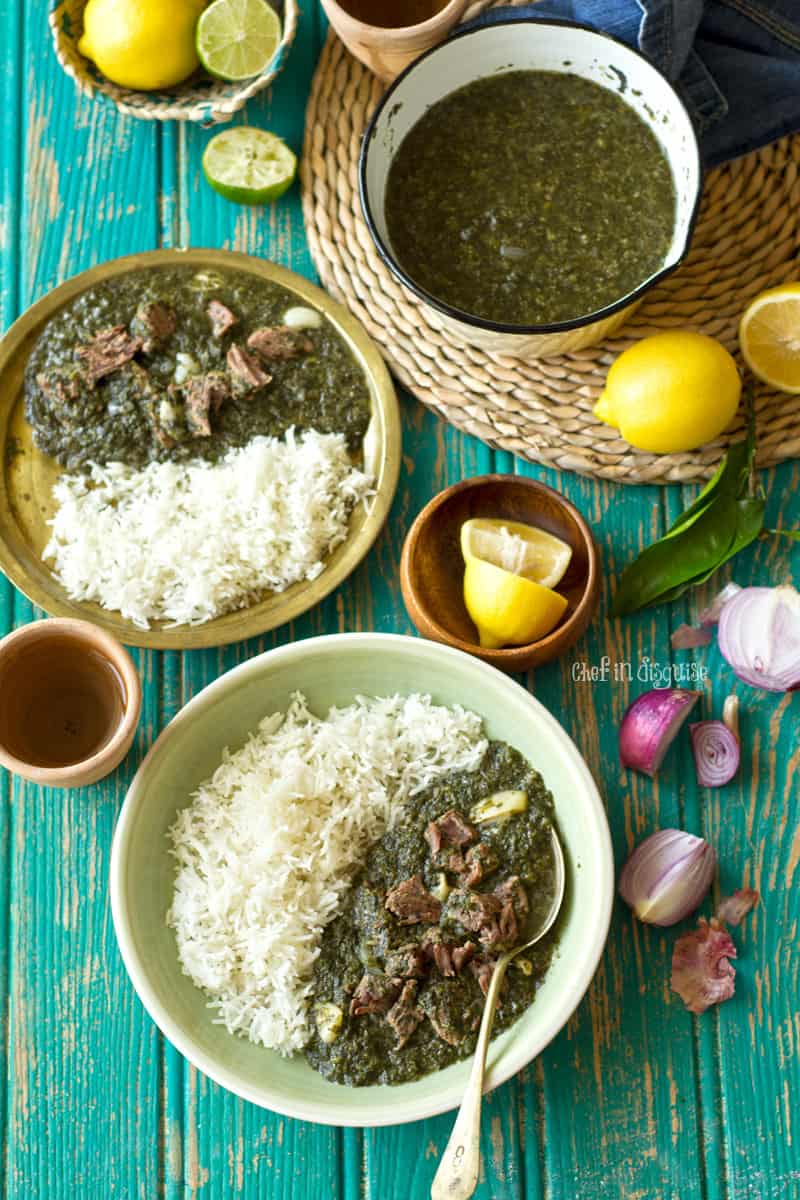 This dish might be hard to get your kids to eat if they're not big on "green" foods but it's extremely popular in the Levant. The stew portion is made from a leafy vegetable called nalta jute that grows in the region – it's similar to spinach. Historically speaking this dish is OLD dating back to the pharaohs of Egypt and was prized because of its health benefits. You can make it with any kind of meat on the side. This recipe uses beef but has instructions for substituting chicken.
recipe and photo from Chef in Disguise
Algerian Chicken with Olives
This Algerian tagine is similar to the Moroccan version but it's not the same dish. The ingredients are very simple and a great way to use herbs and spices – I especially love the inclusion of thyme. You could very easily make this dish on a weeknight and include or swap some other vegetables that you have on hand.
recipe and video from The Teal Tadjine
Snag your FREE Moroccan Couscous Recipe!
If you love food and want to know more about MarocMama's food related content, products, and promotions sign up now! You'll get a FREE downloadable recipe for traditional Moroccan couscous from my new cookbook to preview!