Visiting and navigating Morocco without the help of a guide or someone who really knows the ropes isn't for everyone. I've never been someone who really likes the idea of group tours. To be honest, my only experiences were when I traveled as a teenager on school trips and let's just say that was like herding cats.
I never went on one again.
But, since I started working in tourism I have learned all the ins and outs of the industry and the challenges that go into organizing this type of travel. I've also learned a LOT about what works – and when a company really cares about providing their clients with a great experience.
That's why after meeting Genevieve I wanted to share this post with you about her company; ArchaeoAdventures. I interviewed her so that you could learn a bit more about this type of travel. If you're looking to visit Morocco but you aren't really ready to do it yourself or you'd just rather have a small group environment then I highly recommend you consider!
What made you want to start ArchaeoAdventures?
I wanted to help travelers enjoy great local experiences in Morocco, while at the same time economically empower local women tourism professionals through good tourism work. I was working in the Middle East and North Africa as a photographer, and I was inspired by the many talented and knowledgeable female expert tour guides who were very passionate about sharing their country. I noticed that women were under-represented in tourism and I saw an opportunity to create a unique kind of travel experience — connecting these great local women guides with travelers – while also helping local women in the region through good tourism jobs.
What sets an ArchaeoAdventures tour apart from other companies?
At ArchaeoAdventures we partner with local women-owned and run tourism companies, hotels and local women tour guides to provide travelers with unique, culturally immersive experiences traveling in Morocco. Our travelers tell us that exploring Morocco with our local women guides feels more like getting to know the country with a local friend.
As a guest what types of experiences can I expect to have if I join you?
Our travelers dive deep into the Moroccan culture, history and food on our tours. Explore the twisting medina laneways of Marrakech, Fez and Chefchaouen as our local female guides help our travelers understand daily life in the medinas, as well as the areas' rich history. Camp under the stars in the Sahara desert after camel trekking to our traditional Berber camp. Learn about local food and street eats on an evening food tour of Marrakech. Hike in the High Atlas Mountains, called the roof of North Africa. Stay in local family-run riads and traditional Morocco homes. Bargain for handicrafts in what were once caravanserai turned now into souqs. Explore bustling Casablanca and marvel at the modern architectural wonder of the Hassan II mosque.
What is your most memorable travel experience?
Enjoying a travel trek through the colossal sand dunes of the Sahara. And then camping under the stars in the Sahara at a traditional Berber camp. It still remains one of my favorite experiences in Morocco and never loses its magic. It's my top "must see" experience for anyone traveling to Morocco.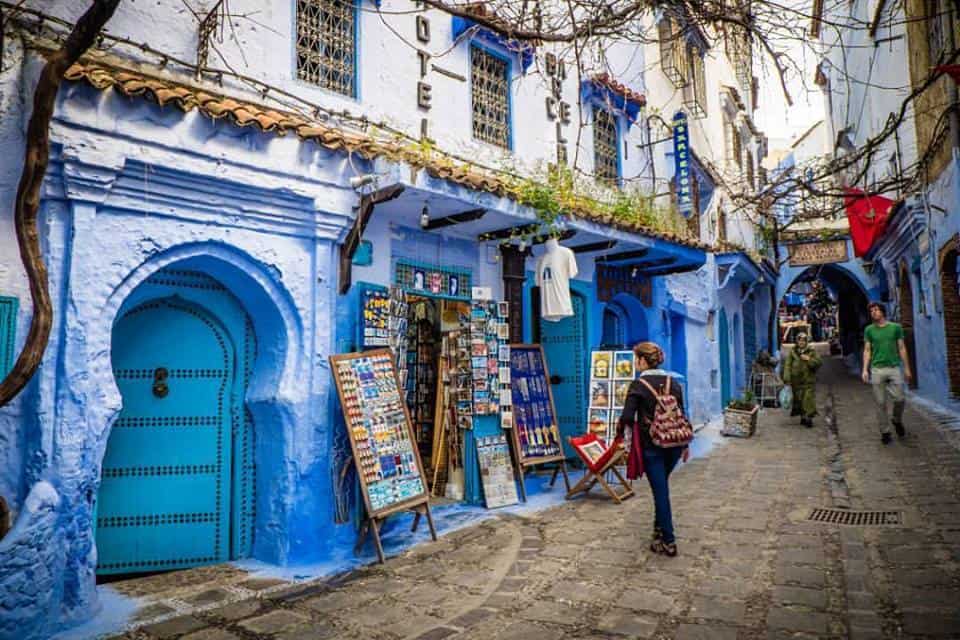 If there's one bit of advice you would give to travelers who are considering a trip to Morocco what would it be?
Pack your curiosity, openness and sense of adventure. Morocco is a wonderful country with friendly locals and a vibrant culture. The best way to experience Morocco is to dive in and explore this fascinating country.
What Can I Expect for the Next Morocco Tour?
The next tour is set for October of 2018 (find specifics on the ArchaeoAdventures website).
Some of the highlights of this tour include;
Highlights of Morocco Tour:
Discover the culture and history of Morocco with local women expert guides.

Enjoy

Marrakech

's wild, crazy and highly entertaining

Jemaa El Fna

. By day acrobats, snake charmers, dancers and musicians wow the crowds and by night local restaurants have a cook off.

Dine on local Moroccan dishes and street food on an evening walking food tour of Marrakech.

Explore the twisting medieval labyrinths connecting

Fez

's ancient souks, mosques, and medina — the most complete medieval city in the Arab World.

Travel through the

High Atlas Mountains

amongst snow-capped peaks and

Berber tribes

— the roof of North Africa.

Take a

camel trek

in the massive, rolling

Erg Chebbi dunes in the Sahara desert,

and camp under the stars in this dramatic and wild landscape.

Bargain for Bedouin-made jewelry, spices and ceramics amongst the blue-washed buildings of

Chefchaouen's medina

.

Marvel at the modern wonder of Casablanca's Hassan II Mosque with the world's tallest minaret.

Explore Morocco with a small-group tour of like-minded travelers.

Limited to 8 adventurous travelers.
Want a great bonus to book?
If you sign up and let them know you read about it here first, you'll get $100 off your reservation! I'd say that's pretty awesome!!
So, if you've thought about coming but don't want to do it alone – consider this tour!
MarocMama Morocco Exclusive Deals
Pick up your freebie for purchasing one of the exclusive deals!