This is one of the few dishes that Moroccans can claim for their own. Unlike couscous or tajine which stretches across the Maghreb b'stilla is firmly routed in Morocco. Today, the most common type of b'stilla served is chicken but traditionally it was made with pigeon. Only recently has this dish become something that an average Moroccan person might eat – previously it was reserved only for royalty or the wealthy.
There are a few different stories about where b'stilla was created but the most popular story is that it was developed in the kitchens of Moorish Spain. The story goes that the sultan had seen what was being served in French courts and wanted a dish that would rival the French court and his cooks developed this. Is the story true? Maybe yes, maybe no!
What we do know is that the dish came back to Morocco and the royal courts where it eventually trickled out to the rest of the population. What makes this dish so special? It's a really unique mix of sweet and savory in one package.
Chicken is cooked with spices and broth and is then shredded while eggs are slowly cooked in the remaining broth. The meat is layered into a pie that is surrounded by paper thin sheets of warka dough (similar to phyllo), the eggs are added as well as crushed almonds, cinnamon and icing sugar. The entire package is wrapped up and baked and then dusted with cinnamon and sugar on top too.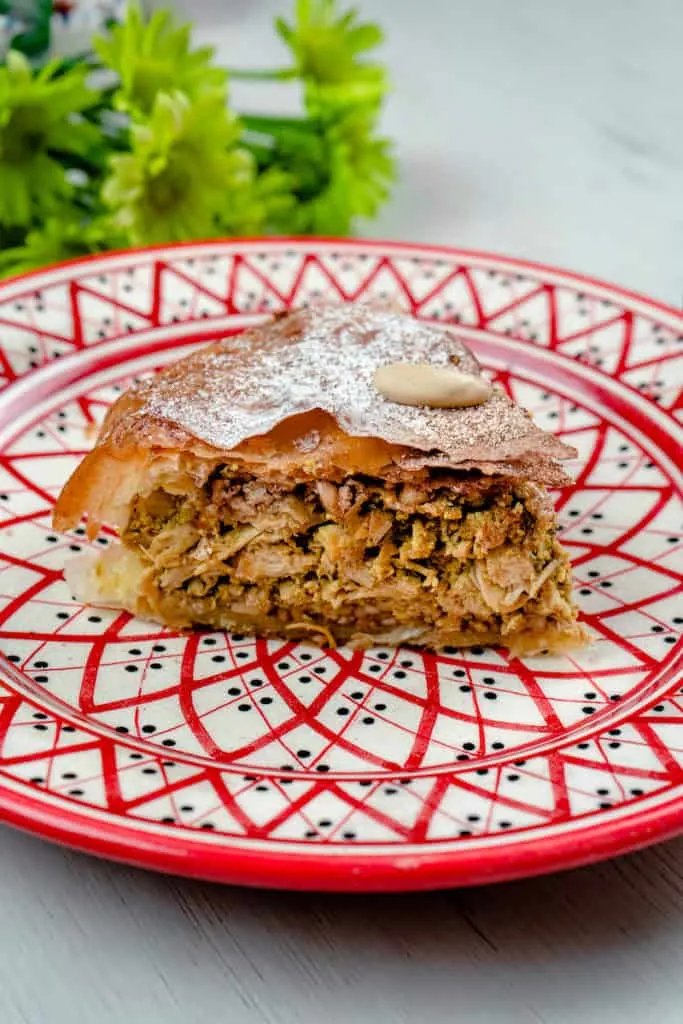 This dish is a favorite of mine. My sister-in-laws always make sure to have this for me. Their's always tastes the best which I'm sure is part skill and part the right ingredients!
This is made with a dough called ourka (work-a) that is a bit thicker than filo dough. You can sometimes pick it up in Middle Eastern markets but if not filo dough works too. This recipe is a bit different than the traditional recipe but it's how I've adapted it for my American kitchen.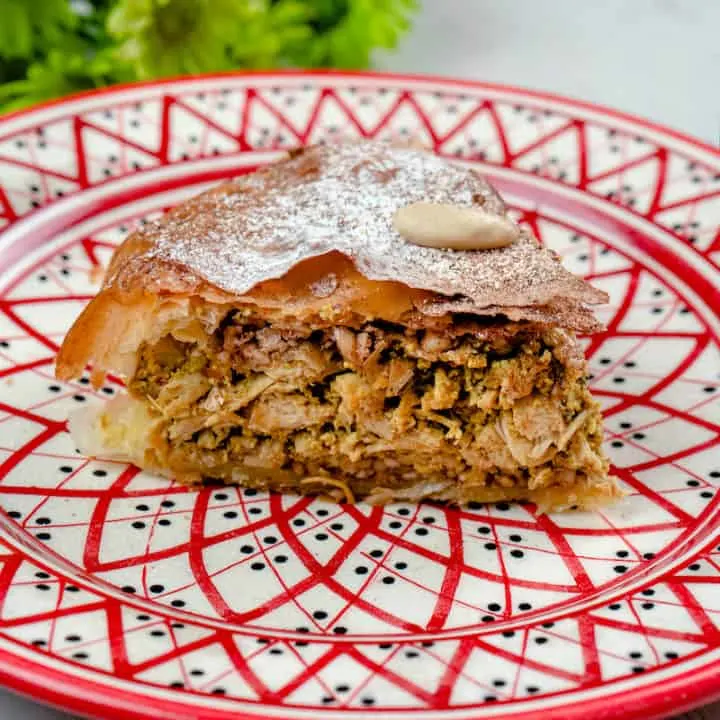 Yield:

8 servings
Moroccan Chicken B'stila
Cook Time:
1 hour
30 minutes
Total Time:
1 hour
30 minutes
This Moroccan sweet and savory dish is a little difficult to master but sure to impress your family or guests.
Ingredients
Filling Ingredients
1 medium onion finely chopped
2 tsp vegetable oil
3-4 boneless, skinless chicken breast halves
¼ C minced fresh flat leaf parsley
2 Tbsp minced cilantro
1/2 tsp ground turmeric
1 tsp ground ginger
1 1/4 tsp ground cinnamon
8 saffron threads
1 tsp salt
1/2 tsp pepper
3 eggs, lightly beaten
⅔ cup powdered sugar
1 cup water
Almond Mixture
½ cup whole blanched almonds
1/2 cup powdered sugar
1 tsp ground cinnamon
12 sheets thawed phyllo dough
1/2 cup melted butter
ground cinnamon and powdered sugar for garnish
Instructions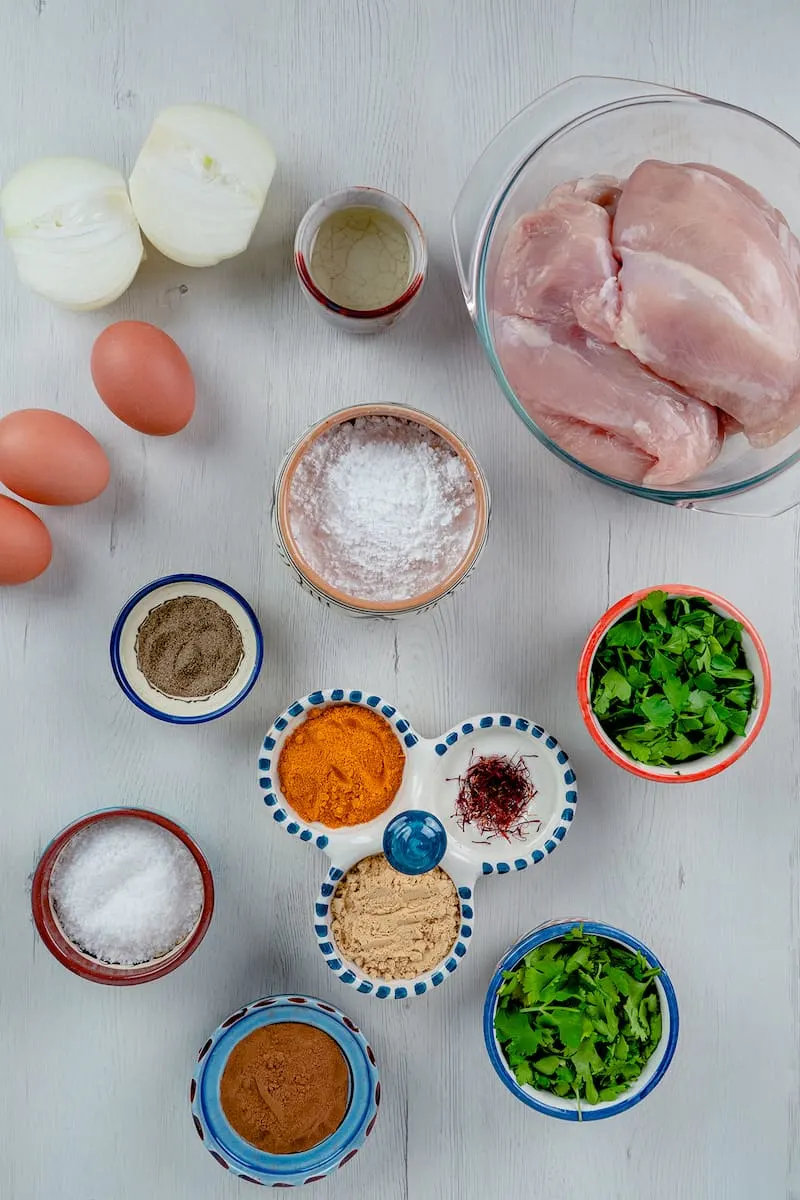 FILLING
In a large saucepan over med heat, heat the oil.
Saute' onion until golden (6-8 min).
Add chicken, parsley, cilantro, turmeric, saffron, water, ginger, & cinnamon.
Cover & cook until the chicken is tender (20-25 min).
Transfer chicken to a bowl or plate and set aside to cool. Let the sauce continue to simmer in the pan and add the beaten eggs, salt, pepper, & sugar.
Stir constantly until the eggs are gently scrambled.
Shred the chicken & add it to the egg mixture.
Set aside.
ALMOND MIXTURE
In a blender or food processor, coarsely grind the almonds and mix w/ sugar & cinnamon. Set aside.
Preheat the oven to 425 degrees F.
Remove 12 sheets of phyllo from the package and re-wrap the remaining phyllo in its original wrap. Refrigerate for future use.
Stack the 12 sheets on a work surface and cover w/ a damp towel.
Spread a little butter on a pizza pan or baking sheet.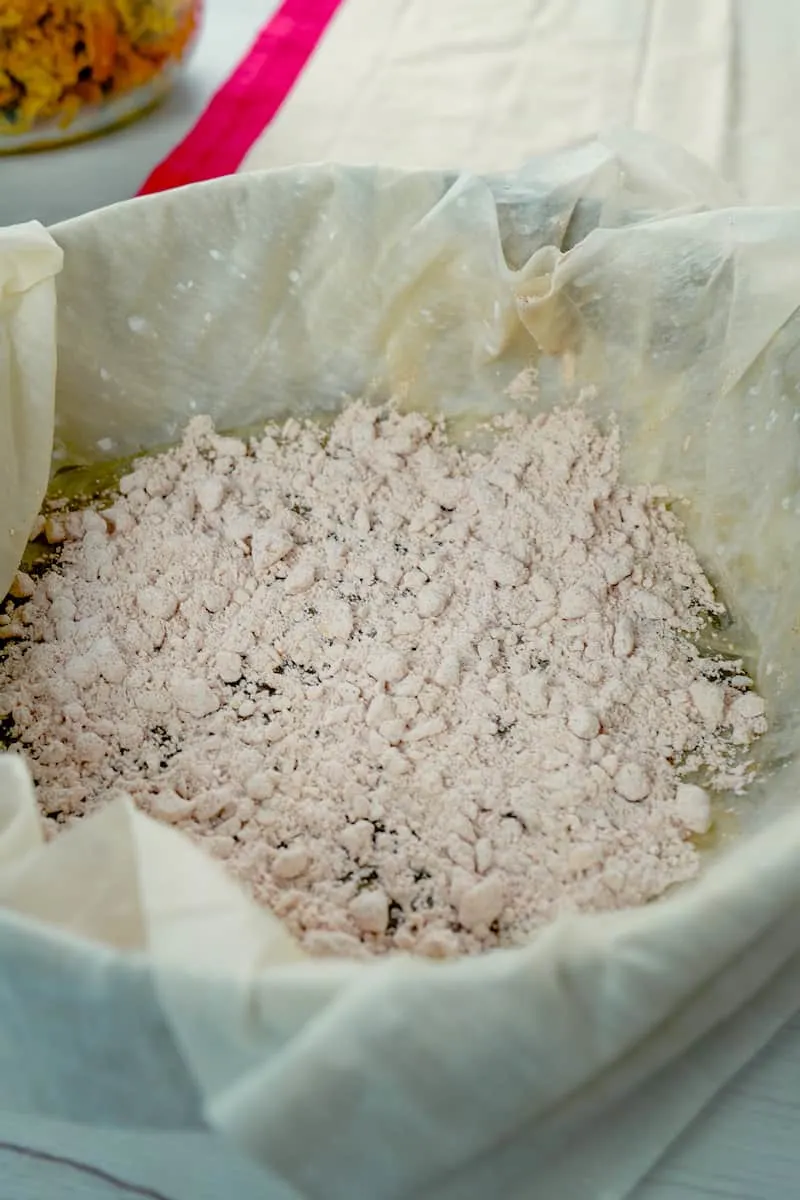 Layer 3 sheets of phyllo, lightly spraying each layer w/ butter.
Sprinkle the 3rd sheet evenly w/ ½ of the almond mixture.
Layer & butter 3 more sheets.
Spread the chicken mixture evenly over the top, leaving a 1½" border of phyllo.
Fold over the edges to partially cover the chicken mixture.
Layer & butter 3 more sheets over the chicken, sprinkling the remaining almond mixture evenly over the top.
Layer & butter the last 3 sheets of phyllo over the almond mixture.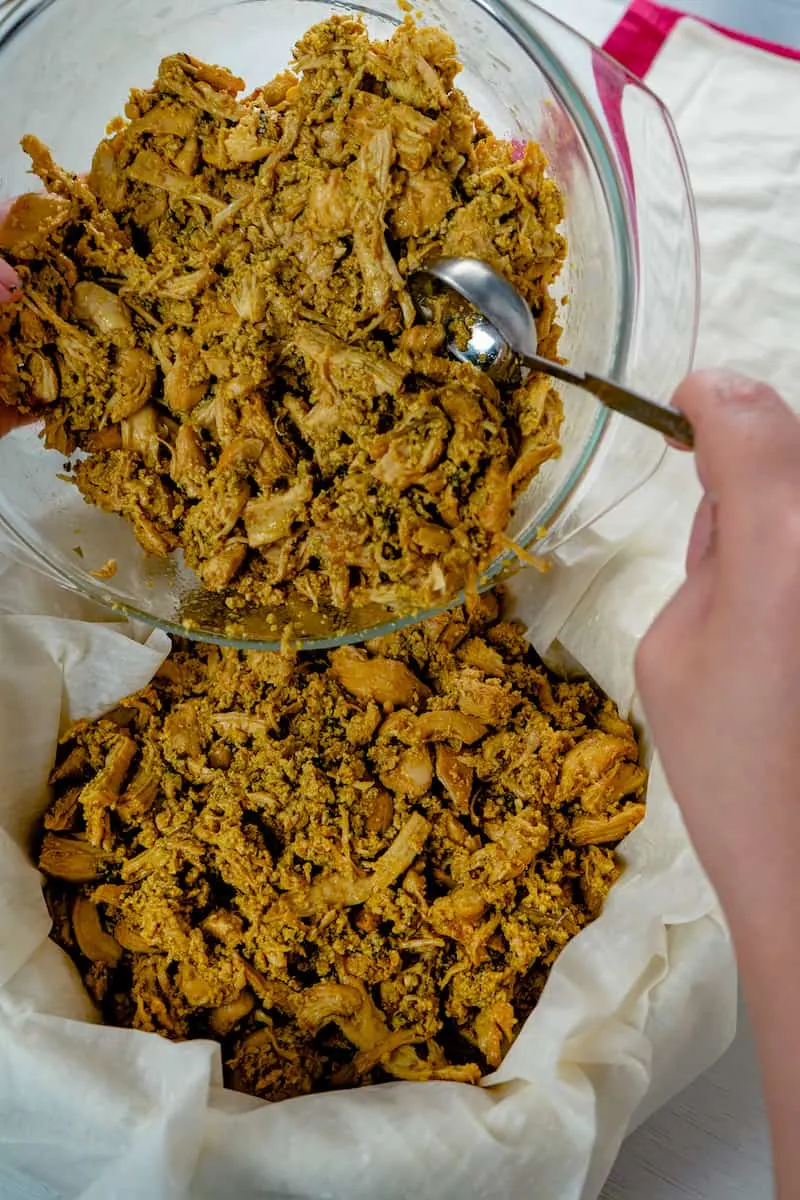 Tuck the edges of the last 6 sheets under the b'stilla as you would a bed sheet (at this point, I take another baking sheet and place it on top, then flip it over & seal the last 6 sheets of phyllo from bottom to top)
Bake the b'stilla until golden brown (20-25 min).
Place the powdered sugar in a fine-meshed sieve. Tap the sides of the sieve to cover the surface of the b'stilla lightly and; evenly w/ sugar.
Using thumb & forefinger, sprinkle ground cinnamon over the top (most people make patterns, I just lightly dust it).
Serve immediately, before pastry becomes soggy.
Notes
These can be prepared in advance and frozen uncooked in aluminum foil. It will keep up to 2 months in the freezer. No need to thaw before baking, but bake for 10 min extra if frozen.
**This makes about a 10″ pie and easily serves 4 as a main or up to 10 as a starter.
Moroccan Cooking Inspiration