When I went to Tunisia for the first time, I wasn't sure what to expect. To be honest, I assumed it would be a lot like Morocco. While in some ways I was right, in other ways I was quite wrong. I chose to stay in a bed and breakfast (basically a riad) because I was curious how it would compare to Morocco. I also really wanted to get some authentic Tunisian food and knew this was likely my best chance to do it.
I had requested from my hosts that I would like to have dinner there one evening and could they please make me something traditional. The manager was not from Tunis (where I was) but from the island of Djerba and had prepared Djerba rice. Djerba is an island off the coast of Tunisia and is the largest island in North Africa at just under 200 sq miles with a population around 150,000 people. The island has several food specialties and this happens to be one of the best known.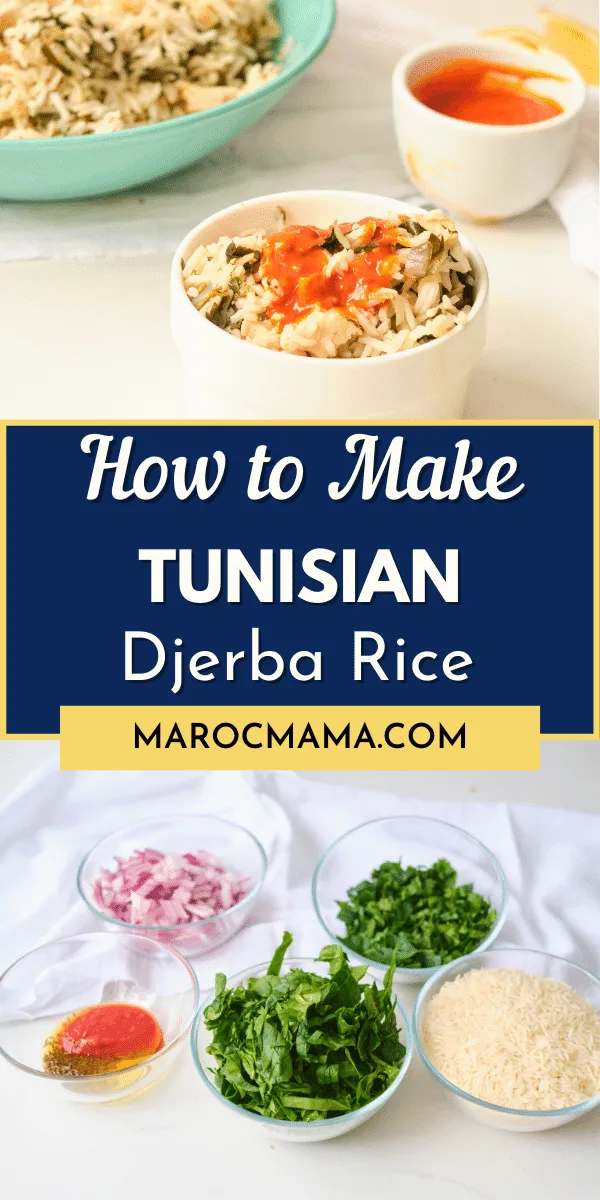 Legend has it this is the island of the Lotus-Eaters where Odysseus was stranded on his voyage through the Mediterranean! Due to it being an island it's not a big surprise that there are unique culinary quirks and recipes that are found here and not found elsewhere. It's heavily Mediterranean and epitomizes comfort food. Speaking with anyone from Djerba the first thing I noticed was how much love they have for their local cuisine. What's not to love about that?
The food was delicious and what made it even better was that they prepared a table for me on the rooftop overlooking Tunis as the sunset and the call to prayer sounded. I'm certain this made the dish taste even better. I was able to get the recipe so that I could recreate it at home – and share it with you too.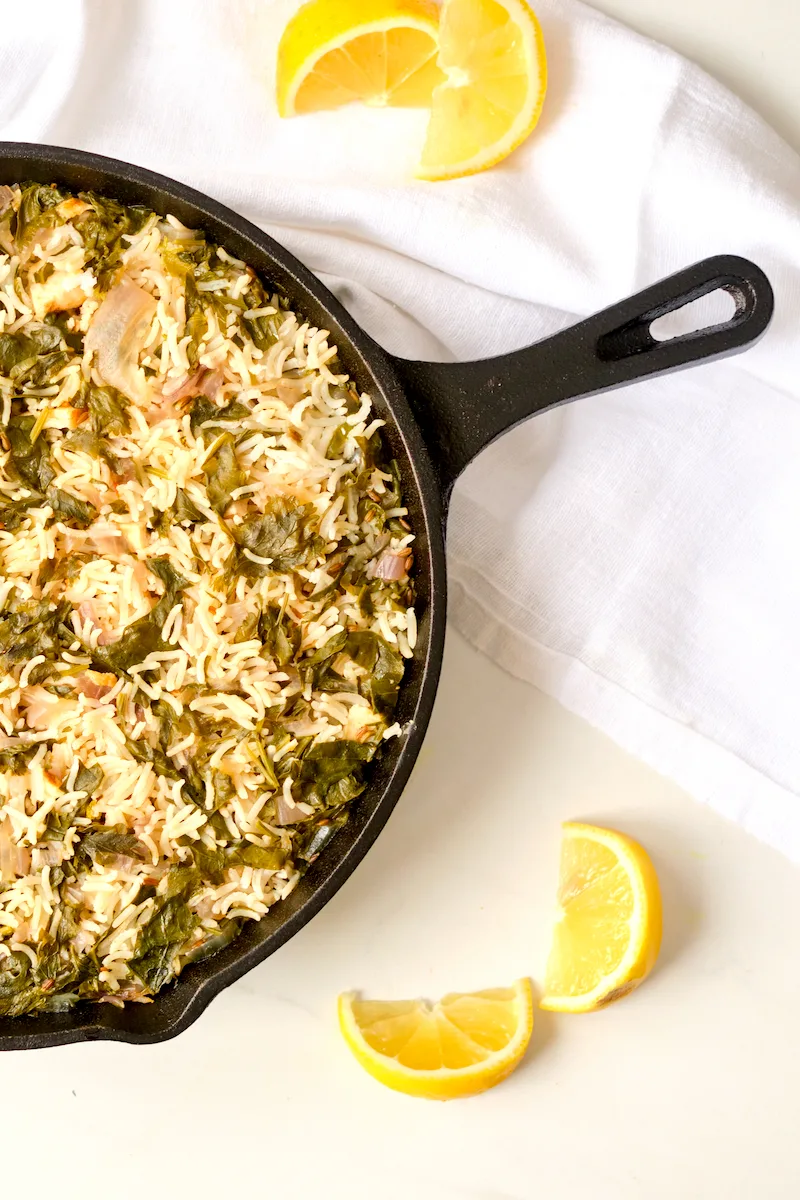 Along with this dish, they also made me a traditional Arabic salad (cucumber/tomato/onion with olive oil dressing) and my host told me on Djerba in the summer his grandma would often make the same dish but include green melon and torn mint as a fresh twist. Of course, tajine was also part of dinner. No, not Moroccan tajine – Tunisian tajine version which reminds me more of a frittata. Way too much food but I enjoyed every single bite!
Note: For this recipe the rice is steamed – this is what makes it unique. If you don't have a steamer, I recommend this one that you can also use to make couscous, Double Boiler and Steamer Set.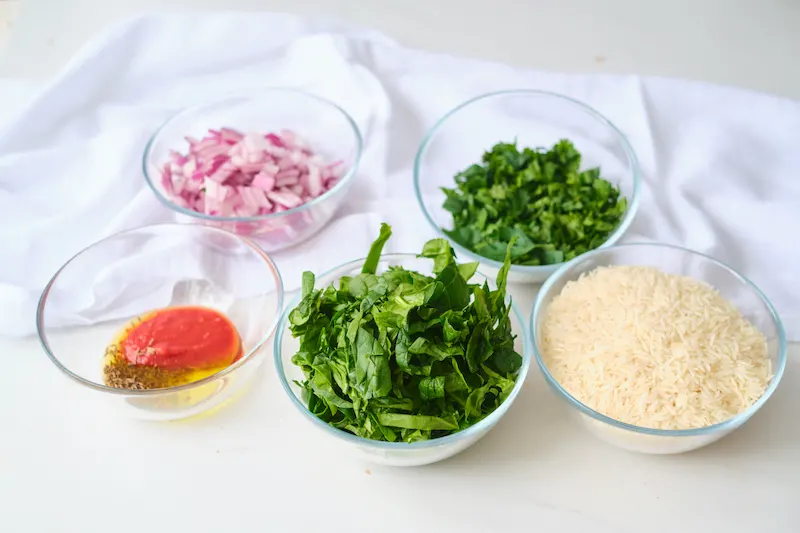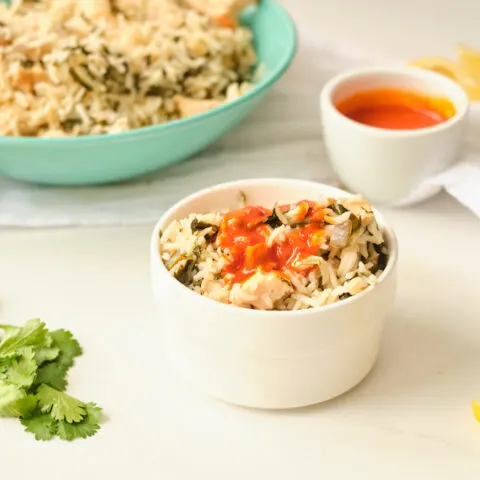 Yield:

4-6 servings
Tunisian Djerba Rice with Chicken
Cook Time:
1 hour
30 minutes
Total Time:
1 hour
40 minutes
Hailing from the island of Djerba, this rice dish is a complete meal with starch, vegetable and protein all in one.
Ingredients
500 grams/ 1 pound basmati rice
1 handful of chopped parsley
1 handful chopped cilantro
1-2 cups chopped spinach (or any type of chard or kale)
1 large chopped onion
5 cloves of garlic, crushed
1 tsp caraway seeds
1/2 tsp ras al hanout
2 Tbsp olive oil
1 Tbsp tomato paste
1-2 chicken breasts cut into small pieces (optional)
harissa to serve on the side
lemon wedges to serve on the side
cilantro and parsley for garnishing
Instructions
Rinse the basmati rice with cold water until the water is no longer cloudy.
Add olive oil and tomato paste to the rinsed rice.
Mix in parsley, cilantro, spinach, onion, garlic, caraway seeds, and ras al hanout.
Cut the chicken (if using) into small pieces - the smaller the better for quick cooking and add to the rice mixture.
Place the mixture into the top of the rice steamer and fill the bottom halfway with water. Cover the top portion of the steamer.
Allow to steam 45 minutes and check the water level, adding more if needed.
Remove the cover and pour the rice mixture into a bowl, use a large bowl to mix the rice breaking up any clumps that have formed and separating the grains. If it feels dry you can add a little more olive oil.
Put the rice back in the steamer and continue steaming for an additional 30-45 minutes until it is completely cooked through and fork-tender.
Add additional fresh herbs if desired.
Serve with harissa and lemon wedges on the side for each person to add as they'd like.
Be a part of the MarocMama family!
Do you want access to all things MarocMama? Join our community of readers to get updates on new posts, inside information that won't go on the blog and so much more!
Sound good? Pop your email below and you're in!