I can remember MarocBaba telling me one of his favorite memories of coming home from school was when his mom or his sisters (he has 6 older sisters) would make a bread stuffed with onions and spices. I also can remember thinking, "oh, that's nice" but in the back of my mind not really getting what was so special about this. If I'm completely honest, I still don't LOVE this the way my husband and kids do but I chalk that up to my lifelong hatred of onions.
Yes, I hate onions.
I have tried to make this several times over the course of my marriage and most of the time it has fallen flat on its face. So, I did what I should be doing more of now that we live in Morocco. I enlisted one of my sister-in-laws to teach me. It became obvious right away where I was making my mistakes.
But, the good news is that unlike many Moroccan recipes, the way my sister-in-law makes this is actually easier than what I was attempting to do. Yay!
You could make these to have anytime of day though here they are most popular as a snack after school or during Ramadan on the iftar table. I send pieces of this to school with my kids for a snack or serve it along side a salad for lunch. See, there's no bad time!
Medfouna Pizza Recipe
Ingredients
Please note that for the quantities I have used a variety of measures. I have tried to provide both metric and imperial measurements so that you can use whichever is most familiar to you.
Bread Filling
3 purple or yellow onions chopped finely
100 grams (appx 1/2 cup) hard beef suet (fat)
1 tsp cumin
1 Tbsp paprika
1/2 tsp black pepper
1 tsp salt
1 small red hot pepper seeds removed
250 grams (1/2 pound) ground beef
palmful of za'atar or dry thyme
Bread Ingredients
equal amounts of semolina flour and white flour – we used 2 cups or 250 grams of each.
2 1/2 tsp dry yeast
1/2 tsp salt
1 tsp sugar
warm water
1 Tbsp vegetable oil
Moroccan Berber Pizza Directions
Cooking the Filling
To begin cook the onions and beef suet (fat) until the onions start to get translucent. This should take about 5 minutes to begin cooking down.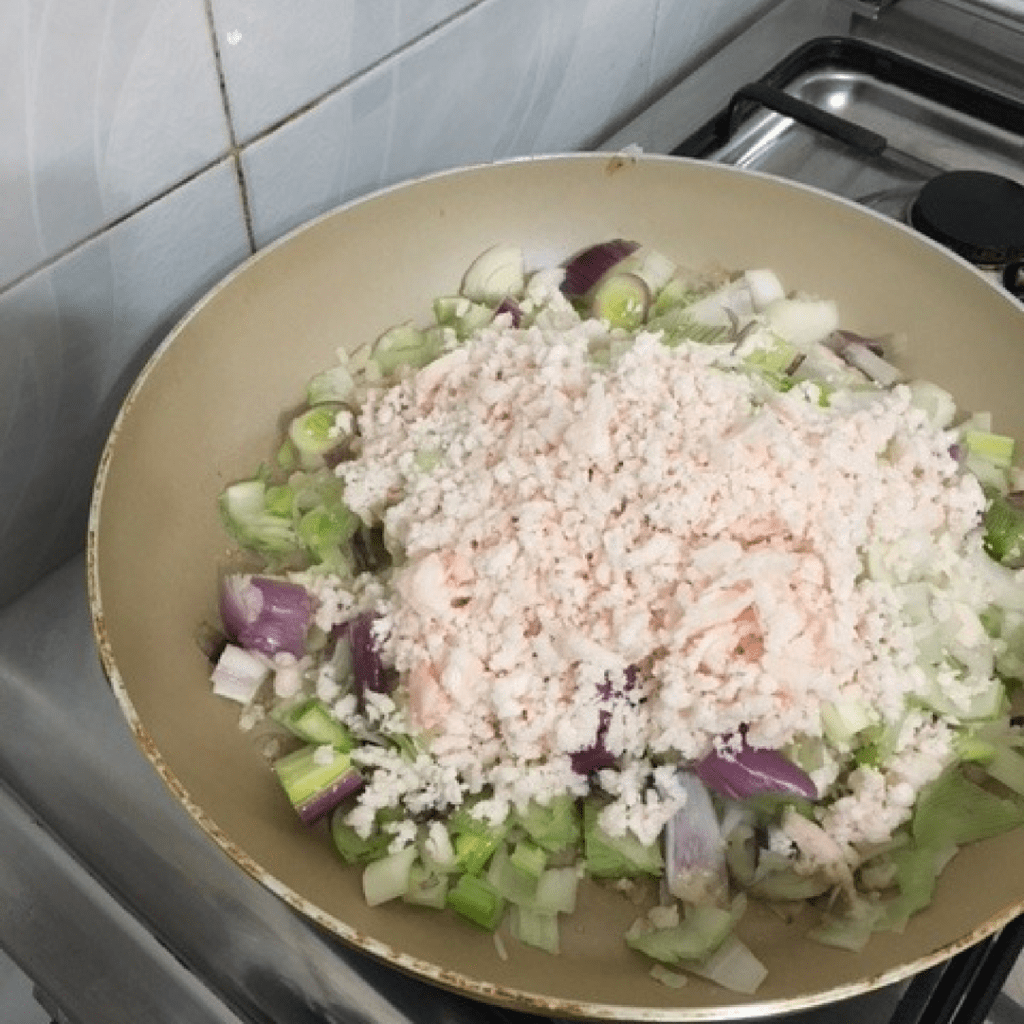 Next, add the spices and mix into the onions. Taste the hot pepper before you add the entire thing. You can decide what level of spiciness you want. Chop very finely. You also can leave it out completely, it's optional. Cook a few more minutes.
Break up the ground beef with your hands and add to the onion mixture in small pieces. Continue cooking while breaking the meat until small pieces until the meat is completely cooked. At the end crush the za'atar/thyme with your hands and add to the meat.
Remove from the heat and allow to cool completely before stuff. It's very important that you let the meat cool all the way.
Making the Bread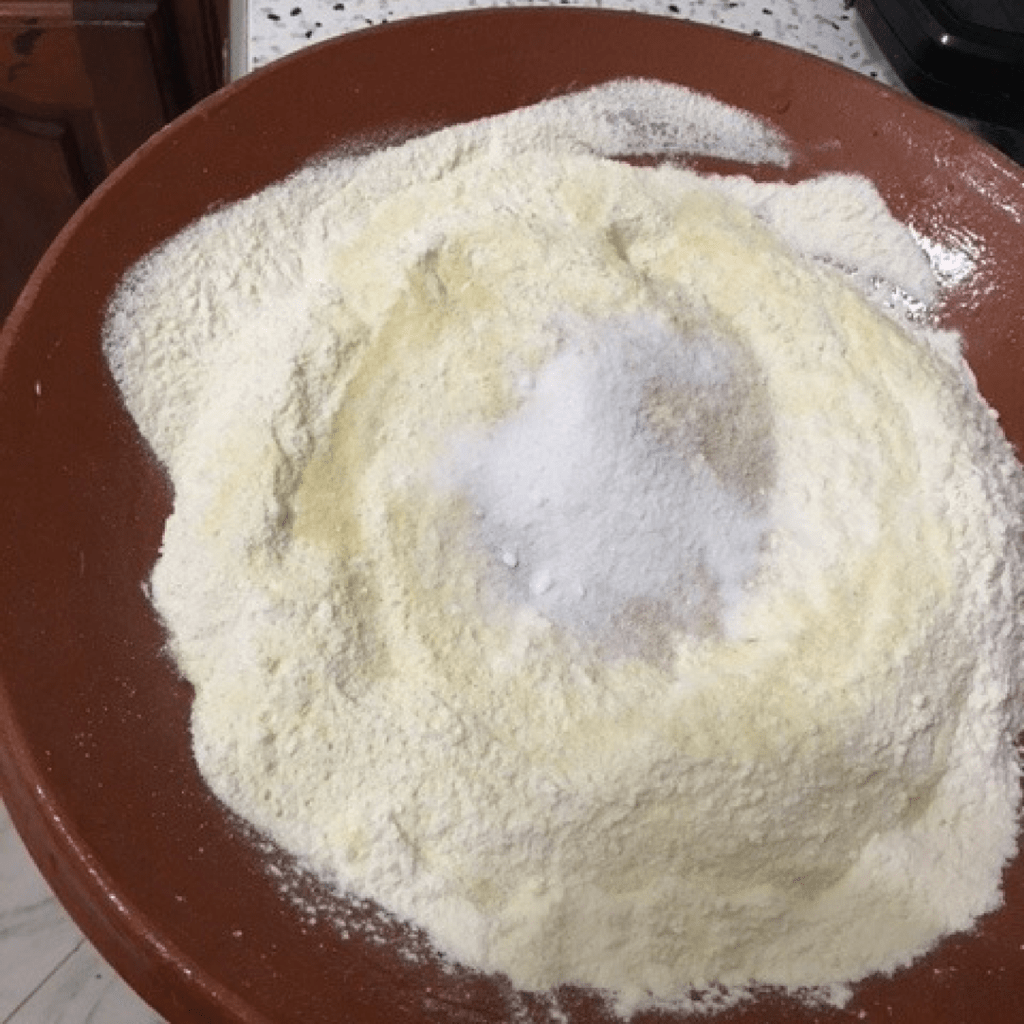 In a large bowl, combine the semolina and flour as well as the salt. Make a well in the middle of the flour and add the sugar and yeast. Slowly pour in warm water and begin mixing the dough.
The dough should feel wet but with kneading it will begin to get less sticky the more you knead. (See video). The dough should be kneaded for at least 5 minutes but the length of time will depend on your flour and altitude.
At the very end, add the vegetable oil and knead into the dough, coating it completely.
Cover and let rise for 15 minutes. Then, divide the dough into evenly sized balls – approximately 8 to 10 balls.
Dust a clean spot with semolina flour and begin to flatten the balls of dough one at a time. Work from the inside to the outside until you've created a 6″ or 15cm round.
Add 1 Tbsp plus a little more of the filling to the center of the disc. Gather up each of the edges of the dough until you create a pouch and seal. Shape with your hands to make sure that it is sealed.
Continue with the rest of the balls.
Start again with the first ball you formed and again working from the middle begin to flatten into a disc. This time you want to make them as flat as possible without breaking through the dough and having the inside stuffing come out.
These can be cooked in a skillet on the stovetop over low heat. Because the filling is already cooked you need only cook until the bread is baked. You also can cook them in the oven at 180C/350F until the bread is brown.
This is best eaten hot and almost always served with a glass of Moroccan tea!
To watch the steps a bit more indepth, I also made this video that walks through the process.
Looking for more bread recipes? You can find them all on this page of my Moroccan bread recipes.