Preparing for a trip to Morocco can be an exciting adventure, but it often raises a common question: what to pack for Morocco? Morocco's diverse landscapes, vibrant cities, and unique cultural experiences require careful consideration when it comes to packing.
Whether you're a solo traveler, a family with kids, or simply looking for luggage and clothing tips, this comprehensive guide has got you covered. From essential clothing choices to practical travel gear, MarocMama will help you make your packing process a breeze. Let's dive into what you need to bring for an unforgettable Moroccan adventure.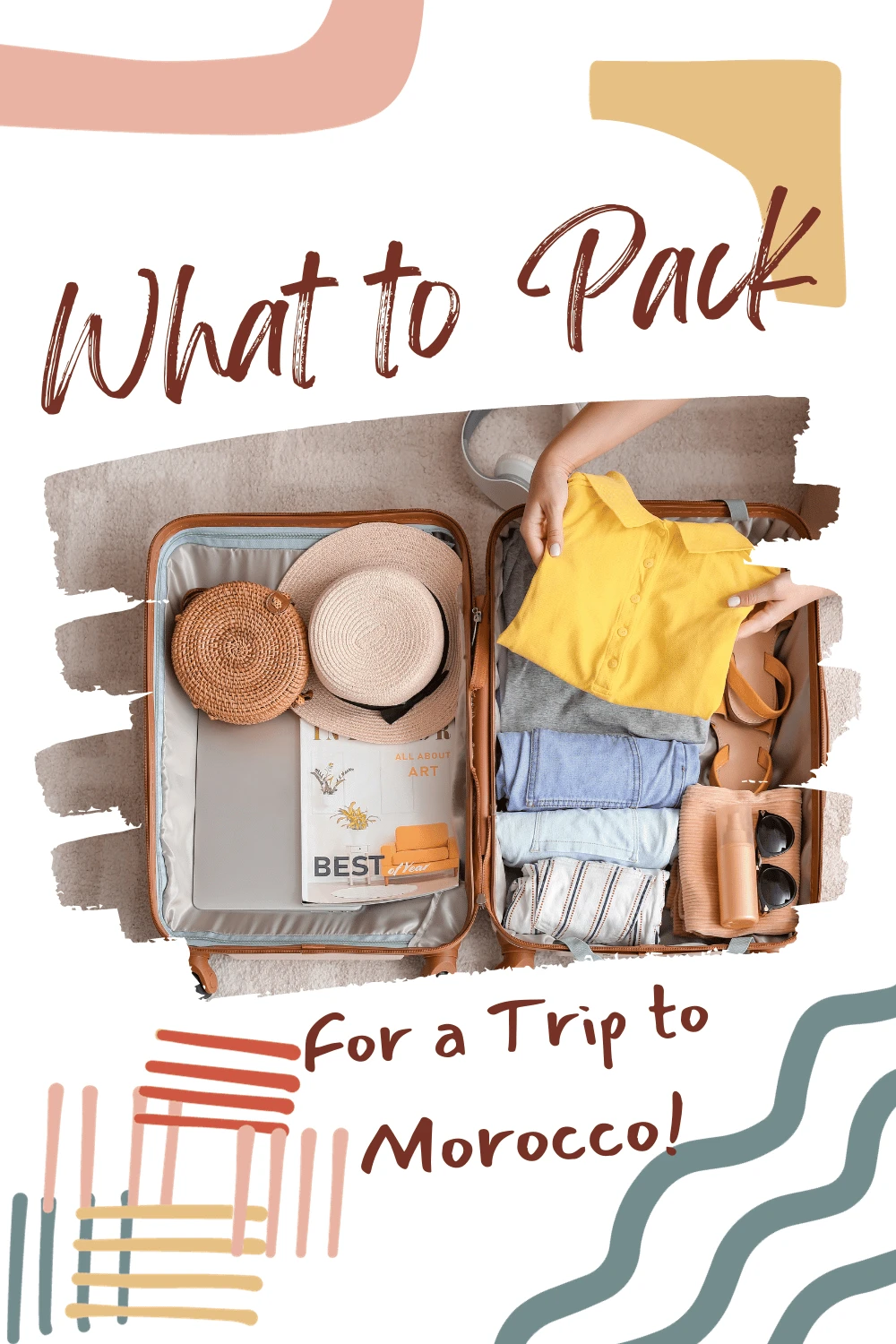 Packing Essentials for Every Traveler
Morocco's climate can vary significantly depending on the season and region. However, some items are universally essential for all travelers:
Appropriate Clothing: Morocco's conservative culture calls for modest attire. For women, this means long skirts or trousers, and shirts with sleeves. Men should also avoid sleeveless shirts. Scarves and shawls are useful for both genders. Don't forget swimwear for beach destinations.
Footwear: Comfortable walking shoes are a must, especially if you plan to explore the medinas and historical sites. Sandals are great for warmer months, but sturdy closed-toe shoes are better for trekking.
Travel Documents: Ensure you have your passport, visa, travel insurance, and a copy of your itinerary. You'll also need to provide your accommodation name and possibly address at the immigration access point to the country.
What to Pack when Visiting Morocco – Tips for Women
Women's Capsule Wardrobe for Morocco
What to Pack when Visiting Morocco – Tips for Men
Men's Capsule Wardrobe for Morocco
What to Pack When Visiting Morocco – Tips for Kids
Packing for Different Travelers and Times of Year
For Women: Women should pack a range of modest clothing, including long dresses, skirts, and blouses. Don't forget a versatile scarf that can double as a head covering or shawl. Comfortable yet stylish walking shoes are essential.
For Men: Men should opt for lightweight, long-sleeved shirts and trousers for modesty and sun protection. Comfortable walking shoes are essential, and a versatile scarf can also be a stylish addition to their attire, serving multiple purposes during the trip.
For Kids: If you're traveling with children, remember to bring their favorite toys, games, and snacks to keep them entertained during the journey. Sunscreen, hats, and mosquito repellent are also vital for little ones.
For Special Needs Travelers: Be sure to pack all necessary medications, medical supplies, and copies of prescriptions. Additionally, consider bringing essential mobility aids or equipment, such as a reliable wheelchair or mobility scooter, tailored to your specific needs. Pack any communication devices or tools that facilitate easier interactions. If you have dietary restrictions or specific dietary needs, bring ample snacks or special dietary items, as well as a translation card explaining your dietary requirements in Moroccan Arabic. Finally, pack all required documentation, including medical records and contact information for healthcare providers, for a worry-free journey.
What to Pack for Morocco in Fall
What to Pack for Morocco in Winter
What to Pack for Morocco in Spring
What to Pack for Morocco in Summer
What to Pack for Morocco: The Beach
What to Pack for Morocco: A Night Out
What to Pack for Morocco: The Desert
Travel Gear and Accessories
When it comes to the practical side of packing for Morocco, consider these essential travel gear and accessories:
Luggage: Opt for a versatile suitcase or backpack, depending on your travel style. Packing cubes can help keep your belongings organized.
Electronics: Don't forget your camera or smartphone for capturing Morocco's stunning scenery. An adapter plug for Moroccan outlets is also handy.
Toiletries: Moroccan hotels usually provide basic toiletries, but having your own is a good idea. Remember items like toilet paper and hand sanitizer for public restrooms.
Great Backpacks for Backpacking in Morocco
Carry-on Bags for Your Morocco Vacation
The Best Packing Cubes for Morocco
With this comprehensive guide on what to pack for Morocco, you're well-prepared for your Moroccan adventure. Tailor your packing list to your specific needs, whether you're a woman, traveling with children, or just in need of some practical advice.
Remember to respect local customs by dressing modestly, and pack sensibly to make the most of your journey through this enchanting North African country. Morocco awaits with its rich culture, diverse landscapes, and warm hospitality.
Safe travels!