When you're planning to spend a night out in Morocco it can be tricky to know what to wear. Depending on where you'll be going and what you'll be doing may affect what you wear, but aside from a few suggestions – anything can really go.
What to wear on a night out in Morocco can change; if you're going to a club or a restaurant, a black tie evening, or something more casual. To help you pack and plan accordingly, I've put together a few different outfit suggestions!
Consider adding some of these items to your suitcase when packing what to wear in Morocco.
Casual Night Out in the City Outfit
For a more casual night out, consider wearing something like jeans or a flowy skirt with a cute top. You'll want to avoid anything too revealing, but other than that – have fun with your outfit! If you're planning on going to a bar or club, then you may want to dress up a bit more. A nice dress or a fun jumpsuit would be perfect for a night out on the town.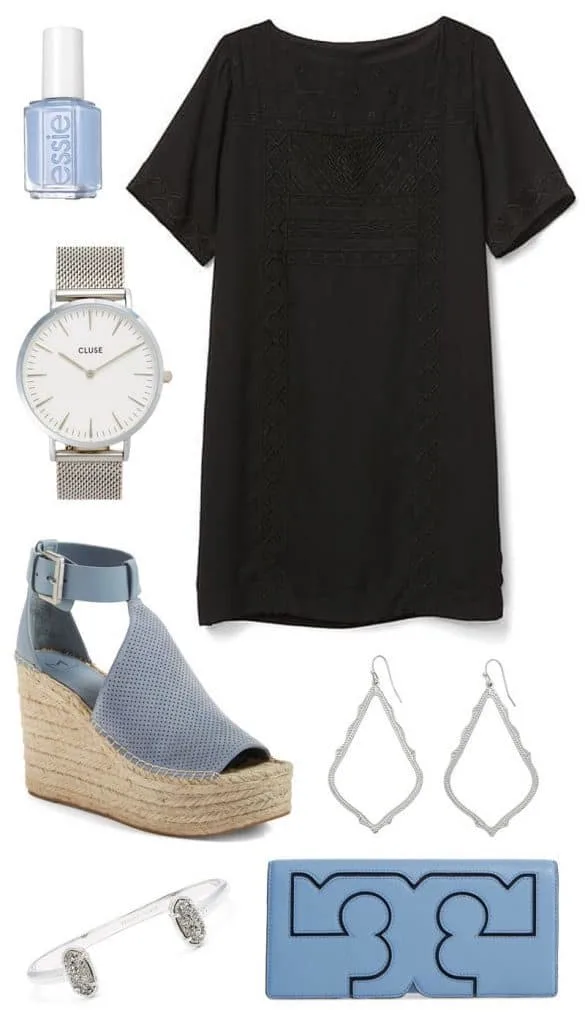 Embroidered Shift Dress; Wedges; Clutch; Silver watch; Silver earrings; Essie nail polish 'Saltwater Happy'; Kendra Scott bracelet
This is a great casual outfit to go out in any seaside city or for a late evening get-together. You could pair it with leggings and a cardigan if you wanted to be a little more covered up but you'll see plenty of women out for the night in shorter dresses. Personally, I'd opt for something a little longer underneath. I also really like these sandals because they could easily be worn during the day as well – saving you some luggage space.
What to Wear on a Night Out in Marrakech
I posted about nightclubs in Marrakech and there are lots. If you're in a city like Marrakech or Casablanca there are plenty of places to go out and party. Feel free to wear what you would wear back home because you'll quickly discover, especially in Marrakech, that things can go over the top. Pack one chic outfit for your special night out and don't forget a signature red lipstick!
Michael Kors Flex Mid Pump
Women's Midi Dresses
Womens Straw Handbag Clutch
MAC Lipstick Creme D' Nude
Dangle Earrings Sterling Silver
MAC Nude Lipstick – A simple lipstick like this shade is great for keeping your makeup supply in check while traveling. It can be used day and night.
Long Earrings – These single, drop earrings are a fun style for going out. They're also not possible to tangle in your jewelry bag when traveling.
Wristlet – A simple and inexpensive wristlet is a good way to keep track of your money and phone while you're out. Plus having a few small wristlets will be more compact than large purses.
Michael Kors Mid Pump – A little bit of color and flare comes out with these pumps. Look for shoes that have a little bit of support on the heel. Walking on paving stones and uneven streets can be an added pain in heels!
Knee Length Party Dress – A classic dress style in a solid color is a great option for going out. It can also be repurposed for a daytime dress with a blazer or cardigan on top.
Night Out in the Medina

Women's High-Low Dress
Kendra Scott Cory Drop Earrings
Kate Spade Cuff
Women's Gracey Heeled Sandal
In most cases nightlife tends to come alive in the newer parts of the city. But, if you're getting dressed up to go out in the medina, I would suggest toning it down a little. You could wear anything but you're likely to get a lot more stares and comments if you're more uncovered. Instead, choose a cute dress like this high-low maxi dress for a mix of both. A long duster can also be paired to cover up a little more if you feel uncomfortable or cold.

Kendra Scott Tricia Earrings
Women's Eliza J Floral Print Chiffon Maxi Dress
Kate Spade Raise the Bar Cuff Bracelet
Long, Lightweight Duster Coat
Heeled Sandals
Large Wristlet with Included Cross Body Strap
Dinner in the City

ECOWISH Womens Jumpsuit Spaghetti Strap Wide Leg Split Jumpsuits Long Overalls Summer Beach Loose Fit Rompers with Belt Pink Large
Plum Feathers Tapestry Ethnic Paisley Pattern Pashmina Scarf yellow paisley
COACH WOMENS City Tote In Signature Canvas (Brown Black)
Bangles Bracelets for Women, 18K Gold Plating Cuff Bracelets for Women, Brushed Noodles Chunky Fashion Wrap Wrist Hinge Gold Bracelets for Women Teen Girls (Brushed pattern)
When you're meeting friends or simply have dinner reservations but want to dress up without a nightclub feel I like this jumpsuit outfit. Black is always chic and you won't feel uncomfortable in this loose-fitting outfit. If jumpsuits aren't your style you could opt for a black pant/shirt combo instead.
A large pashmina is a pop of color and can double as a shawl if temperatures drop. Choose a few cute accessories that won't take up much luggage space pop can change up an outfit.

Women's Jumpsuit
Bright Pashmina Scarf
Tote Shoulder Bag
Essie Nail Color, Topless And Barefoot
Michael Kors Mid Pump
Women's Cuff Bracelet
I hope that from this you're able to see there's really a lot of versatility in what you can wear when you plan to go out for the night in Morocco. My one final word of advice is that in smaller cities you really want to tone things down as they are typically much more conservative. Chances are those cities aren't going to have many options for going out anyway so no need to pack things you won't use!
Need More Packing Inspiration?
What to Wear in Morocco: Sahara Desert Clothes
What to Wear in Morocco: The Beach