Do you have images of windswept scarves blowing in the Sahara sands? If you're planning for your desert trip and wondering what Sahara desert clothes you'll need to pack, this is the post you've been looking for!
When you're wondering what to wear in Morocco you need to consider all of the activities that you will be doing. Overall many clothes can be used for different situations so you don't need to bring along a lot. If you're hoping to take a Morocco desert tour however you might want to bring a few extra items with you to make your experience more comfortable.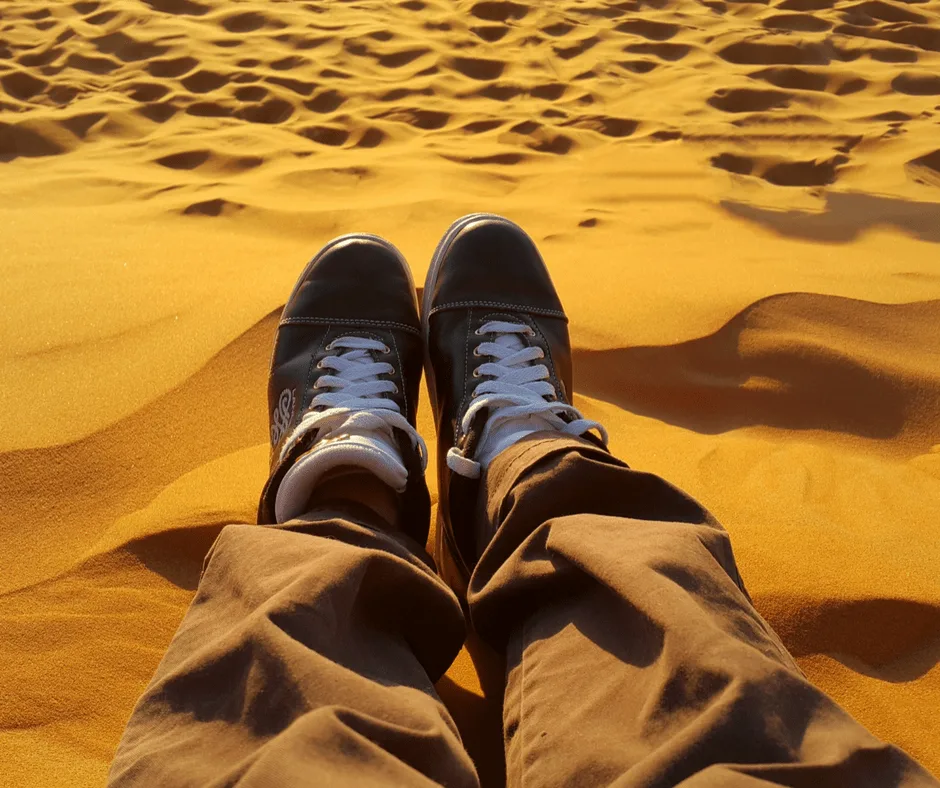 Types of Sahara Camps
There are three types of camps you'll encounter on a Sahara desert trip and it's important for you to know which you're signing up for before you go. I have done both budget and luxury camps and hands down luxury is the way to go (if you want to find out why read this post). There also are camps that will fall somewhere in between.
Major questions you'll want to know the answers to include;
what are the sleeping arrangements; will you have a bed with covers or do you need to bring your own? Also, will you have a bed or will you be sleeping on the ground. Is there heat in the tents?
what are the bathroom facilities; this is important for you to know what clothes will make bathroom-ing easiest and if you need to bring toiletries.
what food(s) and drinks are provided or will you need to bring your own both en route and at the camp?
General Packing Guide for the Sahara
These suggestions are good for any time of year and any camp situation. I highly recommend you bring only a small bag with you on this trip.
DO NOT bring a giant suitcase with you. It's not practical and will likely remain in the van for the trip. The guides are not going to mount your 50lb roller bag on the back of a camel. A backpack or duffle bag is enough – just bring the essentials. Sahara desert clothing just needs to be functional!
Packing Advice for Women and Men
Underwear that are briefs, not a thong. If you are riding a camel, you DO NOT want to wear a thong.
A long scarf that you can wrap around your face to protect from sun/sand.
Sunglasses
A hat, again for the shade
Socks
Tennis shoes or hiking boots, not a good idea to wear sandals on the camels.
Ibuprofen or paracetamol. If you've never ridden a camel you will discover your body may hurt the next day.
Your camera
A power bank to charge anything you may need to overnight as the camp may or may not have electricity
A small flashlight
any toiletries you may need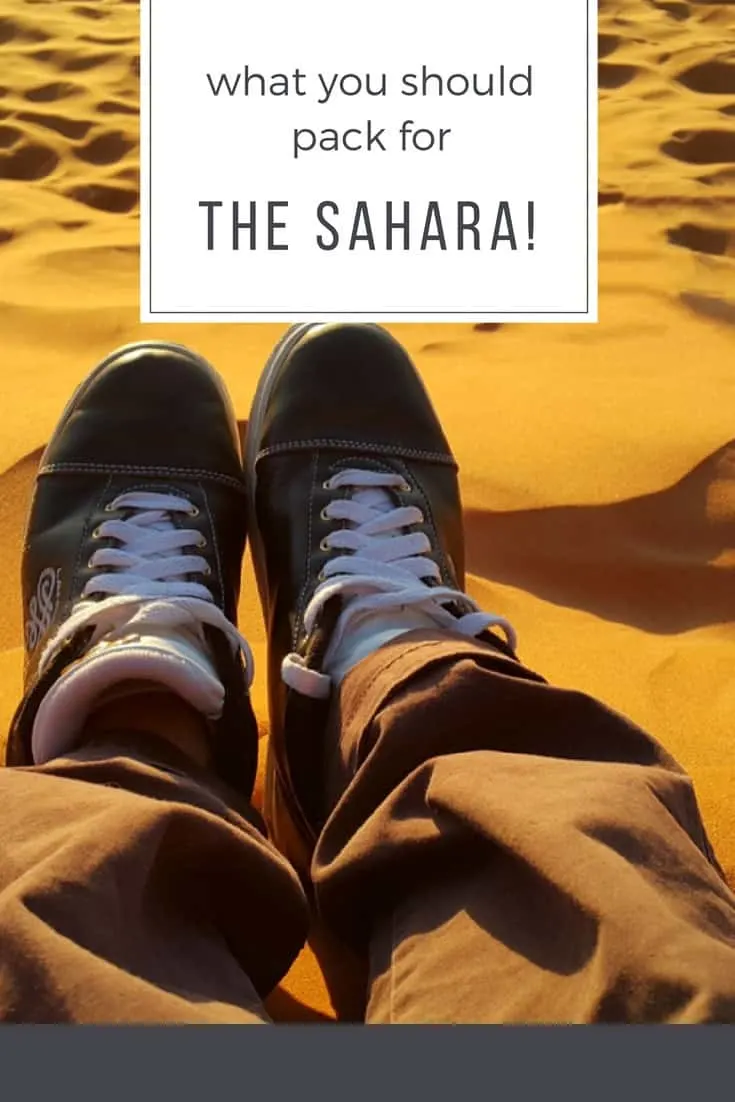 Visiting the Sahara in Winter
If you're planning to visit the desert in winter months you'll need to be a little more prepared than if you go another time of year. While daytime Sahara desert temperatures are comfortable due to the direct sunlight, as soon as the sun goes down temperatures can plummet.
Yes, there even rarely is snow in the Sahara! Many people are not prepared for this. As an example, the average January temperature is around 20C+ (68F) during the day and just 3C (37F) at night. Quite the temperature spread!
This doesn't mean you shouldn't go, in fact visiting in the winter can be better as there are rarely sandstorms and you don't have to worry about extremely hot temperatures.
In addition to the main packing list above you may also want to bring;

What to Pack for a Spring/Fall Desert Tour
Spring is the most common time of year to experience sandstorms in the Sahara. This doesn't mean you shouldn't go. In fact, seeing an actual sandstorm in person can be a really unique experience. But you should prepare for this possibility. In addition to the main list above some things you might consider include;
An extra waterproof/sand proof bag if you have camera equipment.
What to Pack for a Summer Desert Tour
Summer is the most difficult time of year to visit the Sahara. Many camps actually close down for a month or two due to the extreme temperatures and risk involved with bringing people to the desert during these months.
If you're planning to visit Morocco in summer and consider a Sahara visit a must, look into this ahead of time so you can plan around it if needed. If you really can't swing it, you could visit an Agafay desert camp just outside Marrakech where it will still be hot but camps remain open.
You can wear short sleeve shirts in the summer but keep in mind the sun will be brutal on your skin and blowing sand can also take a toll. It is sometimes better to just opt for loose-weight long sleeves to protect yourself. I would advise against wearing shorts on camel trekking as it's just uncomfortable. In addition to the main list some things you might consider for a summer visit include;
a lot of extra water
sunscreen
short sleeve shirts
these fever reducing strips that can be used to just cool off! They're also good to have on hand in case you or someone with you gets heat stroke.
Additional Items to Pack for Budget Camps
Many low-cost Marrakech desert tours (I am most familiar with these) are to very basic desert camps. You need to be a little more prepared in this case. Just showing up with a change of clothes may not be sufficient. First, as mentioned above get as many details as possible about what is available both on the way to the Sahara as well as what you will experience at the camp. A few additional things you may need to bring include;
a sleeping bag or blankets. If the idea of shared blankets that haven't been washed in who knows how long puts you off, I'd bring my own sleeping bag. If you aren't traveling with one, buy a blanket OR choose a different camp.
toilet paper and hand sanitizer
plenty of bottled water and snacks. You can probably buy this on the road as well but make sure you have it before getting into the camp.
if you have any food allergies or simply eat a different diet you should come prepared with the things you will need.
Read More Posts about Visiting the Deserts of Morocco
Morocco Desert Tours: Everything you need to know about a Sahara Desert Tour
Cool Hotels in Merzouga, Morocco for Your Sahara Stay
Can't Get to the Sahara? Visit the Agafay Desert!
Why Luxury Camping in the Sahara is the Only Way To Go