Some time ago I wrote this post on what women should pack when visiting Morocco. It has been very popular and made me realize that there are others things that people who are visiting Morocco might be wondering too. What do you pack if your man? What about if you're bringing kids? So I plan to do a few more posts on this subject.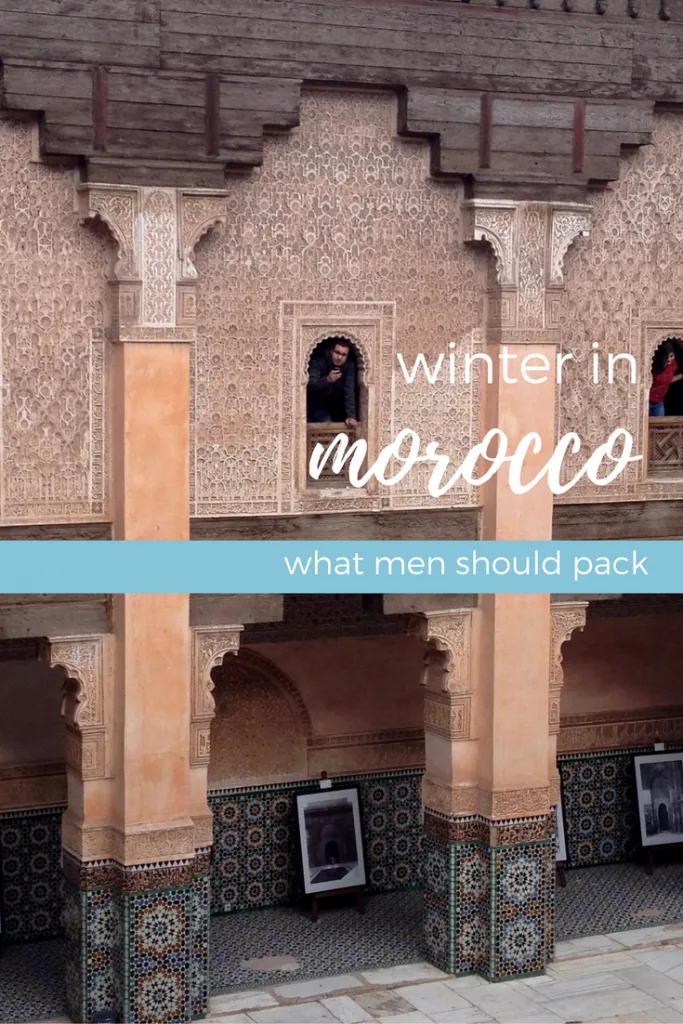 You're probably thinking, but wait winter in Africa? Yes friends I assure you there is winter here. Normally the cooler season starts in mid-November and lasts through February. You aren't likely to see snow if you're not in the mountains but temperatures do get quite low, especially in the evenings.
I'm writing this in mid-December and nighttime lows are around 4-8C (40-45F). Daytime it can get into the 20C+ (70F+) range. That's a big temperature difference – be prepared!
What You Should Pack for Morocco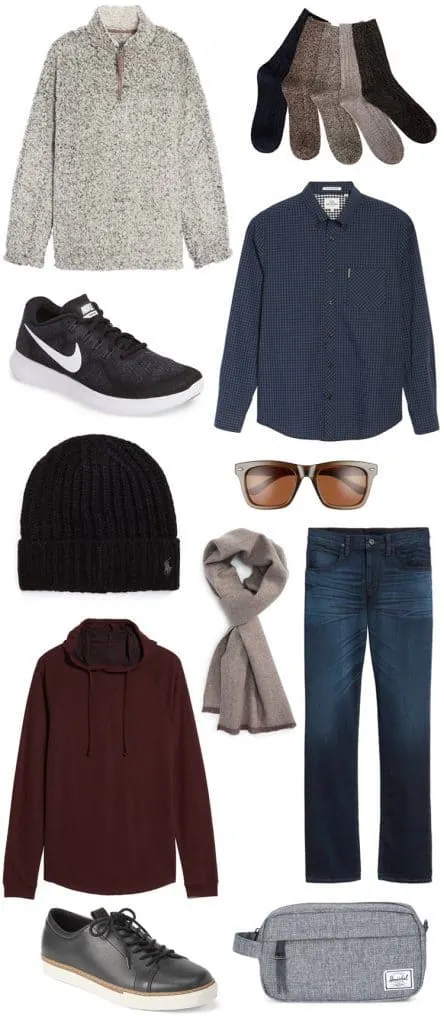 General Packing Ideas for men visiting Morocco;
Several t-shirts, long sleeve shirts, and polo shirts – a combination of these shirts is perfect.
Chino pants or other light weight fabric. Black, gray, and/or khaki are good, easy to wash, and can be dressed up or down.
Jeans – a good pair of jeans are a must.
Long sleeve, button up shirts. Pack one that is nicer to wear for a nice evening out. One or two others that can be worn alone or under a sweater, or jacket are good.
A jacket. Yes, you really should bring a blazer and a light to medium weight jacket to wear out.
1 medium weight sweater and 1 heavier weight sweater.
A hat and scarf. Nights and sometimes days are cold . Bring this!
For shoes, a good pair of walking shoes is a must.
Another pair of shoes to pack are functional boot shoes that can go from day to evening. They also should be comfortable to walk in.
Warm socks are a must.
personal care products such as razors, cologne, and shave gel.
a good bag or backpack to carry.
Like what you see in the picture? You can find these specific items (or something close) here;
Fleece Pullover
Set of Mens Wool Socks
Nike Sneakers
Blue Dress Shirt
Black Knit Beanie
Brown Sunglasses
Thermal Knit Hoodie
Wool Scarf
Straight Jeans
Lace-up Faux Leather Sneakers
Travel Toiletry Bag
In my post for women I included items you should reconsider packing but I don't think this is as much an issue for men. Just don't bring harem pants and leave your short shorts at home. You weren't going to bring them anyway right?
What else would you add to this list?